Thursday, Friday and Saturday,  August 7, 8, 9, 2015 Nevada
Just after six PM I jumped in my van and headed out to meet up with Steve down the road  a bit to head out for our trip to the Jarbidge area in Nevada.
We had to cross the Sacramento Valley which is always bad traffic. Before we even got to the freeways, we ran into a freeway detour onto a side road that jammed traffic to a crawl.
While crawling along, we were trying to get the CB's to work. I'd loaned Steve a CB and an antenna for his rig so we could communicate while driving. Unfortunately, all I got from him was a garbled voice, so that wasn't working out well and I really knew I needed someway to keep Steve in check as he tends to have a mind of his own.
I was able to signal him to pull over at a point just before we hit highway 80 freeway east.
We messed with the radios but they weren't working. In the mean time Steve was checking his wheel hubs to make sure they were cool and found his right front hub a lot hotter than his left one. Oh, oh, or was it just heat from the braking in all the stop and go?
We decided to go a bit down the side road to get away from the traffic and work on it.
Main thing we had to do was jack up the wheel and spin it and check for a good bearing and make sure it all sounded good.
It checked out ok, so we got back on the road still with no CB radios working.
Traffic wasn't too bad through the Sacramento area, but it wasn't good either.
We were stopped for a break up in the mountains when Steve admitted that he had cramped the antenna wire in his electric window and maybe that's why the radio's weren't working well.
We were headed to where highway 95 comes into highway 80 to pull off and sleep for the rest of the night.
It was about 2:30 AM when we pulled into the spot. The wind was gusting and a bit strong so things were a bit rough on Steve. Oh, did I mentioned it was also raining big cold drops too. :O)
Here's my view of Steve's camp for the night from my nice cozy van and yes it was raining hard and windy.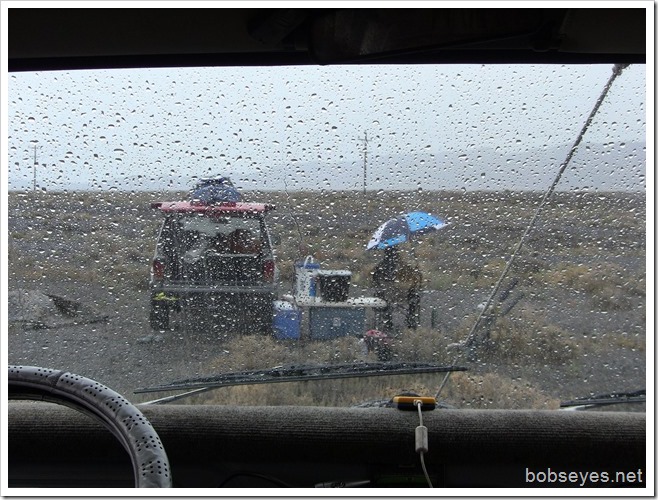 We survived and got back on the road around noon.
It wasn't too far to Winnemucca, about 100 miles. We gassed up and Steve purchased a new CB antenna which fixed the radio problem, thank god so to speak. :O)
I will mention here that Steve seemed to be having a bit of an adjustment problem and was being a bit of a jerk and was in general pissy and hard to deal with. :O)
We got back on the road and continued to a place called Golconda about twenty miles east of Winnemucca and headed north east on mining roads, which are well maintained, but it was getting some rain, so the road was hard with a nice layer of mud on it and a bunch of big water puddles too. Not bad enough to need four wheel drive. We slung mud all over our rigs.
We stopped here for a bit and continued on.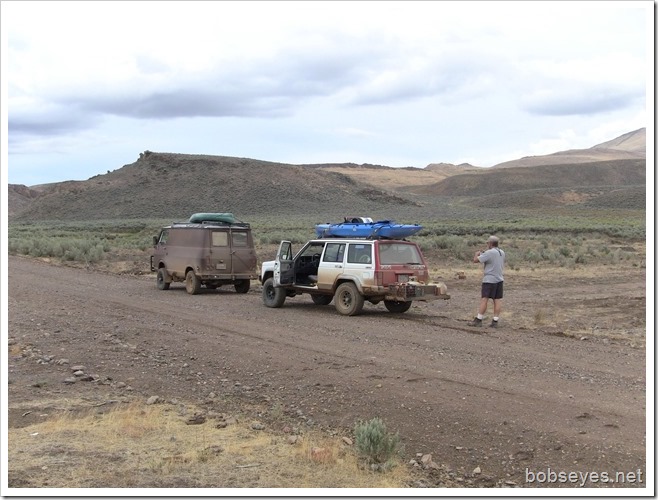 We arrived at the Willow creek reservoir and set up camp below the dam here by the creek which is dammed up  by beaver. You can see the dam in the background.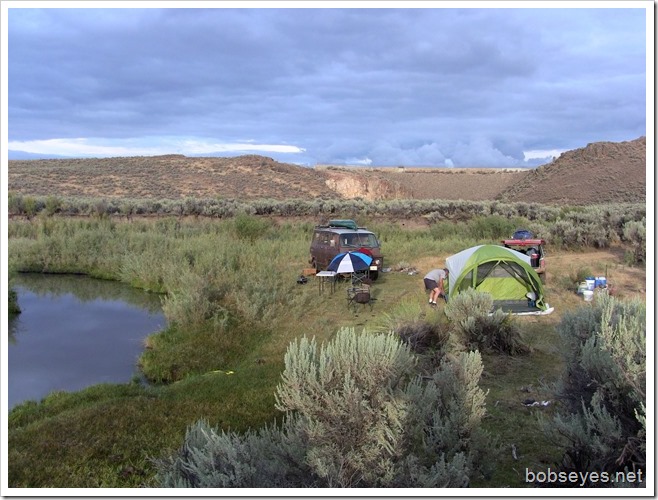 After setting up camp we took a little walk down along the creek.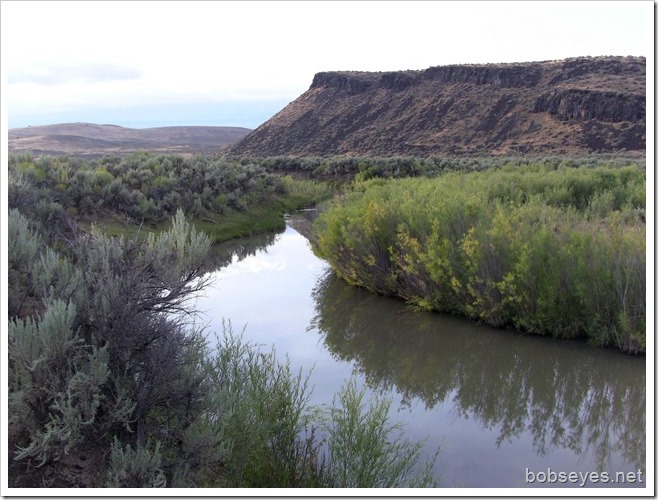 This little bunny was hanging around camp.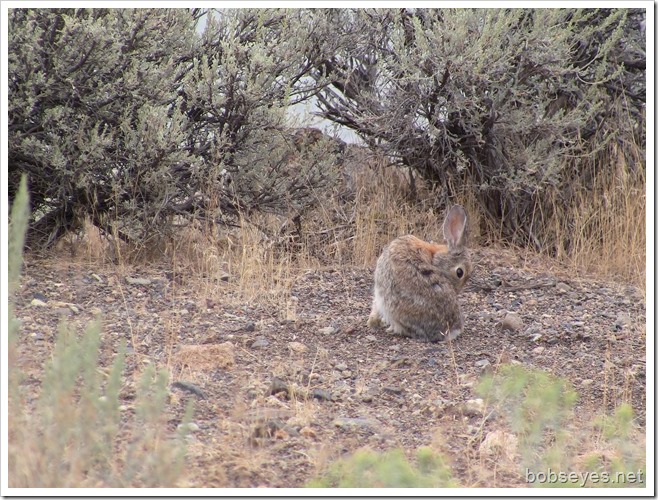 Friday August 8, 2015 near Willow Creek Reservoir Nevada
A serious breakdown
The next morning we broke camp and were headed to a spot just above the reservoir near the creek that flows into the reservoir. As we were just at the turn off road, I noticed my GEN light came on. Oh, oh and darn.
We did pass by these white pelicans on the lake just before that.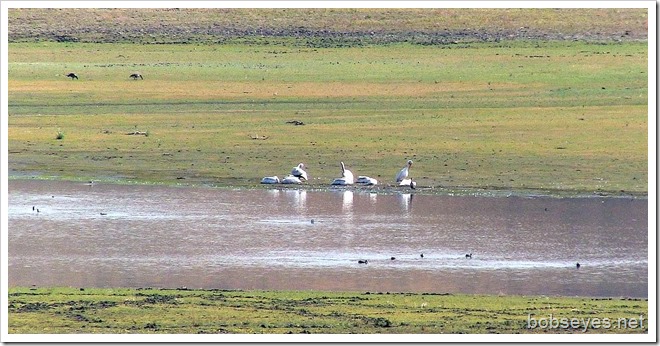 OK, what to do? We checked things out and found the new alternator I had put on the last trip had a burned out feed through terminal on it's output. It was all black and fried and wasn't an easy fix.
What to do? I have two batteries in this rig, so we decided to make a run back to Winnemucca, about sixty miles, back through all that mud and hope the batteries would hold up. Either way, we'd have to van closer to Winnemucca where the parts are.
I changed my extra deep charge battery to the system and we took off, not knowing how far each battery would get me.
As it was we lucked out as most of the mud and water had dried off already so the going was good.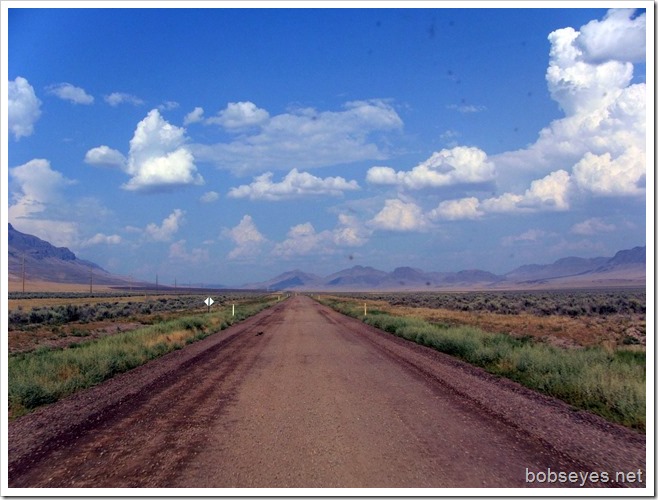 I made it all the way back to Winnemucca on that one battery and switched in the other battery just outside Winnemucca to make sure I could start the engine if I killed it in town.
Now, where is that Napa Parts place? After asking one person we found it. They had the parts and would let me work on it in their parking lot, so we got her done, replacing the alternator.
I guess I should admit that the cause of the burned out part on the alternator was due to me not tightening up the output wire nut when I was working on it in another parking lot on the last trip. It was fine until we got into  the mud and potholes bouncing around a lot which I surmise got the wire connector bouncing which arced and caused it to overheat and burn out.
All that mud also caused my four wheel drive leakage to not work well. Seems the leakage was all jammed up with dry mud. I had put it in four wheel drive earlier in the day with some difficulty and now it was stuck in four wheel drive. I needed to find some gravel to drive on to try and shift it out of four wheel drive. We found some gravel the side of the road and I tried to get it out of four wheel drive with no success, so I had to crawl under there and shorten the leakage enough get it to shift. It could use a bit more adjustment, but it worked good enough for now. I needed to drive on the gravel so the four wheels stayed out of a bin so I could shift the transfer case. It's an old style and doesn't shift easily normally.
We gassed up again and we headed out again to get back on the trail.
We made it back to where I broke down in the morning by the beaver dam about five miles above the Willow Creek Reservoir.
I had an idea where to camp, but hadn't checked it out. We turned off the main road and checked for a suitable place to came going by the first one and driving up the road to look. Not finding anything better than the first spot, we turned around and went back to it and set up camp here by this beaver pond.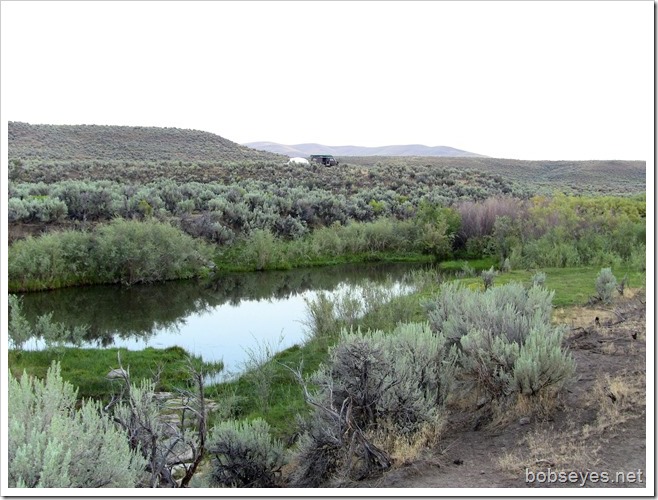 It sprinkled a little on us which cooled things down a bit, even rained a bit on us, but it soon stopped, just showers which can be welcome in the desert as they cool things down.
This was our camp for the night.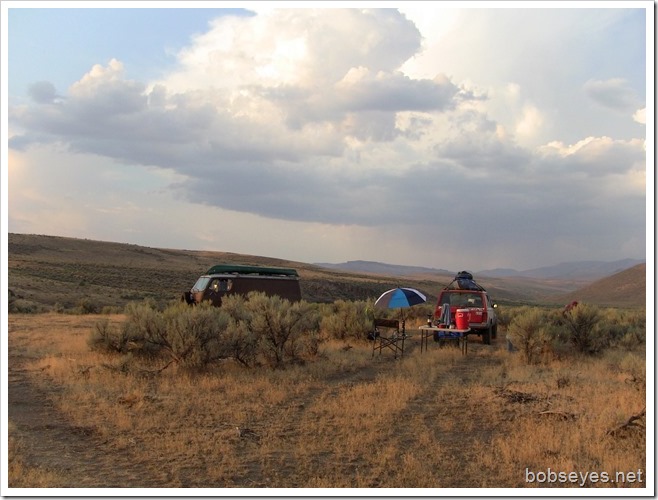 Once camp was set up , we sat around and rested and watched the sunset.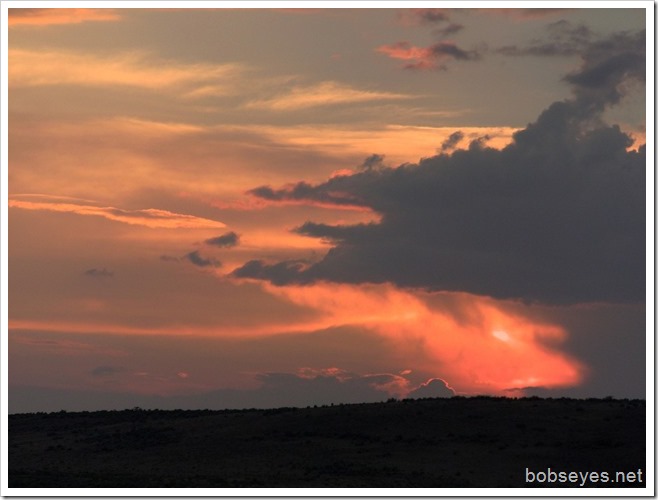 Sunday August 9, 2015 Columbia creek Nevada
Columbia Creek and a flat tire
We are going to travel up the road a bit today to another camp spot.
We entered a side road and went on through these quaking aspens at Columbia Creek on the way up to Maggie's summit.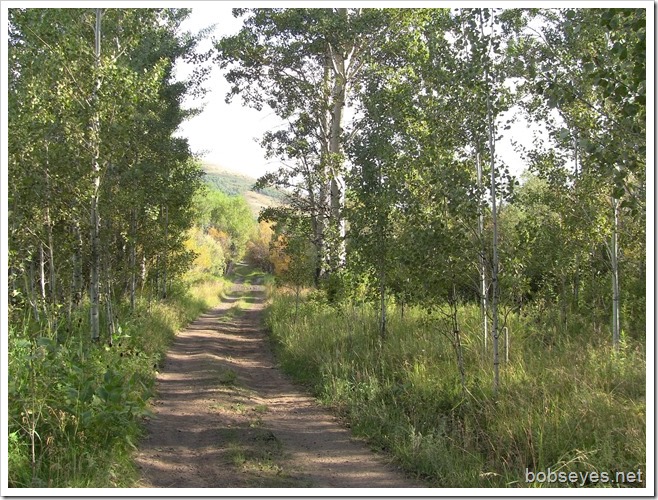 Oh, oh, back tire is going flat
As we were about to make camp, Steve noticed his back left tire was going flat. I suggested we make camp and then he could deal with it. He found a big hole in it, but had the stuff to repair it so he did and it was good to go. If he hadn't been able to fix it, we would have had to go out of here to a tire shop as you can't travel around this area without a spare tire.
Here's Steve fixing his tire in our new camp in the aspens. He did a a good job.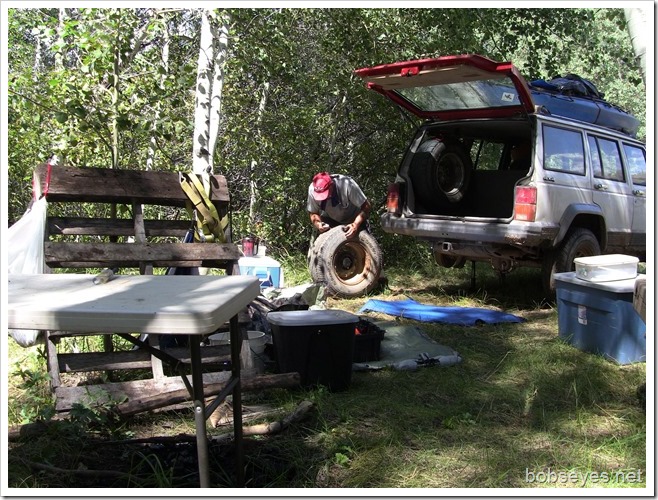 We went for a little walk to look around and found a lot of beaver pond action in the area.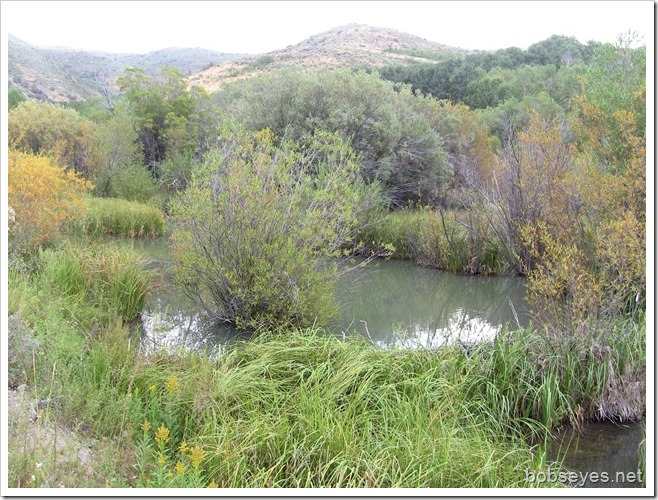 Steve is still acting up on me. I'm hoping he'll settle down eventually. It's just too nice of a place. :O)
That was it for another day exploring the area. We should be off to Merritt Creek tomorrow if Steve's tire repair holds up.