Monday April 4, 2016 Jenner CA.
A windy day
The weather guys said it would be a little windy today. Ray was going to meet me at Jenner and we'd decide to go there or return to Monte Rio if the wind was bad.
Ray was at the ramp when I arrived. The wind was up a bit, but we were used to it some, so we decided to go and put our boats in the water.
We crossed over to Penny island and sat here for a bit.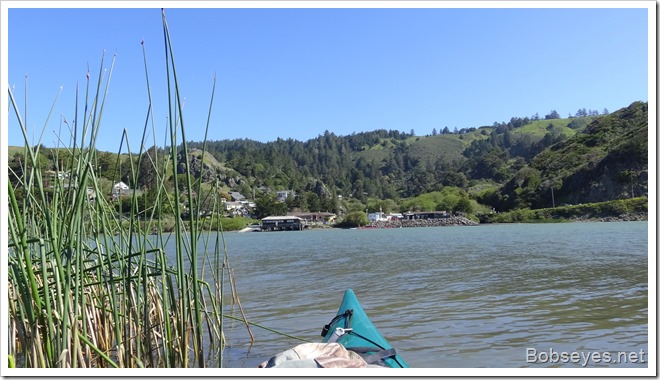 Then we moved up to the little channel on the upper end of the island and sat some more as the wind picked up some more.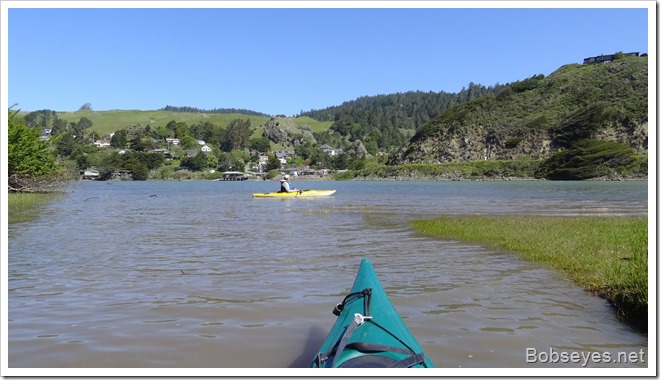 Going for a little walk
We headed on up the river looking for a place to go ashore for a little walk. We decided to land here at Indian rock trailhead, so we put ashore and tied our boats up so they'd be here when we returned.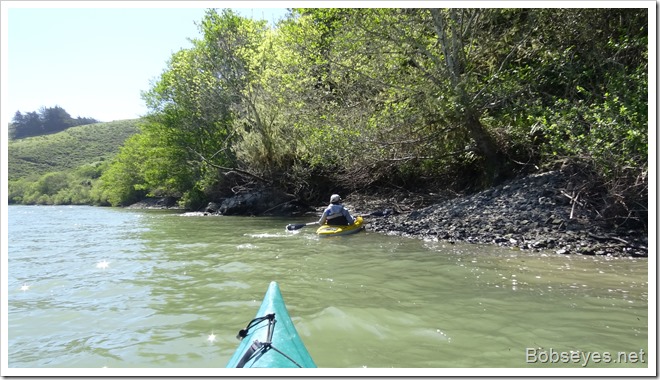 Where the trail starts there is an old bench that the river otter's usually mess up with poo. Today, something had been in the area and did a lot of marking, but the bench was clean so I think it might not of been the otters there recently, but maybe the Muskrats or something else?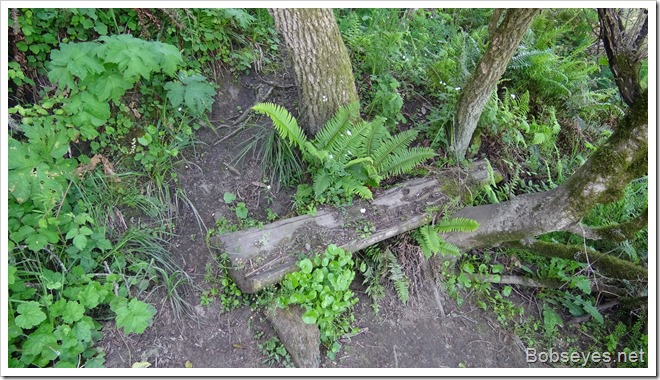 The trail starts out going straight up the hill through a lot of brush, including poison oak that cannot be avoided. I itch enough without that stuff. Ray and I are fortunate we don't get the stuff.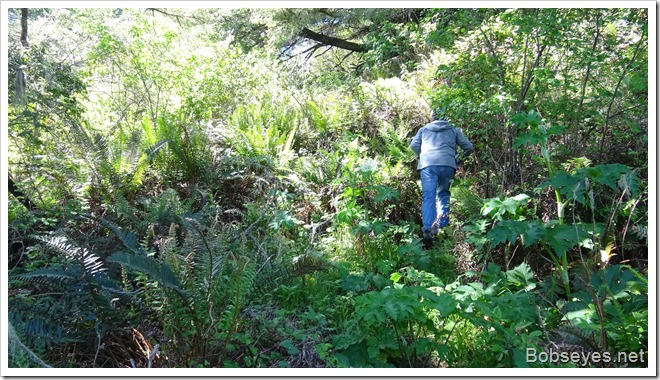 Indian rock
The trail comes out just below the Indian Rock.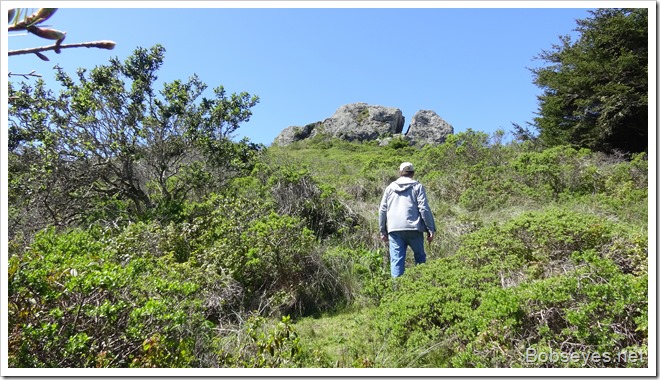 Ray spied a freshly used hole in the rock so he got down to investigate cautiously, thinking there could be a snake in there. He didn't see anything.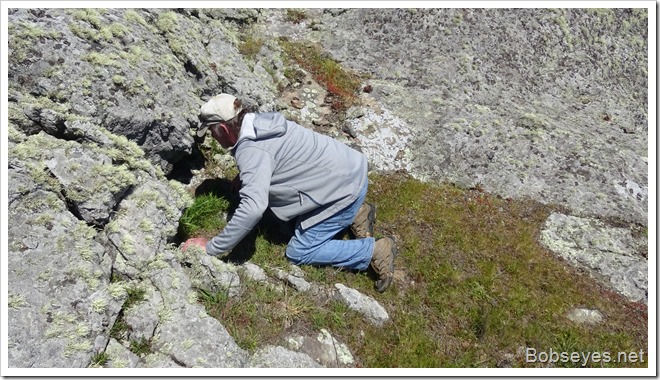 On top of the rock
We climbed up on the rock and sat at the top in the wind for awhile just enjoying the day.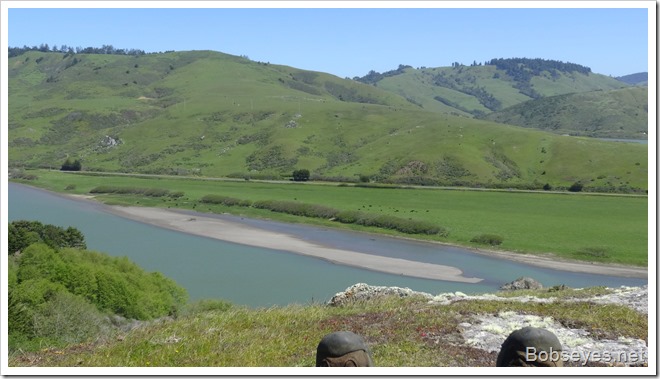 We sat in the wind for a spell, then I suggested we find a spot out of the wind on the side of the rock, so we sat there for awhile longer.
Ray said he wanted to go down on a different trail, so we veered off and went down another way.
Ray is going through a little creek and has his hand on a tree some deer had been rubbing it's antlers on, taking off the bark.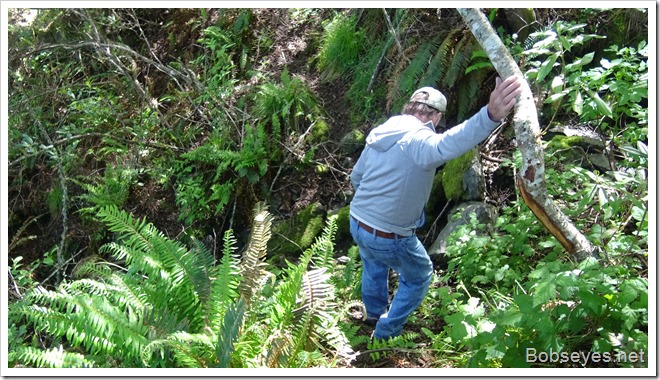 When we got back to our boats, we noted the wind was up good, so we headed on down along the shoreline. Ray's just getting into his boat as we started back down the river.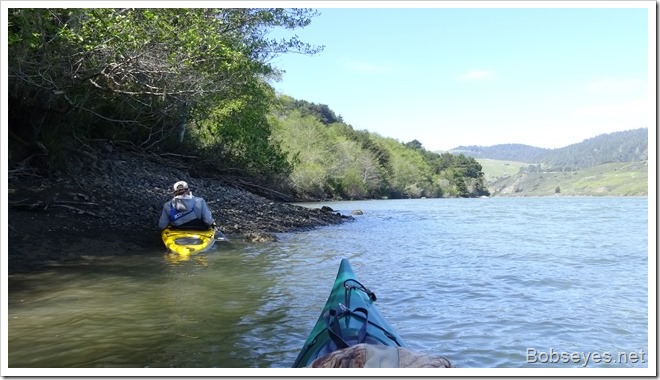 I followed Ray down along the shoreline and we crossed over to the boat ramp in some windy waves and pulled out for the day and went on home.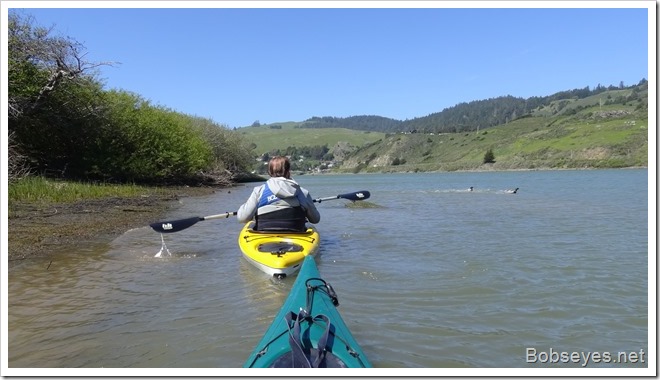 Any strawberries yet
When I got home, I decided to go over to my brother's garden and see if there were any strawberries ripe yet.
I crossed over this bridge that crossed the creek to get there.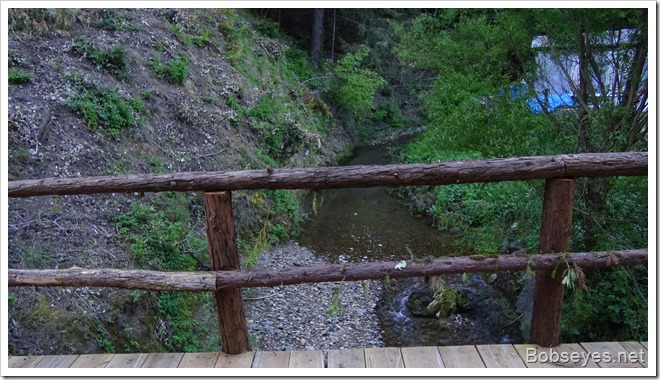 That big green patch is all strawberry plants with lots of white blossoms, but no berries yet.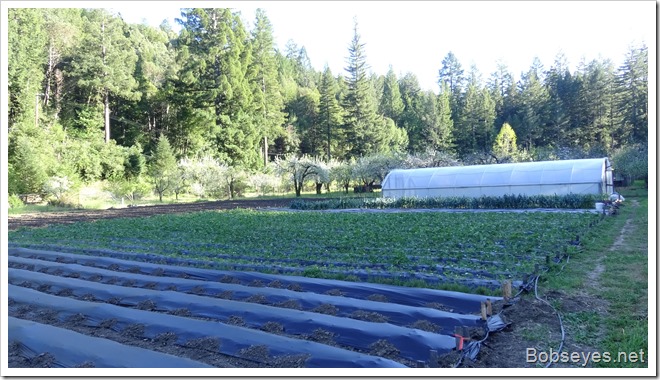 No strawberries, but we got asparagus
I walked up to this end where his asparagus plants were and picked a few of those for my dinner tonight. Tom's been preparing the soil for this years plantings which he will do as soon as it warms up a bit more.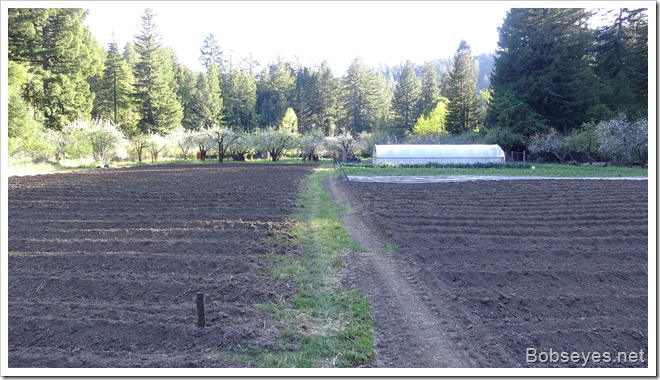 I went on home and sat around in the yard for the rest of the day and that was my day for another nice one.