Friday July 31,, 2015 Jenner CA.
Lots of white pelicans
Things were looking nice as I put my boat in the water and headed up the river. I could see a bunch of white pelicans fishing in the shallows over to the right up ahead. As I approached they stopped fishing and started preening and resting, so I got some good pictures.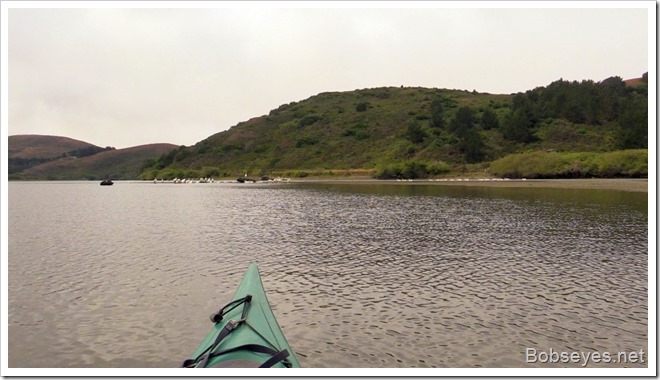 Here's what it looked like as I got a bit closer. They are in the preening mode now.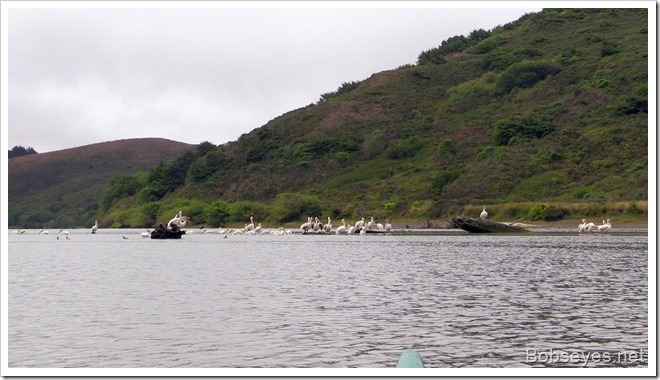 They are preening away poking their big bills here and there.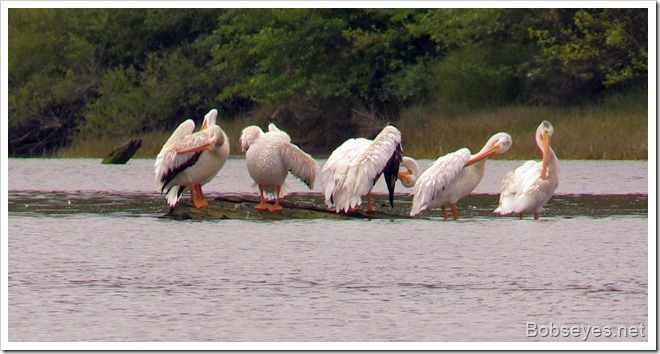 I passed on by the white pelicans leaving them to it, preening away.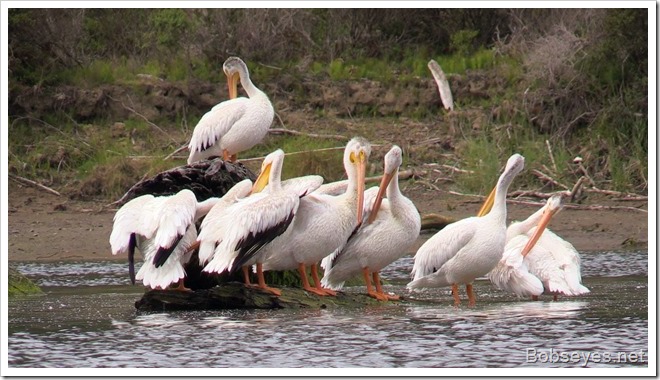 I paddled on up the south side of the river and passed by these merganser ducks resting in one of my spots. They stayed there and didn't fly off and I let them have the spot.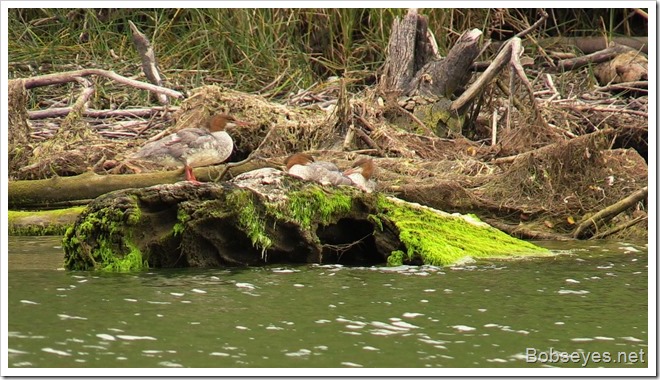 Spooked pelicans
Something spooked all the pelicans I passed by earlier and they flew up and landed across the river from me.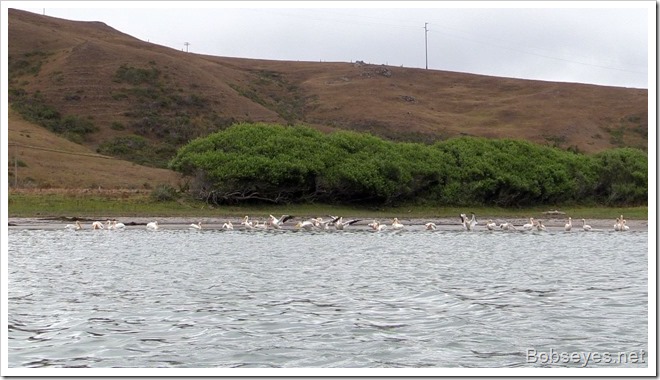 I was sitting around the shoreline and eventually all the pelicans flew into the air and headed up the river, likely to a more peaceful spot.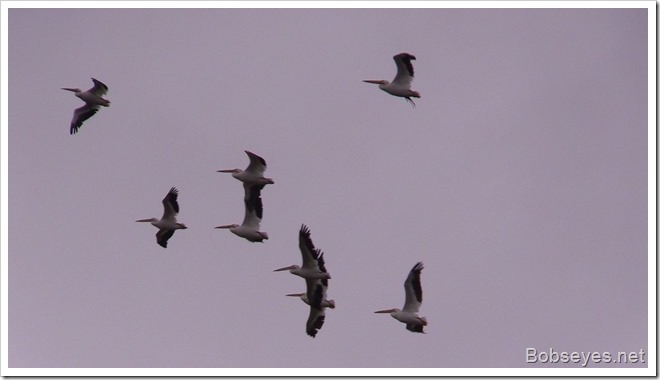 Headed for Muskrat
I continued on up the river headed for the Muskrat Nest beach area, which is up ahead in the trees where I sat for quite some time watching and resting.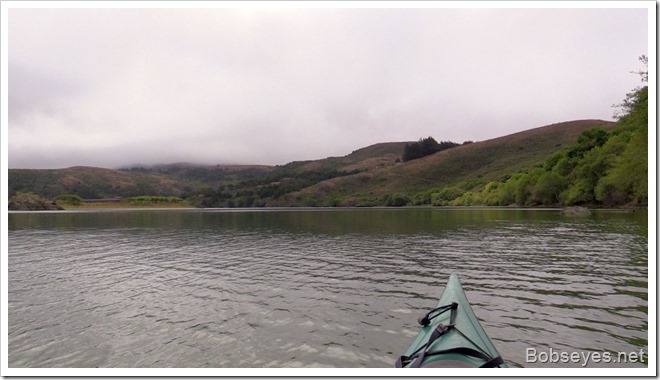 This harbor seal came by and was doing some napping right by me. It stayed awhile and then submerged and was gone.
I moved up the river from where I was sitting about a hundred feet and saw something jump up on a dead tree from the shoreline that looked like a bobcat. I backed off a bit to see what it was and also to make it think I didn't see it.
When I looked up, this is what I saw, a bobcat checking me out.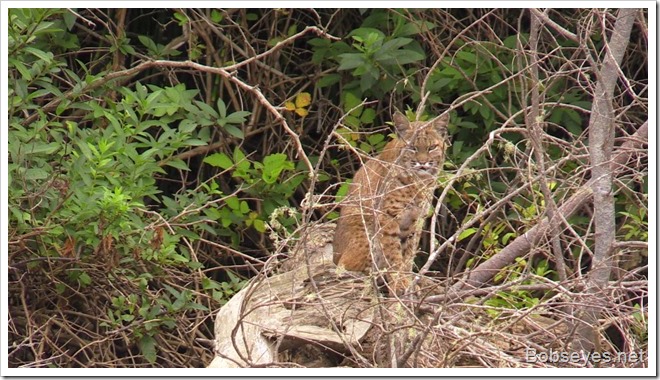 Can you spot the bobcat?
I backed off a bit more to give it some more room and watched to see what it would do. It sure blends in well with the bushes.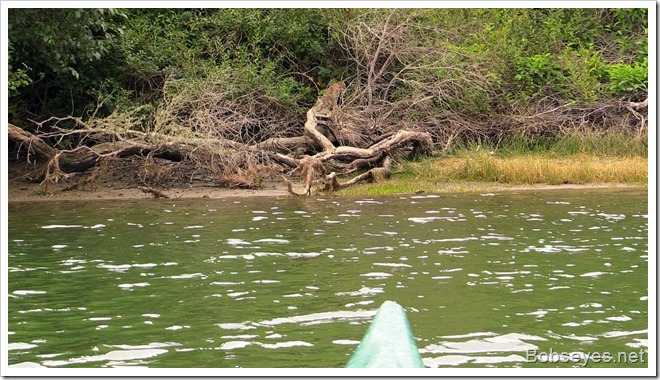 It sat there for about five minutes, then moved off to the right through the grasses as I watched.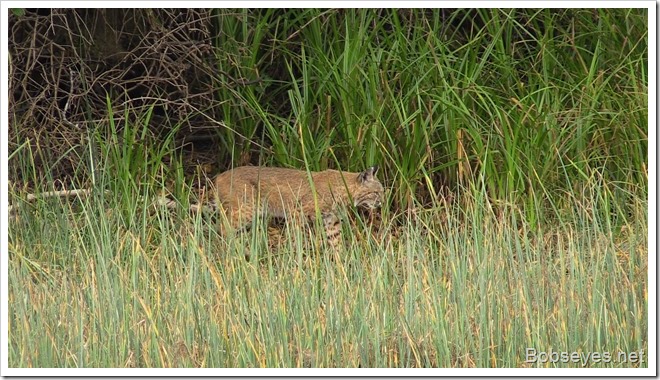 Then it stopped and sat and watched for a bit, before turning around and going through that space behind it and disappearing into the brush.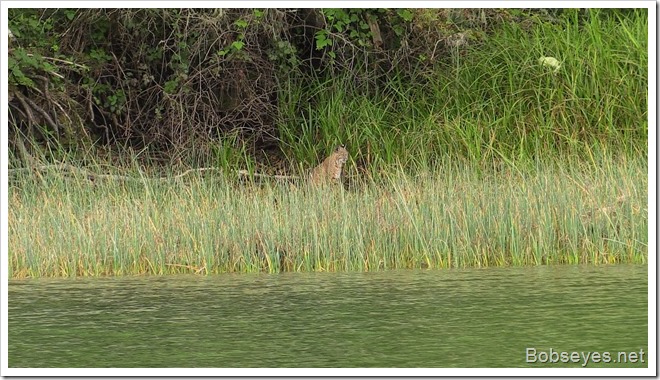 I watched for it to reappear for about a half hour, then gave up and started back down the river stopping here and there.
I stopped here just above Penny Island and watched for awhile before heading on in to the boat ramp for the day.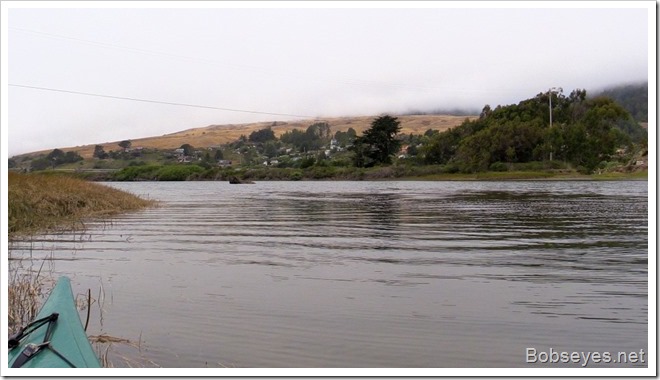 I went on home and had a good nap before going out in the yard and puttering around doing this and that.
Nice day.
(Visited 218 times, 1 visits today)