Sunday March 22, 2015 Jenner CA.
Hard to get it going today
The weather guy said it might shower today and when I got up this morning, it was overcast a bit. It was sorta a dreary day. It took an extra hour or so to get it going this morning as I had no energy.
I arrived at Jenner around noon to an overcast day. The wind was up a little and the sun wasn't out.At least it wasn't raining.
I crossed over the river to Penny Island and pulled into the little channel on the upper end which was out of the wind. I sat there wondering if I should of just stayed home today as I didn't seem to have much energy to do much except sit around.
After about a half hour, I headed out and started up the river passing this female merganser duck taking it easy on a redwood log.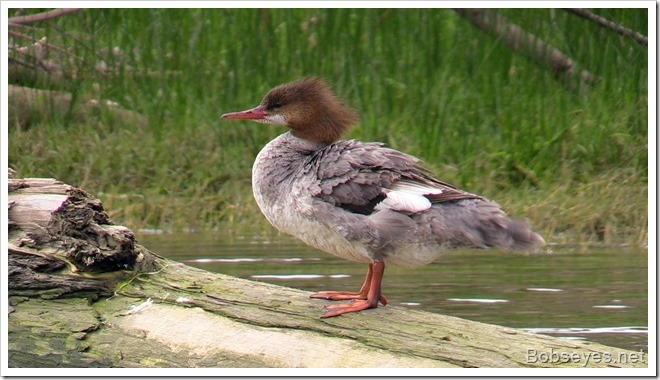 Osprey screeching away
As I slowly paddled up the river, I could hear an osprey calling across the river up ahead, so I crossed over the river to see what it was doing. I found the osprey sitting on a small stump with a trout looking like fish in it's talons. Just as I got close enough to see what was up, two geese crossed in front of the osprey. The two mallards didn't seem to pay much attention to things and seemed to be trying to get some sleep.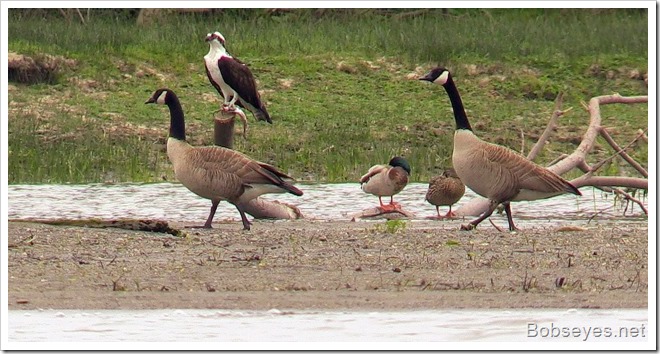 A long rest at Muskrat Nest Beach
I left the birds doing their thing and continued up the river to Muskrat Nest beach. This kind of weather seemed to make me tired out, so I sat and napped for a couple hours in this spot. With the overcast skies there didn't seem to be much happening in the area. There were some ducks out on the water in front of me and once something splashed right in front of me, but by the time I got my eyes open, all I saw was a big splash.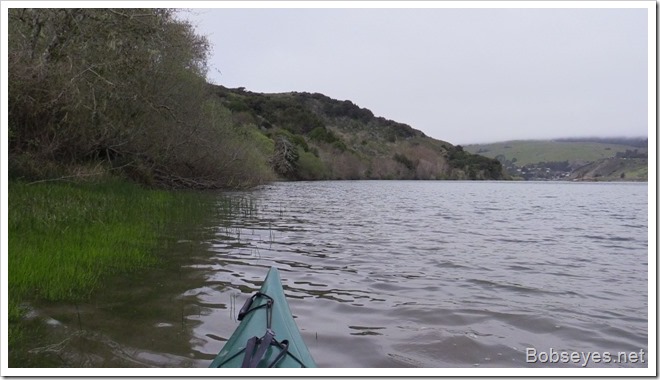 Otter passes on by
After a couple hours, I got tired of sitting there and started back down the river and was stopped at another spot when this river otter popped up in front of me. I watched it dive and come up again a couple of times, then it dove and was gone.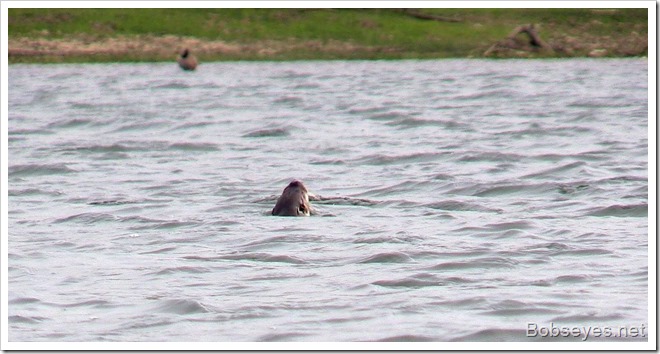 Listening for the wild turkeys
I continued on down the river and was stopped at this spot. I was listening for the wild turkeys, but I hadn't heard a gobble all day.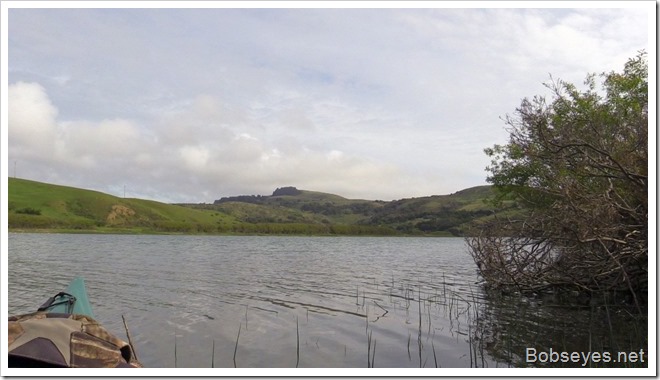 I was looking across the river up on this hillside where some cattle where grazing thinking I might spot a wild turkey, but I didn't see any. However, while watching this calf, I thought I saw a black spot move near it. Maybe a wild turkey? But no, not a turkey.
Black spots across the river
I spotted another black spot off to the right of the calf. Now I had two black spots, so I started across the river to get closer to hopefully see what the black spots were.
Can you see the calf, the black spot to the right of it and the other black spot further to the right?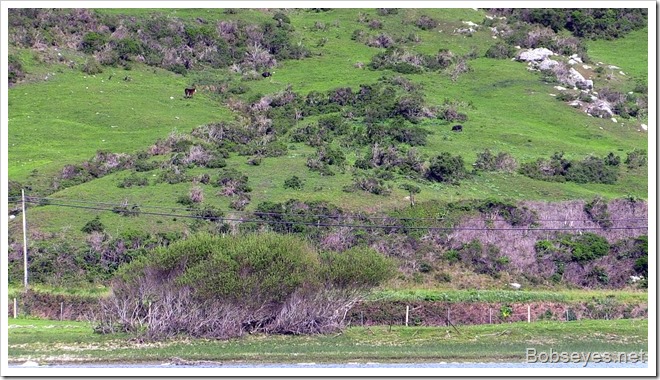 Turned out the black spots were wild pigs
As I got closer, I could see they were wild pigs. The calf and a wild pig in this photo.
A bunch of wild pigs
But that wasn't all, no sir. There were a bunch of wild pigs on that hill. Two mommas and a bunch of little piglets.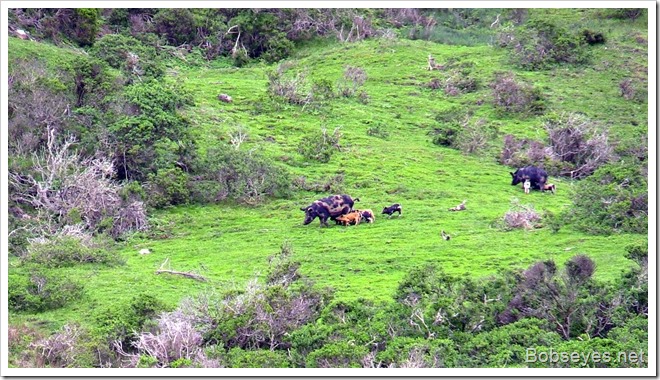 I watched them and took pictures for about a half hour as they played and grazed along the hillside.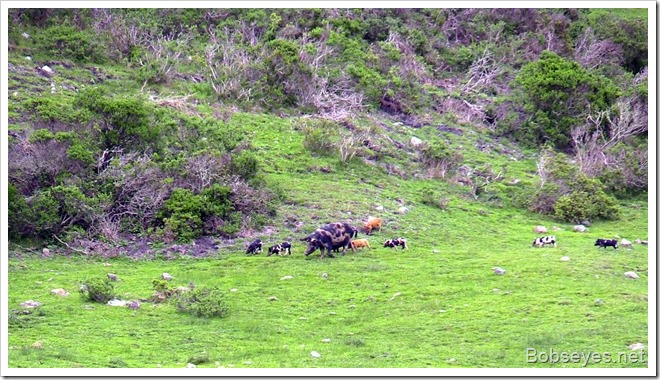 And then I continued on down the river. This is what the day looked like as I approached the little town of Jenner.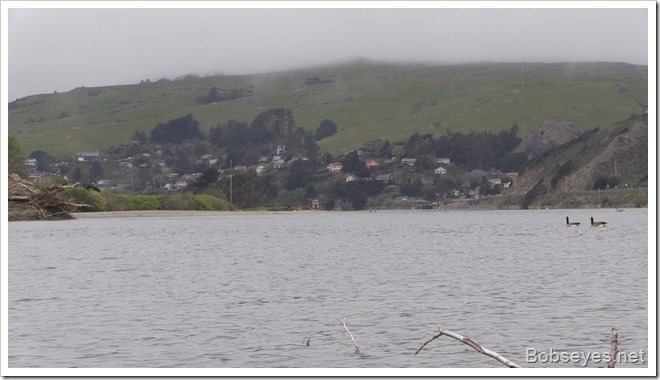 Headed on down to the lower end of Penny Island
I was temped to head in for the day, but it was still early, so I decided to at least head on down to the lower end of Penny Island. This pair of mallard ducks was feeding along the water's edge as I passed.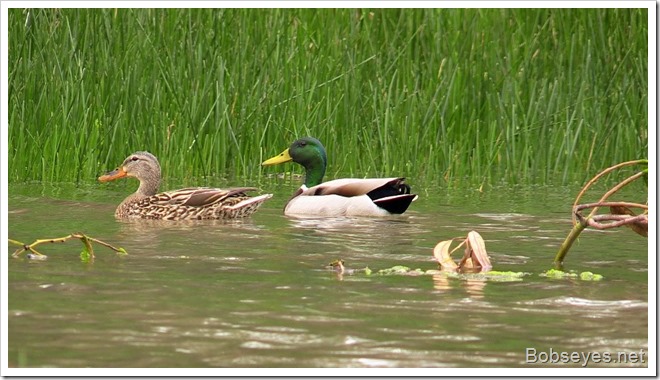 I made it down to the end of the island and decided not to go down to the river's mouth area.
This was the view at the end of the island.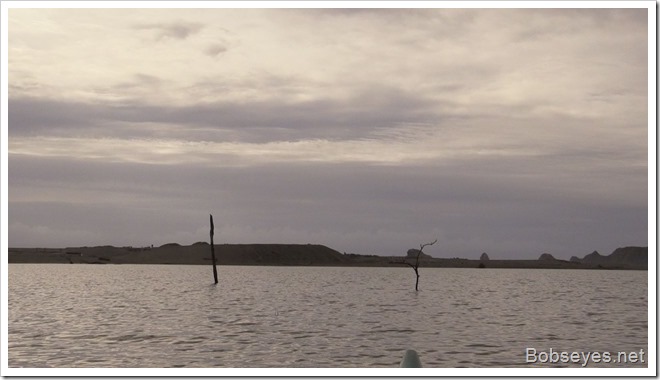 I sat there for about a half hour, then headed on in for the day.
Too tired out
Of course when I got home I still seemed to be tired out, so I hit the couch for about an hour, then went outside to see about doing some yard work. But the day was overcast and it was trying to rain, sprinkling just a little, so back in the house for me.
That was my day.
(Visited 120 times, 1 visits today)