Wednesday and Thursday April 8 and 9 2015 Boonville CA.
Wednesday the 8th
Heading up to Boonville
My task for the day was to drive about two hours up to Boonville where I was going to meet my friend Marty at his cabin. I finished loading the van and was off about eleven AM, stopping in Guerneville for gas.
It's a fairly nice drive up there with only one traffic working hold up and I made good time.
Just past Boonville, I turn off onto an unpaved county dirt road and drive up into the hills about another eight or ten miles to a locked gate.
Passing through that gate, it's about another three miles or so down the hill to his cabin. I pulled in and was surprised to not find him at the cabin, but I knew the routine and parked my van in the spot I like, adjusting it a couple of times to get it level. I got in and was dozing for ten minutes or so when I heard his jeep driving up.
Here's my preferred camping spot here by the cabin.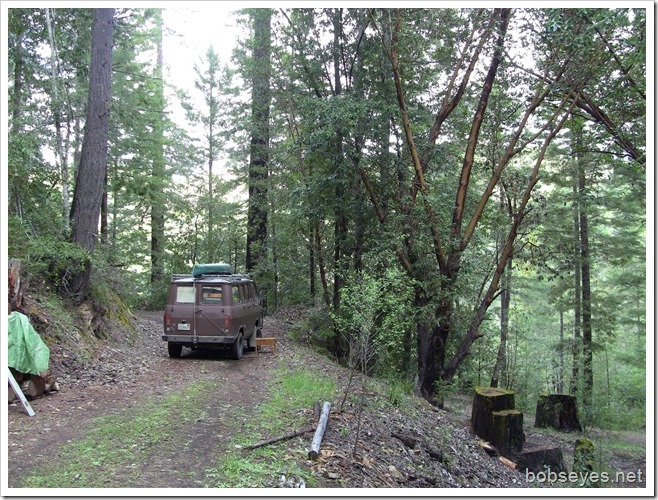 Marty showed up and started unloading his stuff. A picture of his jeep, cabin and my van in the background.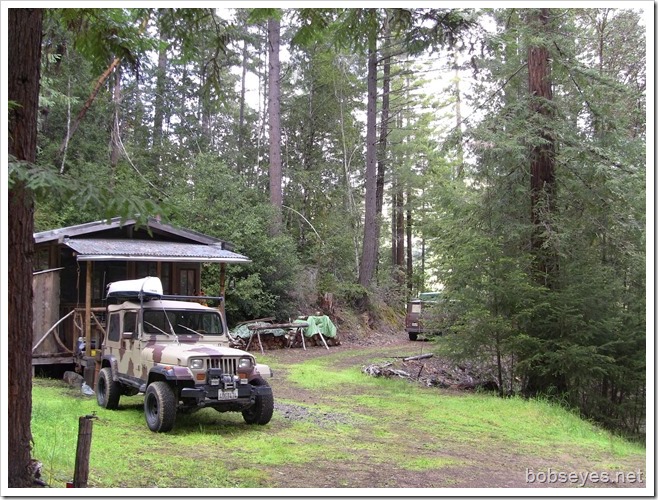 Photogenic bathhouse
I was walking around and said to Marty, your bathhouse is the most photogenic thing up here.  Hot shower, flush toilet. What do you think?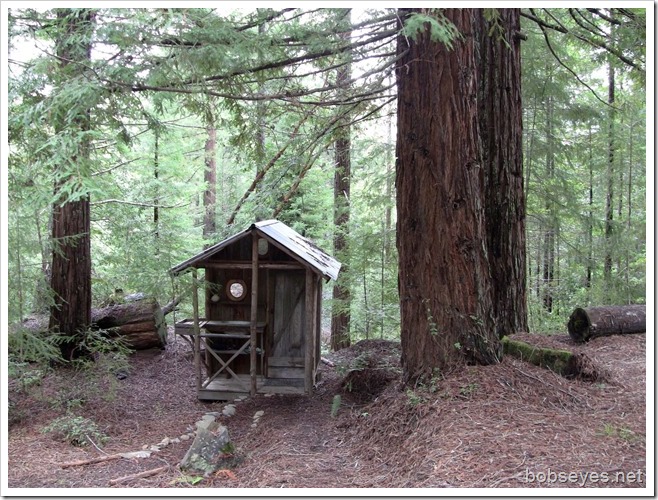 After he got settled, we sat around for a couple hours and shot the bull. Then I said I'm going to my van for a little nap which I did.
A walk to the bench
After that, I decided to walk up the road a bit to one of his benches he made and put out there to have a rest, at this spot.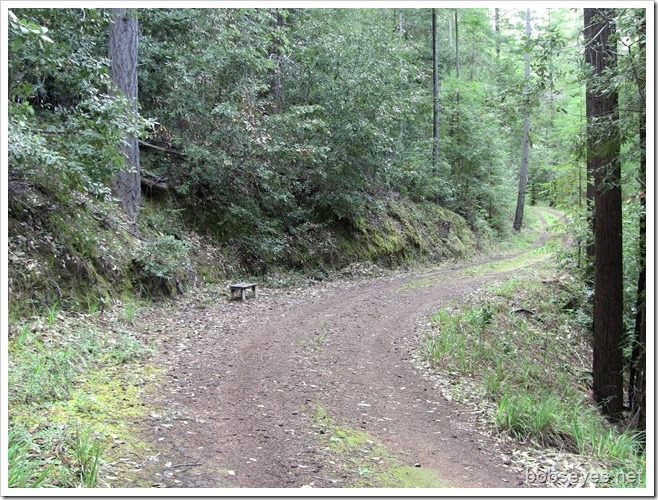 I didn't go far and was back at the cabin to cook dinner. I cooked a chicken broccoli vegetable dish which we devoured. We spent the rest of the evening sitting around by his wood stove in his cabin shooting the bull, until bed time.
---
Thursday the 9th
A day at the cabin
In the morning I headed on over to his cabin that looked like this. It was cold enough to need a fire, but the day warmed up nicely.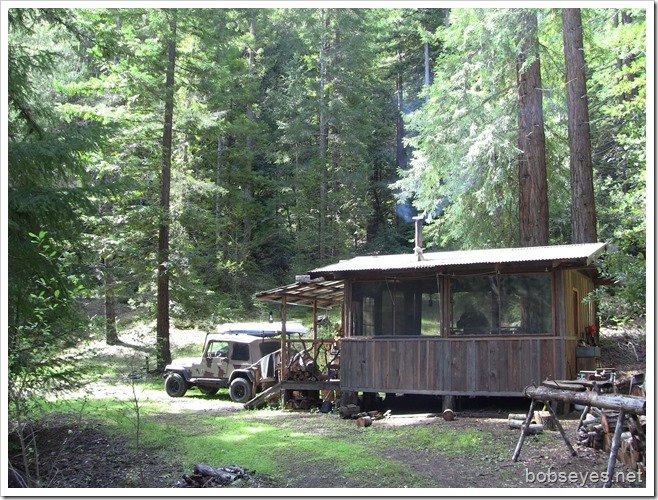 Checked out Bear Spring
We sat around the cabin until almost noon when we decided to go up and hook in one of his springs on one of his trails up above his cabin. First we drove up to Bear Spring to see how much water was flowing out of those springs. Not much, which was ok because these aren't the main cabin springs.
Bear springs are in the big ferns.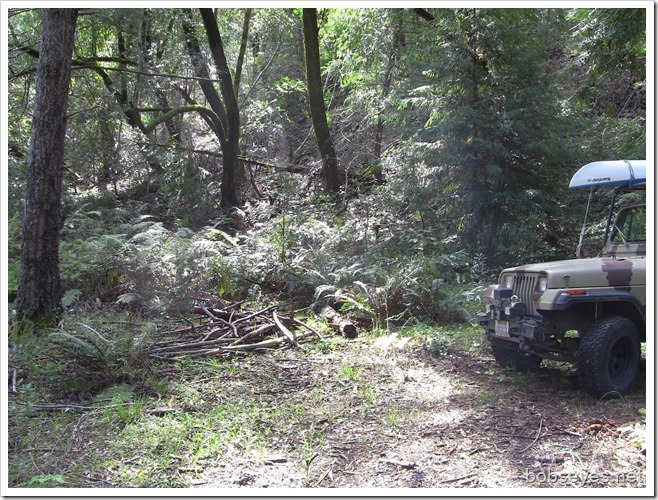 Walked up the trail
After checking out Bear springs, we drove back down the hill a bit and stopped the jeep and walked up one of his trails to install a tee at a new spring into the main water line which we did.
Then we walked his trail some. When we got to the end of his trail, I said I was going to explore and see if I could bring the end of the trail back down to his cabin, so left him to go back to get his jeep and I took off through the forest.
Here's one of the old roads I was walking along exploring.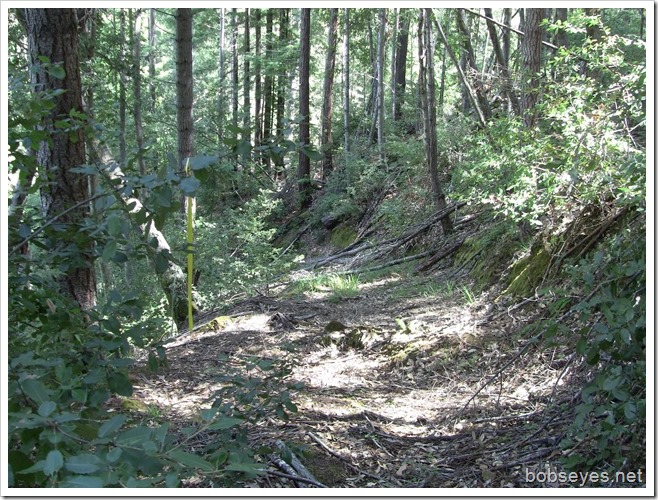 It turned out, I missed the cabin and walked a long ways past were I should of turned down to it and had to back track a bit and got more exercise then I'd expected.
Enjoying the forest
I got back on track and was headed down to the cabin where I could see Marty doing what one should do in a place like this. See him resting in the yard in his chair? :O) I joined him.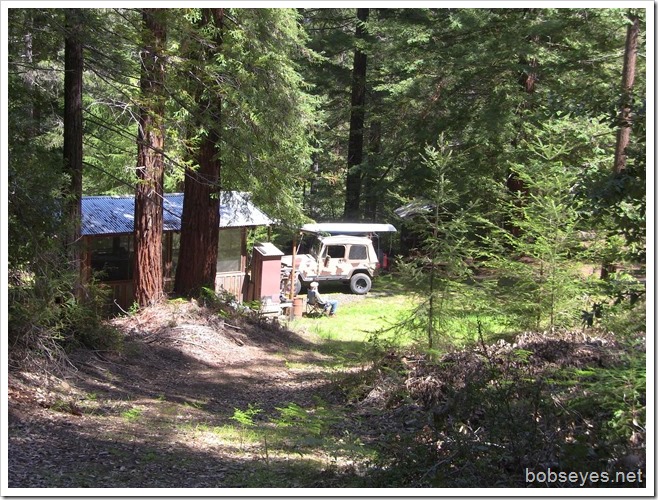 I found a chair and plopped down. I was beat as I'd gone a lot further than I'd planned. I collaborated on what I saw up there and then said I was going to my van for something to eat and a rest. He thought that was a good idea and we made plans to meet at his cabin in about an hour to take his jeep to his new neighbors to return a gate key.
Off to visit the new neighbor
After we were rested up we jumped into his jeep and headed for his neighbors, which meant we had to go down the hill and cross the creek to get there.
Here we are just starting across the creek.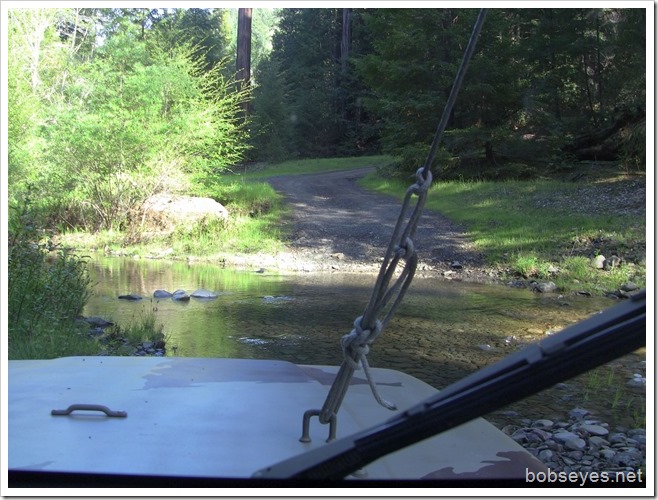 We drove up the hill a mile on this road or so to his neighbors place.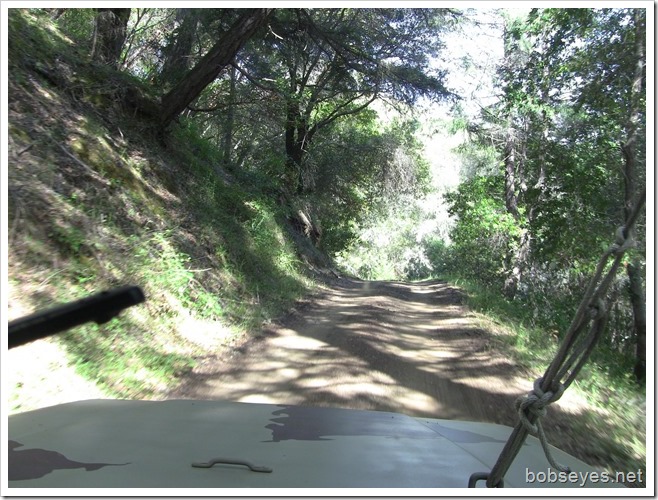 We pulled into  his driveway where three friendly dogs greeted us. It didn't seem like anyone was home, but eventually, the neighbor came out and we started shooting the bull. We got a good tour of all the things he'd been doing the last year to get water and establish his place. He's been a busy guy. I didn't take pictures sorta out of respect for folks I don't know. I'll just say he had a lot of things of interest on his property.
After a good tour, we got back in the  jeep and started on back down the road and decided his new neighbor was an alright guy.
Almost a Supremo
When we got back to the cabin we rested up then I cooked some stir fry. I did another variation of chicken broccoli and another dish I call fried rice supremo. Although, what makes it supremo is the raisins I put in, which I forgot, but it was still yummy.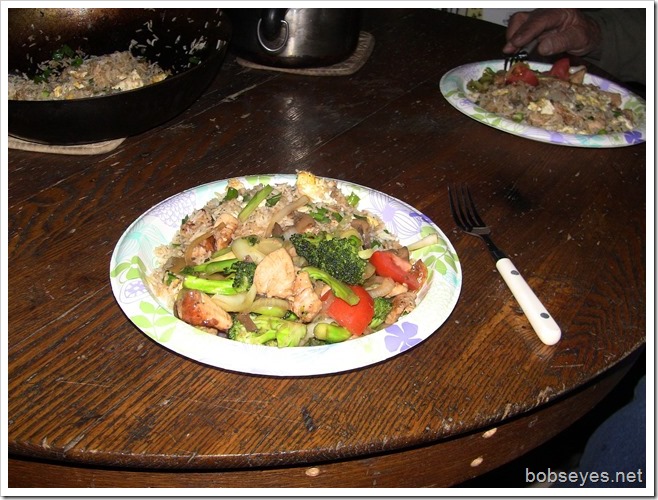 After dinner we were sitting around his table reviewing the day and shooting the bull when I noticed Marty's head was nodding off so I woke him up and said good night and returned to my van where I'm resting nicely and writing this blog.
Tomorrow's plan
The plan is to drive up to Fort Bragg and kayak the Noyo River harbor and hopefully post this blog at MacD's.
Nice day in the forest.
(Visited 218 times, 1 visits today)