Sunday February 28, 2016 Guerneville CA.
Mounting the van cooler
I decided to stay home again today and do some more work on my van. I needed to remount my cooler as the new shelving in back of it caused me to have to move the cooler forward more. I tried several ways until I settled on what I would call the best way, which is with two bungee cords holding it down.
Here's the cooler in place and held down with bungee cords. I didn't' realize the door was so dirty. :O) I can now reach the water bottles to the right back of the cooler which is handier than opening the back doors to get to them.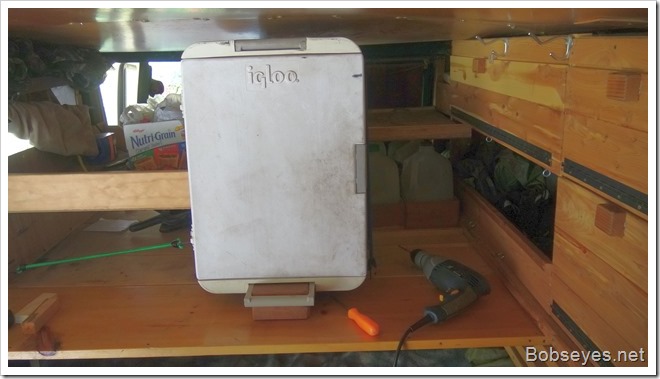 An upgrade is needed
While working on that, I realized I really need a better fridge than this cooler. So, I'm looking into finding a unit that runs on propane, 110v, or 12volts, a three way.
The fact is my corn allergy means I need to carry a good supply of safe food if I want to travel around. I'm pretty sure I'll get something as soon as I've researched it a bit.
Electrical project
After getting that done, I puttered around in the yard for a bit, then I went over to design and measure a new electrical hookup for my brothers main water pump on one of his garden plots. It's our old family well and the current electrical wires are badly corroded so they need to be replaced. I made a list of what I need to get the job started so a shopping supply run is needed soon.
It got dark not too long after that and that was my day.
(Visited 99 times, 1 visits today)