Friday April 1, 2, 3, 2016 Usal Creek CA.
Taking it easy
We didn't have anything planned for the day, just mostly take it easy and enjoy the day.
Steve took off to the mouth of the Usal creek to try his hand at fishing again while I stayed back at camp.
Around noon or so I was ready for a little walk, so I thought I'd walk on down to the creek mouth and see if I could find Steve to see how he was doing fishing.
Surfers headed for the waves
I headed out across this field. I noticed some surfers headed for the sandy beach on the south side. They are in the left of this picture, looking south across the Usal creek.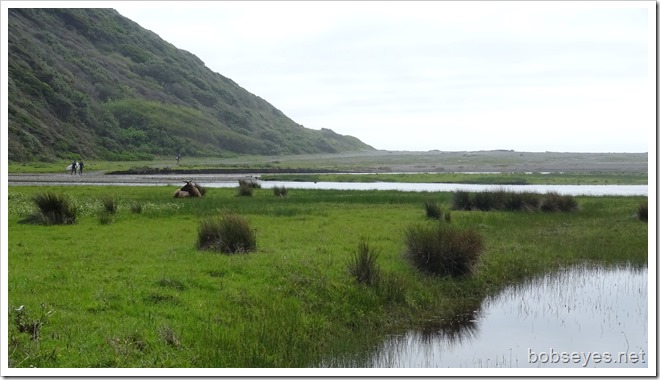 Did you happen to notice that bull elk laying in the field, growing a new set of horns. And if you can zoom in on that person, they have some legs. :O)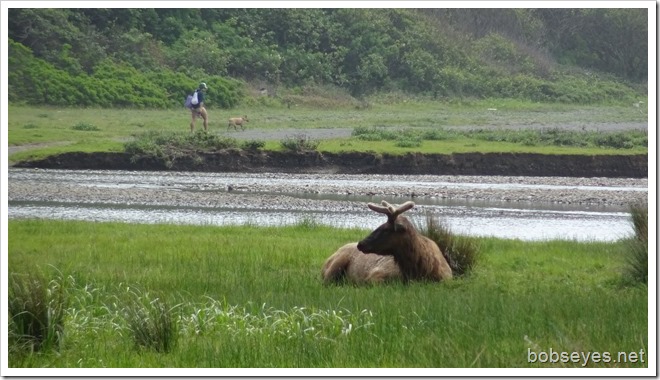 This elk has been hanging around the area and doesn't seem to mind people being around.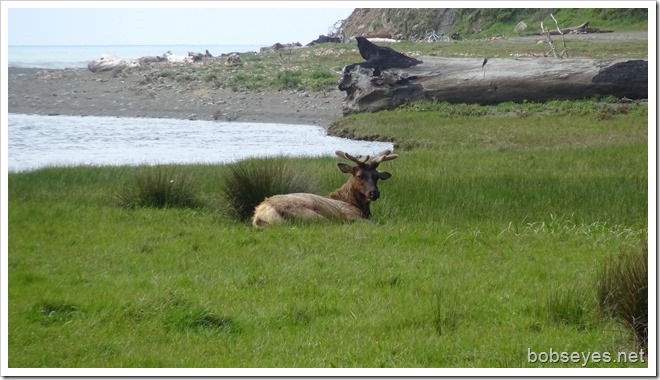 Looking for Steve
This is what the creek mouth area looked like as I walked down the right bank looking for Steve. So far I don't see Steve.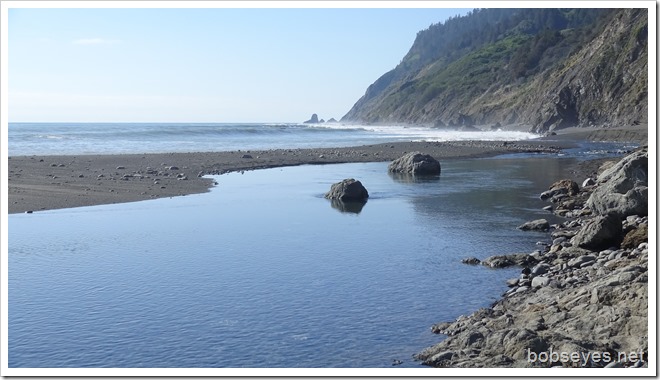 I didn't find Steve
I walked down to here, but didn't see Steve and thought maybe he walked across the creek and is fishing on the sandy beach on the south side, but that was too far for me to make anyone out, but I did see someone fishing in that area, so I turned back here. I did notice these two guys getting some sun on the beach there on the right. If I was to guess, I think the furthest one might be the dead guy and might be dead here. Oh, I haven't told you about that yet. Read on.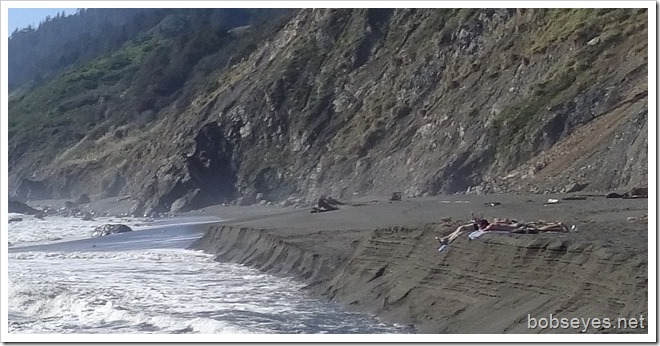 One of them died
When I caught up to Steve later in the day he said he had some excitement while out fishing and I said, what's that? He said one of those guys came down the beach where he was fishing past them, all freaked out. He said his buddy had turned blue and didn't know what to do and needed some help, so Steve went with him to check the guy out and found him blue all right, but it was too late and he was gone. Steve advised him to take him to Fort Bragg, but with his bad back couldn't help him get the body to the car, but about then another guy came by so the task was completed.
Steve said it sorta ruined his fishing as the fish were just starting to bite when the guy showed up and he'd just caught a little perch which I'm too embarrassed to show you. :O)
I didn't know about the death until later and started on back along the creek as ocean waves broke on the sandy beach, looking south. At this time I think Steve might be way down that way, but later find out he isn't.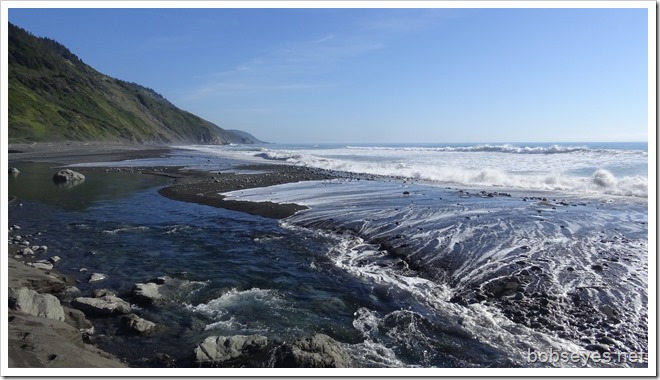 I zoomed in down that way. Looks like a nice area to fish.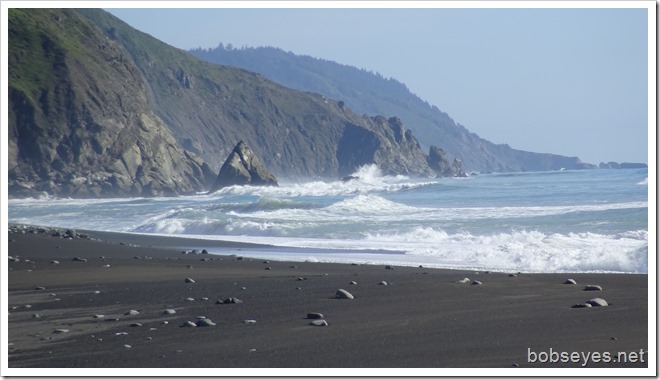 On the way back I went past the bull elk again. Two little girls had come out to see the elk. They got distracted by something they found there and this was the scene as I approached.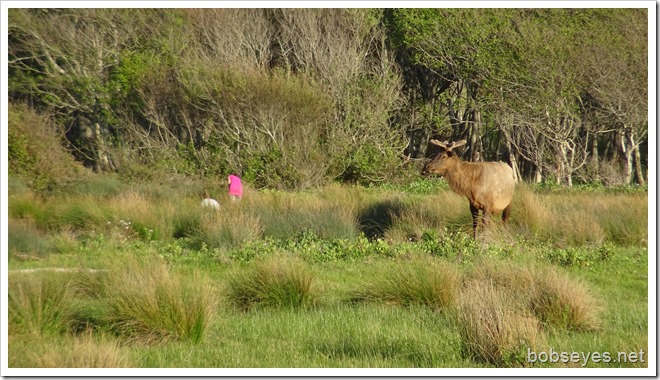 No problem with the elk and I went on back to camp for a nap.
Perch for dinner
Later in the day, Steve still hadn't come back so I walked on back to the ocean and found him just getting his fishing stuff into his car and he told me about the guy that died and presented me with a perch for dinner.
Nice campfire
We headed on back to camp and got dinner going and then relaxed around the camp fire until about 1AM when we finally called it a day.
This is what our camp site looked like this evening.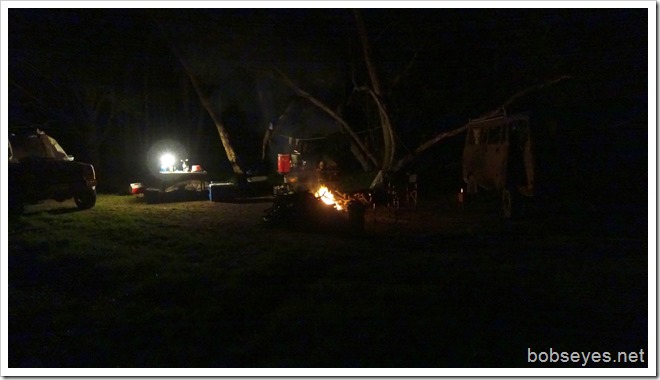 That was pretty much the day here at Usal Creek.
---
April 2, 2016 Usal Creek CA.
I decided to head on home today. Steve decided to stay for another day or so. The van is pretty easy to pack up and get going so I was out of there by nine just as Steve was getting up.
Only problem was I haven't been sleeping well with my rash, so I was having a big problem with my eyes wanting to close. I know what to do about that, just pull over and climb into bed. But there lies the problem. When I lie on the rash, it activates it and I start to itch and itches have to be itched and it can get pretty severe. So I've found that the best thing to do if I don't' want to itch myself raw, is get up, the quicker the better, so it's hard to get any real sleep. I fought that all the way home, but I made it without killing anyone. It's about a three hour drive on a roller coaster type road so it's important to pay attention all the time.
My antifungal stuff came in the mail while I was gone, so I took a shower and tried some to see what effect it might have. Only problem with that is it stung and burned a lot, so was back in the shower to get it off.
Since I'm pretty sure my rash is from a burn and not fungal I stopped using that. I was just trying it as I told my doc I would to check for any fungal stuff. I have an appointment this Tuesday so I hope to get her on the right track.
---
Sunday April 3, 2016 Guerneville CA.
I had another bad sleeping night so I decided to head for the drug store in town to see what they had and picked up a couple things.
I stopped to see John and had him spray some stuff on my back. Then he told me his Mac had crashed trying to do an install I recommended. He was almost freaked out and was almost going ballistic on anything I wanted to try on the Mac. If I had the install disk, I likely would have gotten it going, but his wife wisely left the house just before we started. :O)
He says he can take it down to the Mac store and they will fix it free, so that's what he'll do and then we will learn to manipulate photos the Mac way using their iPhoto's software that is right now screwed up.
From there I went over to Ray's house and visited with him and his wife, Elaine for a bit.
One of the reasons I went to town was to get some gas for the grass mower which I did.
I gassed up the mower and it actually started right up, but while using it, I could see the belt was old and worn and slipping and slowly eating itself up.
I had a spare, so I got out my tools and replaced the belt and started again and got some grass mowed before I pooped out and my rash was screaming at me. I'm not sure if the mower ran out of gas or it just stopped, but it was good enough for me and I put it away for now and went in for a nap.
Tomorrow, it's back to kayaking. Ray is supposed to meet me down at Jenner.
(Visited 882 times, 1 visits today)