Saturday April 23, 2016 Guerneville CA.
Working on projects
I decided to stay home today and try to catch up with some of my projects.
Ford tractor first
Once I got it going, I went out front and worked on the old Ford tractor we are doing a 12 volt conversion on.
Today was the day I'd try to start the tractor up as I had all the stuff installed and that's all that was left to do to finish this project off.
I turned the key on and hit the starter and it turned over nicely but didn't even try to start, so I got out my can of starting fluid and squirted some into the carburetor and tried it again and I got some pops and even a short run out of it, but it wouldn't keep running.
Since it would run a little with the starter fluid, it meant it wasn't getting any gas and the fact it would run a little meant the electrical system was working and firing the plugs which was a good sign as I installed a goody that replaced the points and wasn't sure it was going to work, but it did. NO MORE POINTS they are such a bother.
The fuel line had a real old looking fuel filter on it as you can see. I had another one and changed it out just so it had a new one but the gas wasn't flowing. I got a flashlight and looked into the gas tank to see if here was any gas. It was hard to see, but it looked like there was at least a little gas in it. I added a couple more gallons just in case and tried it again and still no go.
Old type gas gauge
About that time, I found the gas gauge on top of the gas tank. It consisted of a little stick of wood you stuck in the fill opening, pushing the stick to the bottom of the tank. When the stick was removed the wet gas showed on the stick. I did that and the tank showed a couple inches of gas, so that wasn't the problem.
It had a glass filter on the bottom of the fuel tank and the gas looked clean in it, but I feel there is something wrong in there that is not letting gas flow down the gas line.
I didn't have any good gloves to put over my hands to protect them as they are tender from my burn, so I stopped working on that for now, but it looks like it is going to go once I get the gas flowing again.
Here's the side of the tractor I was working on . It has a new 12 volt alternator and a new 12 volt starter installed. The carb is between them with the old fuel filter on the line coming down from the fuel tank. It's a gravity flow system.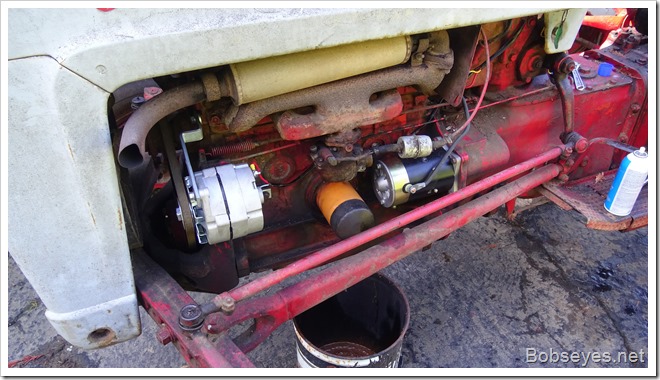 Next job was the well manifold
Of course I had a good break after that, then I got the pipe parts together for the well I've been working on for Tom.
Here's all the parts before I gooped them up and put them together.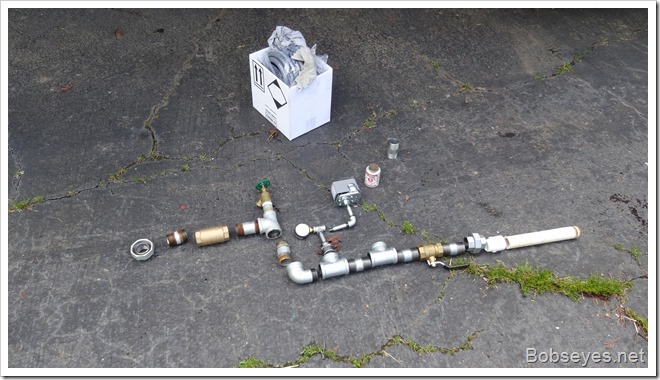 Here's the pipe manifold put together and tightened up, ready to install at the well.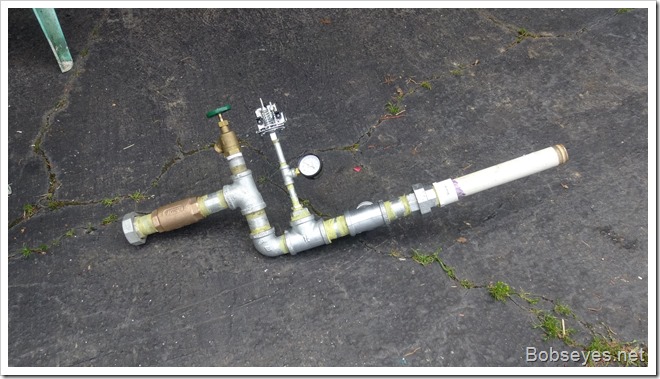 Hooking it all up
I got my supplies and tools together in the wheelbarrow and went over to the well and put it all together which looked like this.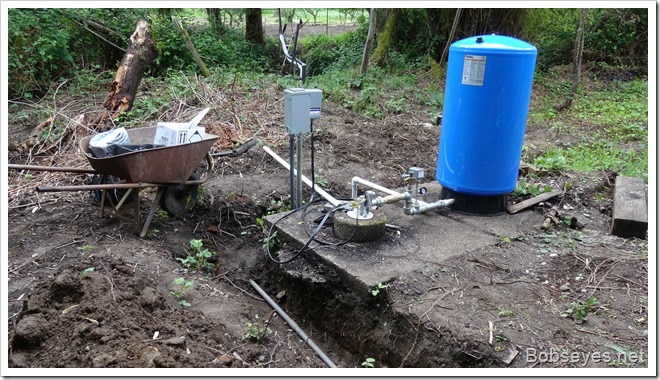 I still need to get a couple electrical parts to finish up wiring the job and that job will be done.
I spent a good deal of time puttering around in the yard, dong mostly nothing.
Getting my fill of strawberries
Later in the day I decided I deserved a little reward, so I walked over to my brother's strawberry patch and found him and Dominique picking berries or at least he was.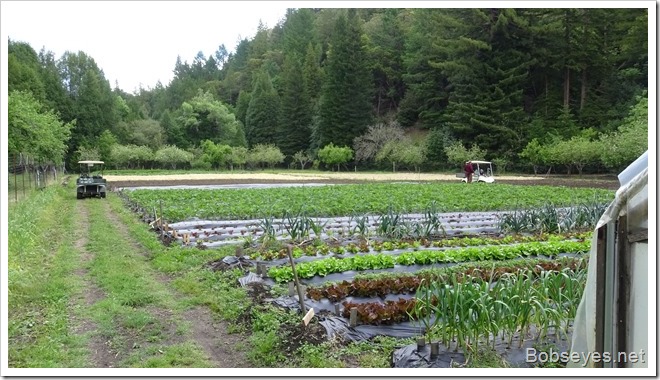 Lots of berries were getting ripe, so I ate some,……… of course. :O)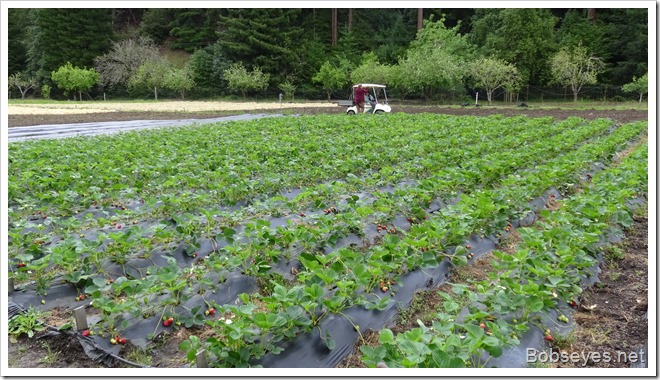 It didn't take long to get my fill of berries. I left Tom picking berries for tomorrow's market. He said the people really scarfed up the berries at todays market.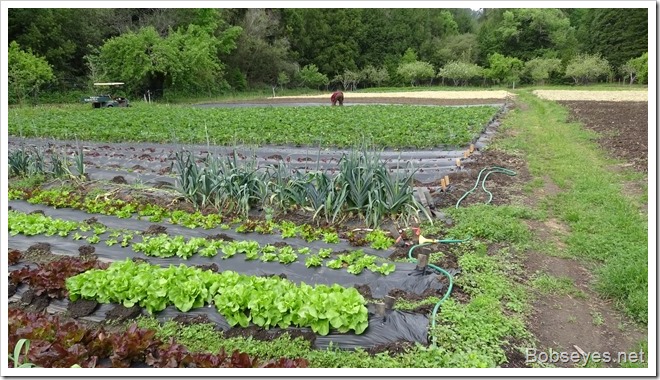 I went back over to my yard and puttered around, doing some weeding and a few other small tasks that needed done, but I mostly took it easy.
That was my day.
(Visited 185 times, 1 visits today)