Friday June 3, 2016 Guerneville CA.
Headed to the Studio at Bodega
This morning I decided it was a good day to go by and visit Lorenzo at the Bodega Landmark Studio, mostly just for a visit.
There's the town of Bodega and there's Bodega Bay. I'm headed to the town first.
I'm just entering town here. The studio is that building up at the end of the road.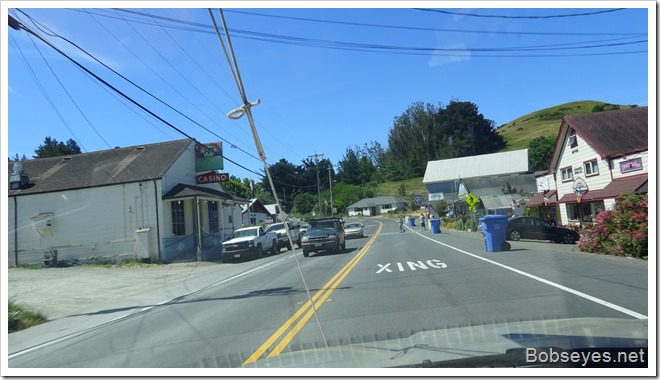 I pulled in and noticed right away that Lorenzo's car wasn't there. I got out and looked and neither was he. He must of taken the day off or something. I didn't call, so I got what I deserved.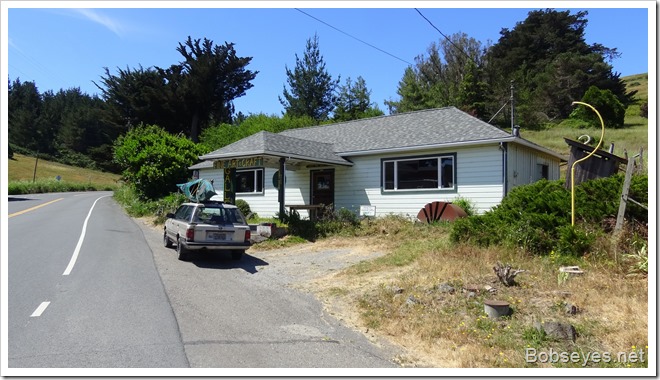 The place doesn't look like much but he has a lot of good art type stuff in there and he's been running the place for a long time now. I've had some silver casting pieces with him for a long time and every once in awhile he sends me a check when something sells. I no longer make any art pieces so he's just selling what's left of my stuff.
And then to Bodega Bay
As long as I was in the area, I drove over to Bodega Bay and looked around a bit. Here's some of the boats at Lucus wharf looking across the bay.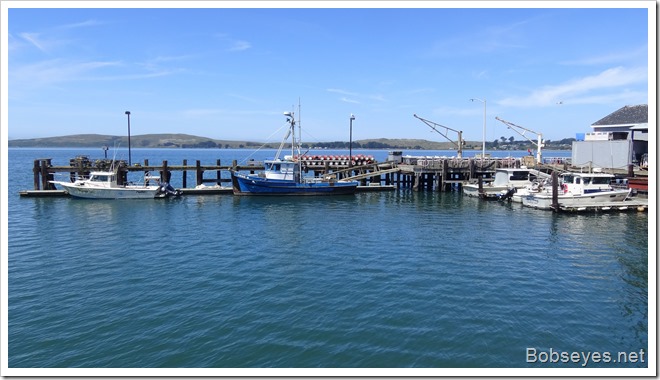 I stopped at the Tides too to have a look, but it's too touristy and upscale for me so I didn't stay long.
I headed on over around the bay to what they call The Head.
I had to drive by Spud Point on the way. It's the main boat dockage area on the bay. Crab pots stored there on the right side of the road. This is a working fishery area.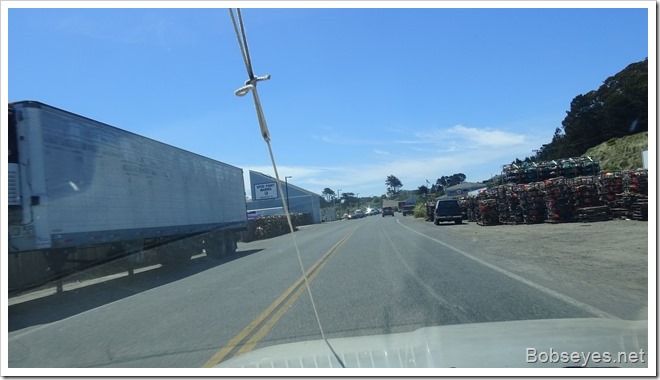 I continued on to the Head and got out and looked around to see if there were any whales out there, but I didn't see any, but this was the view.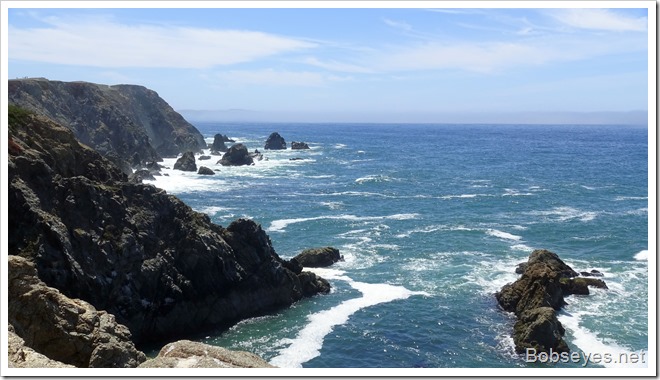 I went back down the hill from the Head and stopped here where the jetty goes out into the ocean. There were some guys fishing there, but I didn't talk with them.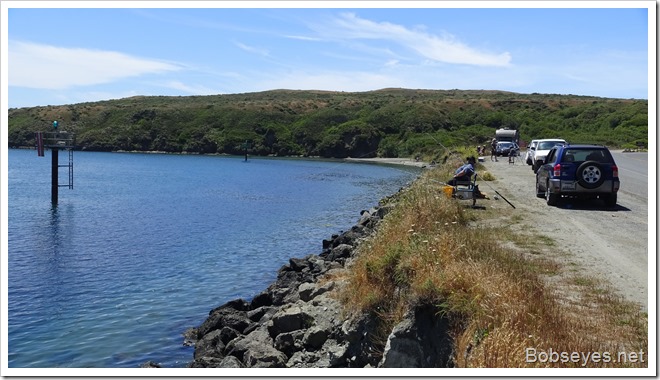 The jetty channel to the ocean is out there by that sail boat.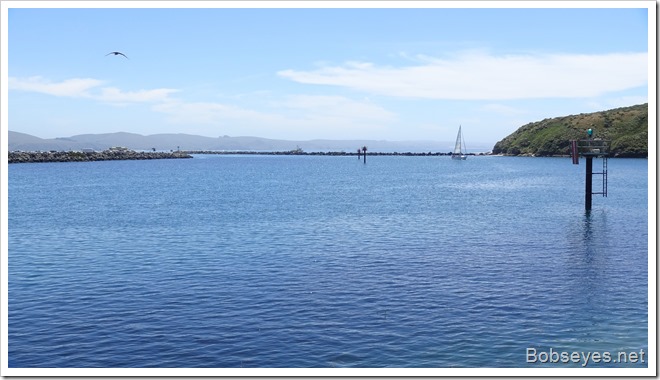 I could see this crab fishing boat going out into the ocean across the rock jetty.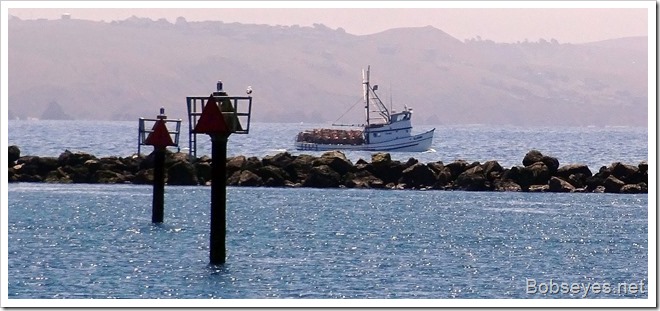 Headed to the overlook
From there I headed to the overlook at Jenner to have a look at the river's mouth to see if it was closed.
I found the mouth closed up, with some waves breaking over from the ocean.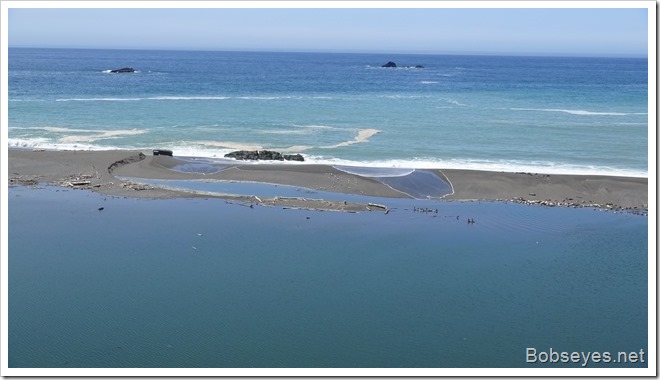 I could see some cormorants resting down there by the closed mouth.
I saw this lady on the overlook with a good pair of real big binoculars, so I went over to chat with her for a bit.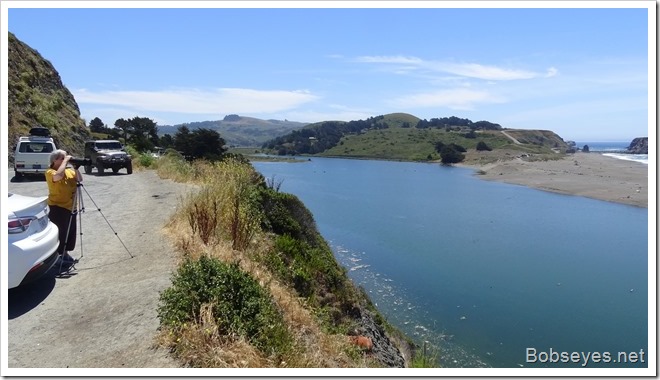 She was especially interested in that reddish or rusty looking seal which she called a ginger. It's the first one I've seen that color around here so far.
Decided not to kayak for the day
It was nice out at Jenner, but I was tired and needed a nap so I didn't put my boat in the water and headed towards home. I stopped at Ray's house and shoot the bull with him a bit then went on home for that nap.
Installing sparkplugs
It was rather warm out, so I waited for the day to cool down a bit towards evening and put the new spark plugs in the old Ford Tractor. That was easy and went well.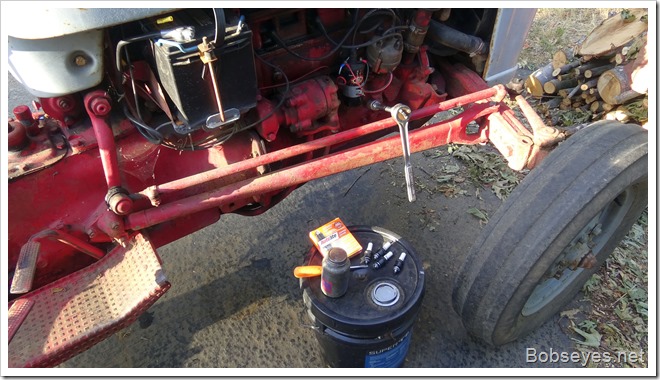 Blowing tree litter off the house roof
I've been wanting to remove all the tree litter on my house's roof for fire protection. I usually sweep it off, but my brother Tom showed me his new blower last year and said I could use it. I went over to his place, but he wasn't home, but I found Dominique home and she knew where the blower was so I got it.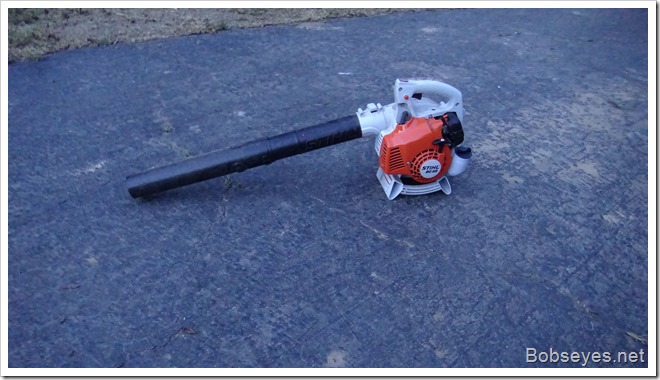 I tried it on the driveway first to get used to it and it worked well, so I got the ladder out and climbed up on the roof to do the job. That was much faster than with the broom and much easier on my back too. I still have a little to do on the other side of the roof which I hope to get to tomorrow.
I then blew off a good part of my driveway and made a bunch of dust before I quit for the day.
Nice day.
(Visited 305 times, 1 visits today)