Friday September 9, 2016 Guerneville CA.
Going for a little joy ride and getting some coffee
I need to get some miles on the van's new V8 engine so today I decided to go for a ride. I wanted some corn-less coffee, so I headed to Sebastopol to Taylor's Maid, an organic coffee place. I buy the best and have them grind it hoping there's no corn in there. I have no idea why there should be corn in coffee, but it seems there is in some. I've tried to find out how it gets in there, but can't so far. I found it it in Peet's coffee that was pre-ground at Safeway a couple weeks ago and haven't had coffee since. I bought three pounds of their best stuff from Guatemala and had them grind them up. The guy ground each pound differently so I can see if I can tell the difference.
Next I headed towards the town of Bodega where I have some stuff with Lorenzo at Landmark Gallery and I hadn't stopped in to see him in a couple years and he had a check for me.
Stopped at the old school house
I made a pit stop at the old school house here which is now an historical park.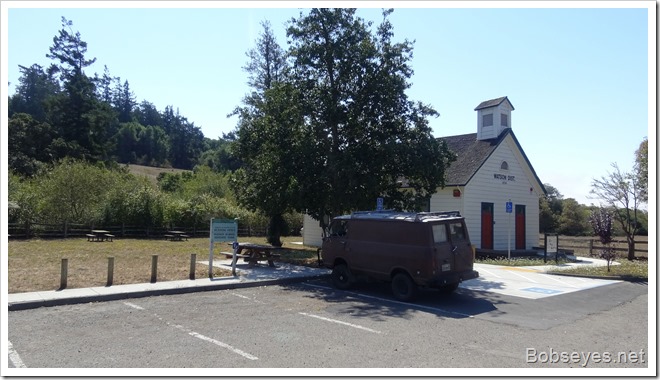 I looked under the van and no leaks, good.
From there it was only a short distance to the town of Bodega which looks like this. .The gallery is the place at the end of the road as far as you can see.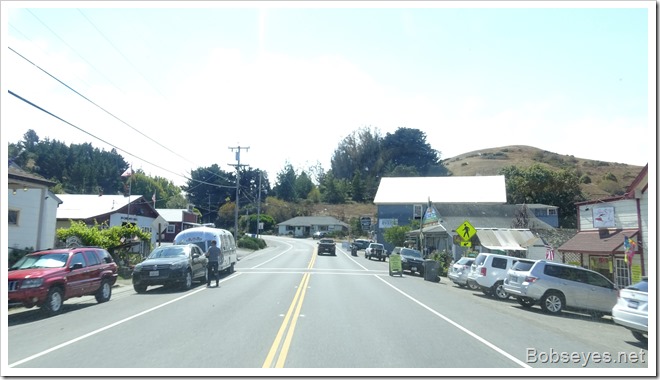 Landmark Gallery
I parked the van and got out with my camera and took some pictures.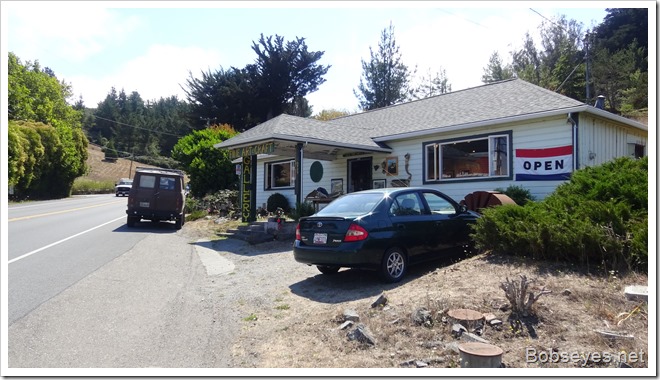 I walked in with my camera taking pictures and caught Lorenzo on the phone. He looked at me sorta surprised until he recognized me, like what's up with the camera.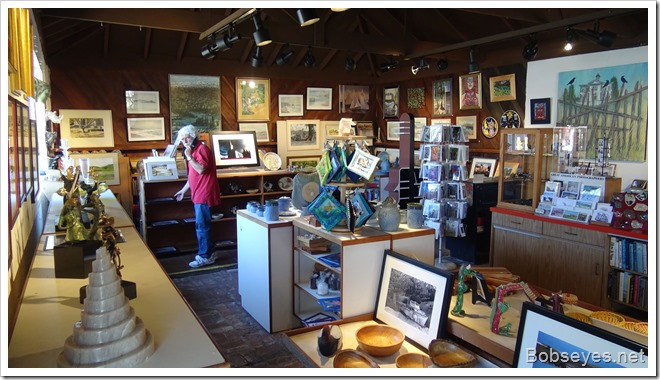 Some of my stuff
He has a lot of nice stuff in his gallery. I made the two crabs and the sea urchin dish which is silver. I did these back in the 1990's. One of the crabs is bronze.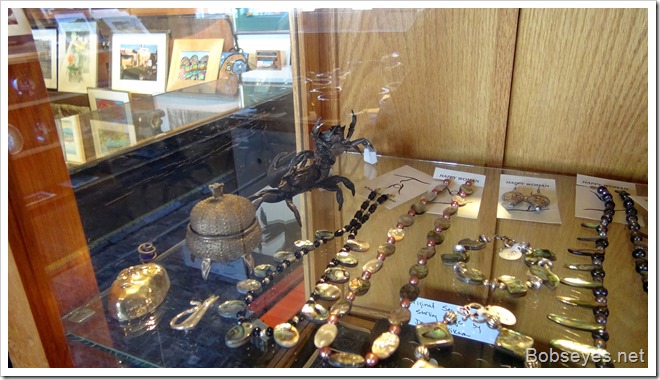 I shot the bull with Lorenzo for a couple hours. He gave me a check and I drove on to Bodega Bay.
Bodega Bay
I headed out towards what they call the head, going through Spud Point where most of the boats are moored, just up ahead.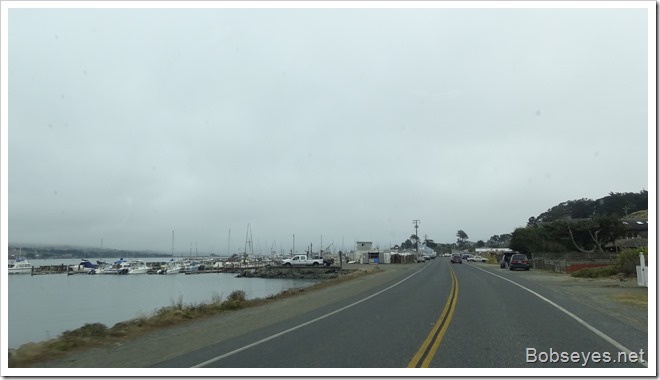 A guy named Bill
I didn't go all the way out the road, but turned around at the jetty and parked where a guy named Bill was fishing. He noticed my van and we shot the bull for about an hour.
This was the view out the jetty where all the fishing boats come and go to the ocean. I didn't notice all the birds on the right side until I viewed them on my computer.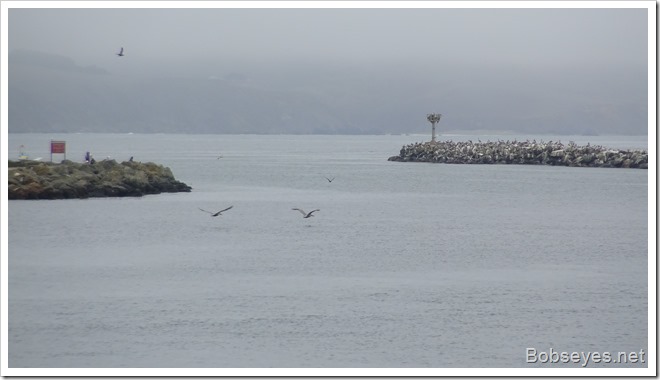 I enlarged the picture on the computer. Lots of birds.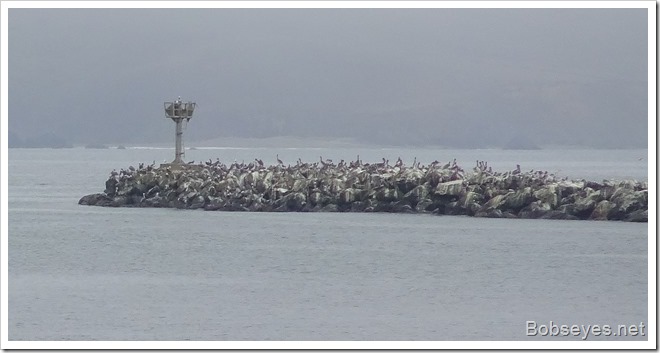 Spud Point Marina
I left Bill fishing and went back up the road to near the marina and parked here for a bit. I opened the side doors and climbed into my office chair and enjoyed the day.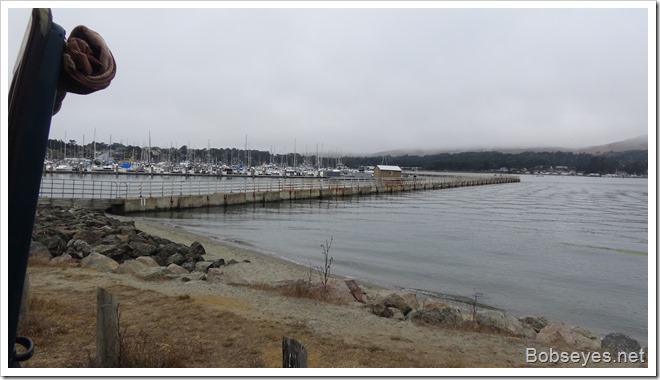 I watched some fishing boats going by.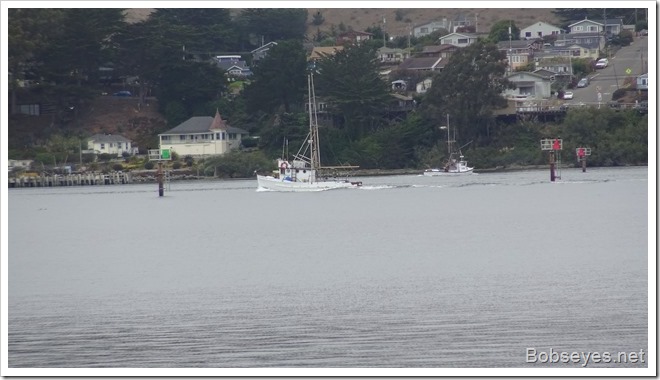 I noticed this guy out on the pier. What I noticed is he is using a crawdad trap which is also a minnow trap. It's not big enough to catch the crab I would have expected him to be catching and I couldn't see what he was catching with it. He had several traps out.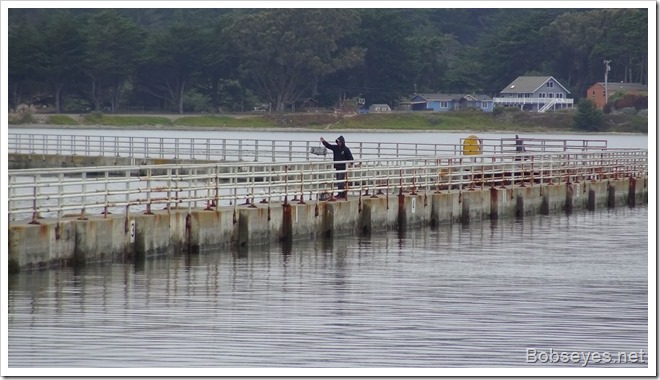 I blew it up on the computer and still couldn't tell what he was catching. He had just pulled this one out of the water and I don't see anything in it. I should have walked out there and checked him out, but I was feeling lazy just sitting in my van.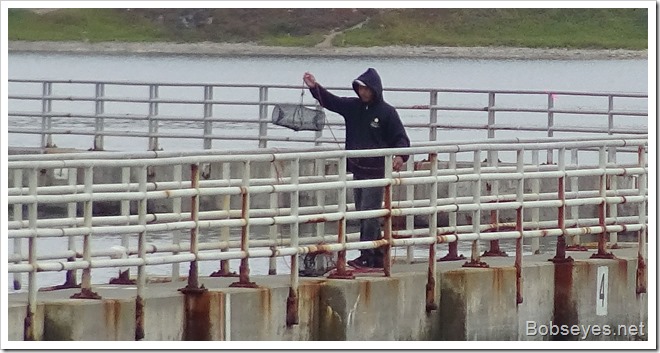 Overlook at the Russian River mouth
After a good break, I headed for Jenner to the overlook at the river's mouth.
These two people where there at the overlook taking pictures. I tried to strike up a conversation, but I think they must have been city type people and scared of the world.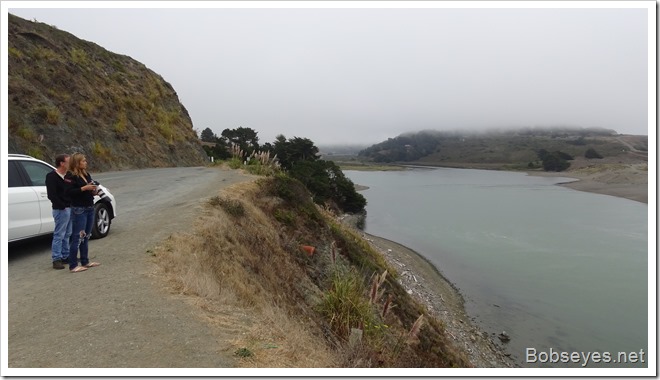 This was our view of the river and Goat Rock out there with the river's mouth to the right and open. High tide is coming in. You can see the ocean water diving under the river water where the S foam is.
My view of the open mouth out to the ocean.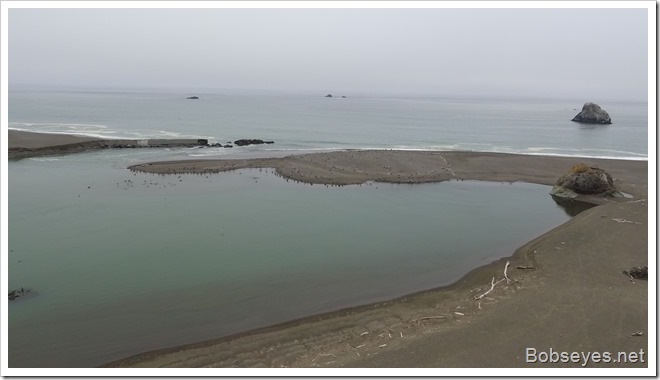 I climbed in the back of my van and sat and enjoyed for a bit. Too overcast for any sunset tonight.
This was my view out of the back of the van from my chair.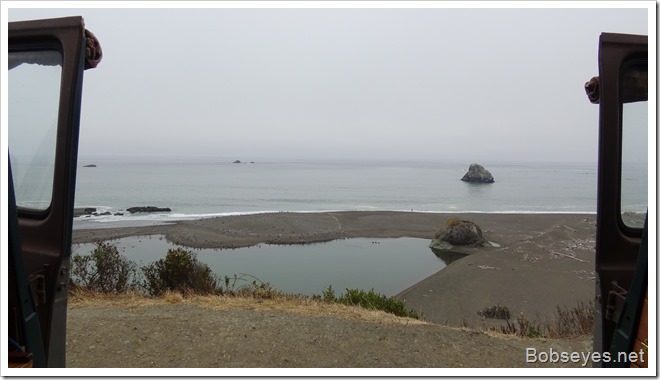 I bet that last block of cement doesn't last through the winter
See that last cement block at the end of the Jetty. Noticed the big crack where it's splitting off. I thought the ocean would take it last winter, but it didn't. But the crack is getting wider so I don't think it will make it through this next winter. We'll see. The ocean has already taken several of the blocks out, one a couple years ago. The ocean is very powerful with it's relentless waves.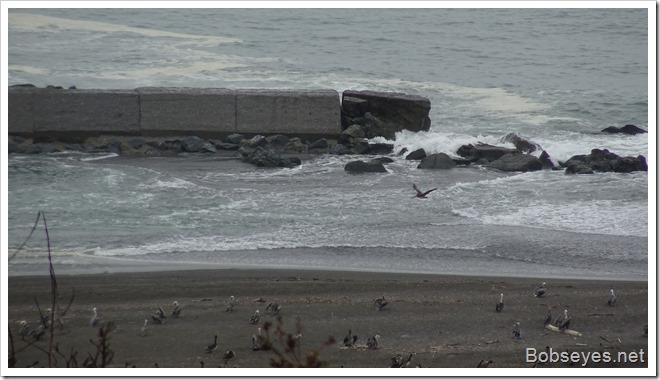 After awhile I was thinking a cup of coffee would be good,but I didn't have my coffee maker in the van as I was working on the van, which means I need to have one just for the van so this doesn't happen and I can have a cup of coffee when I want.
So, seeing there wasn't going to be a sunset, I headed on home for the day, about six pm now.
I had my cup of coffee and it was good.
Now, about the van's test drive
What can I say. The old van is better now than a new van. This engine is much better matched to the van's gears now and is just smoother. The exhaust is a bit louder than I would prefer, but when I needed to zip by five bicycles on a hair pin curve with a double line and only about fifty feet do it into a blind curve, got on it and was very satisfied with the acceleration and the varoom it made as I blew the cycles off. Very satisfying indeed and much safer too. Varroooooommmmm. :O)
One of the last things I did was installed new modified front leaf springs as the springs that come on the van are actually too long and banged into the van's frame in the back all the time making a hell of a racket. I had this set custom made and shortened the back an inch and a half to stop it hitting and now the van goes over all bumps much better with none of that crashing into the frame.
Everything performed nicely and when I got home I looked under it for any signs of leaks and no leaks, so all is good.
And so far the temperature gauge hasn't been too high. Most of the day, It ran below 200 degrees F., but it was overcast. The highest I read in Sebastopol stuck at a stop light was 208, which was good. Maybe I don't need an electric fan for the radiator, but I have one ordered and I know there will be times where I might need it.
I still need to put some more miles on it to break the engine in before I can take off on any big trips.
This van is the best
All in all, this van is better than if I had a new one, as the newer ones just aren't as tough as this one.
Nice day test driving the van.
(Visited 120 times, 1 visits today)