Monday August 3, 2015 Jenner CA.
Lots of little fish in the estuary
The sun was already out when I pulled into Jenner this morning, so I put my boat in the water and paddled across the river to Penny Island and down along it's side. I could see lots of birds after all the little fish that have come into the estuary lately.
Fishing pelicans
This was the first pelican I ran into as I paddled along down the side of the island. It was fishing, sticking it's great bill into the water and grabbing little fish.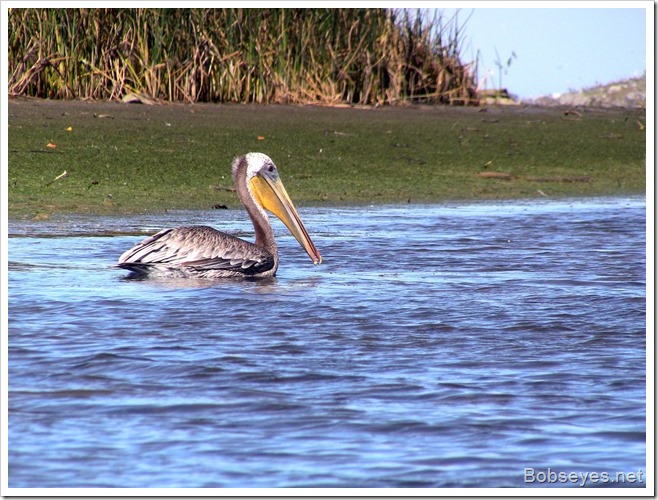 There were some white pelicans and terns preening and resting on the lower tip of the island as I paddled on by.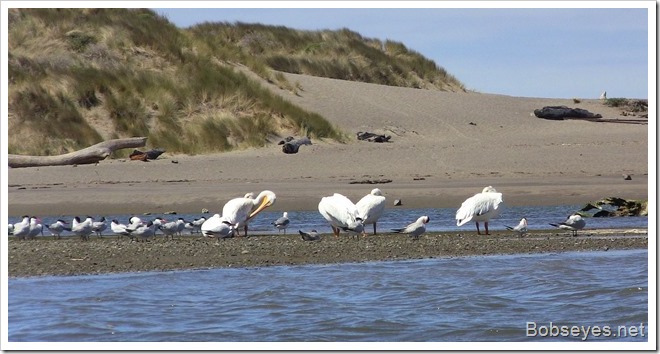 Wings up
On the other side of them, these other white pelicans were fishing as a group, dipping their big bills into the water and scooping up what fish they could. They lift there big wings this way when they are fishing like this. It might be for balance, or maybe to change how they look from underwater? If you look close you'll see they all have their wings lifted up a bit, some more than others.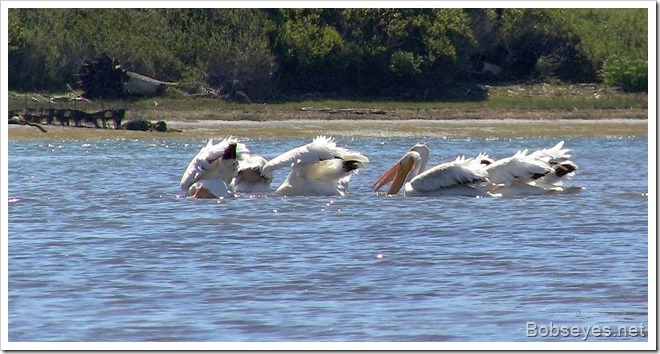 Some feeding going on
Continuing on down towards the river's mouth, I could see a lot of birds on the water and in the air feeding in this spot. Brown pelicans on the water dipping and the terns flying around screeching and diving for fish. Lots of action.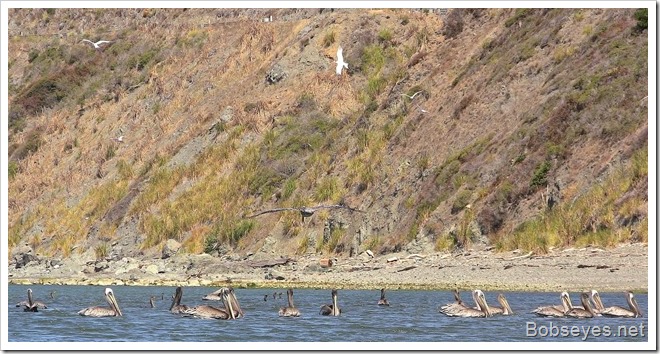 River's end
I could see lots of birds across the river near the open river's mouth as I paddled on down to the river's end, where I went by this great blue heron taking a break. I'm sure it was full of little fish.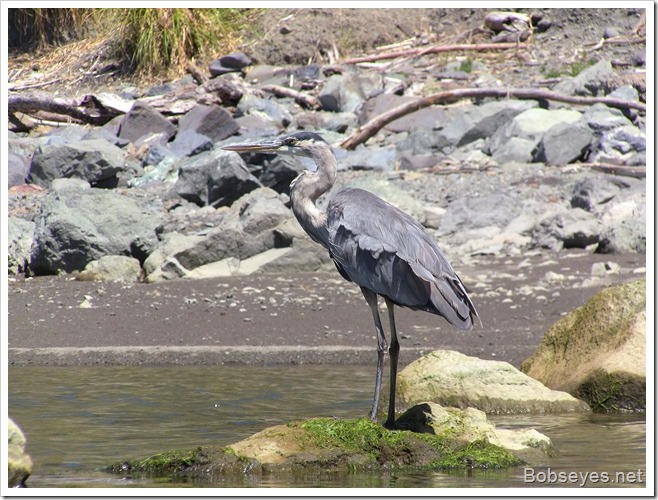 Waiting for high tide
I sat behind this rock at the end of the river just watching as I wanted to wait for high tide to start coming in to see if more little fish would come in with it.
Lots of predator birds here
Looking over the rock I was sitting behind at the beach, I could see hundreds of brown pelicans resting. along with terns and other birds too.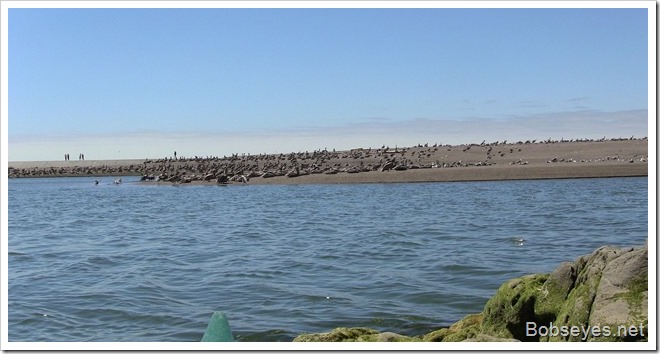 A thought
Lots of little fish bring lots of predators. It's just like what happens when the hatchery fish are released in big numbers, they attract big numbers of predators. Is that good or bad and maybe there's a better way to release hatchery fish? Just a thought. :O)
Anyway, here's another one of my views of the pelicans as I sat in my boat watching.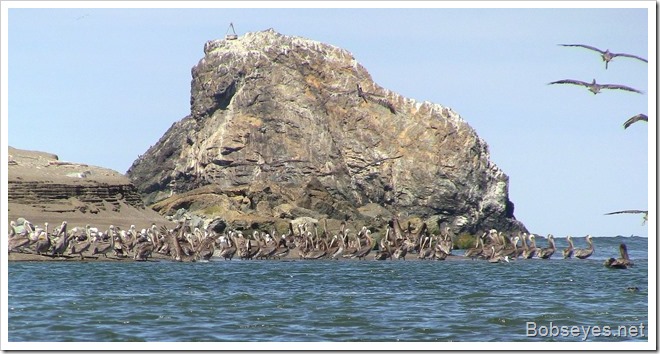 Some where gracefully flying over my head looking for fish to dive on. See the tern there getting ready to dive on a fish.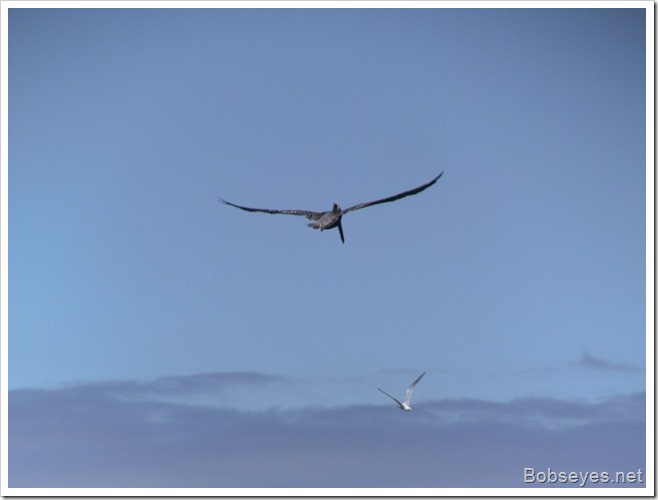 Star seals
There were plenty of harbor seals swimming around in the water in the area where I was hanging out. These two stars stopped by for a bit.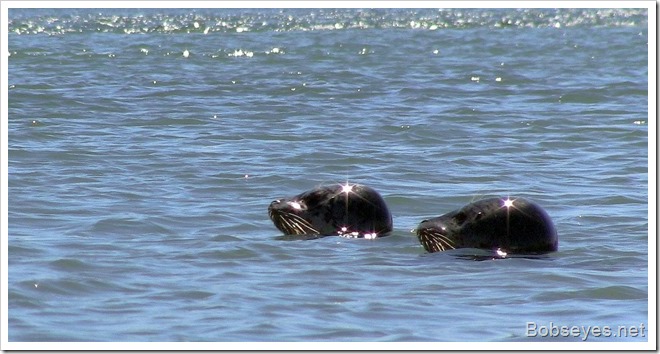 High tide starts coming in
Like I said, I was waiting for high tide to start coming in which it finally did, so I started on over to the open mouth area, where my wait was rewarded with these birds feeding on fish coming in on the high tide from the ocean. They were all feeding away in the river just inside the open mouth.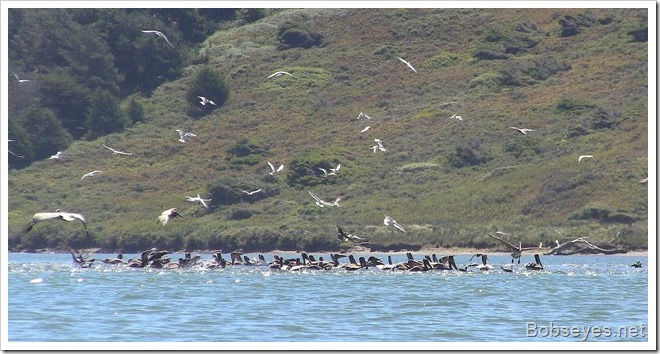 High tide rushes in
I watched them feeding for a bit, then decided I should paddle on over closer to them and get a better look at what they were doing.
A couple of brown pelicans diving for fish coming in on the high tide. Note the water rushing into the river as they dive for fish.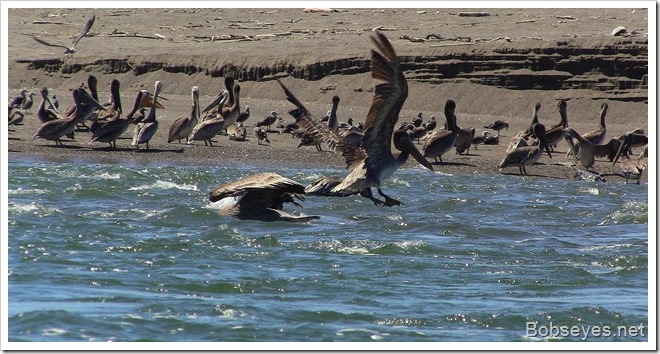 This is looking out the open mouth into the Pacific ocean. The brown pelicans are feeding on fish.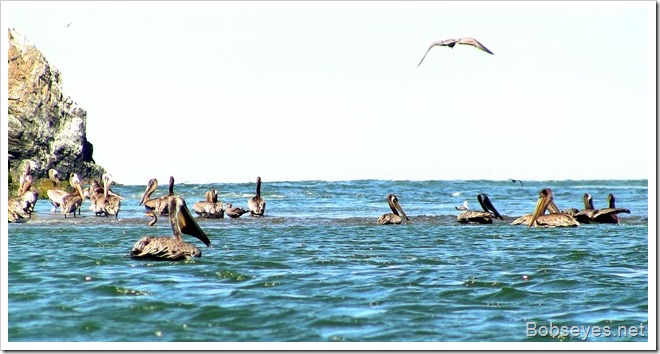 The brown pelicans are quite the lookers when you get close enough. I got near these guys as they were busy fishing and didn't want to give up their spot. This is looking out the open river's mouth again, see the wave on the right.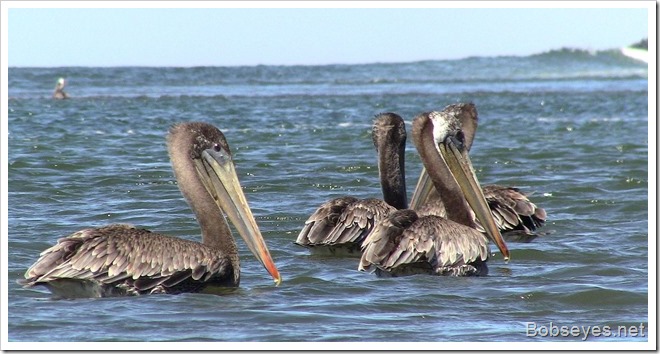 Seagulls feed too
I started to leave the mouth area, but saw these seagulls diving on some little fish too. They seemed to be feeding away as I watched.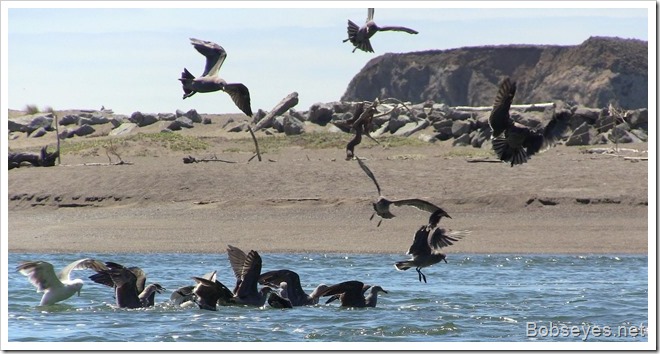 I took my time heading back up the river and decided to go in for the day as I neared the boat launch.
Short test for the van
I went on home for the day and hit the couch for a nap. Later I drove my van down the road a mile of so to visit Ray and mostly to test the van out after working on it.
We had a good visit, then I came on home and parked the van out in it's loading for a trip spot.
Raided my brother's garden
I did some puttering in the yard, watering some trees and things. While that was going on, I raided my brother's garden for some vegetables for dinner. I've been having a hard time liking the peppers I've been stir frying, but the other night I cooked the peppers more and that's just what they needed. Yummm. I got enough goodies for dinner and the left over's should last a couple more dinners, maybe. :O_)
Nice day.
(Visited 302 times, 1 visits today)