Sunday June 21, 2015 Near Bull Run Reservoir Nevada
Where to today
This morning I was thinking of moving up near the Bull Run Reservoir area, north of where I was, on the way to Maggie's summit.
So I started off that way, but a couple miles down the road past the Willow creek reservoir, I saw a nice beaver pond by the side of the road and there was a road turning off there that went to Nelson's cabin. The map showed some fishing up by the cabin so I thought I'd drive up and take a look. Most of the road wasn't too bad to the cabin, but it was four wheel and show going.
Here I am just starting up the road, headed for the hills in the back.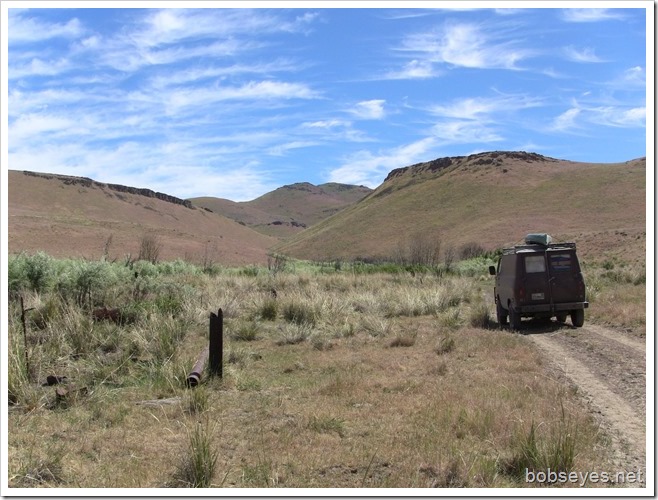 I went up this road making sure my tires didn't hit any rocks the wrong way.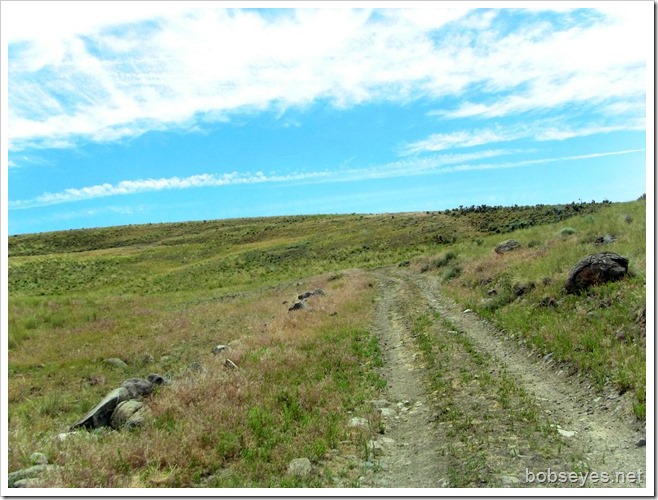 I made it to  Nelson's cabin although it looked like it recently burned down. I decided to continue up the road past the cabin a bit. It went into a creek and here I was up against this rock bank. It took me two tries and there was a lot of creaking from the van and the springs as I hobbled over this.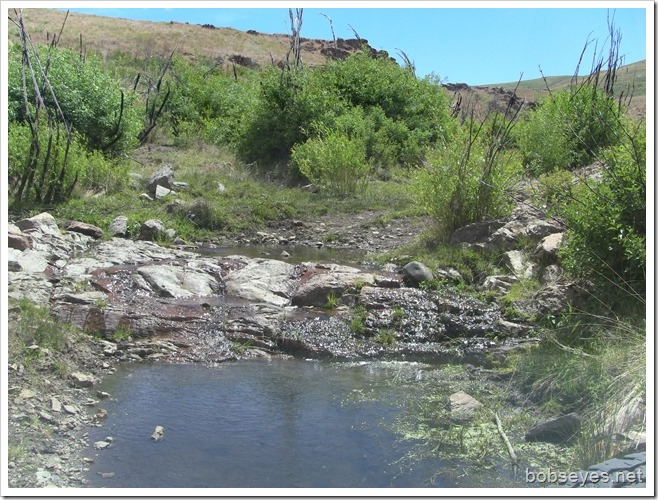 Mud hole
I was able to go about another half mile when I ran into this muddy stuff.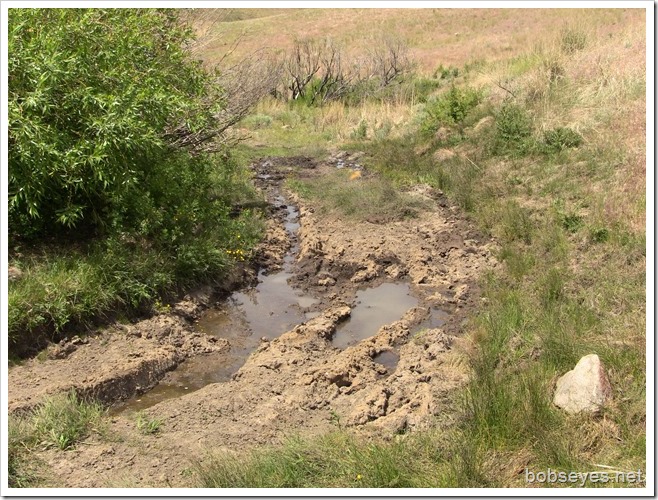 Nelson's burned down cabin
That was far enough for me. I wasn't going to take any chances with those mud holes, so I headed back to Nelson's burned down cabin for a good break.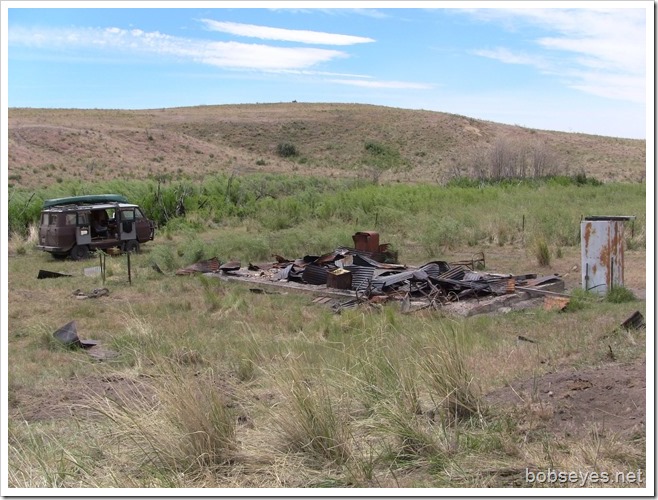 I looked around a bit and saw lots of little fish one inch to three inches in the shallow creek. I bet if one could find a big hole in this creek it would be full of larger fish. I didn't look around that much, since I don't fish.
I headed back down the road to the main road.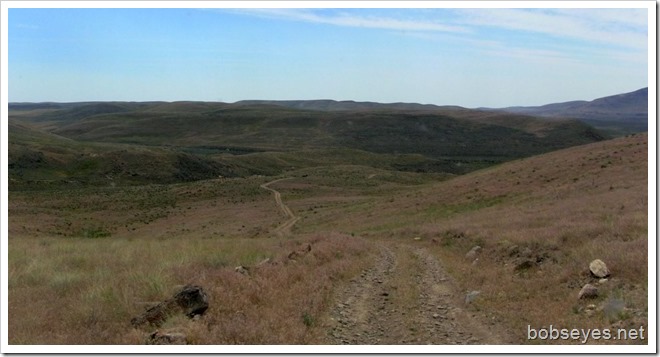 I passed by lots of nice looking cattle on this road. Little guy is getting some lunch.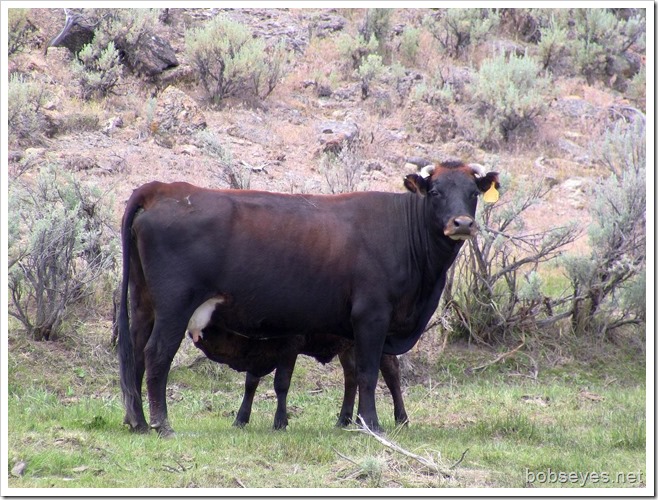 This horse was with these cattle as I passed by. I think it must be a rancher's horse as it wasn't too bothered by my presence.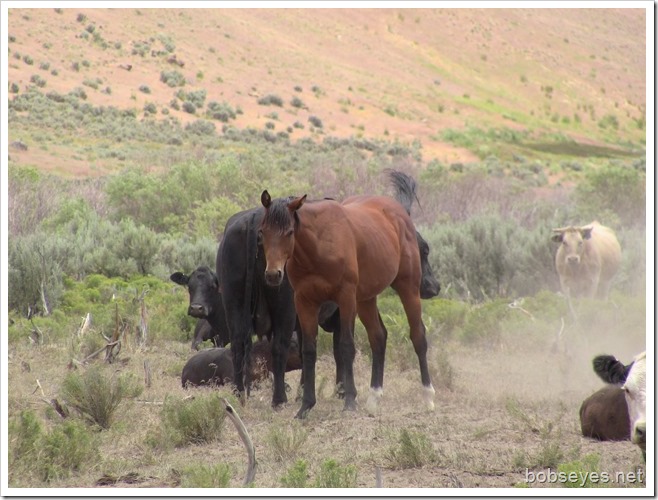 Another beaver dam
I parked by the side of the main road where Nelson road meets it and had some lunch and a good long break. You can see the beaver dam below.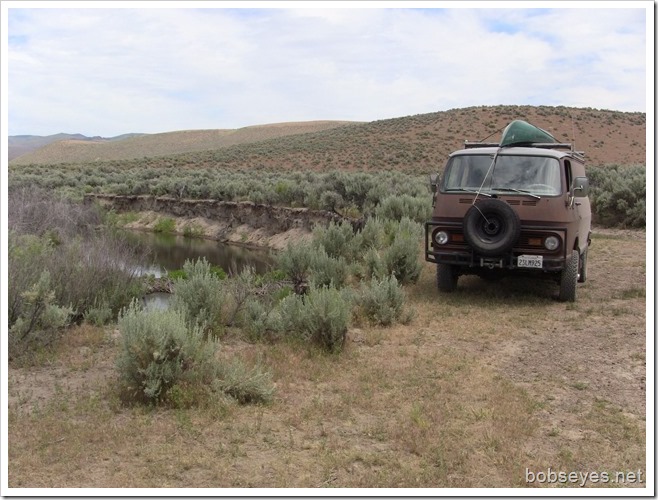 Here's the beaver dam. I was thinking it would be nice to put my kayak in,  but I couldn't find a way to easily get it into the water as the banks were steep.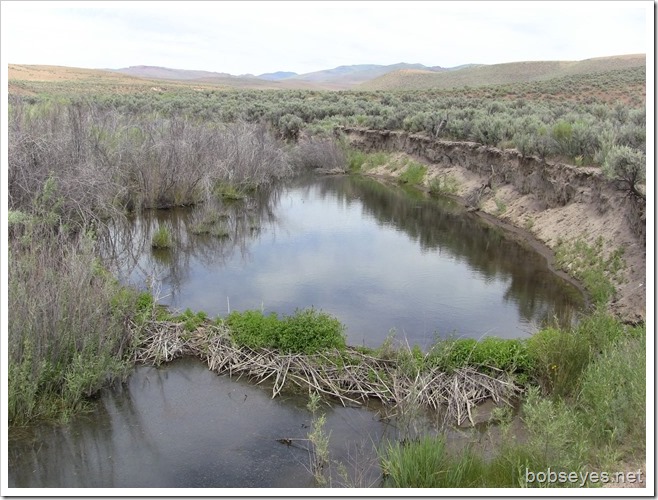 Headed for Bull Run
After a nap, it was late afternoon, so I decided to head for the Bull Run reservoir area as I knew I could spend the night in the parking area there, even if it was by the road.
So, I drove down the road, past Tuscarora to the paved highway 226 and headed north.
Here's the end of 226 and the end of the pavement. I'm headed to the right on a graveled road which goes to Maggie's summit and Mountain city.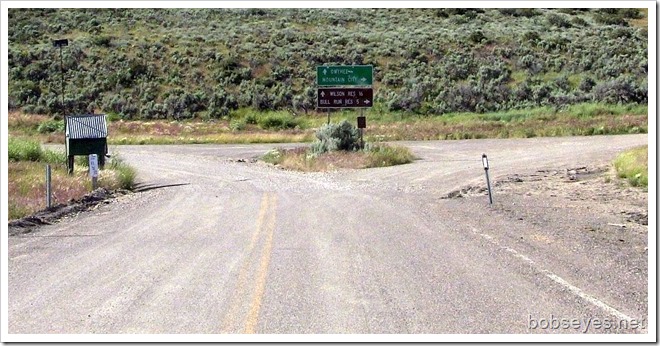 Here's the road as I traveled it, headed for Bull Run Reservoir, just up the road about five  miles.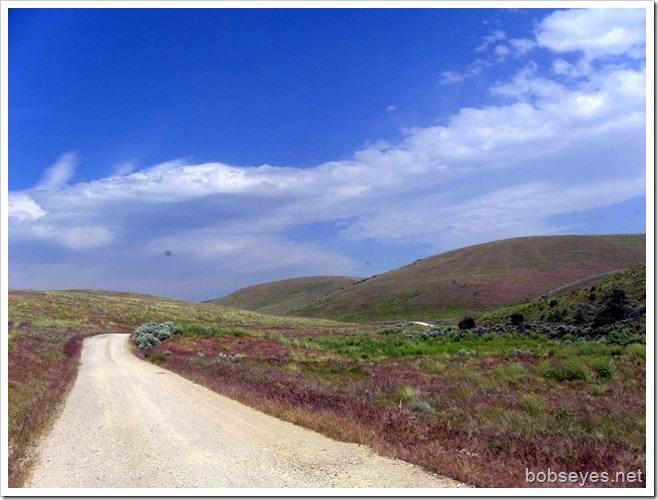 Maybe I can camp up there
But a couple miles before I got to Bull Run, I saw a road off to the left going up into the hills. I thought it would be better to camp someplace up there than at Bull Run by the side of the road, so off I went putting it back in four wheel drive.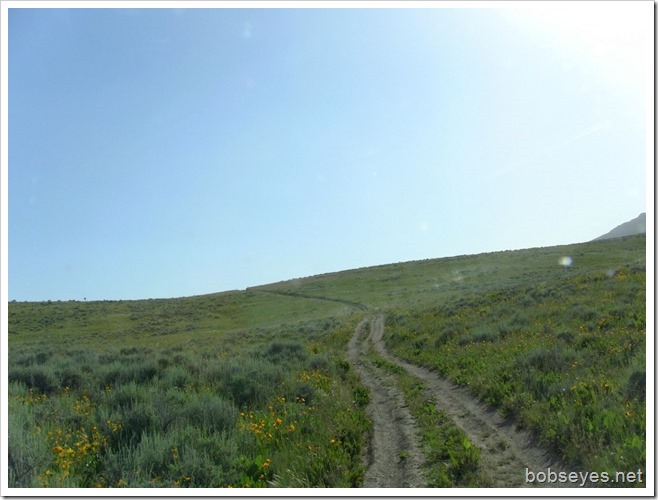 Sharp tailed grouse
As I was driving going up the road keeping my tires out of the ruts, I noticed this bird running along in front of the van. I found out later in the night from a lady that it's likely a sharp tailed grouse. Shortly after this one, another one did the same thing.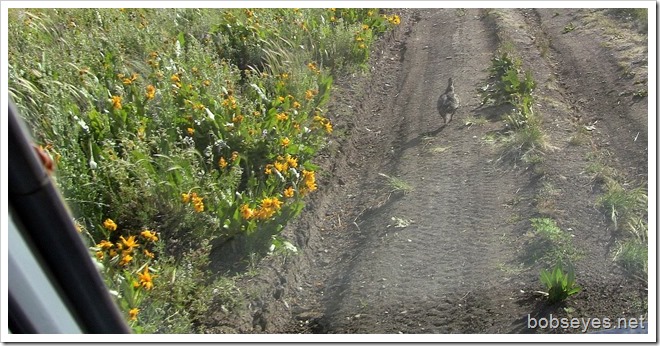 Hilltop camp
I went up to the top of the hill where there was a little side road that ended on a hilltop, so I went up there and found a place to park. The wind was blustery, so I put my side doors away from the wind and found the only level spot up there and this was to be my camp for the night.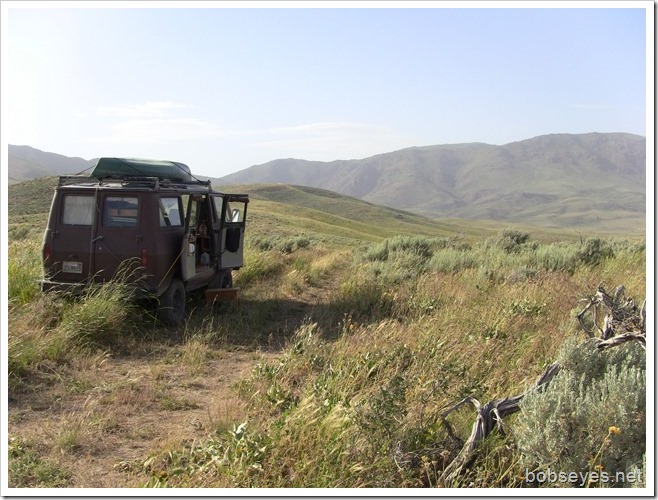 The spot had a nice view.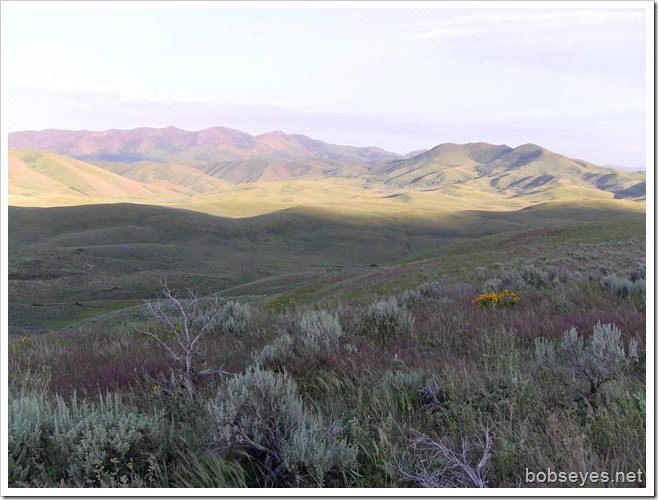 Lights after dark
So I'm camped on a hilltop in the sage brush and wild flowers all by myself. Just after dark I see a light on a four wheeler go by on the dirt road way out in front of me.  I think that's strange considering were I'm at.
A little later I'm writing this blog when I see a flashlight bobbing up and down as someone is going through the sage brush on foot about fifty feet in front of the van as I'm looking out the front window.
I'm curious, so I grab my light and jump out of my van and say hi, what's going on?
I'm headed away she says. I ask what she's doing and she says she's looking for sharp tailed grouse. Do to the circumstances, I didn't find out more and she said good night and headed back to her four wheeler and I watched her lights go back down to the main road.
You just never know what you might find on a hilltop? :O)
It's been windy up here but the van offers me plenty of protection or I wouldn't be up here in the first place.
Now, I'm going to kick back and decide what to do tomorrow. Nice day exploring.
(Visited 122 times, 1 visits today)