Saturday October 29, 2016 Guerneville CA.
Making plans around the drizzle
It was drizzling again as I got it going this morning. And as far as I knew it was going to keep it up throughout the day. I sat around for awhile wondering what I should do today, until I finally decided to go to Santa Rosa and visit Patti and Marty.
Marty had told me about a trip they were planning next summer that would more or less follow the Great Divide from Canada to Mexico. He said I was welcome to come along if I liked, so I've been thinking on it. Marty had some maps with the routes drawn on them that I wanted to take some pictures of so I could put them on my computer and have a look.
I drove on over and we took pictures of his maps and we shot the bull for quite some time.
The plan is to follow the green line from Canada to Mexico, more or less checking out stuff on the way.
The Great Divide Route
Start out here.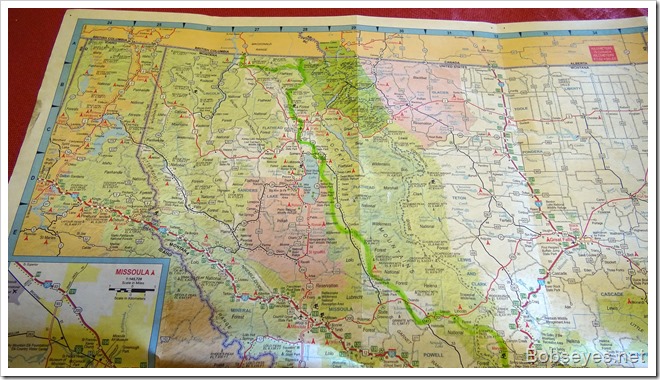 Continuing south, more or less.
And ending up here. The plan is to do this starting in early July, so it might be getting too hot to go all the way south at that time, but we tend to play things by ear when we travel so we'll just have to see.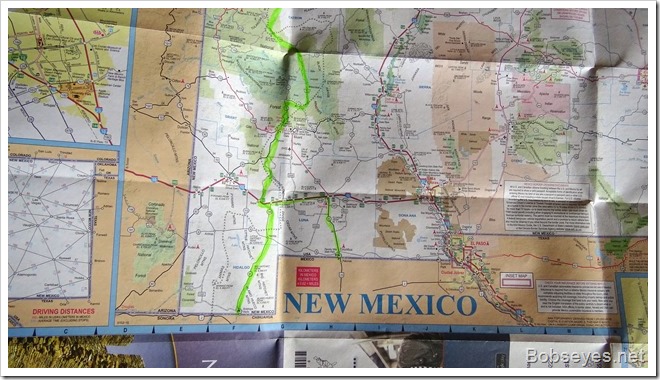 That's the plan, so we'll see what works out.
Not much into shopping
After that, I wasn't into shopping much, so I headed on home. On the way I detoured to an auto parts store and picked up a new headlight dimmer switch for my van.
I walked into the Wal-Mart store, but it was so busy I turned around and left and went on home.
It was too late in the day to get anything productive done, so I hit the couch for a nap and that was my day.
(Visited 95 times, 1 visits today)