Tuesday October 7, 2014 Jenner CA.
First Sun
It was sunny and calm as I put my boat in the water at Jenner today. I paddled across to Penny Island where I sat enjoying things, when I saw Ray pull in and put his boat in the water.
It looked like this. Ray is to the right of center heading my way.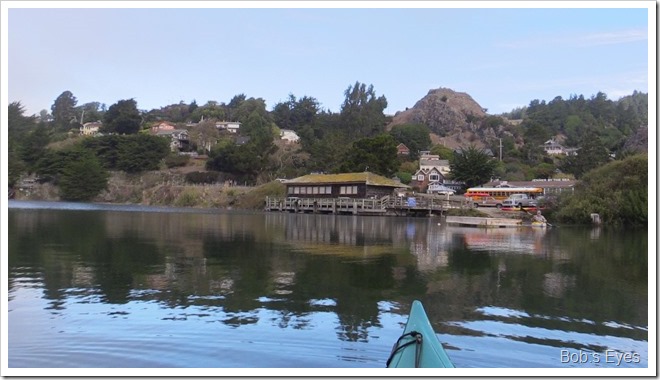 Then Fog
We sat around a bit and decided to head on down to the river's closed mouth as the fog moved in around us. The fog was thicker today, then yesterday, so I thought it might stay the rest of the day, but I was wrong.
Haystack rock
This is what it looked like as we headed down towards the closed river's mouth. The big yellowish looking rock near the right is called haystack rock and one can see why in this picture. With the yellow stuff growing on the rock, it really does look like a big haystack.
As we approached the closed river mouth, the fog started to lift. These birds were sitting on the sand taking it easy by the closed mouth. A pelican and some seagulls.
A bunch of people show up
Just after we got there we could see what I thought was a bunch of school kids approaching the area, so we backed off to give them some room thinking they'd be making a lot of noise.
Amazingly, they all sat down and were real quiet, how nice.
We headed on over near the haystack rock where this brown pelican was taking it easy.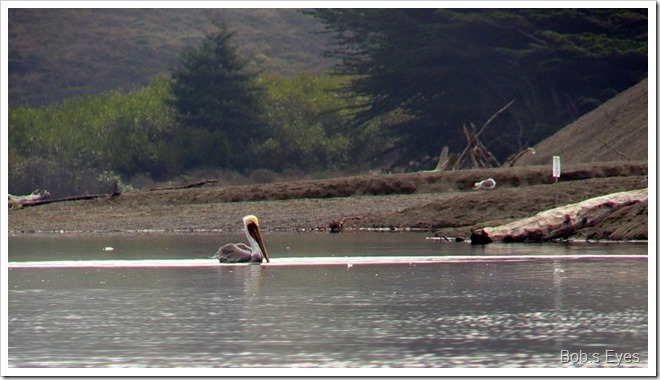 I was surprised how quiet all those people were. It seems they were a bit older crowd then the school kids that sometimes come down here on field trips, but they seemed to be dressed for something?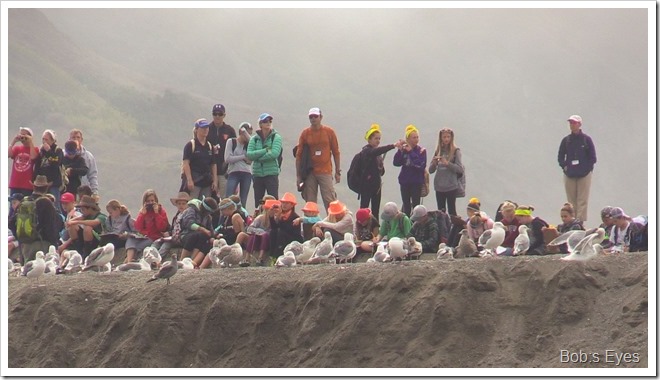 Feeding turkey vultures
After about a half hour or so, the people all left, so Ray and I came back over to the closed mouth area where I saw some turkey vultures on the shore, eating something.
I went over to see what they were eating. Only thing I could tell is it was some kind of whitish bird.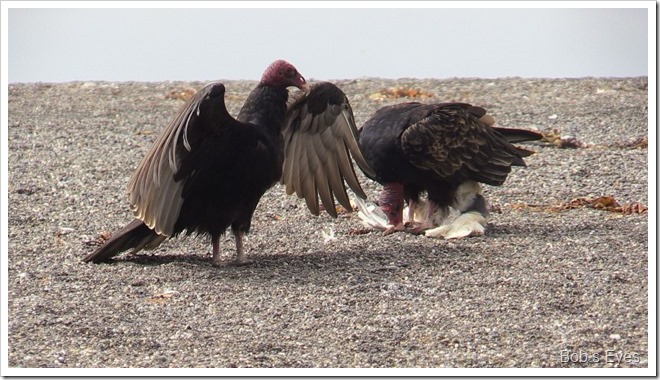 The closed river mouth
Ray and I checked out where the river's mouth was closed just behind the jetty. Water isn't flowing out, but high tide water can still come in, especially if the ocean is rough. The mouth may or may not remain in this state until the winter rains start, we'll see. There was a raven walking around on the beach which you can barely see in this picture.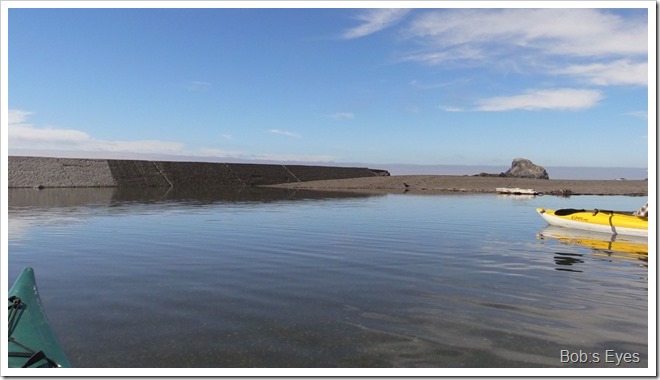 The raven was checking things out, looking for a bite to eat.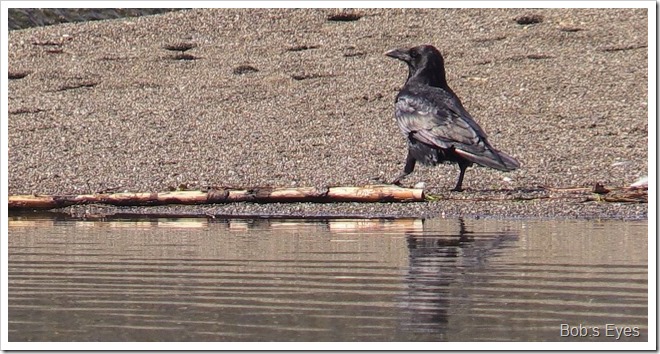 A beautiful day
By now, all the fog had cleared off and it was a beautiful day, as Ray and I headed on over to the west end of Penny Island to see if we could paddle onto the flooded island.
The small town of Jenner looked real nice as we went.
Paddling onto Penny Island when the water level is high
It doesn't look like it's passible, but we entered the island here.
And went through this grassy area.
To this real nice open area on the island where we sat around for a bit, thinking it'd be nice to have a place to go to land here, but we couldn't find a spot.
Spotted Orb Weaver Spider
I remembered I spotted a big spider yesterday, so as we left the flooded island, we went over to see if we could find the spider again. The spider is on some grasses about eighteen inches above the rising water. It doesn't have much of a web left. I couldn't find the spider, but Ray did.
Here is the spider, about three quarters of an inch in size. It's called a spotted orb weaver spider and if you look close you can see the white spots on it's back. Good luck spider.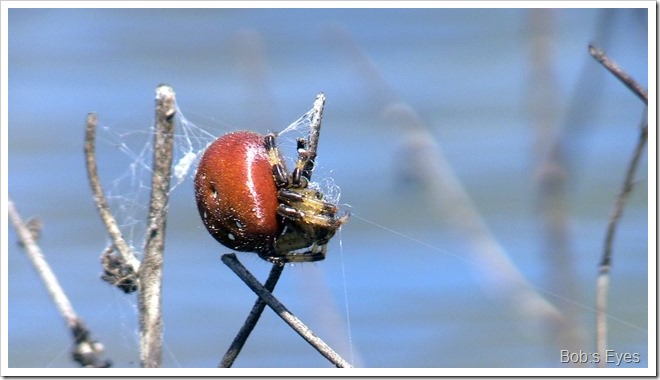 We couldn't get ashore for a walk on the island
We were looking for a place to go to shore on the island, but with the water level so high because of the closed river mouth, we couldn't find an easy place on the west end, so headed on up to the east end by way of the island back channel.
But we found a place
We were barely able to get ashore on the east end, but we made it. We walked down the north side and crossed over to the south side about a third of the way.
Here Ray is coming through what I just named the Jungle Jim tree. The wind has blown it from it's start, so it has mostly been laying on the ground and still growing. The trail goes right over it, so one has to climb over it's limbs, thus, the name. It's good exercise for us older folk.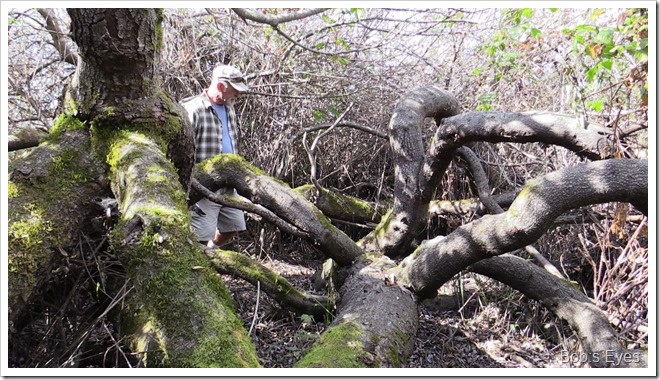 Another spotted orb spider
Ray spotted another spotted orb weaver spider along the trail. At first I thought I was shooting into the sun and almost didn't try for a shot, when I realized the spider was nicely backlit and might make a good photo. Turned out real nice, I think.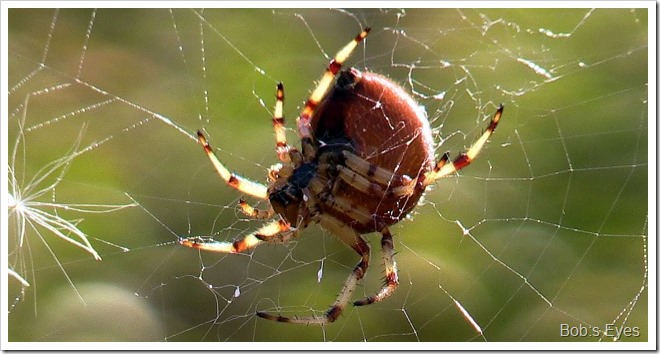 Walking around the island really poops you out
Walking around the island really tires me out, mostly because it's a lot of walking over and under stuff, so the body gets a real work out. We made it back to our boats and headed in for the day. I had to wait a bit for the biologists having a bit of a problem getting the boat on the trailer. The biologists are usually fairly quick at the launch ramp, but this bunch was all ladies having a bit of a problem, but they worked on it a bit and got it all fixed up. The ladies did well, anyone new, messing with boats will have some problems, it's just the way boats are. Note the gage says about six and three quarters feet for the estuary water level. I expect the level to rise very slowly now, maybe remaining at this level until the winter rains come?
Prepping the new well site
I headed on home for a nap and then did some yard work. I'm working on getting the area for a new well cleaned up. There are some old rotting six food diameter stumps in the area that need to be cleared out. They are rotten and falling apart, so I just need to put the pieces in another spot.
That's it for another nice day.
(Visited 186 times, 1 visits today)