Thursday June 16, 2016 Jenner CA.
Spitting rainy day
It was drizzling at my house when I got it going this morning, but not enough to stop me from going to Jenner to kayak for the day. You know as you get older one seems to be able to find any excuse to stay home where it's nice an comfy, but I try to fight that as a lot of times it's a real nice day out and would be missed if one stayed at home. Life is short, so go out and enjoy it when you can, that's what I say. :O)
So I donned my rain pants and headed out for Jenner to kayak for the day. When I arrived at Jenner it was spitting rain drops, but not enough to really get wet. I put the boat in the water at the ramp and found a place to park. I've noticed it's easier to find a place to park in the parking lot since the state guy asked or warned the people that work in Jenner not to park in the state parking lot. At least I think that's what it's about.
I paddled across the river to Penny Island and headed down river along the side of the island.
Hawk eating a bird
Up ahead I could see what I think is a kite hawk sitting on a tree branch. I didn't realize it was eating a bird until it flew off as I approached.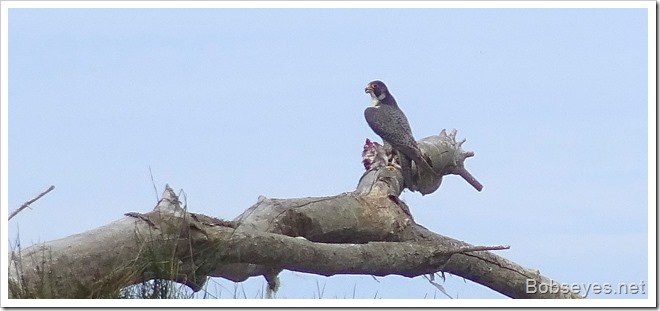 I continued on to the bottom end of Penny Island where I usually stop at the very end for a bit before continuing across the river headed to the mouth area.
Headed to the mouth area
I'm stopped at the bottom end of Penny Island and about to cross down to the mouth area.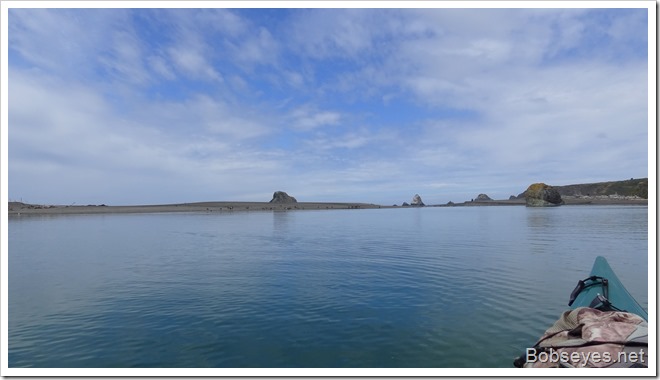 As I paddle across I noticed these two guys walking along with the pole thing. They look like the guys that survey the moving sandy beach once a month. If they are, there will be a receiving tripod at the overlook.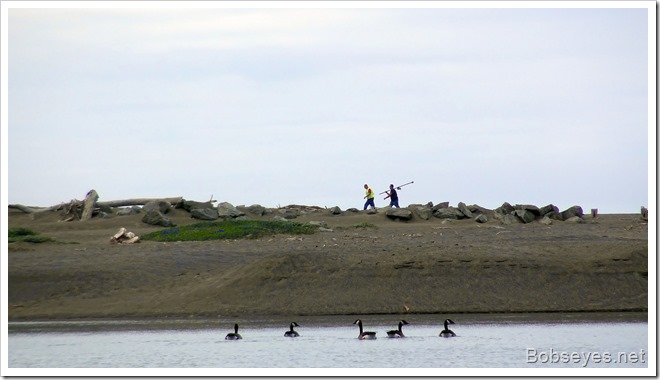 There were a half dozen or so surf scooters swimming along as I passed. And the ocean appears to be a bit rough and was making a bunch of noise as it crashed ashore.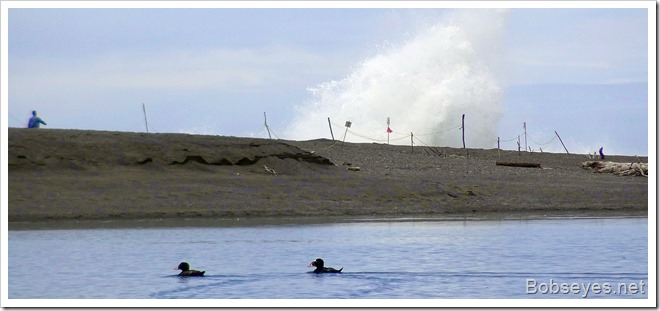 I paddled by these harbor seals resting on a submerged rock.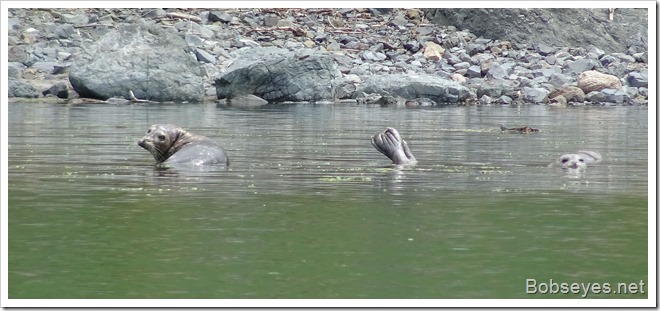 And sure enough, there's the receiver tripod. The guy closed it up which spooked the seals down at the mouth for just a bit, but no harm done.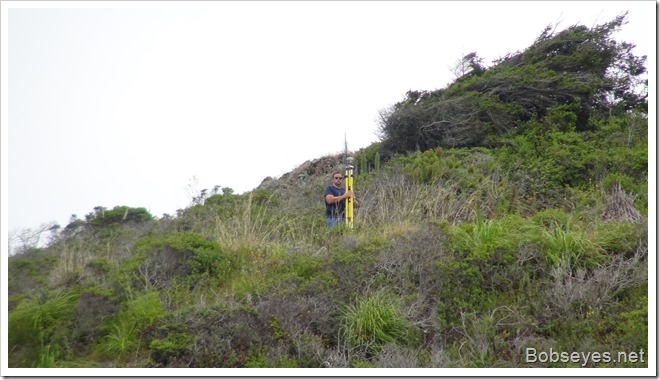 River's mouth is closed up a bit
As it turned out the river's mouth is a bit closed with sand right now. There's also very little water coming down the river right now as the lower river summer dams start to hold back water on this date, the 16th, so they have to fill up slowing down the river water until they do. Some surfers were enjoying the big waves out there.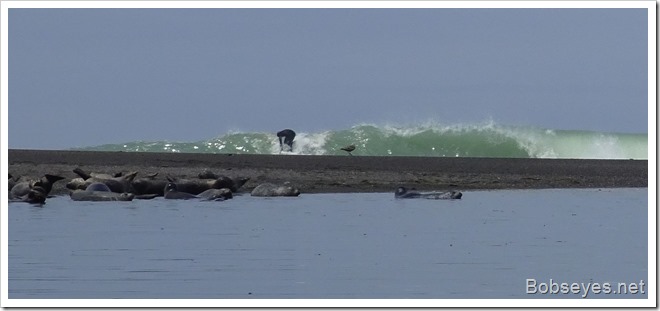 The rain was still spitting but not getting much wet as I headed back up the river and left the mouth area. Nice day.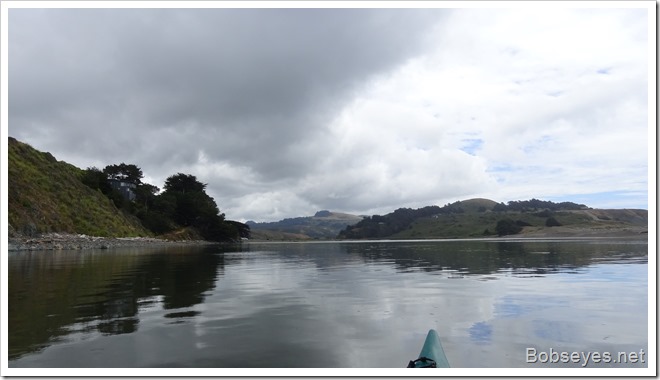 Watching the river otters
Just below the River's End restaurant, I spotted two river otters fishing away and slowly moving on the river along it's shoreline. I followed them and watched for a quarter mile or so before they went to shore and lost me.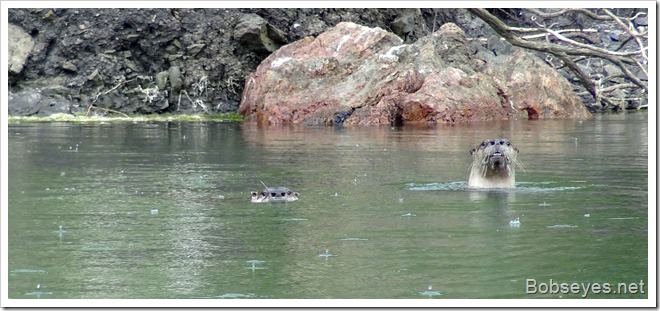 I paddled up to the island upper end and pulled into this little channel where I napped for a good while.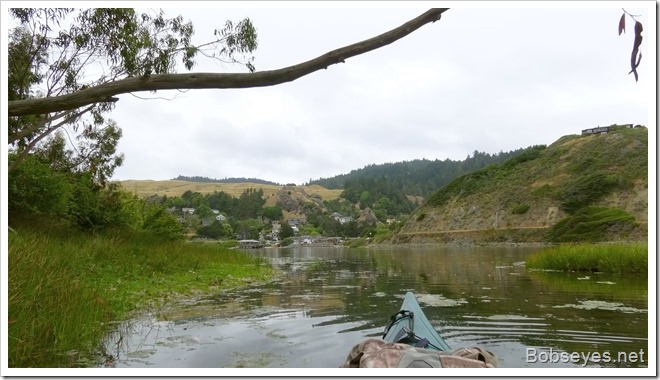 Hiking to Swamp rock
While I was there, I could see Swamp rock across the river and decided I should take a little walk to it and eat some berries too.
I paddled across the river and landed my boat at the Swamp Rock trailhead and went ashore.
The swamp is dry right now, so I was able to cross over to swamp rock which is that rock up on the hillside across the swamp here.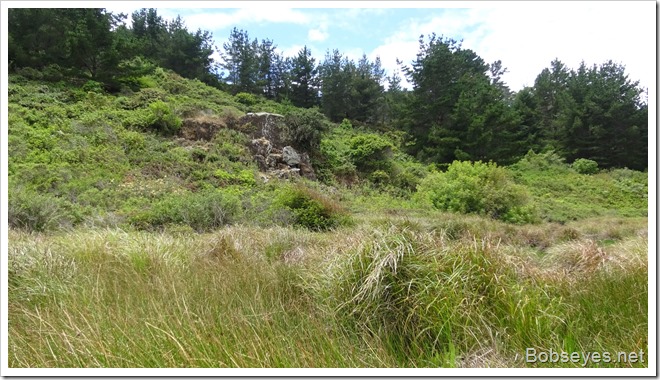 This was my view of Jenner from the rock.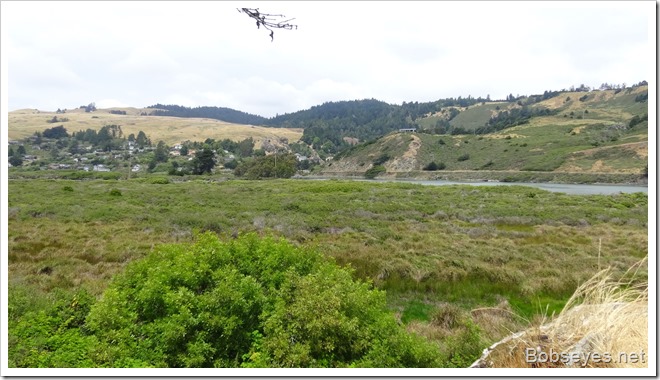 I noticed this succulent was doing well here too.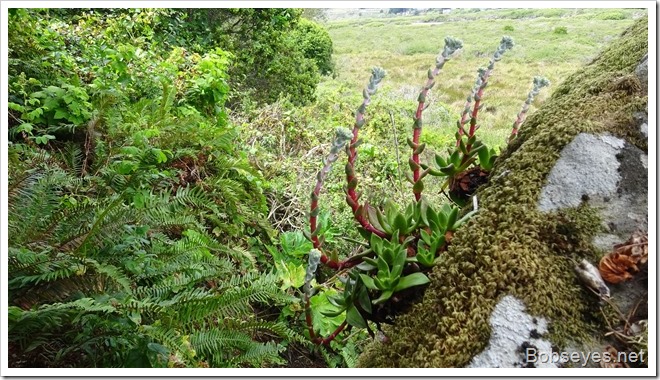 The greenish grassed area is where the water usually sits and prevents me from crossing over to this rock.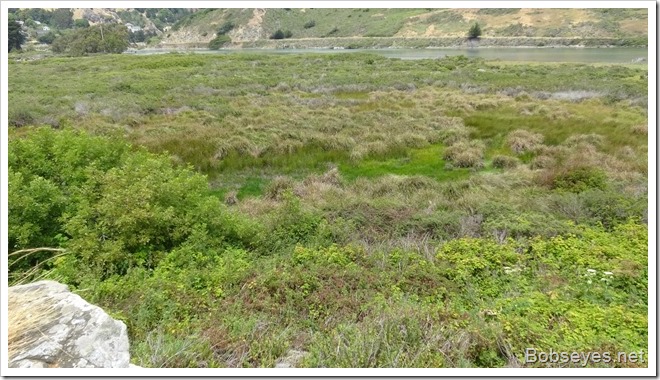 I sat up on the rock for a bit just enjoying the day. The rain was still spitting but still not enough to really get me wet.
Eventually, I headed back to my boat and paddled back to the boat ramp and went on home for the day. I did find a few berries to eat, but they are on their way out, done for the year.
At home, I mostly just puttered around the yard until it got dark and that was my day.
(Visited 143 times, 1 visits today)