Saturday March 26, 2016 Monte Rio CA.
The weather guys said it would be a little windy down at Jenner today, especially in the afternoon. Steve was going to meet me at Jenner for a paddle.
While driving down to Jenner I went through Monte Rio. When I went by a spot I could see the river, it looked nice an calm down there.
I arrived at Jenner before Steve. It was a bit windy . Seems the stronger winds predicted for the afternoon where already here. I waited for Steve to arrive which he did shortly.
We decided to go on back to Monte Rio and put our boats in there.
We did have a bit of a problem at Monte Rio as the boat ramp was full of slimy mud. I shoveled some off a couple days ago, but the river water level had dropped and we were back in the mud again. Fortunately, I had put the flat shovel in the car so I started shoveling the mud off while Steve watched. I just did enough to put the boats in the water as it takes a lot of energy to move that gooey mud while trying to keep the stuff off me.
I'm watching Steve put in just after I put in. A motor boat arrived and the guys thanked me for shoveling the ramp, lucky for them. :O)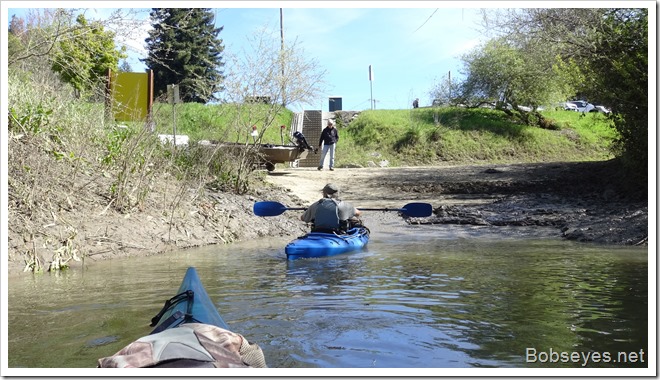 We started down the river, drifting in the current and going past this pair of mallard ducks.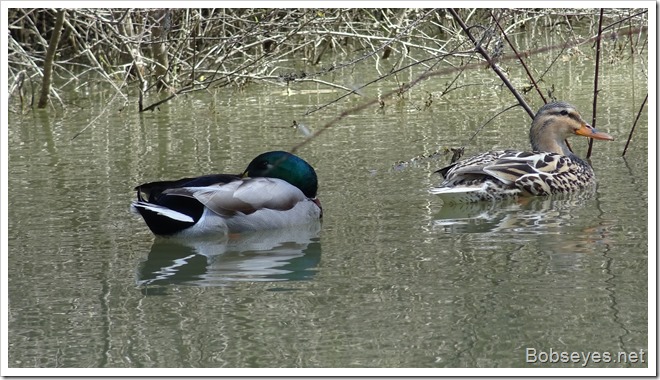 It a nice day with little wind at Monte Rio. The river's water level is up a bit from the recent rains, so all we had to do was get into the current and drift down the river which we did.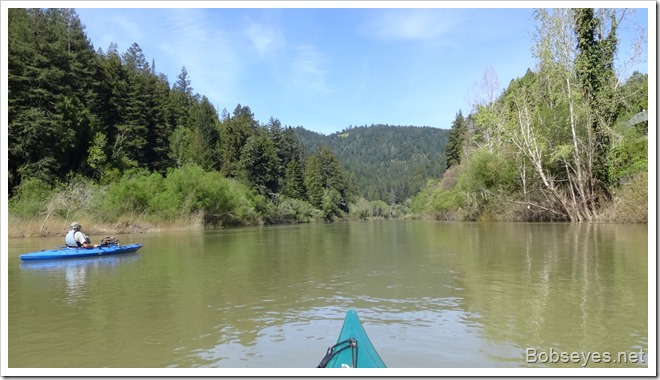 We just go a little ways, then stop and watch for a bit. Neither one of us had much energy today, so we were taking it easy.
We pulled into this spot to watch and this pair of mallards came out of the bush.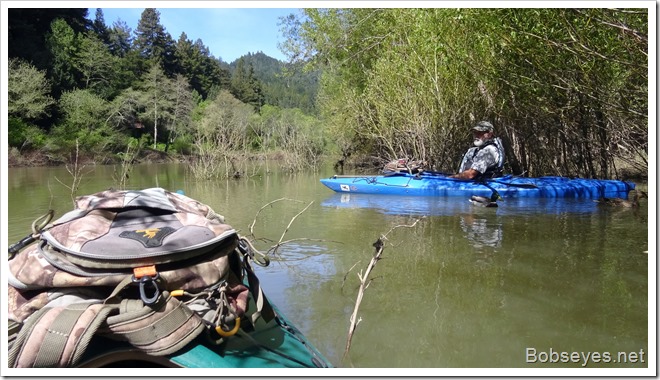 Monte Rio mallards are mostly fairly tame and come right up close, hoping for a handout, but not getting anything from us.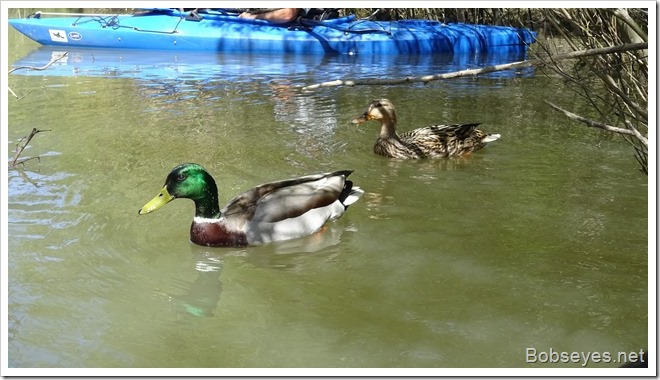 We continued on down the river. We are only going as far as the Villa Grande hole, just down as far as you can see in this picture.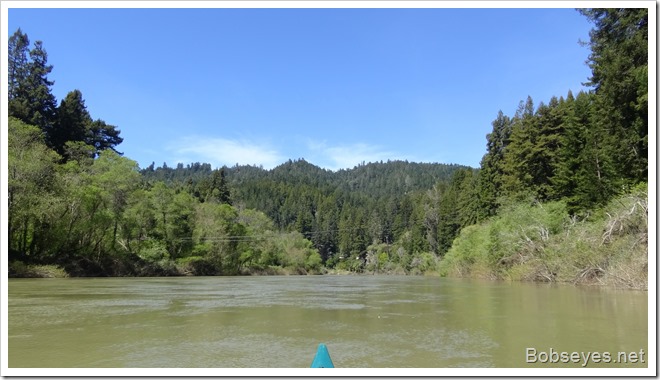 We sat around the Villa Grande hole for an hour or so just taking it easy.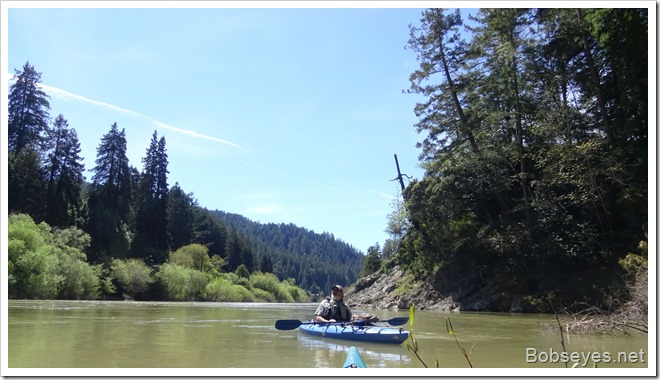 This is what it looked like looking back up the river from the Villa Grande Hole where we sat for a good long while.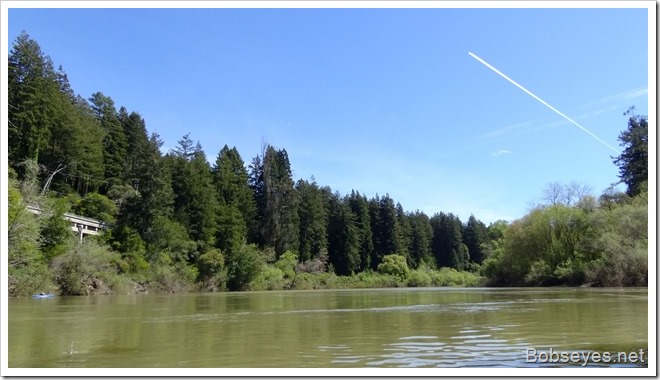 There's an osprey nest at this spot and the osprey where up there screeching away.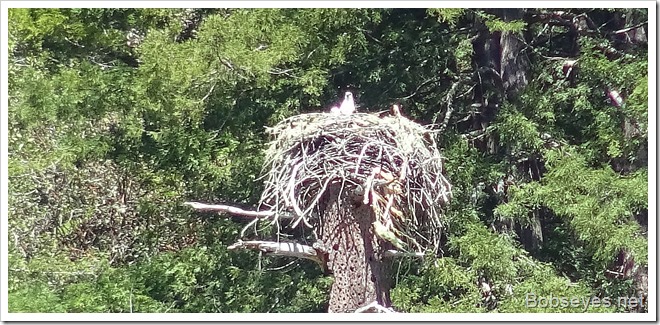 Eventually we started back up the river going along it's edges so we could paddle up the river as the current in the middle of the river was fairly strong and would wear one out fairly fast if one tried to paddle up in the middle.
We moved up the river along here on it's edge.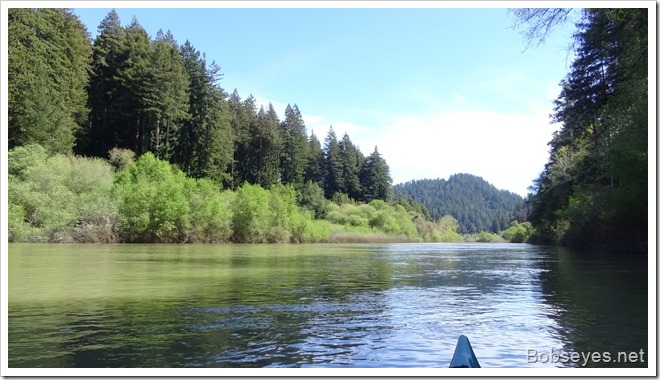 Here we are just below Monte Rio, almost back.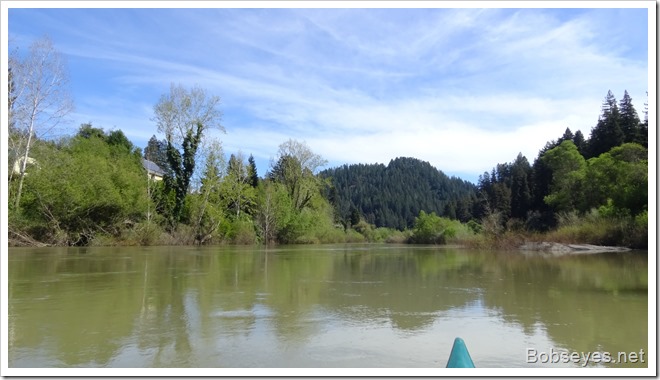 This mallard came by looking for a hand out and then continued on down the river.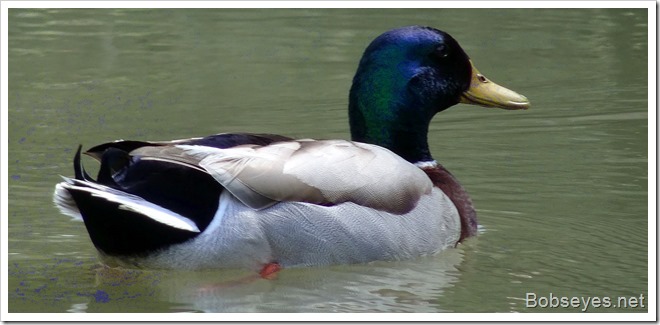 There is some fairly fast water just below the boat ramp were there is a little island. We had to work hard to paddle up along that island, but we made it.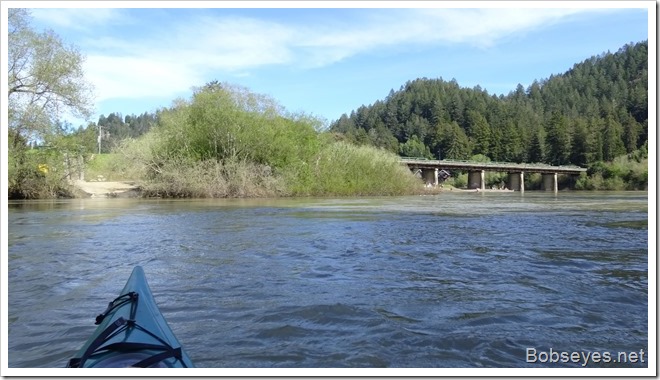 More mallards came by looking for a hand out. They seemed to think Steve was gong to give them something as they went right under his paddle.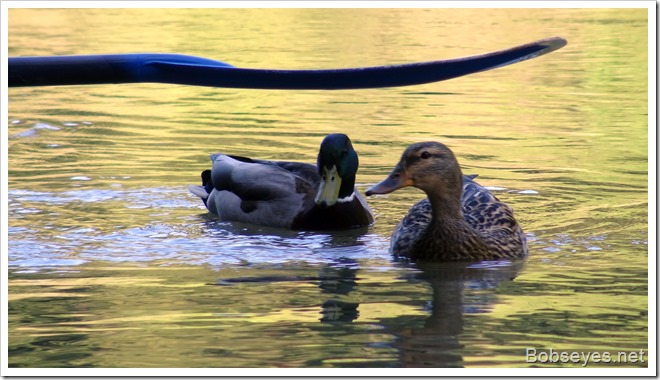 We hit the ramp and pulled our boats out. I shoveled some more mud before heading on home, so the ramp is in fairly good shape for now. I'm sure as the water drops some more, there will be more mud to shovel, but maybe someone else will take care of it while I'm gone on a trip up the coast to a place called The Lost Coast about three hours drive above this river.
I went on home and started doing some packing prep on my van for the trip. Tomorrow, I'll stay home and continue prepping the van for the trip and maybe do some puttering around the yard.
That was my day.