Sunday April 5, 2015 Jenner CA.
The day started out with rain
I could hear the rain coming down as I woke this morning, so I stayed in bed a bit longer then usual. But around ten, the rain stopped so I got it going for the day. I went on down to Jenner to kayak for the day. There were some clouds in the sky as I put my boat in the water. I meant to take my rain pants, but forgot to put them in the boat.
I paddled across the river to Penny island and decided to head down to the river's mouth and this is what it looked like as I headed that way.
Before I got to the mouth, it started to rain. I looked for a big overhanging tree to get under, but there wasn't one. Lucky it was only a shower and it stopped shortly.
I paddled over by the river's open mouth and looked out to sea and it looked like this.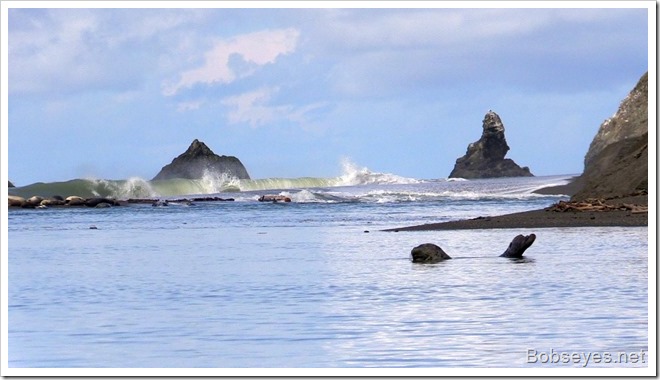 Here's a picture of that harbor seal in the above photo. I got pretty close to it, and it just stayed there.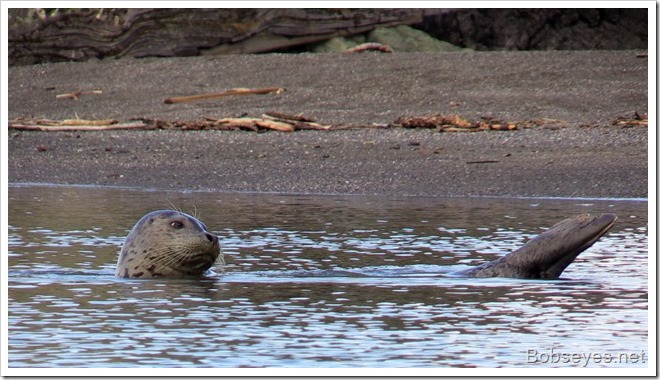 A lot less cormorants in the area now
These cormorants were resting on the beach to the right of the river's mouth. Some seagulls were flying around in the air too.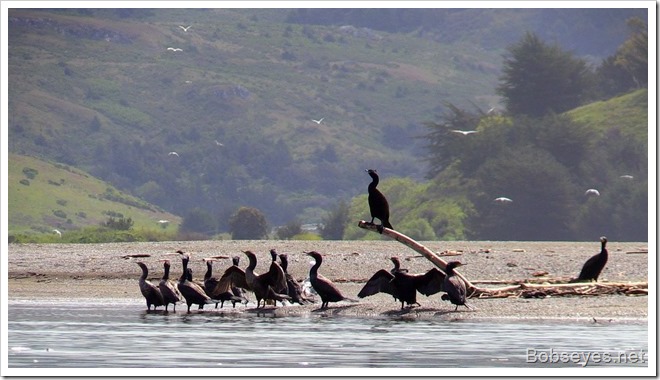 Squabbling geese
There were a couple of geese I was watching on top of Haystack rock. Another goose flew in and forced one of the geese off the rock and then there was some kind of squabble going on.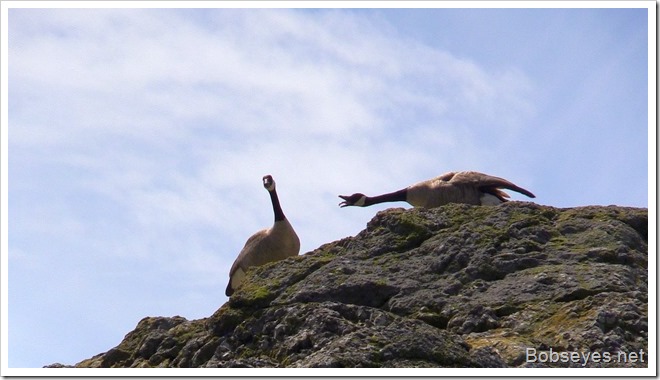 About the same time another pair was having a squabble on the beach by the big rock.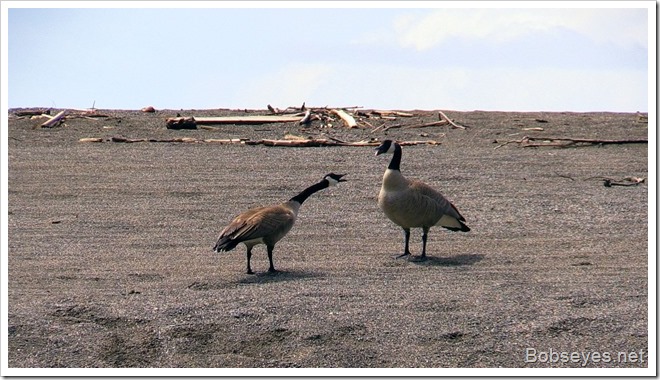 After about ten minutes, one of each pair switched with the other pair and the problem seemed to be resolved.
Turkey vultures are up to something?
Also by the big Haystack rock, there were some turkey vultures doing something on the sandy beach. I'm not sure what they were doing, either some kind of social thing or some kind of matting thing. One of them seemed to be strutting around and interacting with the other birds.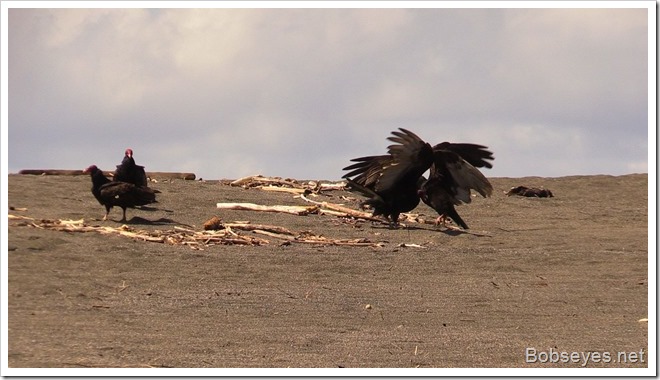 After awhile I started back up the river and stopped at this rock for a spell and looked around some more. It as mostly a nice day.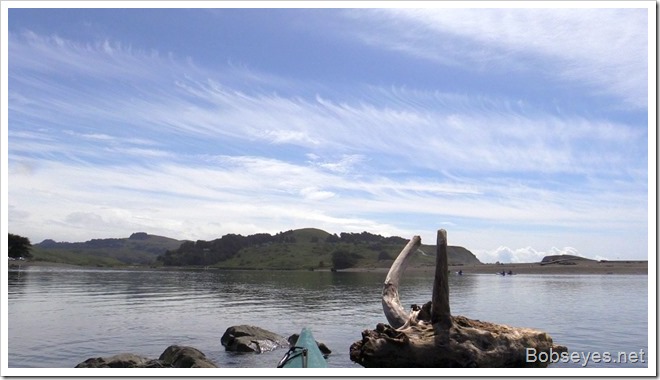 I went by this goose as I continued up the river. They sure honk a lot.
More cormorants
Eventually, I made it up to Paddy's rock where these cormorants were hanging out. Note there are far fewer cormorants then there were before they opened up the river's mouth last week when a lot of the fish they were feeding on seemed to have gone out into the ocean, as they should.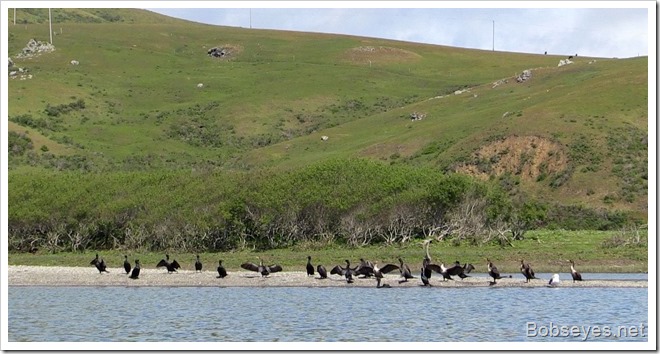 There were about six of these great blue herons fishing and flying around in this area.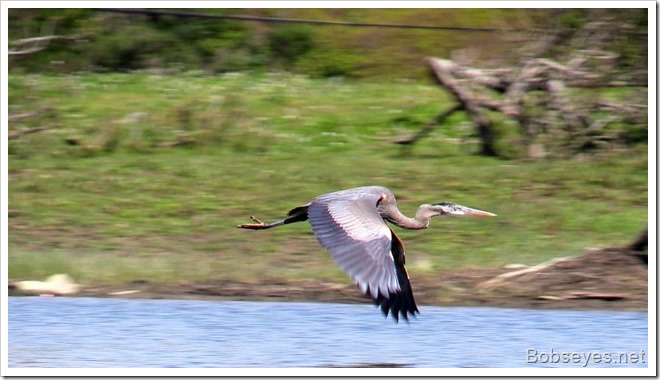 Another rain shower
Some big clouds started to build and shortly, I was in another rain shower, this one a bit heavier than the last one.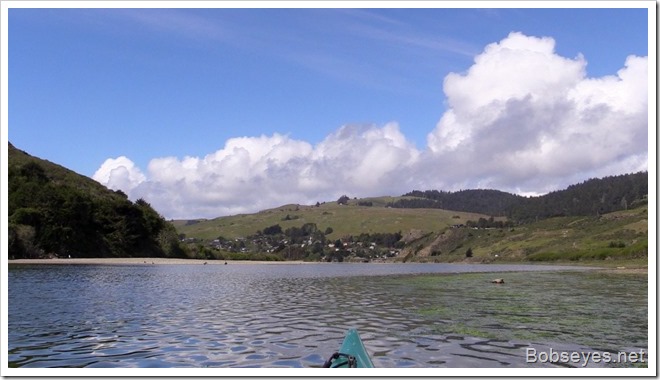 Again, I looked for a big tree to get under, but there was none in sight, so I sat it out and it stopped after about ten minutes.
Great egret
I continued on up the river a bit more and noticed this funny looking great white egret fishing along the shoreline. Even though I didn't see any other egrets around, this one was putting on some kind of mating show. You can see the feathers around the tail spread out. Something I've not seen before is how they somehow ruffle their neck feathers.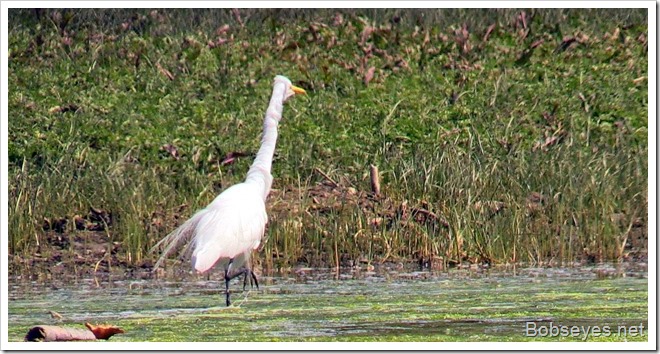 From there, I paddled over to the Muskrat nest area and sat with these cormorants for a bit. The sun was shining on them just right to see the colorful sheen on them.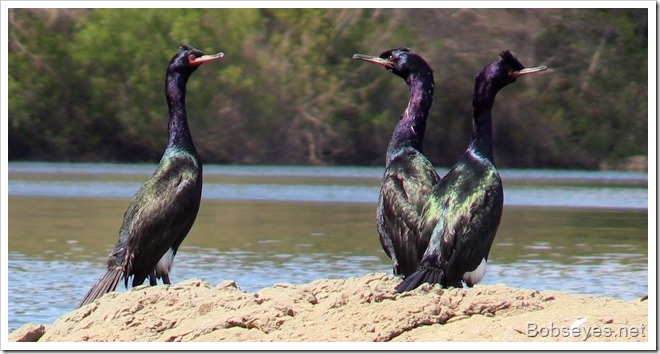 After resting there, I started back down the river and headed for the boat ramp. There was some congestion at the boat ramp, but I keep my cool and got my boat on the car without getting upset with people taking so long on the ramp.
I went on home for the day. After a short break, I went outside and finished hooking up the part of the speedometer I forgot yesterday and started the engine to make sure I hadn't pulled out any wires while I was working on the speedometer. Everything checked out ok.
Since I'm planning on using the van later in the week, I checked it out to see what supplies it had and what it needs.
The day was a bit cool outside because of the earlier rain, so I went in the house and got the heat going and that was it for another day.
(Visited 124 times, 1 visits today)