Friday February 13, 2015 Sixes River, Port Orford, Oregon
Steve and I headed out for the Hushes House launch area this morning, not too early. It's on the same road as the light house. The plan was to launch and go up river about a mile to let Steve fish a couple of holes up there for steelhead and then turn around and head down river to it's mouth at the ocean which was less than a mile down from the launch area.
The Sixes River is still a bit high and just starting to clear a bit, so there weren't many fishermen on it yet. There were three boat trailers in the parking lot which  meant there were only three boats drifting down from above.
We put our rigs in four wheel drive and drove out on the gravel bar to launch our boats and then headed on up the river against the current.
This was my view just after putting in headed up the river.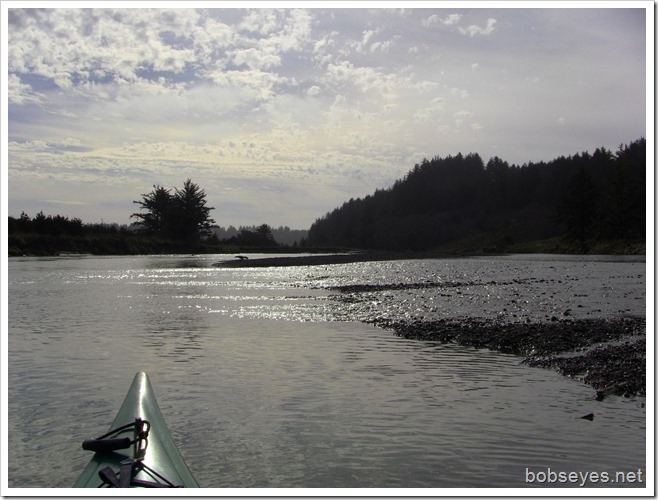 Fishing wasn't so good
Once we got about a mile up the river Steve tried his hand at fishing for steelhead, but had no luck. He had a lot of excuses why there were no fish, but we won't go into that. :O)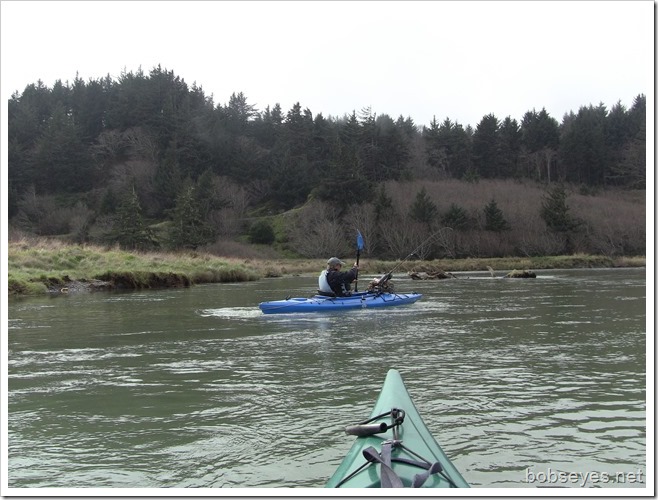 After spending an hour or two up river fishing, we started down to the river's mouth.
The mouth is down by that big rock. There was a bit of fog in the air too.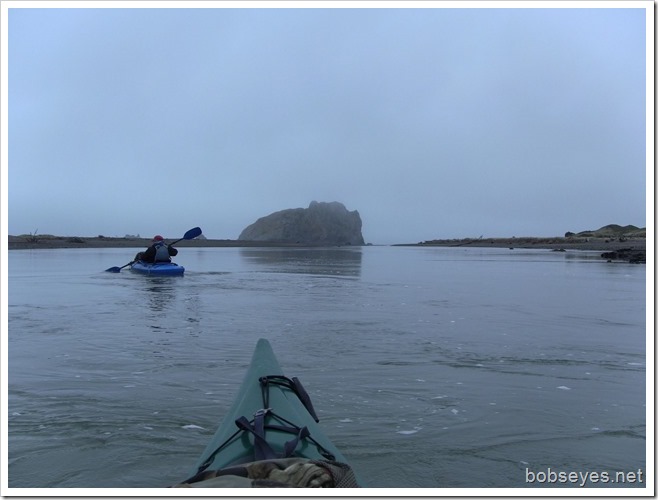 Up ahead we heard some geese honking and passed some of them on the shoreline.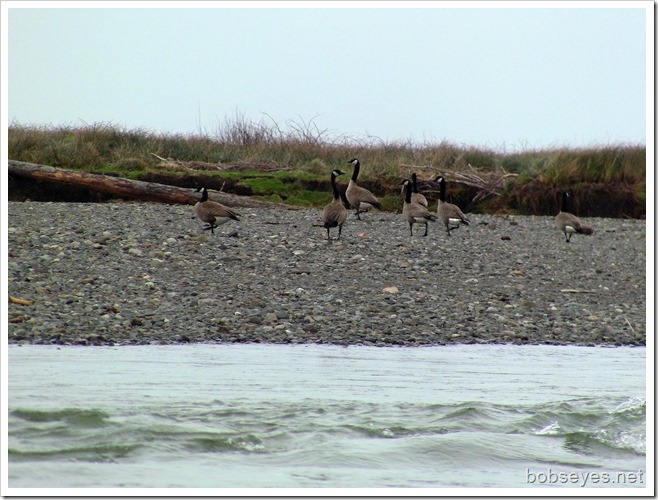 We also went by these merganser ducks that were a little concerned about our presence as we passed.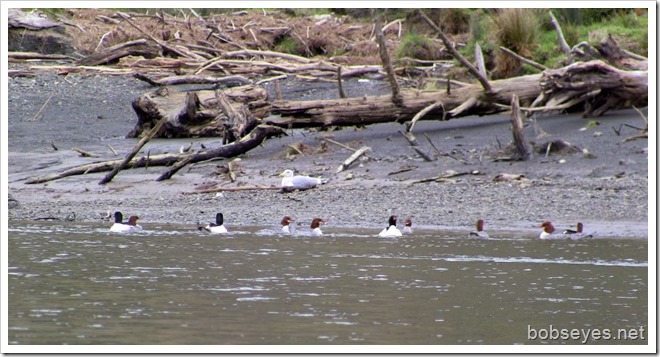 We landed our boats and went ashore a little ways back from the mouth and went for a little hike down to it to have a look. The tide is low.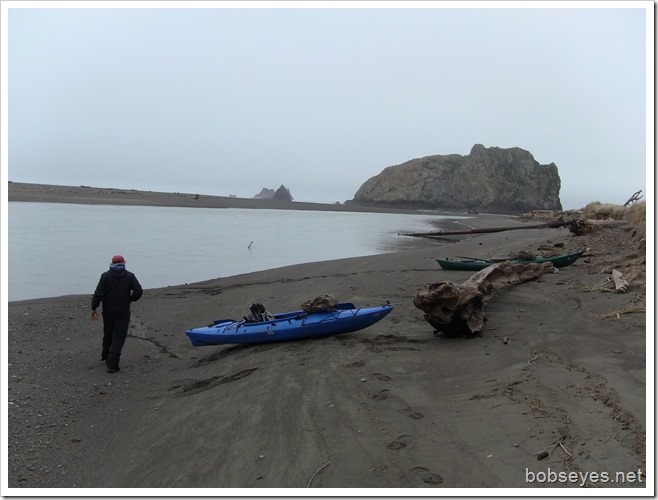 We only had to walk down to that big rock to see the mouth area, so off we went.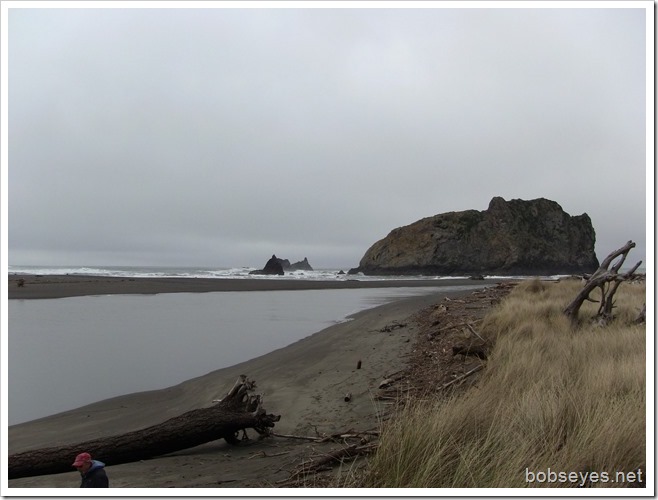 Sixes River's mouth
This was our view of the river's mouth where it goes into the Pacific Ocean. The ocean was calm today with little wind which was nice.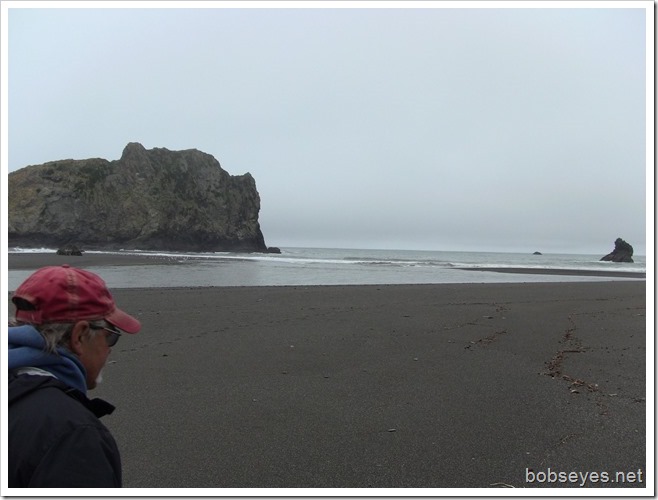 What would a river's mouth be without some seagulls sitting around resting on the beach.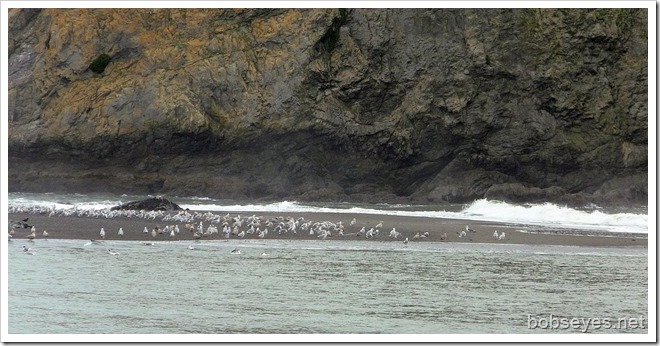 We looked around in the drift wood a bit but didn't find anything of interest.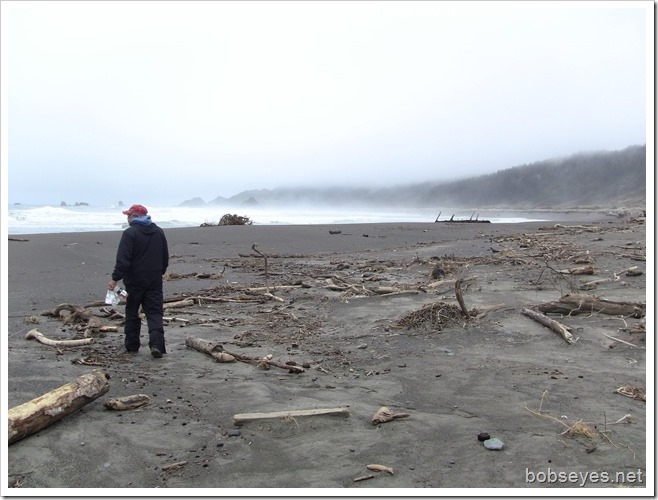 After checking out the mouth area we headed back to our boats, looking up the river.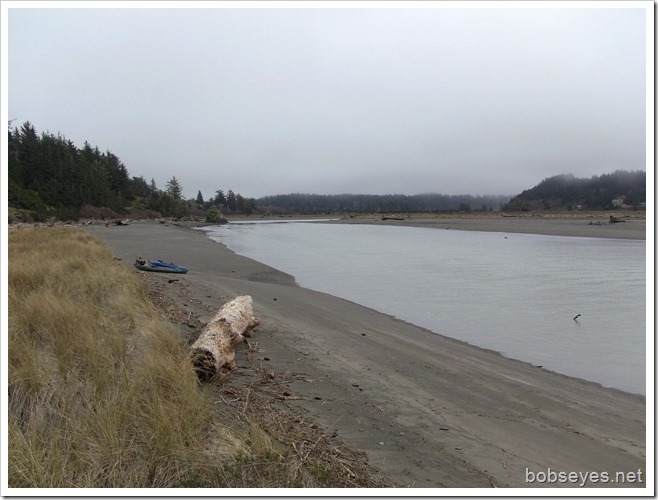 Most of the paddle back up the river wasn't bad, but this one place was too swift and shallow to get through, so we had to portage around it.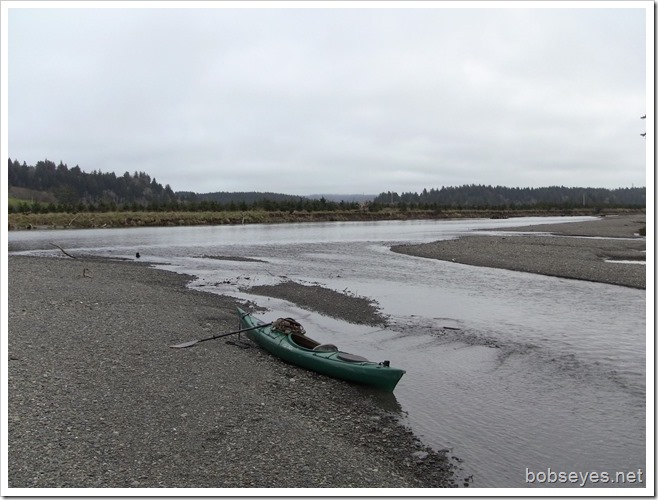 Steve's dragging his boat around the shallow spot, so we could continue up the river.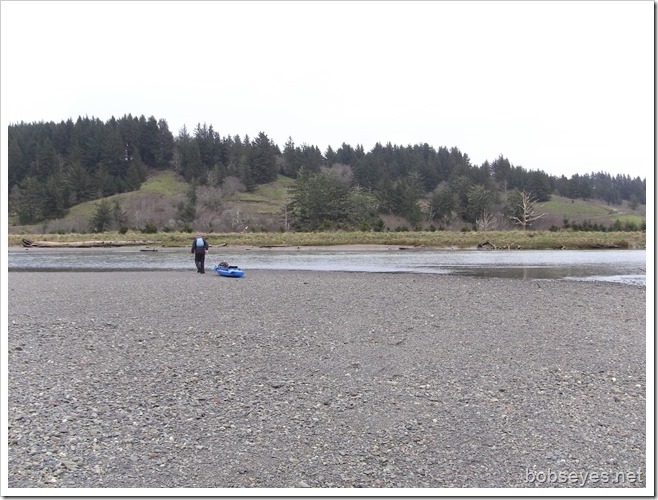 As we approached the launch area we spotted a drift boat full of fly fishermen coming down the river. They hadn't hooked any fish either.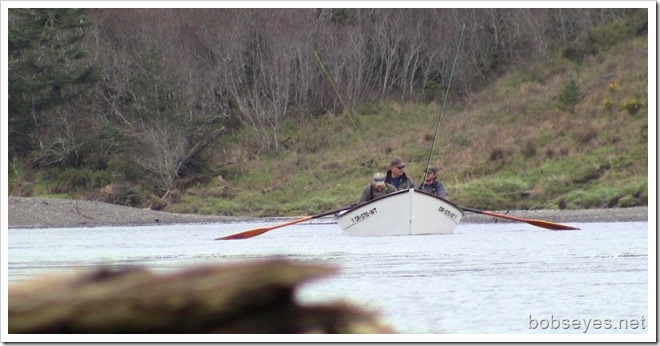 After the boat passed us, Steve started back up the river where we went earlier to fish. He said he needed the exercise, so I followed him on up.
The day was almost gone when we started back down the river and pulled out for the day and headed on home.
Steve had started a smoked beef roast this morning and was cooking up some potatoes, so I joined him for dinner. Very tasty.
I'm not sure what tomorrow will bring, we'll figure it out tomorrow.
Nice day on the Sixes River.
(Visited 523 times, 2 visits today)