Friday October 7, 2016 Guerneville CA.
Page errors?
Note: For anyone having trouble getting to this page. My internal address has changed. That means http://bobseyes.net has a different sub address, one you can't see. This means that old shortcuts, favorites and bookmarks won't work right. To fix this, just go to http://bobseyes.net and make a new shortcut, favorites or bookmark and things should work as they should. That also includes Blog rolls, if they are not working properly.
Http://www.bobseyes.net works just as well.
Thank you
Prepping for a trip
I decided I better spend the day prepping for my next trip. I needed to do some shopping so I went over to Santa Rosa and did some shopping at Costco. On the way, I stopped at the local hardware store and filled up my van's propane tank so I'll be sure and have enough if the night's get cold.
On the way home I fueled the van, then came home and unloaded things. I checked over the van for any leaks and didn't see anything.
Working on the rear lock
After a break, I went out in the yard and decided I better take a look at the van's rear door lock as it was sticking. I oiled up most everything and it was still sticking and might break the key if I can't get it going. As a last thought I oiled where the key lever hits the metal bracket lever and it all started to work properly. I think I need to put a dab of grease on there to keep it lubed and working smoothly.
Pushing the wheel barrel
After another break, I got the wheel barrel rolling and started moving wood from where this tree fill down awhile ago.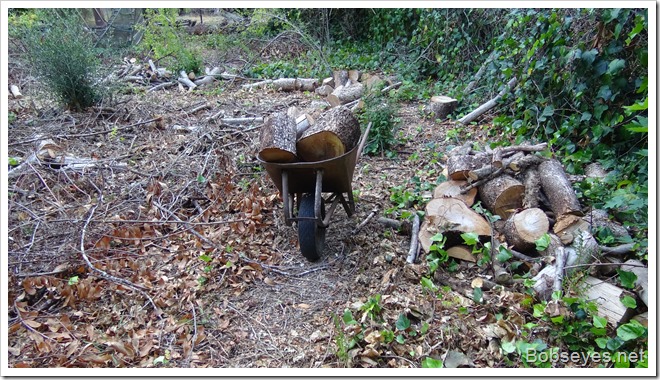 To my wood pile which is a couple hundred foot push.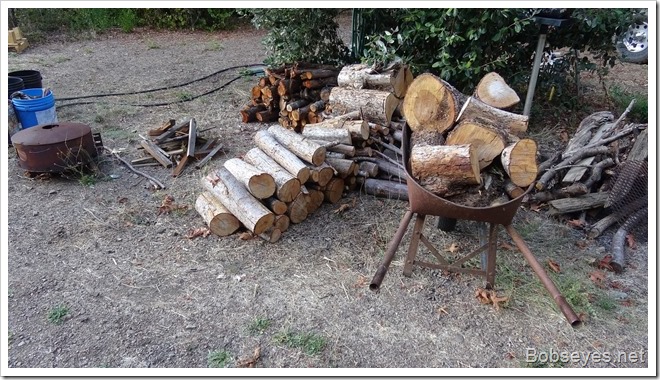 I did that on and off for the rest of the day moving maybe six loads and now my pile looks like this. Still lots of wood to go.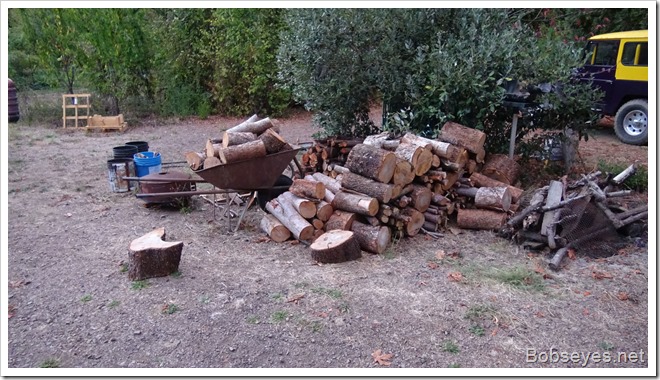 I spent the rest of the day chair hopping around the yard and noticed the sky was looking good just before dark. The big redwood on the left is likely over a thousand years old.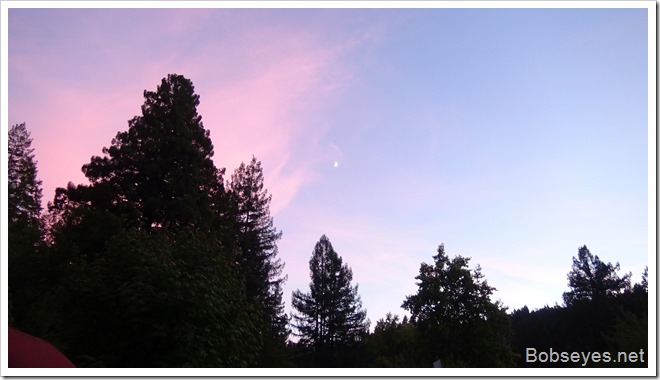 I was going to do a final grease on the van but didn't get around to it, so I'll have to do that tomorrow and move some more wood too. I'll finish prepping the van for the trip tomorrow and I should be ready to go Sunday, I hope. :O)
Nice day.
(Visited 143 times, 1 visits today)