Saturday September 19, 2015 Willow Creek Reservoir Nevada
We got a lazy start this morning and I think we got on the road around ten AM headed to Winnemucca to do some shopping and gas up a little over a hundred miles east on Interstate 80.
We had to do a little running around to find all the stuff we needed, then gassed up and got back on the freeway east for about twenty miles where we turned north at Golconda.
We traveled on roads that are maintained by the big mines in this area headed north east.
Here's one of the roads we traveled down with a fairly good surface.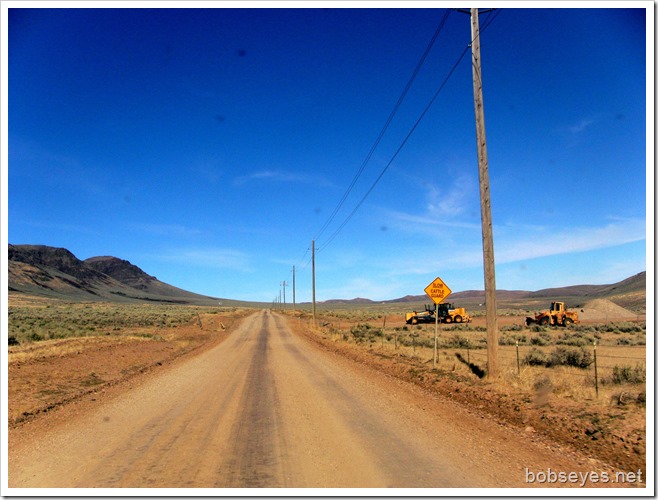 After about an hour driving I turned off a little side road as I wanted to show Marty another place I'd camped which we might have to come back to if the camp spot we were headed to was already occupied.
We pulled over here to have a look at the creek and camp spot.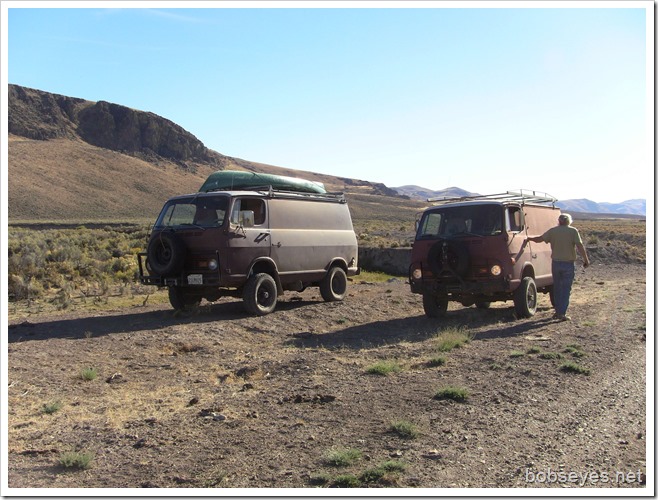 The camp spot looks down on Willow Creek.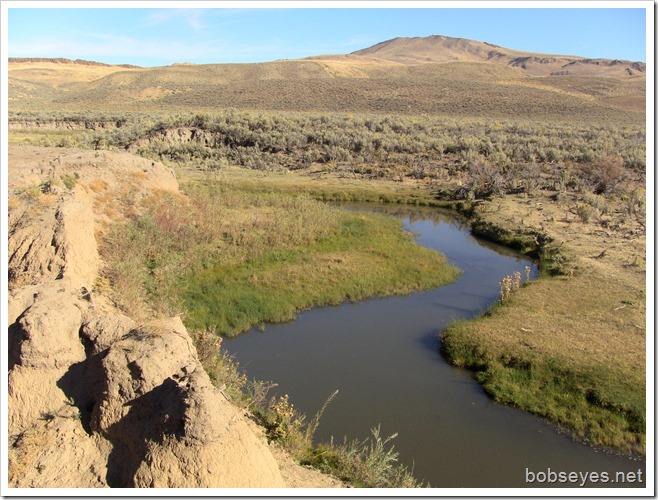 From there it was only a couple more miles to Willow Creek Reservoir where we drove up on the high part by the dam. This was to have a look at the reservoir and to look down the back side to see if our camp spot was empty or not.
Here's our view of the reservoir.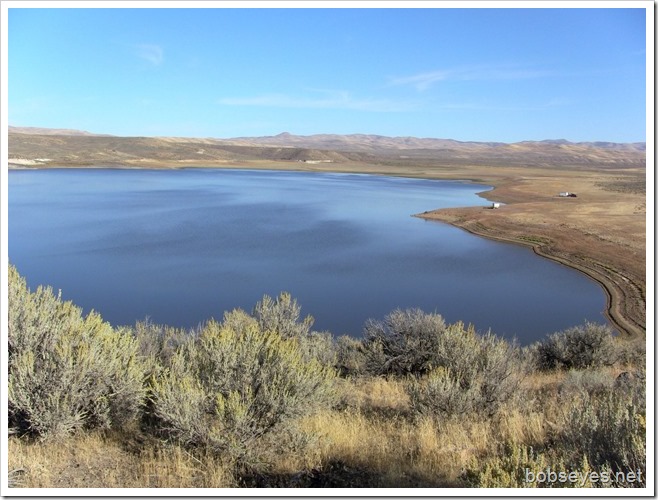 We looked down the backside and the camp spot was empty and the other site too. Great. Off we headed to clam the spot.
We set up camp, mostly put our chairs out and get the vans leveled just a bit.
We sat around and just rested mostly the rest of the day. Just before dark, we did a little walk along the creek so Marty could get the lay of the land.
We walked up the creek a little, after a short break and just before sunset we walked down the creek to the first beaver dam.
We started off down along here on the left bank.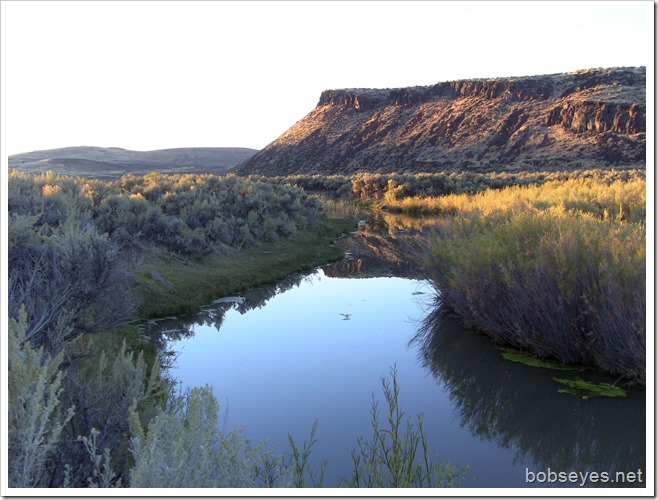 As we walked walked along the creek the sun started down for the day.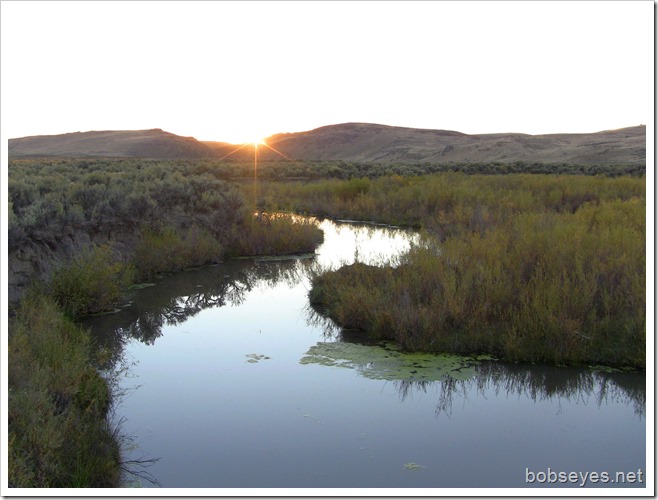 The sun was sinking fast at this stage and we started back shortly afterwards.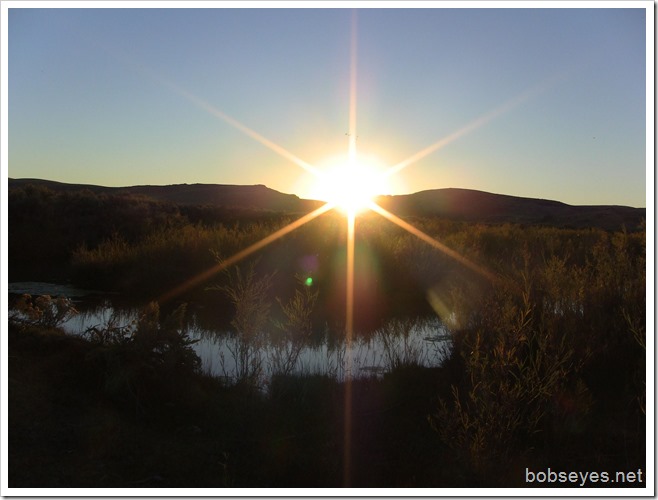 But before we left, we checked out the beaver dam which looked like this. It's catching a lot of moss that the critters and the ducks are disturbing up stream. The moss seems to be helping dam things up more and it looks like it might be some kind of filter for stuff too.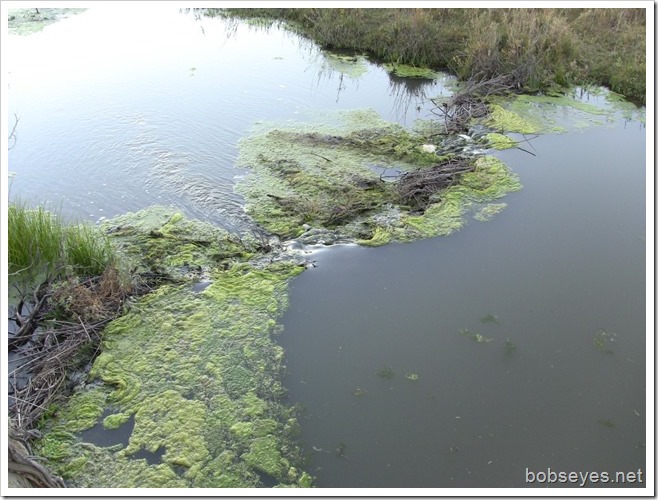 The sun was down as we approached our camp spot from the trail. It looks like a pretty nice camp spot eh.
We grilled some steaks with baked potato and long green beans on the grill and split a tomato and that was a good supper.
We plan to stay here for another day and just take it easy mostly.
Nice day out on the desert.
(Visited 153 times, 1 visits today)