Thursday August 4, 2016 Guerneville CA.
Getting the radiator stuff connected
I needed to go to Santa Rosa today to get parts to hook up the radiator stuff. I needed hoses and parts to hook up the fan and the heater hoses.
I couldn't get exactly what I wanted in radiator hoses, but I got what I thought I could adapt. The top hose was a twenty by inch and a half flex hose which fit just right, but the bottom hose I got was a bit short. It's an inch and three quarter inches in diameter. I decided a metal pipe to connect two pieces was the way to go so I hunted through my stuff until I found a suitable piece of aluminum pipe that was close enough to the right diameter and cut it to fit.
Radiator hoses
Here's the finished product of the lower radiator hose hooked up. Radiator is on the left.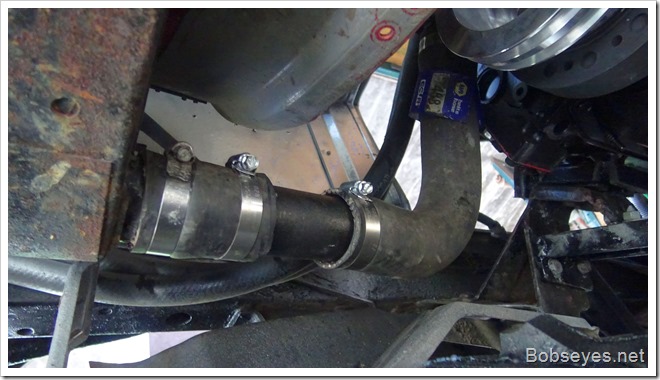 The top hose worked out ok, and the heater hoses went in without too much trouble. I also got a longer spacer for the fan blades which I still need to get longer bolts for. The fan spacers got the fan into the fan shroud nicely, but the fan is setting a little higher than the other one I had in there before.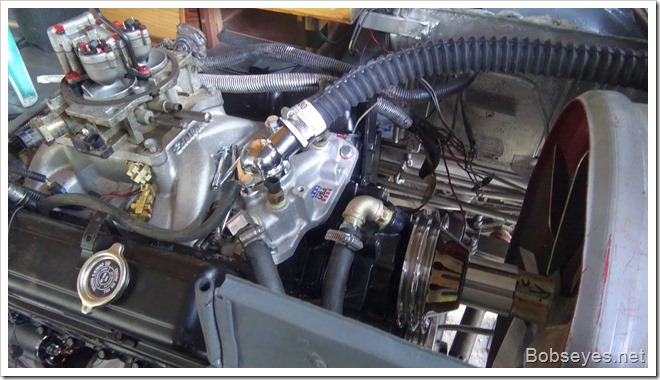 The fan needs to be centered better
I'm either going to have to move the fan shroud up a little bit, or.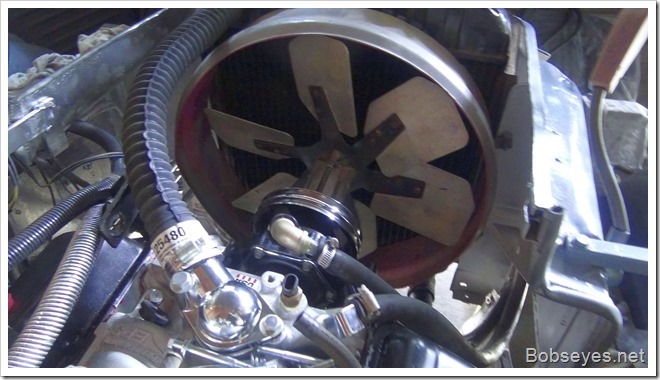 New engine isn't level
I noticed the V8 engine is setting a bit higher in the front than it does in the back, so it's not level from front to back. I'm thinking of dropping the motor mounts a bit to level it out a little, which would also bring the fan blades down enough so I wouldn't have to move the fan shroud higher. All I'd have to do to drop the mounts is make some spacers and find some longer half inch bolts that are used to hold the frame mounts on, so I might do that.
Starter and the manifold
I also put the starter and this exhaust manifold back on. The exhaust manifold is about an inch higher in the front than in the back which is a bit hard to see.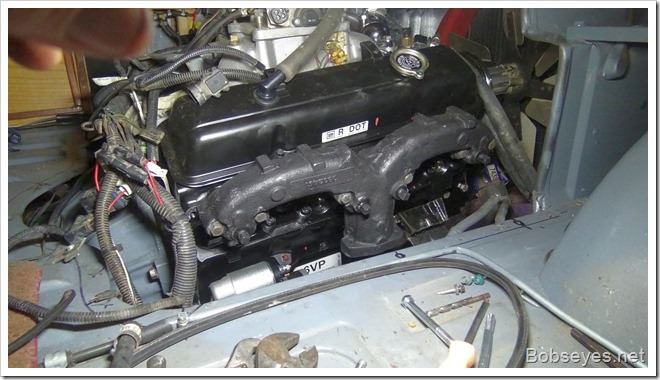 This little problem
I need to get some longer bolts for my fan spacers. Once I have those in and know exactly where things line up, I'll decide what to do to take care of this little problem.
That was my day.
(Visited 360 times, 1 visits today)