Tuesday June 9, 2015 Jenner CA.
Things were looking nice as I arrived at Jenner this morning. The wind was down and most of the fog was gone with just a bit of overcast.
I paddled over to Penny Island and sat around here just taking it easy for quite some time before heading up the river.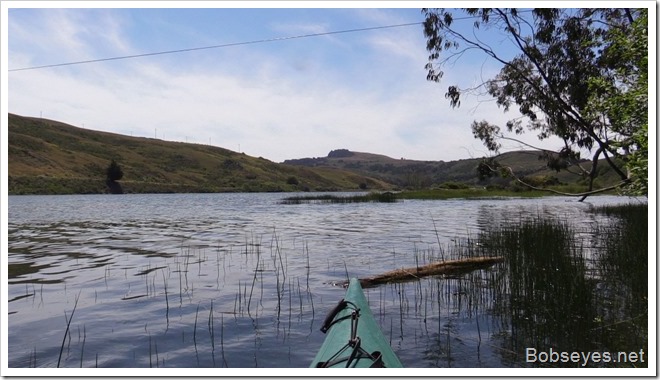 Headed up the river
I could see these two harbor seals eyeing me. I passed by them just after I left Penny Island.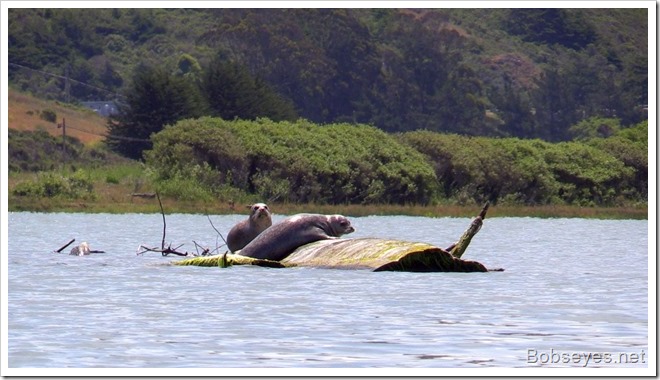 I paddled on up the river to the muskrat nest area where I sat until I decided to head back down the river. There were very few birds and critters on the estuary today. Maybe they are all nesting somewhere?
Another seal
There was a different seal on the log as I passed by the same spot as I saw one earlier.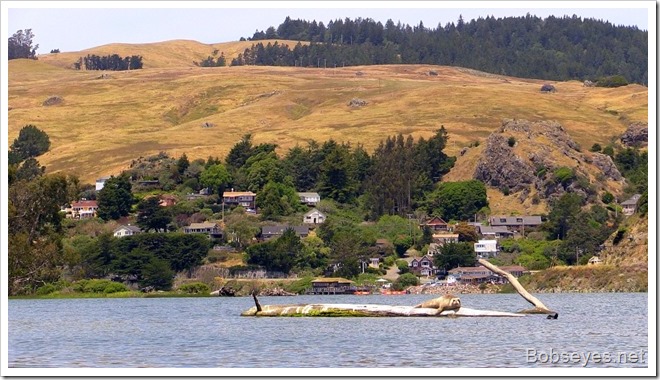 This one was one of my buddies. It looks real content.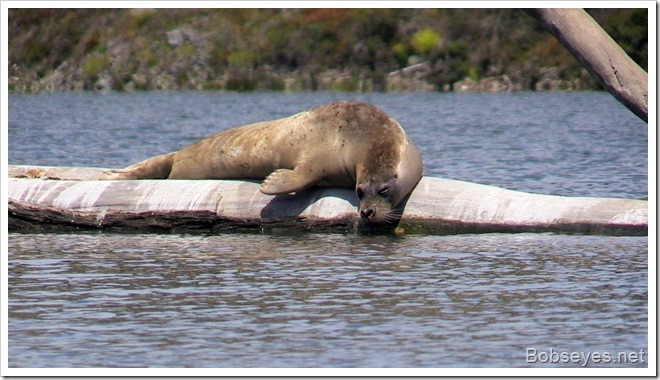 Penny Island for berries
I'm approaching Penny Island and eyeing that green grassy spot just in front of the power pole, thinking of Blackberries. I landed my boat there and went ashore.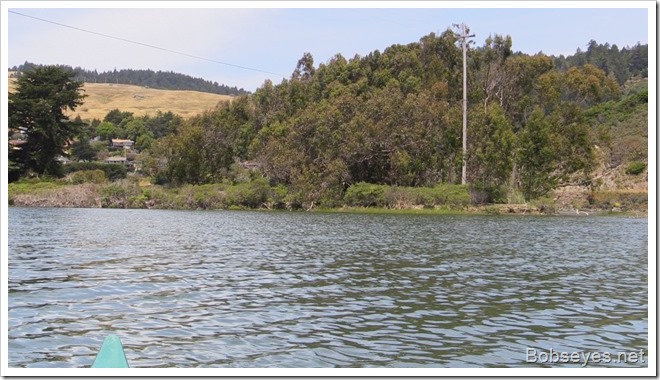 Penny Island buildings
I walked over to where the old houses were looking for blackberries and finding a few. The old houses are sorta falling down.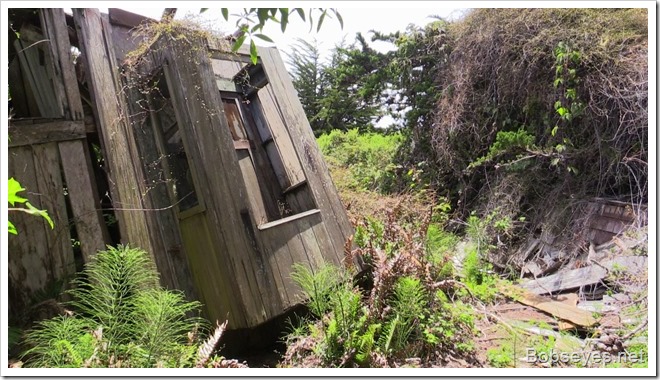 Here's another old house next to a big tree. I wonder if the people that lived here planted the tree and enjoyed it?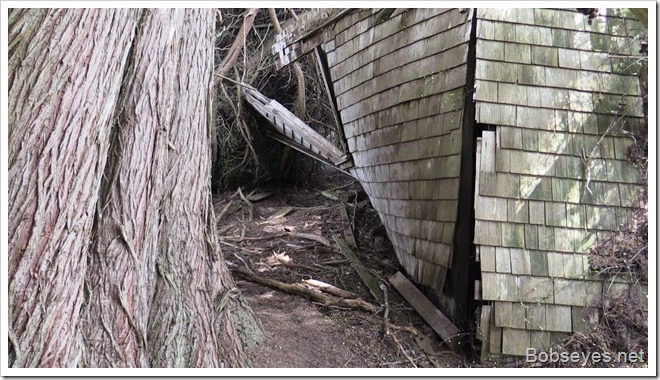 I was finding more salmon berries than blackberries. I keep trying them and they are so big and look delicious, but I'll take a blackberry any day. These berries are about an inch across.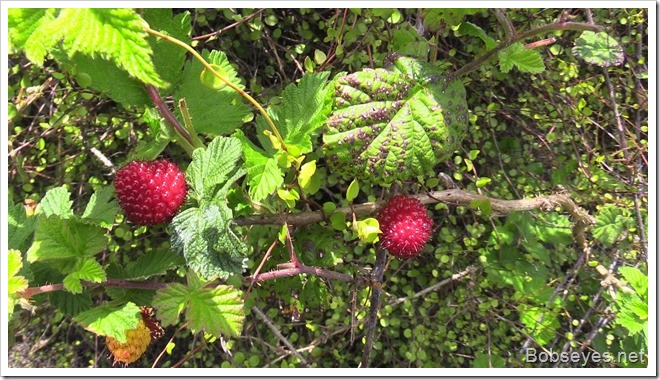 These are the berries I like to eat
I went over to the berry section of the island and started finding more of the blackberries.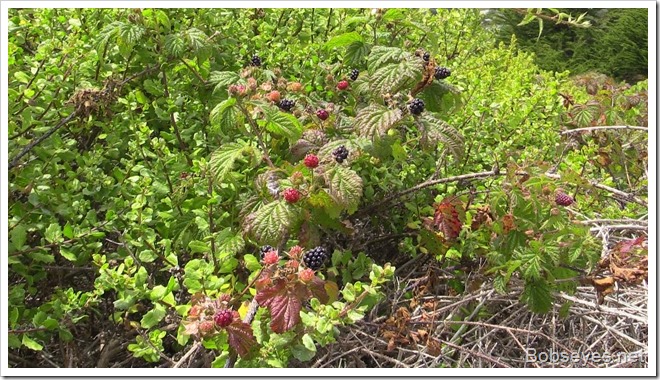 If you eat enough of those little berries you can get full of them and once I was, I headed on in for the day.
Just as I was approaching the boat ramp, the fog moved in rather quickly.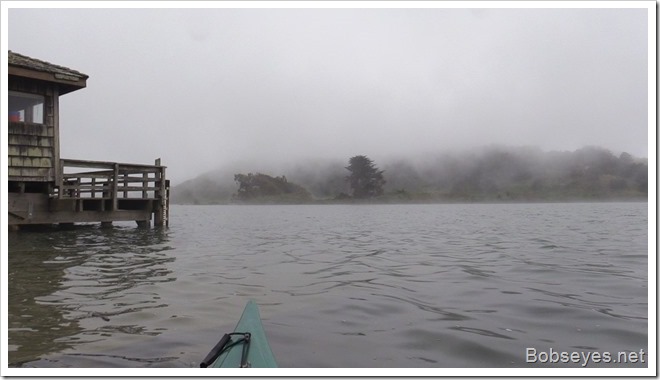 Ate some blueberries too
I went on home for a nap. Eventually, I went out in the yard and uncovered some blueberries so I could eat some. Hummmm good.
I was making a stew in the crock pot and was thinking some potatoes would be good in there too. But do I have any yet this season? Only way to find out is to stick my hands in the soil and dig for some. At first I found only smaller ones, but then I found this one big one. Cut up and into the crock put. Yummm.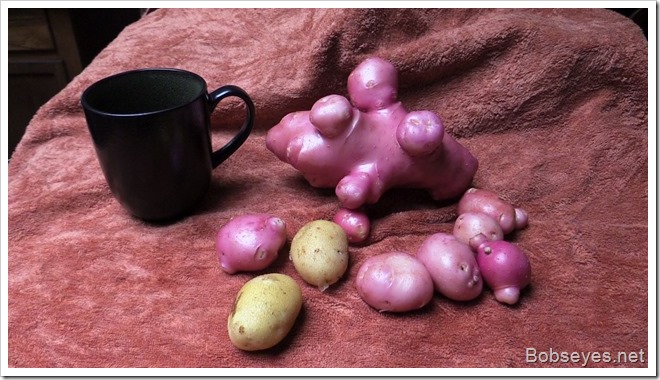 And a sprinkle of rain with a sunset
After all that harvesting of the potatoes, I just puttered in the yard doing a little watering and hopping from chair to chair when it started to sprinkle lightly. I looked up and was surprised to see the sky all red. It made a nice sunset looking through the redwood trees.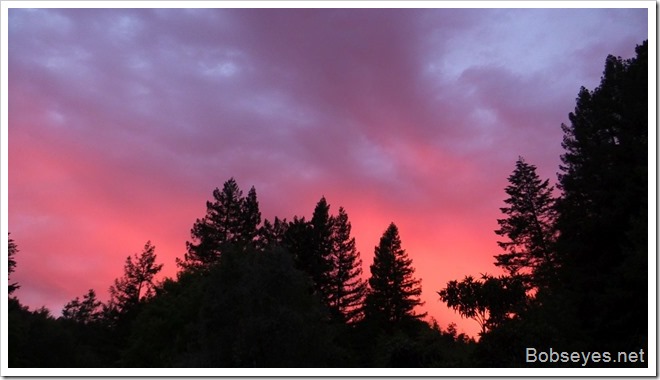 It only sprinkled enough to clear the air. I stayed out until it got too dark and that was it for me today.
Nice day.