Thursday January 14, 2016 Jenner CA.
Overcast day
It was overcast as I drove into Jenner this morning. The weather guys said the rain should hold off until about two. The wind was down and it was going to high tide as I put my boat in the water and headed down towards the open river's mouth area.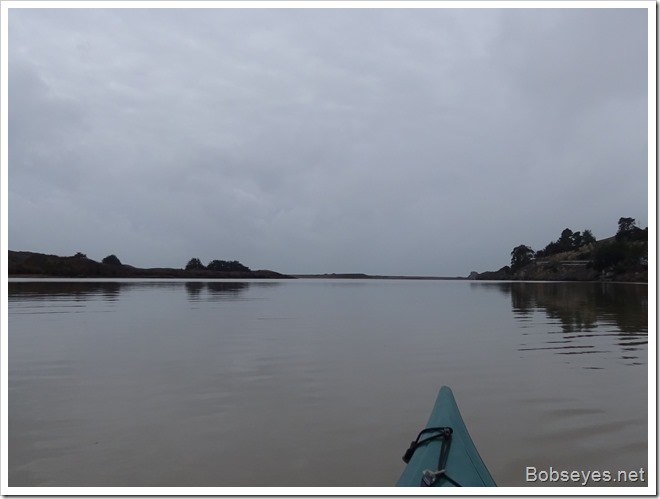 I thought this was a big tree floating down the river until I got close to it. It seems it's someone's dock that got ripped out up river somewhere. All the posts were rotten and it seemed to have just broken off. It's upside down right now, so you can see the rotted posts sticking up. The water is muddy from the recent rains. Unfortunately, when the river rises, it brings a lot of trash from up river, down river to here.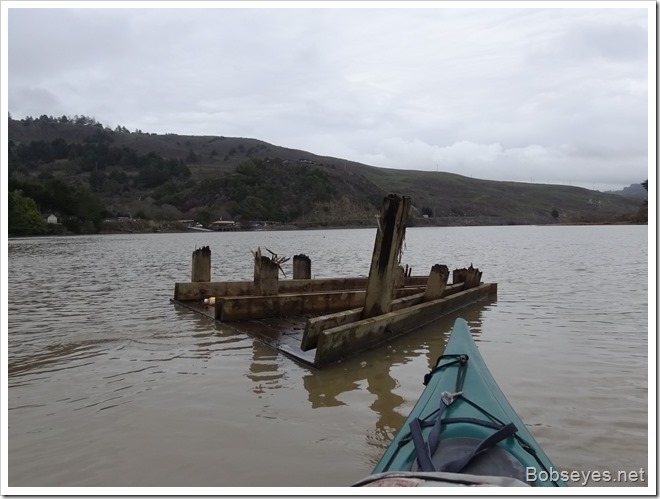 I see John working on something
I was paddling along here when I saw John working on something in his yard by the house over there on the right.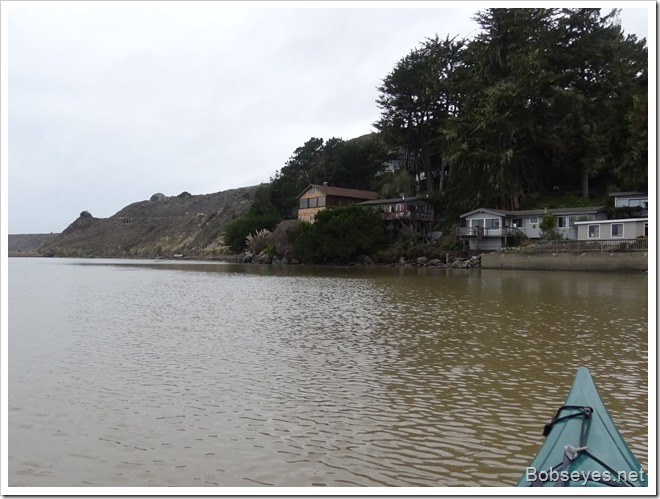 I paddled on over to see what he was doing. Seems he was digging a big piece of cement out of the ground with a digging bar. He said the wave action had uncovered it recently and he wanted it up by his cement wall as a retainer. I chatted with him for a bit, then headed to the mouth area, across from his house. I'll see how he's dong on the way back.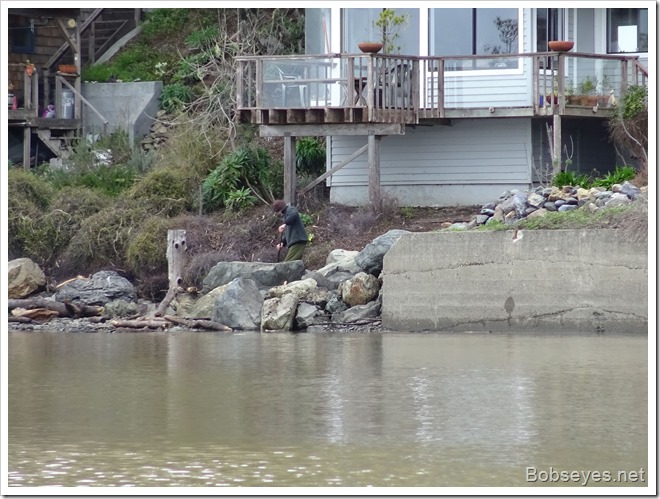 River's mouth is open
I paddled over to the open mouth to have a look. It wasn't quite as rough today, but there were still some big waves hitting the jetty, just not as often as yesterday. While I was watching, I noticed an eagle on the right side of this picture, sitting.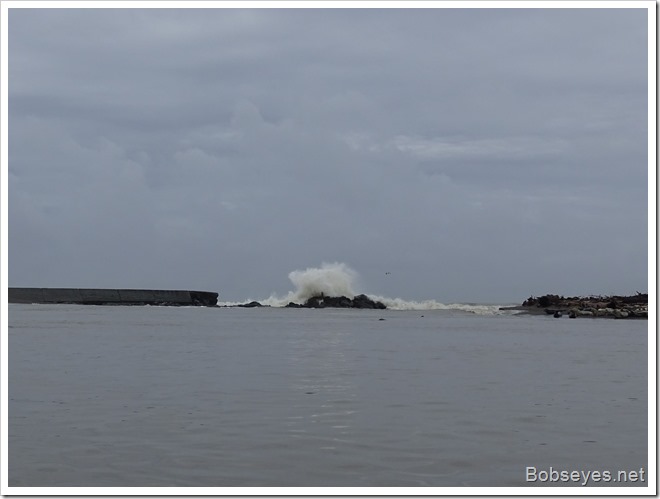 These eagle's indicate the big fish are coming into the river
I was sitting there checking out this eagle on a log on the right, just in front of that big rock.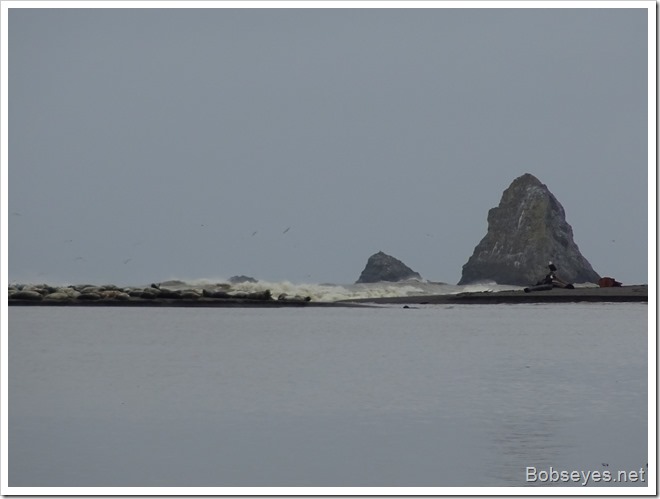 As I watched, another bald headed eagle flew in and landed.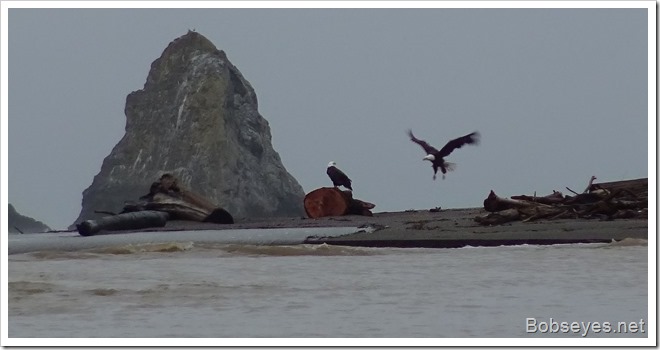 Now I had two bold eagles to watch. They seemed to be resting waiting for their next meal.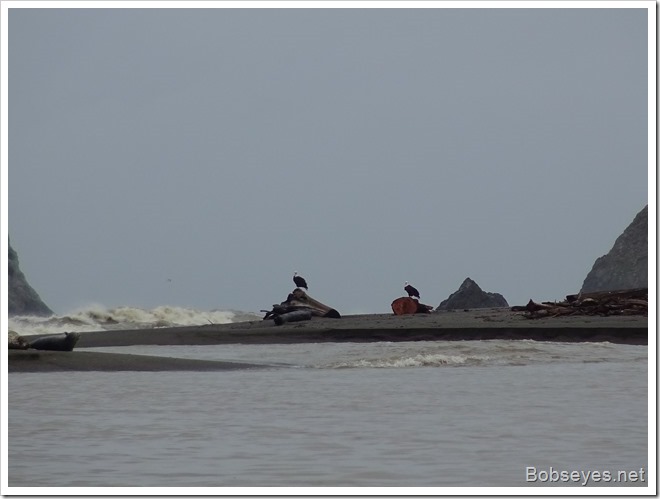 I infer
Since I can't see most of the big spawning fish that are swimming into the river, I have to infer things by what I see that might be eating them. I know the eagle's wouldn't hang in this spot if there wasn't anything to consume, so I can infer the big fish are swimming into the river to spawn. Also partly as I saw them eating a big fish carcass yesterday.
Wind blown wood
I paddled past the open mouth down to the end of the river where I ran into all this wood the wind was pushing into this spot. I pulled into this spot and sat for a bit. That's Haystack rock there in front of me.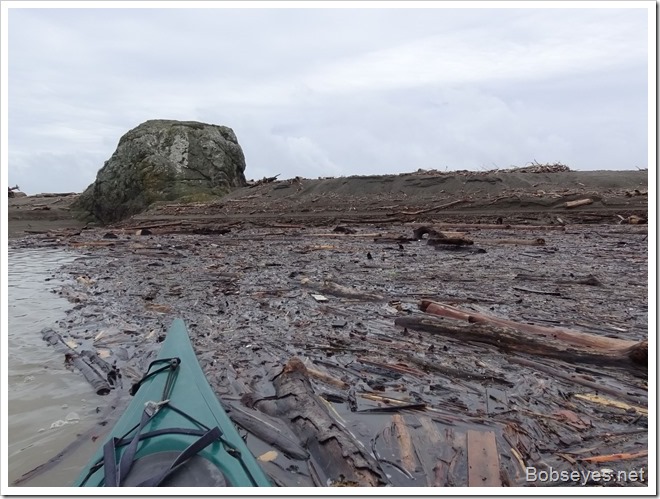 I was watching these seals and they were watching me a bit, especially the one on the left.
Honking geese
I heard a bunch of honking as in geese and two of them landed on Haystack rock just in front of me.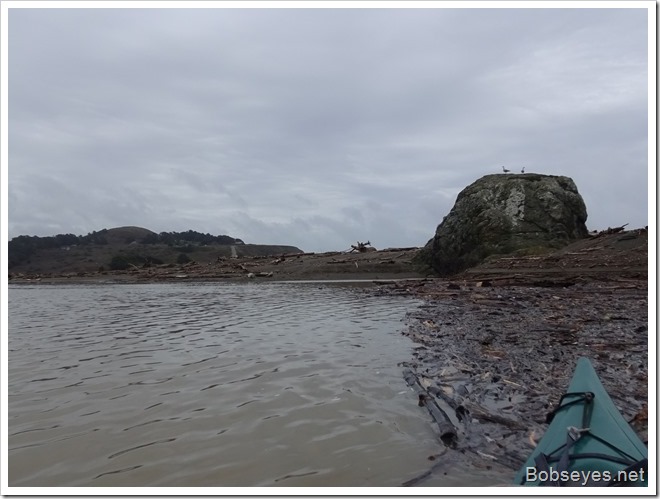 They kept honking away, making a lot of noise, so I moved on back to the river's mouth.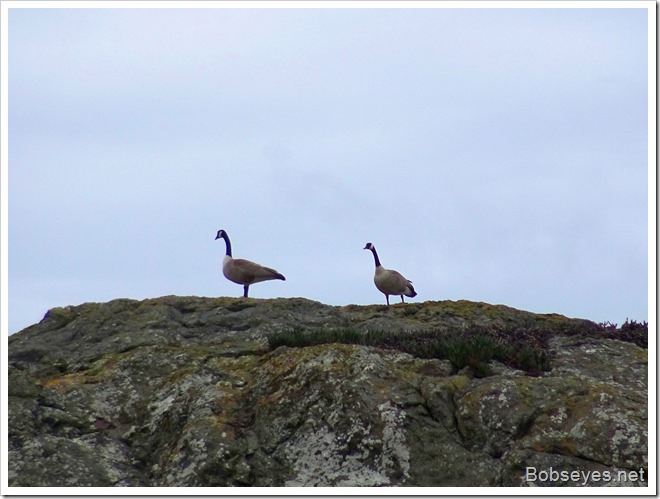 I watched more harbor seals while they rested. Ocean waves rolled in behind them sometimes washing over them.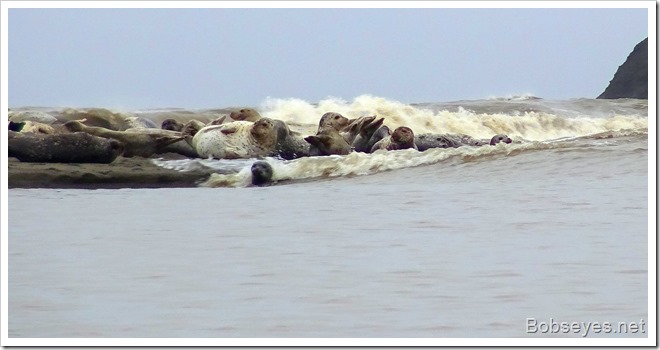 Starting to spit
It was starting to spit rain a bit. What I mean by spit is big cold drops coming down slowly and not heavy. But they are a warning that more may be coming soon, sooner than the weather guys said it would, so I started heading back up the river going by to see how John was doing with that piece of cement he was digging up.
John's doing ok
He had moved the cement piece from down below about twenty feet away to this spot where he was working it into place to help protect the wall. Now that is a big piece of cement and John has a pacemaker but it doesn't slow him down too much. John's about 68 years of age. John is also one of the main trash picker uppers in the Jenner area.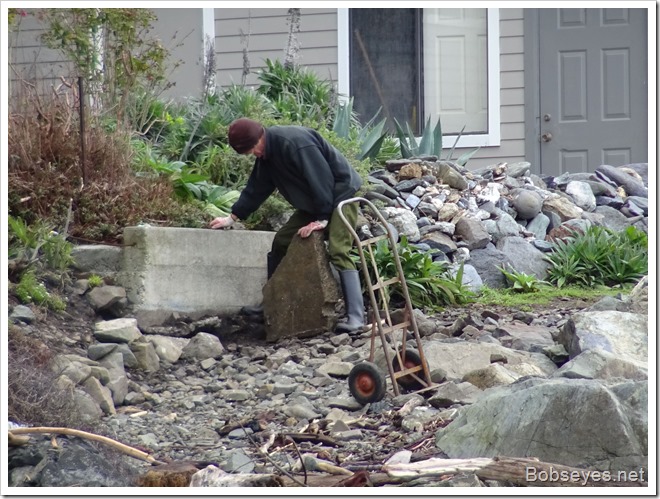 I chatted with John a bit more, then moved on up the river. Instead of going in right away, I paddled on up to the upper end of Penny Island and pulled into the little channel there for a bit.
Upper end of Penny Island
Of course my buddy, the great blue heron was there hunkered down ready for the rain that was starting. We both seem to like this spot, so this heron has gotten use to my presence and doesn't get too excited when I come around.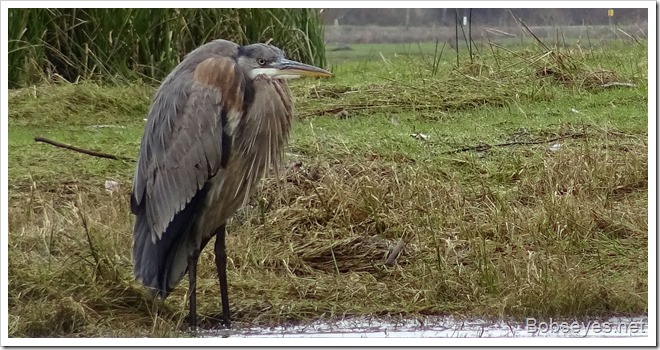 The spits where starting to turn to a rain shower, so I moved off to the boat ramp. As I was putting my boat on the car the shower picked up some more so it was time to leave and go on home, which I did. That was one of my shorter days out, only an hour and a half.
It was raining at home so I stayed in and puttered doing mostly not much. :O)
That was my day.
(Visited 164 times, 1 visits today)