Thursday June 30, 2016 Jenner CA.
A bit foggy in Jenner today
It was a bit foggy as I put my boat in the water at Jenner this morning. I paddled across to Penny island and sat here for a bit, looking down river.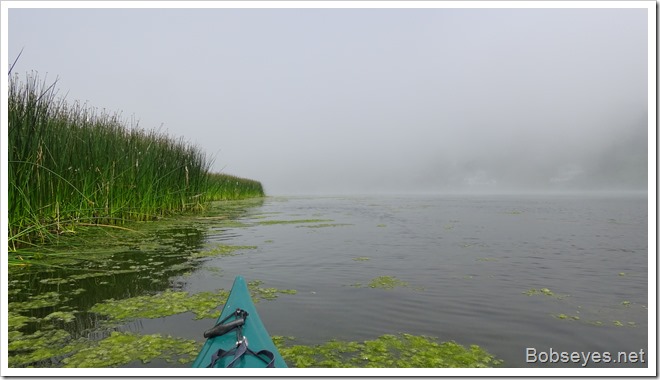 I was sorta curious to see how the river's mouth was open so I headed on down along the islands edge and found these white pelicans resting on the lower end of the island in the fog.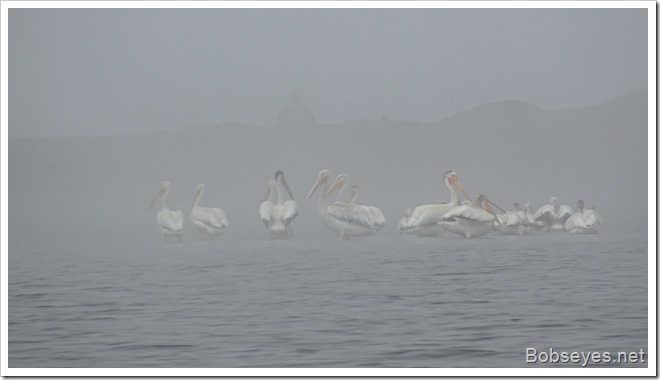 I crossed over the river through the fog headed towards the open mouth.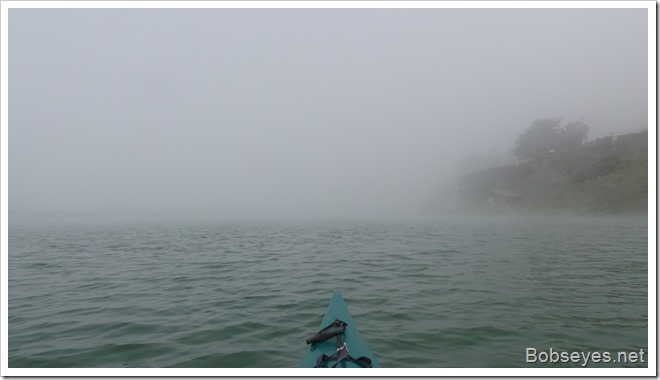 Dungeness crab have arrived this year
As I was paddling along I noticed these seagulls acting like they were hunting for crab, so I watched them for a bit.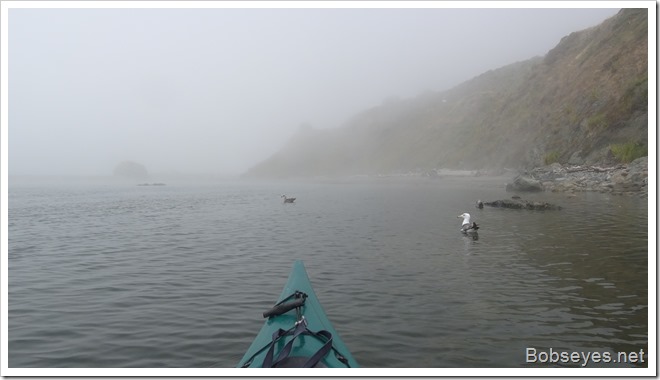 They jump into the air to dive
I watched this one catch one after another as it seemed to have the knack better than the other one that I was watching. Once they spy a little crab, they jump up in the air like this and dive to catch it in the shallows.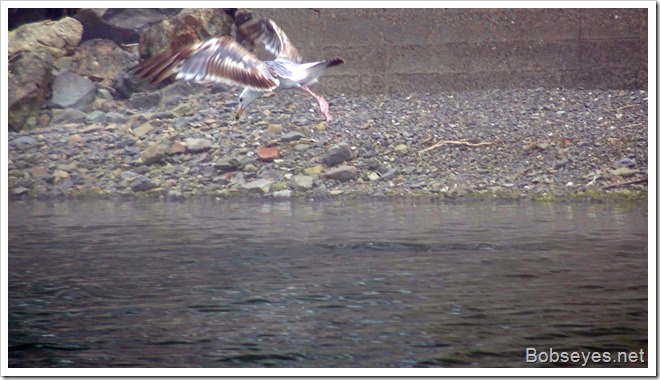 They were catching little one inch Dungeness crabs that I think swim into the open mouth with the incoming tide current. Sometimes there are thousands of these in the estuary at this time of year.
This one has one of the little crabs which it will swallow very fast.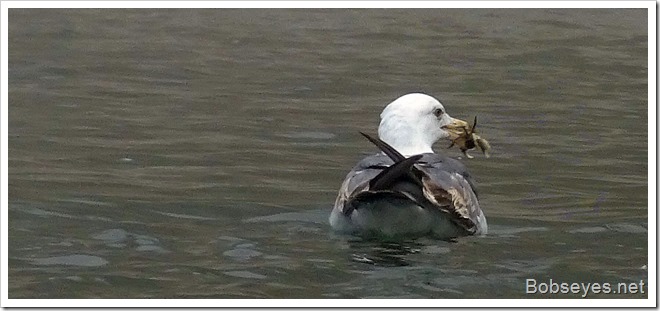 Open river's mouth
The fog was lifting a bit as I sat in front of the river's open mouth.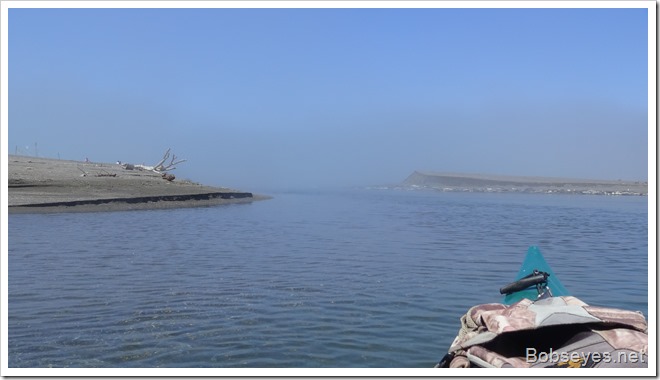 I headed on back up the river and went by these little pipers. They like to feed along the shoreline.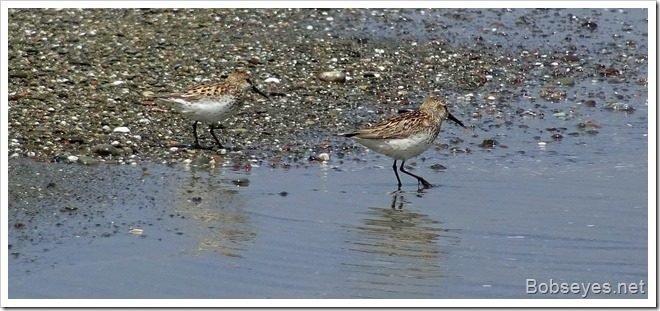 Penny Island walk
I paddled up the island back channel and decided to go for a walk on the upper end of Penny island and landed my boat here and went for that walk looking for blackberries to eat.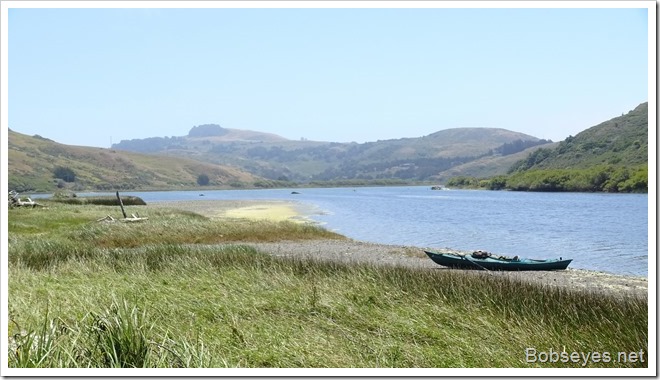 The island is pretty thick with brush and berry bushes and looks like this where I was looking for berries.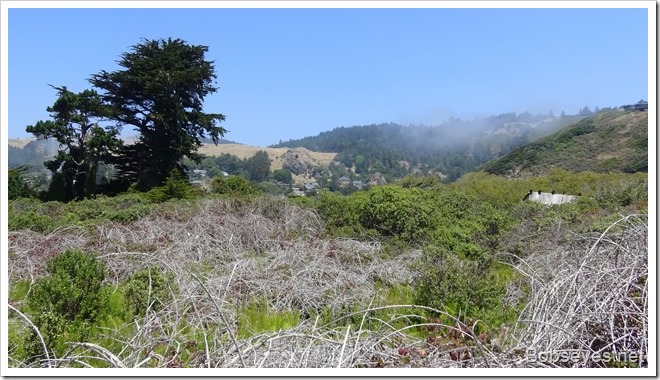 I did find some which seemed about twice as large as the ones I'd been getting before.
Moved to Swamp rock for another walk
After eating some berries I returned to my boat and continued up the river, crossing it to the south shoreline where I went to shore again, this time at the Swamp rock trailhead here.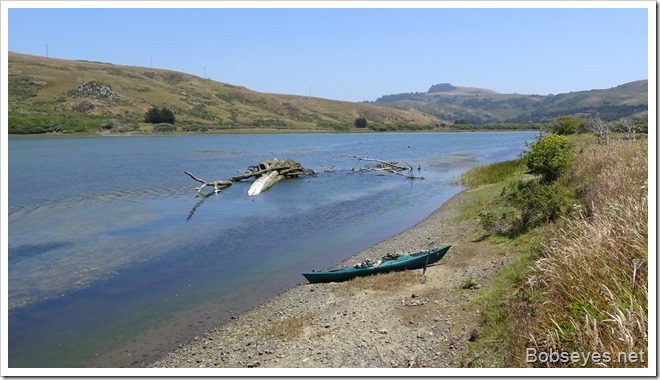 I walked around looking for blackberries to eat and found some. While I was there I looked up to see these white pelicans flying above me trying to decide which way to go.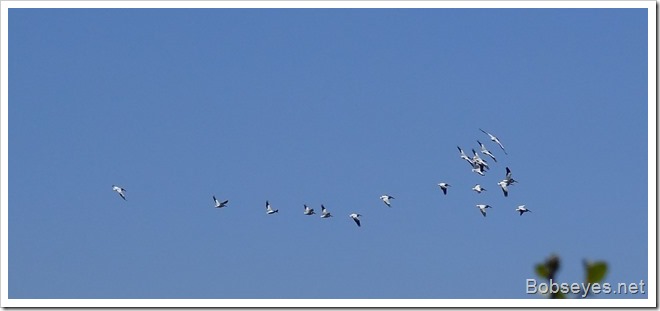 I got back in my boat and headed towards the boat ramp. Some fog had moved back in as I watched this great blue heron eating some little fish it was catching.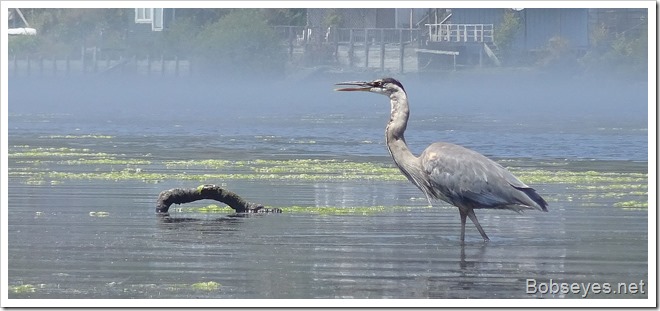 The fog was moving in and out as I watched. This is what it looked like as I headed for the boat ramp by the visitor center at Jenner.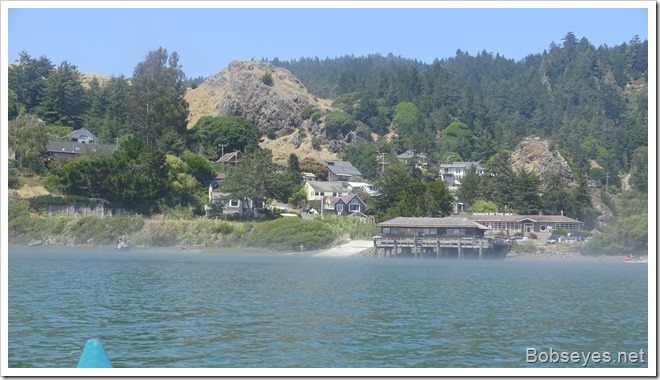 I put my boat on my car and went on home for the day for a nap.
Working on the van
After awhile, I went out and worked on removing some things from the van so I can pull the engine out. I removed the seats and the compartment hood and drained the coolant and removed a couple other things in preparation for taking the engine out.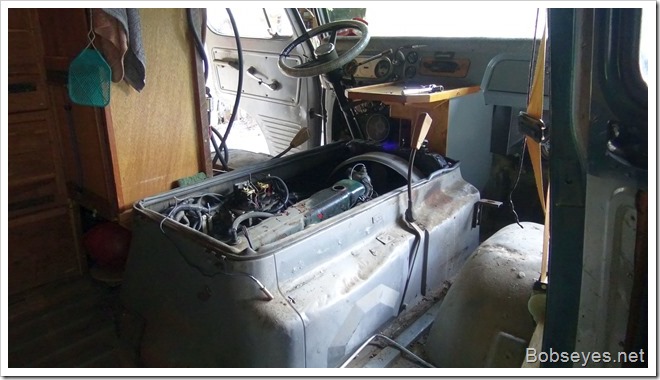 I didn't' work too hard at it as I plan to work on it this weekend and have plenty of time to get this one out before I get another one.
Nice day.
(Visited 444 times, 1 visits today)