Monday December 19, 2016 Jenner CA.
It was 34 degrees F. as I got it going this morning, outside of course. I was talking with a guy in the Jenner parking lot and he said it was 48 degrees F. as he got out of his car. Jenner is always warmer I think because of all the water.
The sun was out and there was almost no wind as I paddled on up the river.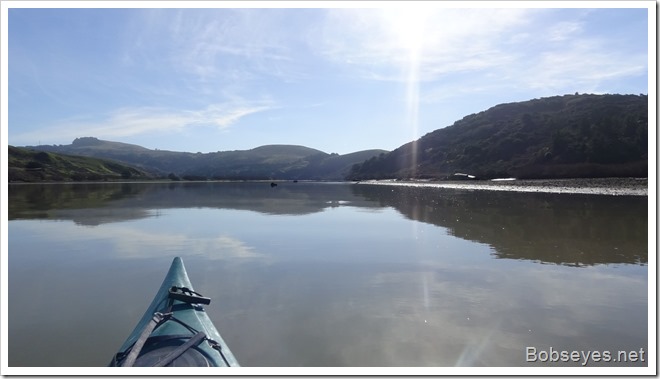 I paddled along here. That's Paddy's rock across the river.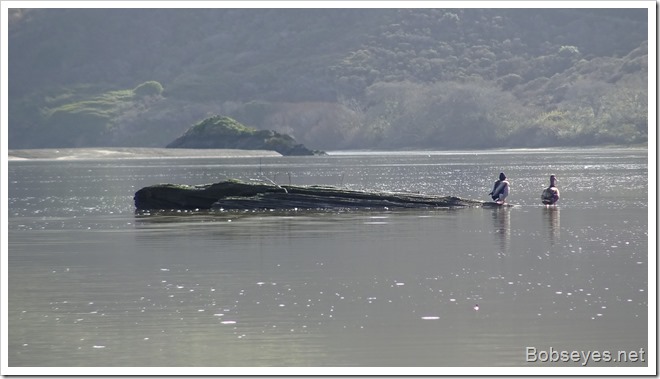 I paddled on up to Muskrat and sat here just enjoying the day.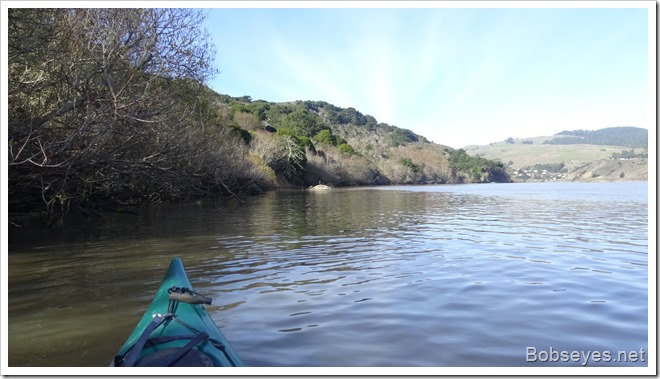 Eventually, I headed on down the river going down the island's back channel.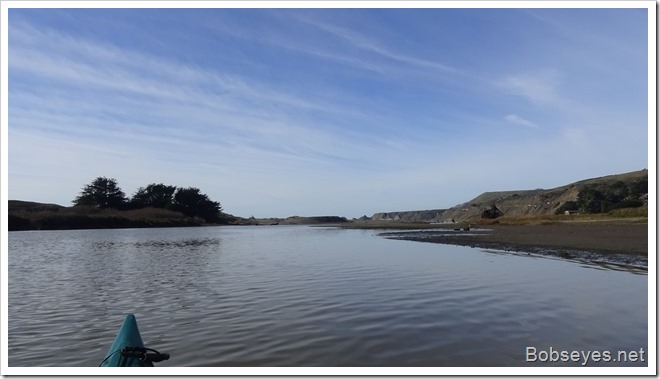 Is saw a couple scrub jays in the brush by the island and remembered Sherri wanted to compare the western scrub jay to her eastern scrub jay, so here you are Sherri. I think ours are bluer.
I continued on down to the river's open mouth and sat for a bit. There were a bunch of seagulls flying around.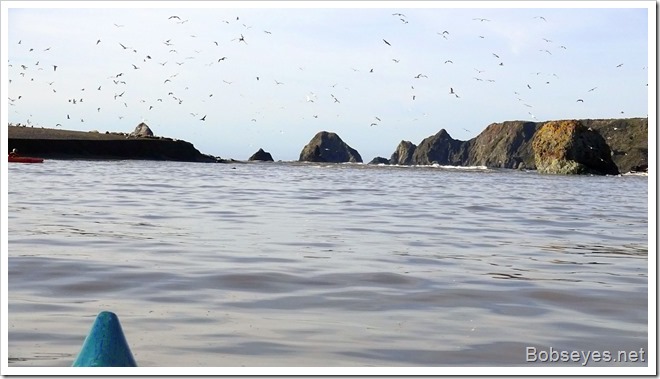 After awhile, I headed back up the river paddling along here.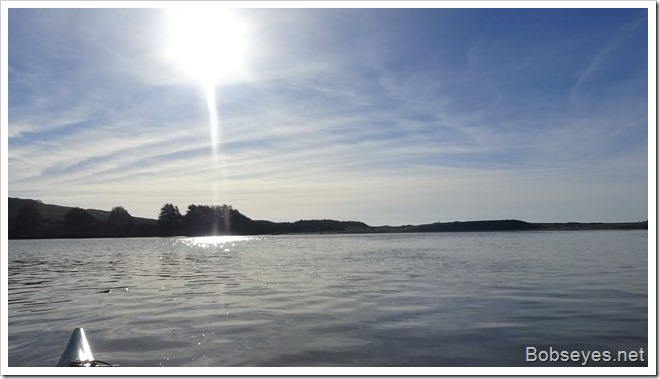 I heard Ken working on something up in his yard, so I banged my paddle on the boat figuring he'd be curious and look and he did. We shot the bull for a bit during which this hawk flew in and landed in the tree just over our heads. He didn't say much, just listened.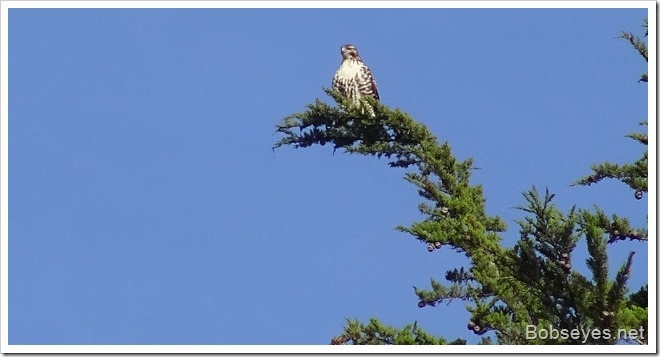 I let Ken get back to work and ran into this great blue heron laying down in the grass which I've never seen before. It seemed to be just taking it easy resting.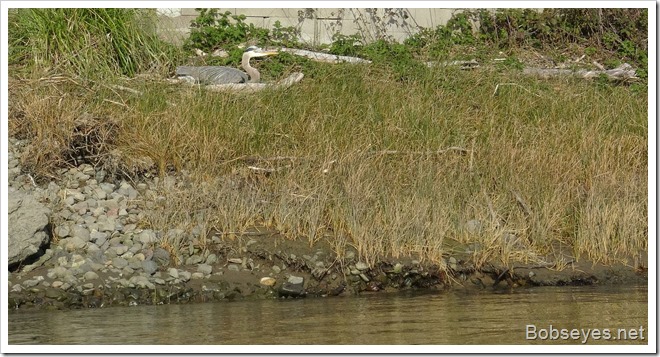 I was sitting in my boat just past the heron when I heard a familiar splash behind me. I know that splash to be the sound of harbor seals with one of the big fish coming into the river to spawn, so I turned and waited and watched. Seals eat under water and you just don't know where they will surface and these seals where moving fast and not staying on the surface for long. Usually there's a seagull or two on the surface that stays just above them waiting for a morsel, but not today.
Not the best shots, but this was the best I could do. Two seals with a big fish. It's rather large, maybe a king salmon?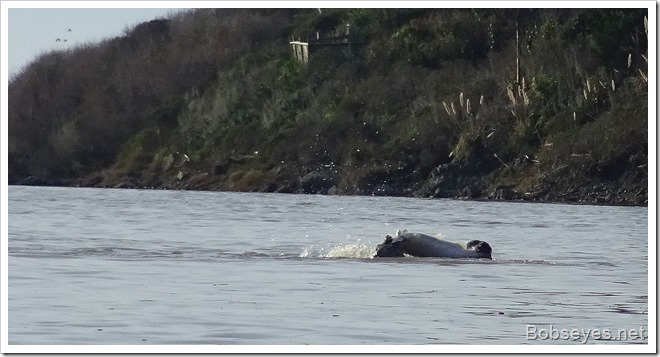 And here they are with it again. They disappeared after a short time.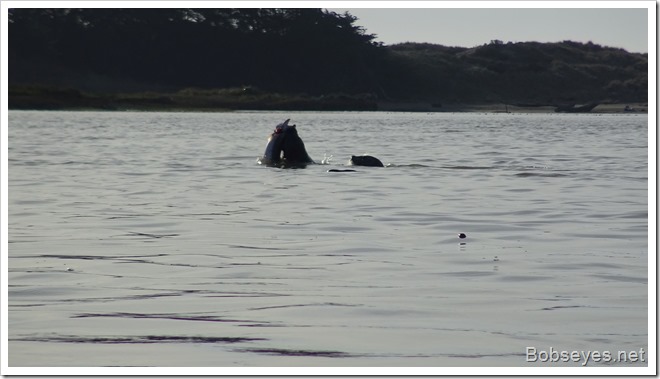 I continued to the boat ramp and pulled my boat out of the water. I moved that tree branch a little to make some room to back my car down, but it was too big to move very far without breaking my back.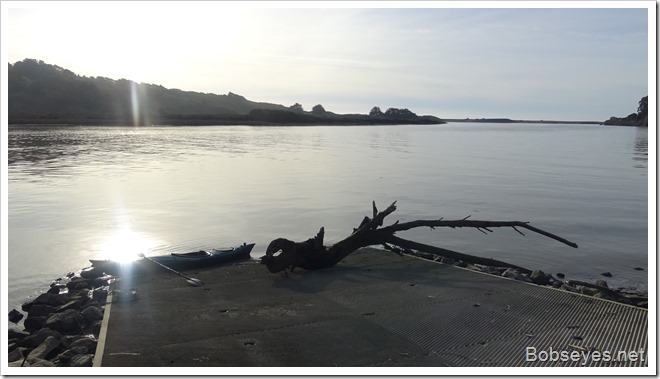 I stopped to check out the Monte Rio boat ramp on the way home. The water has drooped quite a bit and left some real slimy mud to deal with.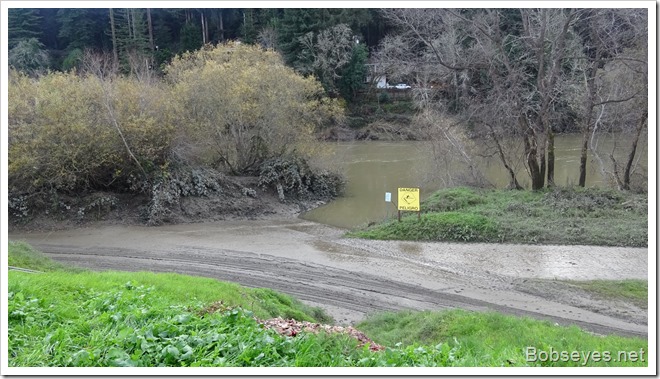 I stopped to see John on the way home and found him working on splitting some firewood out on the street by his house. Actually he was shooting the bull more than he was working when I got there.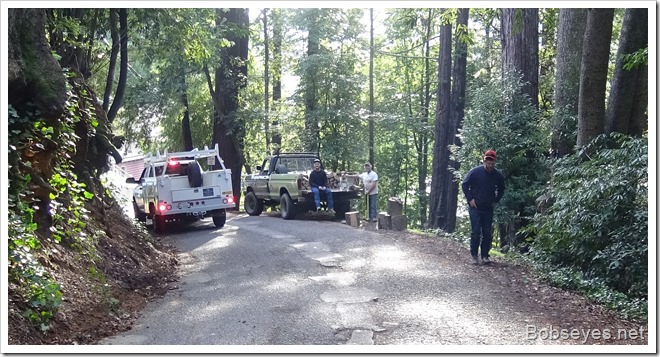 I shoot the bull with him for a bit then went on home and got the firewood in for the night and that was my day.
(Visited 204 times, 1 visits today)