Monday October 13, 2014 Jenner CA.
When I arrived at Jenner this morning I saw Ray's truck in the parking lot and saw him and someone else heading down towards the river's mouth, so I put my boat in the water and headed down that way to catch up with them.
I've almost caught up with them in this photo. I was surprised to see Ray's brother John in his kayak as he pulled his shoulder out of the socket a few weeks ago and was just recovering from a shoulder operation. His left arm was in a sling and he was managing ok paddling one handed.
We passed some brown pelicans bathing in the water along with some seagulls too.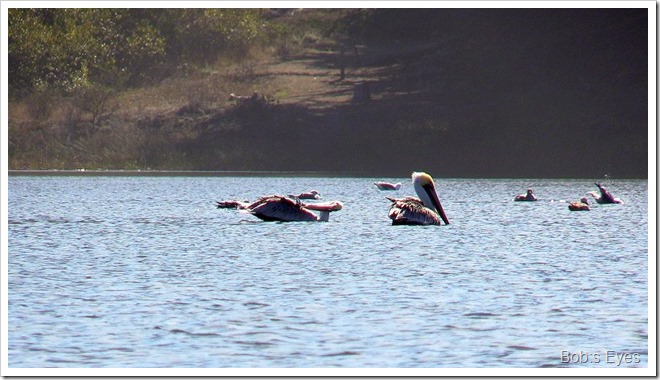 Because of the rough ocean conditions the last few days, the sand had piled up even higher than it was. The gauge at the visitor center was almost eight feet, which indicates the ocean has been rough and ocean water has been washing into the estuary to cause the river to rise to that level. With water level gauge at about eight feet and about four feet of sand above the water level at the mouth, the water level at the visitor center could go to twelve feet, about enough to flood over the highway at the visitor center. This all means they will have to breach the sand when the level of the water reaches about nine feet or so, as it will flood the visitor center floor about ten feet, which wouldn't be good for there hard wood floor.
We pulled into the area where the river's mouth was behind the jetty. The sand was higher and much wider now then it was a couple days ago. You can see the water breaking over the end of the jetty, that I could kayak up to a couple days ago. The ocean can really move a lot of sand when the ocean gets rough.
We sat in this spot for quite some time just shooting the bull and watching the ocean break over the jetty.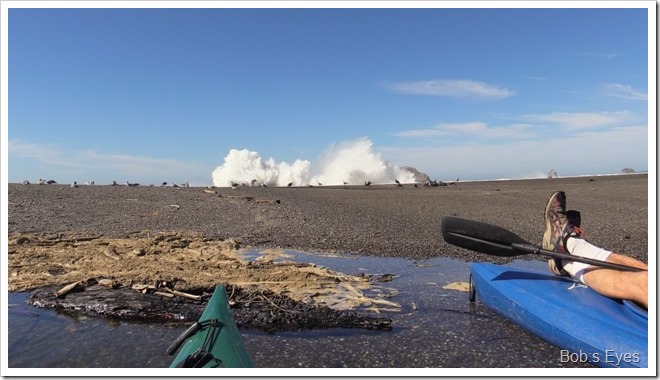 I was trying to get a better picture of just how much sand was piled in here, so I backed off a bit.
Ken joined us and the bull got even thicker.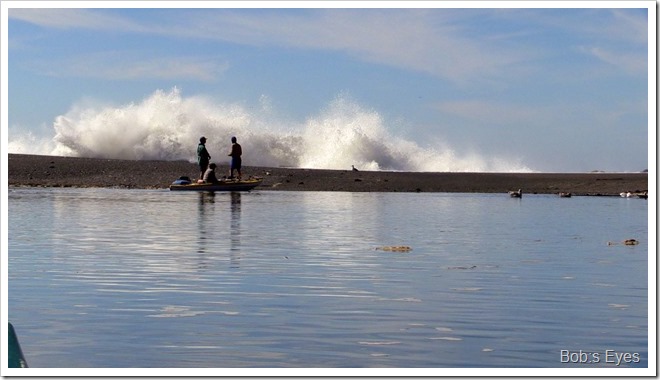 I watched as one wave after another broke over the jetty. Ray got out of his boat and I was thinking about it to get some pictures of the ocean, but I thought better of it, as I could see a big wave might just come in here and wash our boats out, so I stayed out in the water and just watched.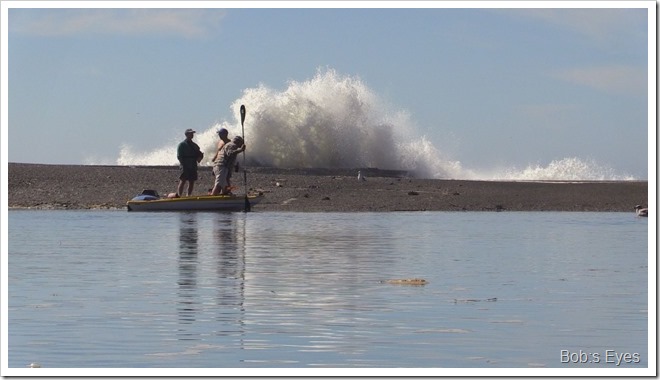 Eventually, this little wave broke over the jetty without too much splash. Ray was watching it.
The guys started to move as we all watched that wave. Rays thinking it will sink into the sand like most of the other ones, but, will it?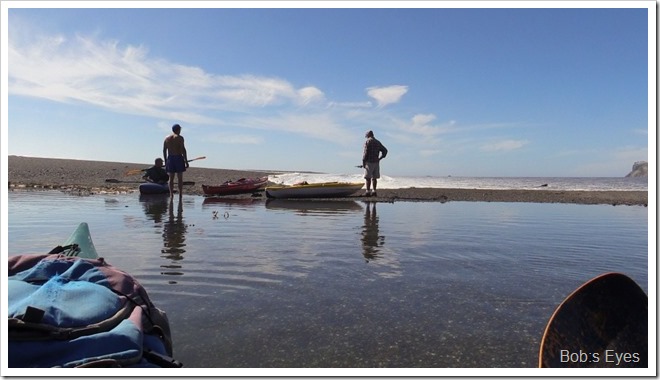 It doesn't sink into the sand and keeps coming as Ray takes action to avoid it, but.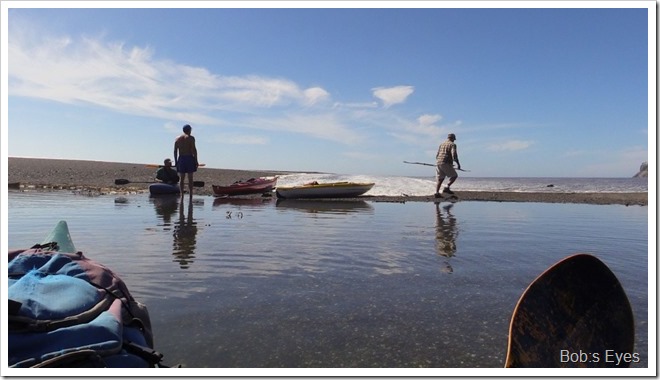 Ray avoids the wave and so do the other guys, but the wave catches Ray's boat and sweeps it into the river where I just happen to be to help him out.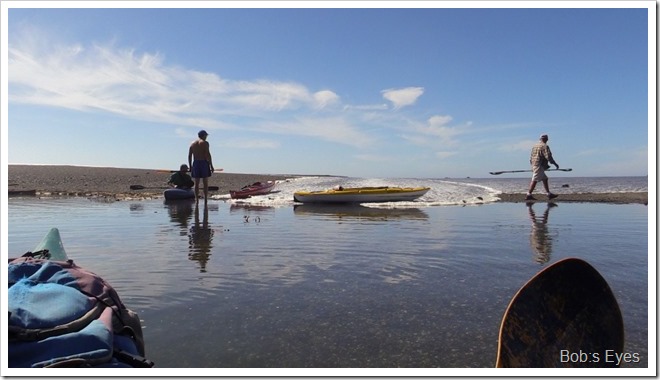 No big deal for us river rats. We stayed in the area for quite a while watching the big waves crash and also so John didn't have to paddle too much.
Eventually, we headed on over to the west end of Penny Island and found our way into the flooded calm spot on the island that looked like this.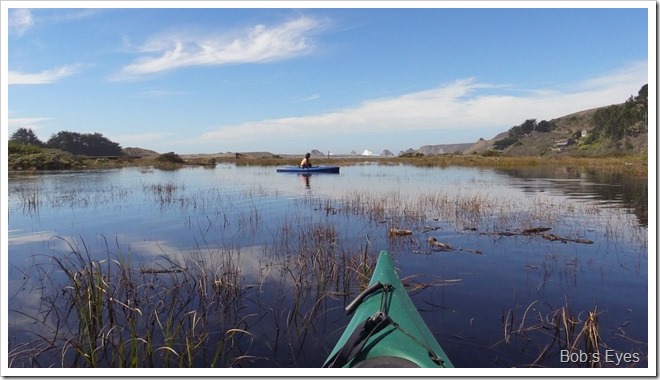 We sat around and shot more bull and then headed on out stopping and looking for spiders and things in this grassy area.
Ray says, here's one of those spiders. He has a good eye for the spiders as they are hard to see and tend to blend in and look like the weeds and the plants they are on.
This one is about seven inches above the water lever and well dug in. They usually have a big web, but this one only had a little protective looking web all around it.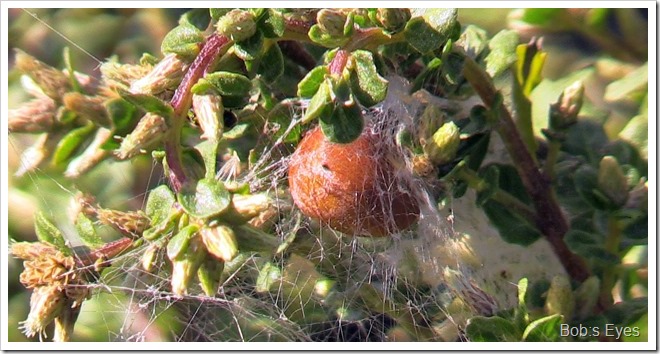 We headed on in for the day, back to the boat ramp at the visitor center, looking like this.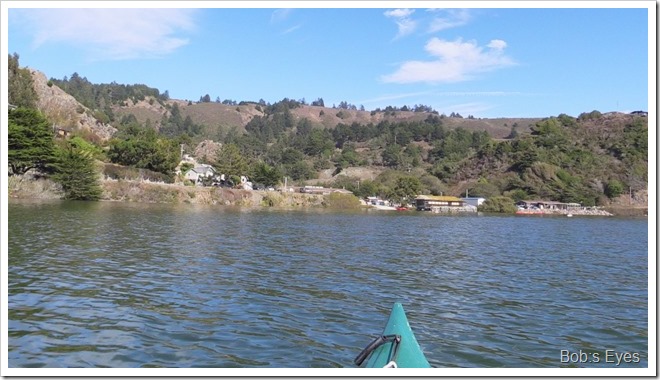 I came on home and have been loading my van for a few days trip up to my friends cabin near Boonville, CA. I plan to be up there for a few days with no internet access, so my next posts will likely be around Thursday night.
We plan to work on opening an old trail to a spring we want to tap and then start the tap on that spring and of course do some taking it easy too. Some light rain showers are predicted which is always nice in a forest, especially when there is a nice warm cabin to spend some time in.
That's it for another nice day.
(Visited 105 times, 1 visits today)