Saturday September 17, 2016 Guerneville CA.
Lots to do to get the heater core back in
Today I was going to try to get the repaired heater installed and get the new electric fan installed if I could.
I started with the heater installing the new core in the heater housing. Of course not everything fit just right, so I had to make some adjustments and got it together.
Here's the heater core inside the heater housing ready to install.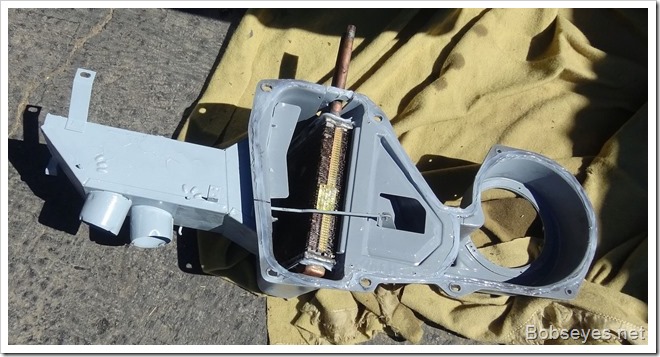 I cleaned it all out under here and put the leather glove over some sharp metal to protect the core, just in case. It was dark and bit, but lightened up a bit later as the sun moved a bit.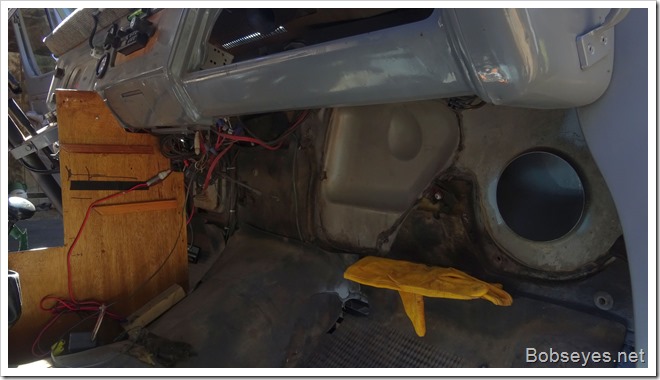 I have it ready to lift up and start some screws. Only thing is some of the control cables need to be hooked up at the same time and some wires need to get out of the way under the dash.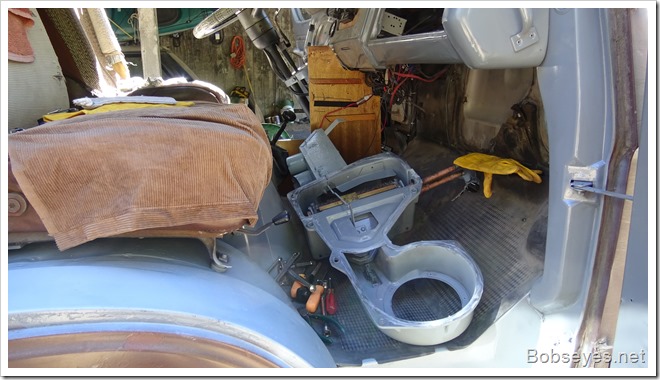 Persistence pays off
I persisted and eventually got it all back together. I installed the glove box, but didn't get the wooden console back together yet.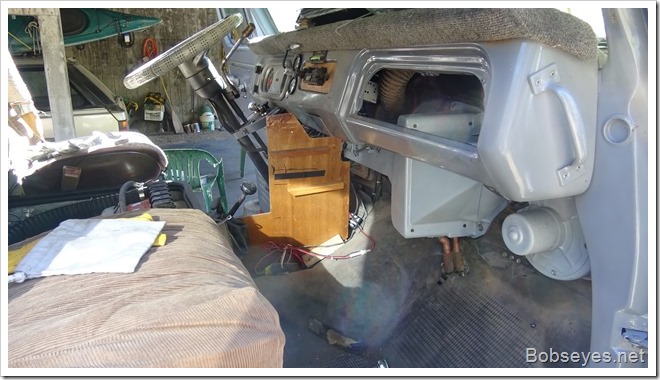 Already worn out but started the fan's wiring
I was fairly worn out after that so I had a nap after which I pushed myself to tackle the new electric radiator fan's wiring. It comes with a relay and some wiring. I wanted to put a switch in the system so I can turn it off, or on manually or on automatically controlled by a thermostat.
The fan makes a good critter deterrent
I needed to have a way to turn it on in the middle of the night to ward off any noisy critters that like to eat nuts and seeds under there. I've found a roaring fan all of a sudden starting seems to put the fear into them and they don't bother me any more for the night.
Tried it and it worked
So, anyway, I worked on that for the rest of the day. Just before dark, I had enough done to try the fan manually and it worked so that was good.
I still need to finish installing the electric fan and put the regular engine fan back in and the shroud back on.
And a radiator hose needs to be shortened a bit as the differential is bumping into it, then I can fill the radiator again.
And I need to put the belly pan back on and screw the console all back in which I hope to accomplish tomorrow.
That was my day.
(Visited 193 times, 1 visits today)