Saturday November 26, 2016 Guerneville CA.
A day for fixing stuff
It was raining lightly as I got it going this morning, so I decided it would be a good day to do some fixing.
Car's backdoor lock doesn't lock
I discovered last week that my cars back door's lock wasn't locking when I locked the doors with the master key at the drivers door. The key is supposed to lock all the doors but for some reason the back door on the driver's side wasn't locking.
I could hear the solenoid working when I used the key, but the lock wasn't locking.
Took it all apart
I removed the backdoor panel to expose things and removed the lock actuator from the door to check it out.
Door lock actuator looks good
I took the actuator apart to have a look and everything inside looked good so I put it back together and back in the door.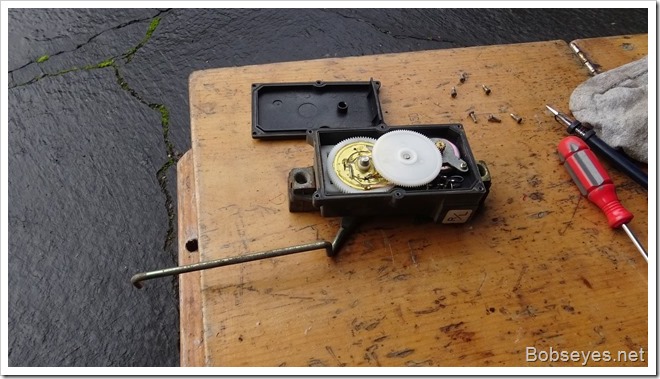 Just need some lubrication
Looking closer, I could see the lever the actuator was supposed to move to lock the door wasn't moving, so I got some oil and oiled it up until it did move. The lever was inside this hole on the left which was a bit hard to get too. Spraying some oil up there finally freed u the lever and the lock now worked, so I put it all back together.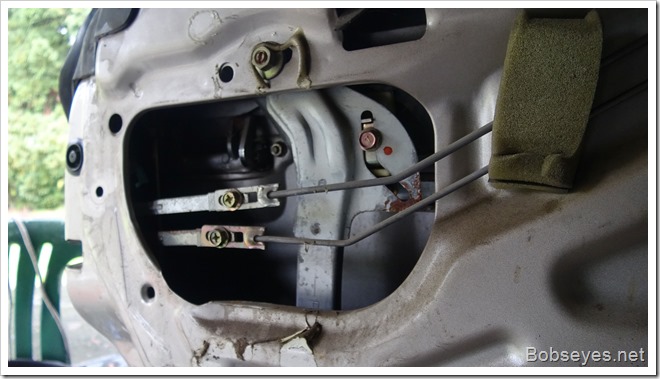 It was still raining off and on with showers, so I needed something to do that wasn't out in the rain.
Tom's lawn mower project
My brother Tom wanted this Honda mower engine moved to another mower that wasn't all rusted out so I got my air wrench out and removed the red Honda motor from the rusted out unit on the left to the not rusted out unit on the right.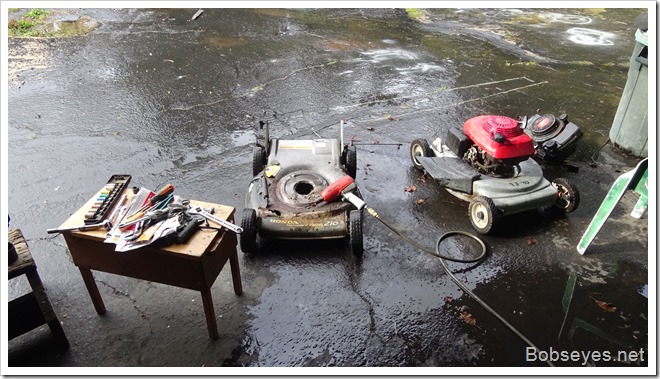 Not a perfect match
It wasn't a perfect match so I had to do some adapting with spacers to bolt the Honda engine onto the old mower. The bolt holes weren't quite lining up, so I got the round hand file out and filed the holes a bit larger until the unit would bolt up.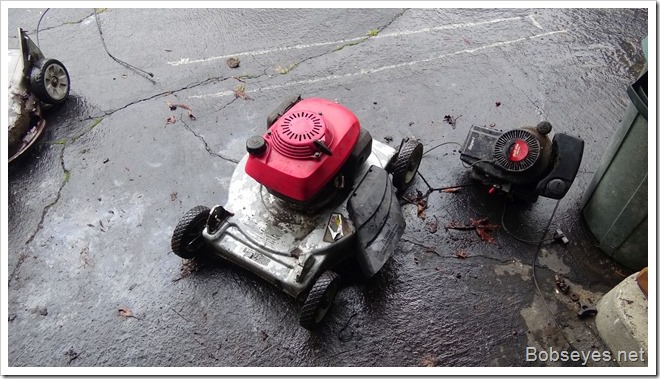 Now the mower blade is wrong
I got that done, but now the mower blade doesn't quite work out. It's a bit too long and too close to the ground, so I tried to pull the mower blade mount off the mower shaft but it wouldn't budge so I gave up on that idea. Talking to Tom about it he said he'd try to drill new holes in the old blade and shorten it a bit, so I said ok, try that, and put the stuff away for the day as I was worn out by now.
By now the day was almost over, so I brought in some firewood and that was my day.
(Visited 385 times, 1 visits today)