Saturday September 5, 2015 Guerneville CA.
Today being a holiday, I decided to stay home and do some work on my van that needed done.
Repairing the broken clutch pushrod
The main project was to repair the broken clutch pushrod I broke on the last trip.
I did the below repair to make the pushrod work on the trip otherwise it was going to be hard to shift.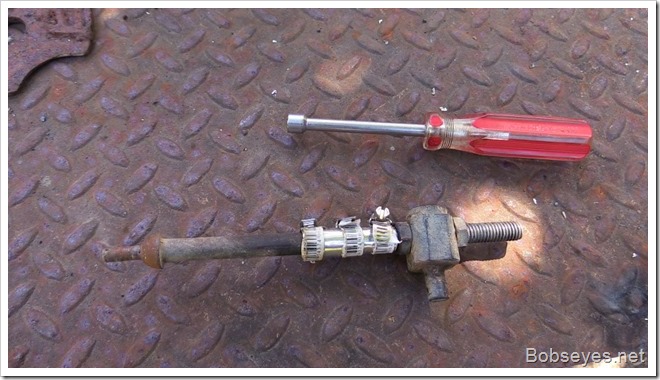 The repair was done with a piece of metal can from the trash, cut and rolled around the rod with three small hose clamps to tighten it all up. It worked real well with no problems on the way home. The broken clutch pushrod is shown with the parts that repaired it.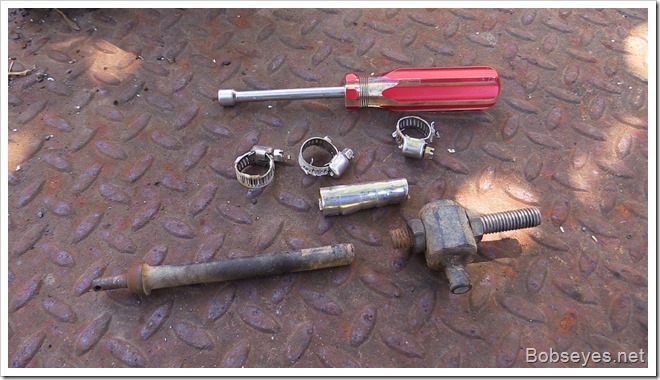 I ground off the ends that I intended brazing up, to get clean metal for a good connection. I rounded up this little piece of angle metal to hold the parts while I used an acetylene torch on them to heat them up and make the braze.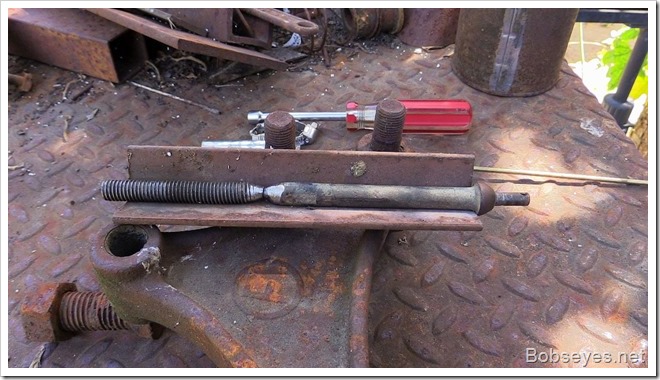 I just finished the job in this photo and will now let the part cool down before installing it.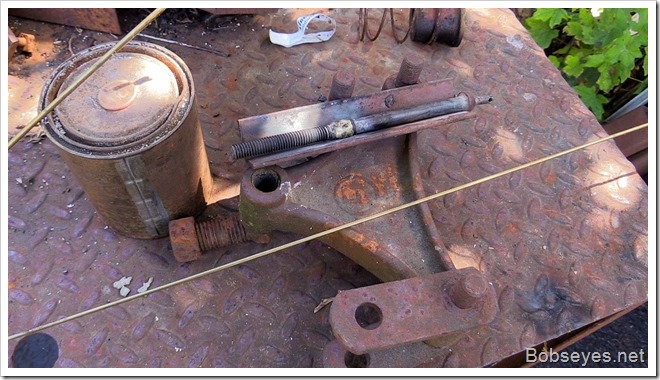 Repaired the van's side mirror
Next I cleaned all the old goop off the left outside mirror that had fallen apart on the way home. Some new silicone on the edges and back together should take care of that one.
Installed the pushrod
By now the pushrod parts had cooled so I found some new cotter keys and installed the rod checking for the proper clutch free play at the clutch peddle.
A break or two and some naps in there too. I puttered around in the yard some too.
Checking out the door side window
Eventually, I felt like opening up the window compartment on the driver's door side to see what was going on with how the window was opening and closing, not too good. I found a loose bolt on the back window rail guide, which surprised me as I thought I'd tightened that one up while on the trip. I tightened that up and decided to add some reinforcement epoxy in a couple places to help keep the rail from moving. My real problem seems to be the front rail guide is worn out and needs to be replaced, but I'm not sure I can find that part anymore? I buttoned that one up for now and we'll give it a try out on the next trip.
Here's where I did the work on the window on my van driver's door.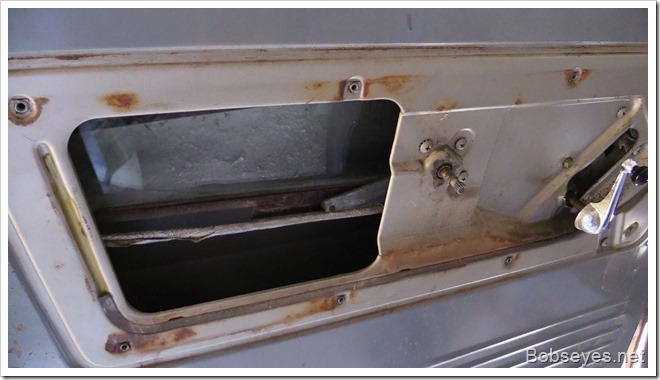 The rest of the day I puttered around the yard doing some planning on my next things that need done in the yard and just thinking about other things I need to get done before winter.
Nice day just puttering around.