Monday July 25, 2016 Guerneville CA.
Picking up the new V8 engine
My new V8 engine had arrived at the trucking yard in Santa Rosa. I needed a truck to haul it home so Ray helped me out.
We drove on over and arrived at the truck yard here.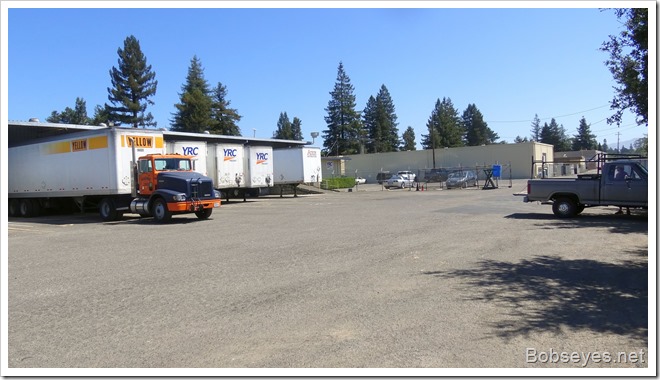 It didn't take long. I just had to sign and they loaded it up in Ray's truck. It's in the wooden crate.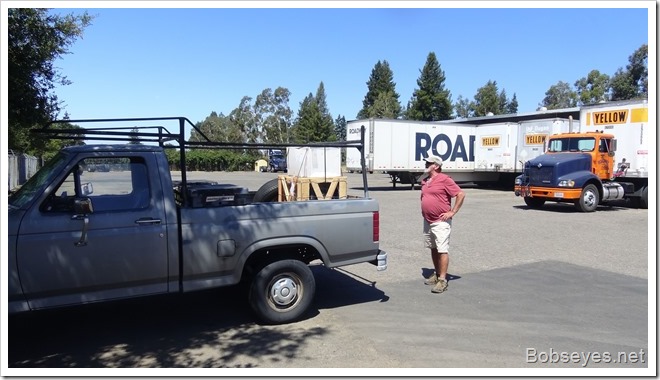 We used the cherry picker to get it out of Ray's truck and here it is ready to start work on it.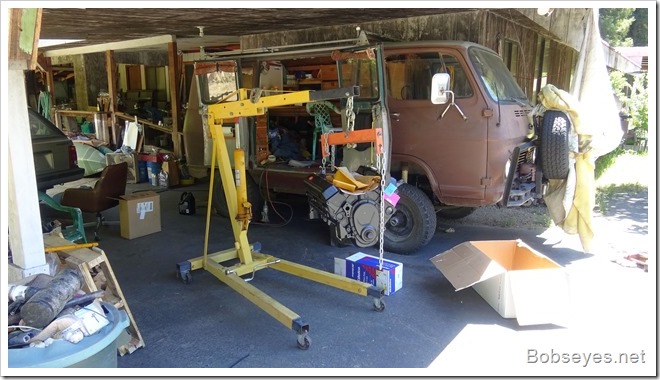 Wrong parts for the clutch
Ray went on home and left me hard at it. First I installed the fly wheel then I tried to install the eleven inch disc but it was too big for the fly wheel I have, so I will have to take it back and try to get the right thing. At least this time we have a flywheel I can take down to match things up, so that should go better as far as getting the right kit.
Not the right pulleys either
Next I installed the harmonic damper and then tried the pulleys I had, but no joy there either as the one on the water pump has the wrong mounting holes and the one on the bottom just doesn't match up with the water pump one, so I will take the new water pump down and try to match up a pulley for it and get another one for the bottom too as it needs to be longer.
Nope, the pulleys just aren't going to line up.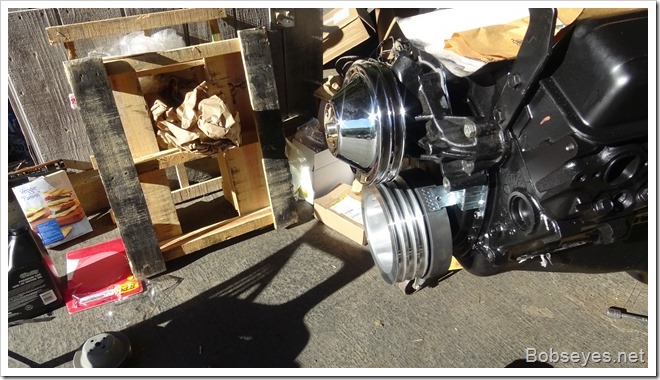 And the exhaust manifolds need to be smaller ones
Next I thought I better see how the exhaust manifolds where going to fit into the van engine compartment. I hung them on the engine just to check things out and things didn't look good on them either. I have the type that the exhaust exits from the back, but that gets in the way of things on the van, so I think I need the ones that exit out the middle, so I will take them back and see if we can do better.
Intake manifold looks good
I checked the fit of the intake manifold and it looks like it will work out ok.
In some ways I didn't make much progress, but now that I have an engine it should be easier to figure out what is needed.
(Visited 190 times, 1 visits today)