Wednesday November 2, 2016 Jenner CA.
Ray's down here someplace
I got up and got it going this morning and headed on down to Jenner to kayak for the day. Ray's truck was in the parking lot, so I knew he was down here somewhere.
I headed down along Penny Island to see if I could pick up Ray down near the open river's mouth.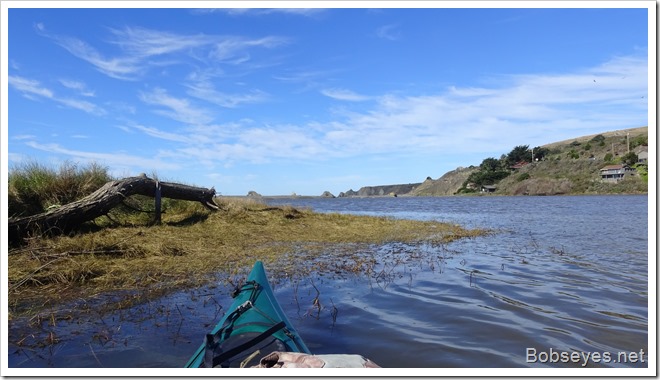 I paddled to the lower end of Penny Island where I could see down by the river's mouth. I could see some kayakers down that way, but not Ray.
But not down that way
Looked down towards the mouth from the end of Penny Island.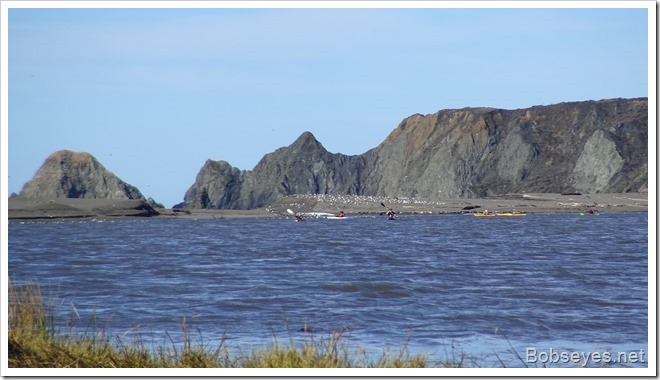 Ray finds me in he Slot
The wind was picking up a little, so I paddled around to the island's back channel and pulled into what I call the Slot. I was just about ready to go back up and head up the back channel when I heard, hey. It was Ray who had seen me and just paddled down the back channel to join me.
We run into some feeding river otters
We decided to paddle on up the river headed to Willow Creek, so we headed up the island's back channel. We were paddling along here when we spied some otters busy feeding up ahead. See that otter up there?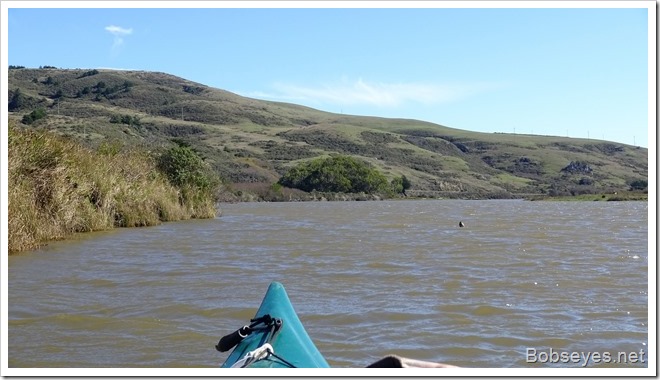 The wind keep blowing my boat around as I tried to get some pictures of the otters. They were feeding on something and didn't want to leave. They would dive down and come back up crunching away.
There were four of them. They checked us out and continued feeding.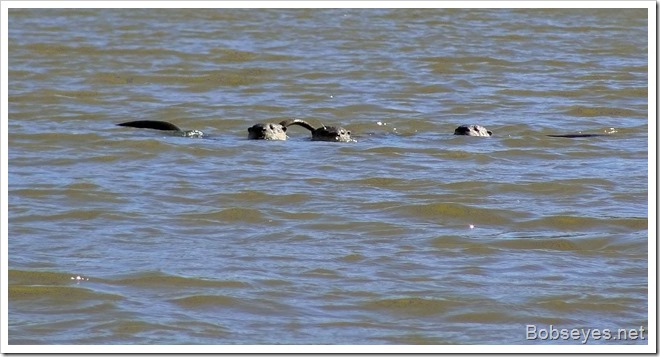 They sure were filling up on crab
They seemed to be on a pile of crab. I say a pile as with the recent rains, the salt water layer gets washed away and they likely aren't doing too well in the fresh river water and have piled up under the water at the saltiest place, which was likely right here. At any rate, there seemed to be lots of crab down there for them to feed on and they sure were.
You can see they are eating crab if you look closely.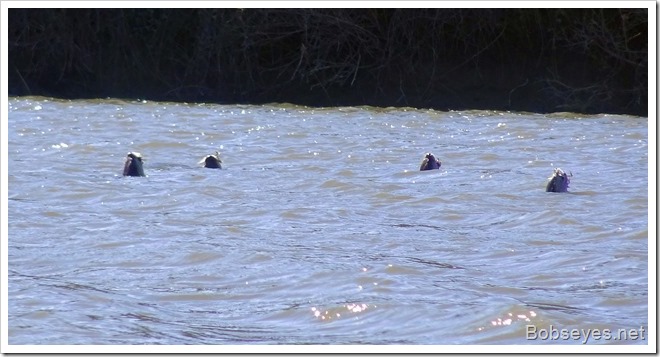 Plans change as we paddle along
We left them at it and continued on up the back channel and stopped here near the top of the channel. The wind was calming down. We changed our plans and decided to go for a walk at swamp rock, just across the river from here.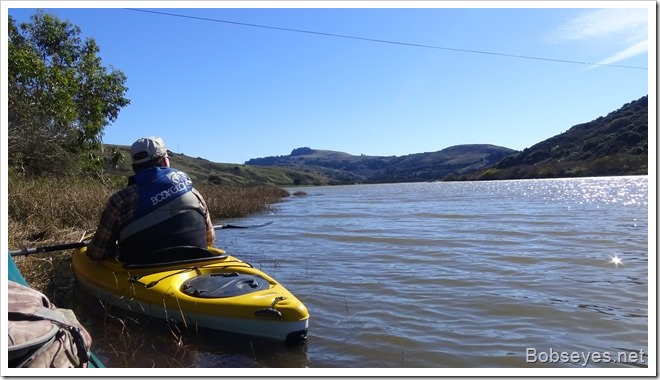 But first we decided to paddle up river a bit and come back to go for that walk.
We paddled by this cormorant getting some sun.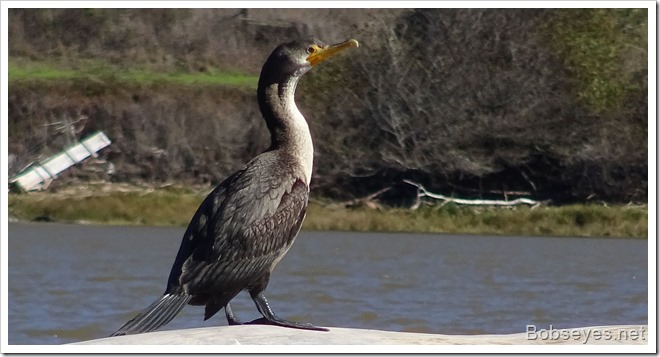 We only paddled a short ways up the river
We made it up to this spot and just stopped and let the slight current carry us back down the stream.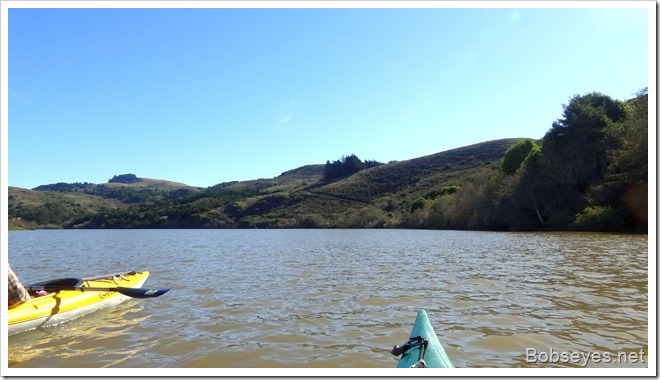 Our walk at the Swamp Rock Trailhead
We made it back to here and pulled into shore for our walk at swamp rock at the left.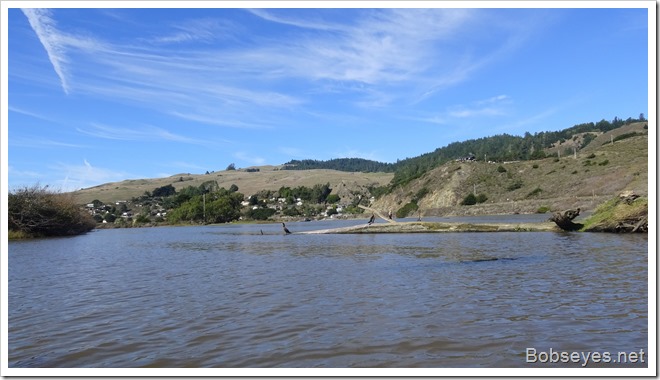 Here we are at Swamp rock trailhead, just coming ashore.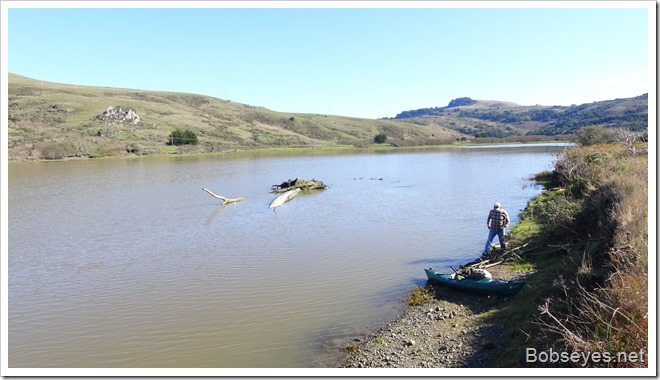 The muskrats have moved in
I wanted to show Ray a trail I was trying to follow on previous walks that goes through the willow trees. We came upon this six foot high muskrat nest. The muskrats have quietly moved into this area in the last few years and there must be over a hundred nests in the area now, but you rarely see a muskrat as they are mostly night creatures.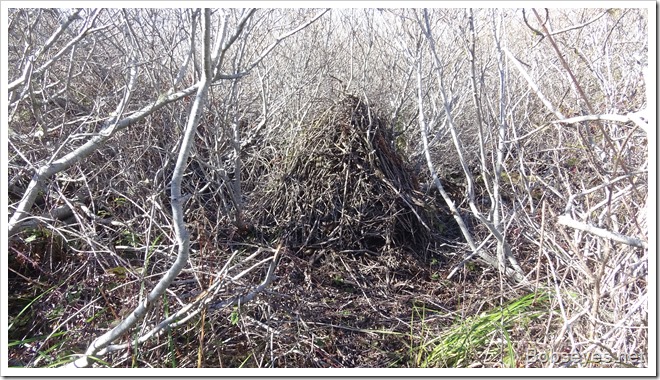 On the way back we walked through this grassy area which is the swamp rock trailhead. Our boats are just over the side and we are heading for them. That flower is a bit mixed up as most of them bloom in the spring, not now.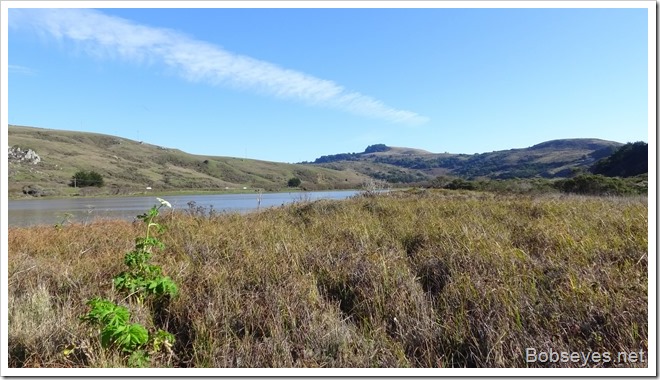 This cormorant took off as we paddled on by headed in for the day.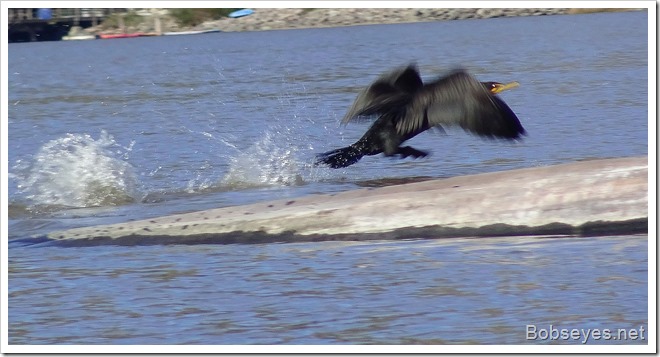 The wind sure died down
We headed on in. You can see the wind died down nicely as we paddled along.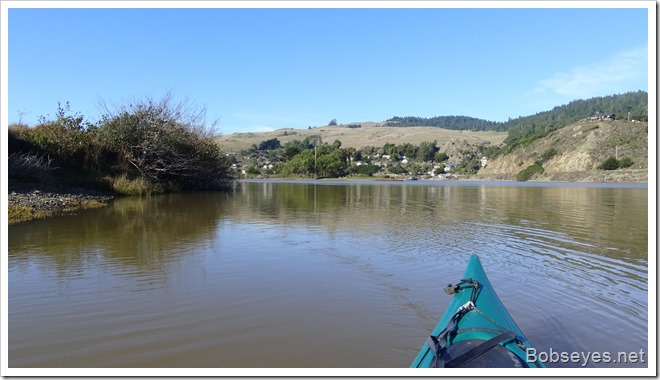 We made it to the boat ramp and went on home for the day. I was pretty warn out, so a nap was in order. After that I went outside and just enjoyed the rest of the day and that was my day.
(Visited 196 times, 1 visits today)