Friday May 13, 2016 Jenner CA.
Kayak fix
I needed a kayak fix, so I headed on down to Jenner this morning. The sun was out and the wind was down to a reasonable rate so I put my boat in the water. I saw Ray's truck in the parking lot, so I headed down towards the river's mouth as that's where I expected to find him.
I paddled across the river to Penny Island and started down it's side headed down river. I spooked this heron who took off, but landed just ahead of me.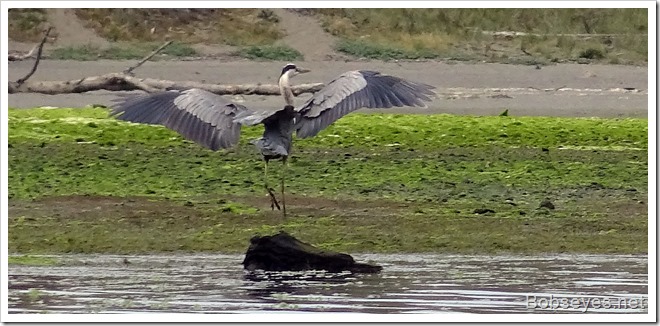 Just past that, I could see this vulture eating something, maybe a big fish of some kind or maybe a baby seal.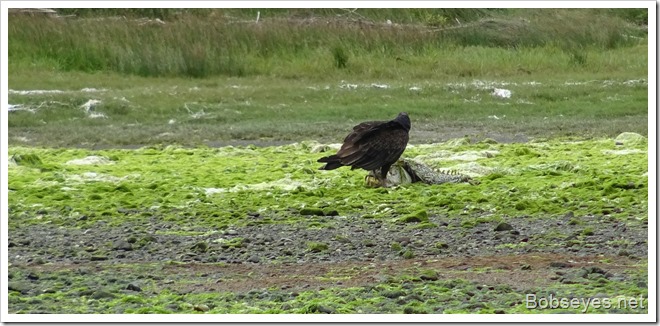 I pushed off from the lower end of the island and went past these cormorants fishing away.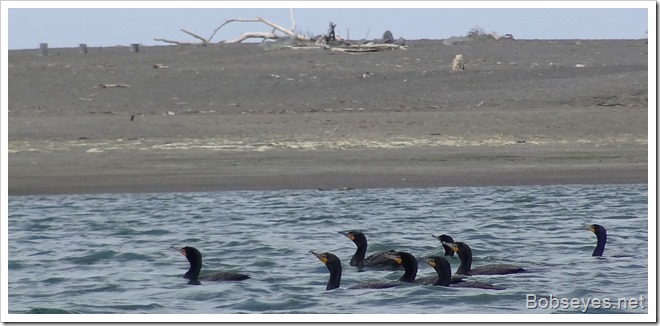 Met Ray here
I found Ray here down in front of the river's mouth where we sat for a good while watching and shooting the bull.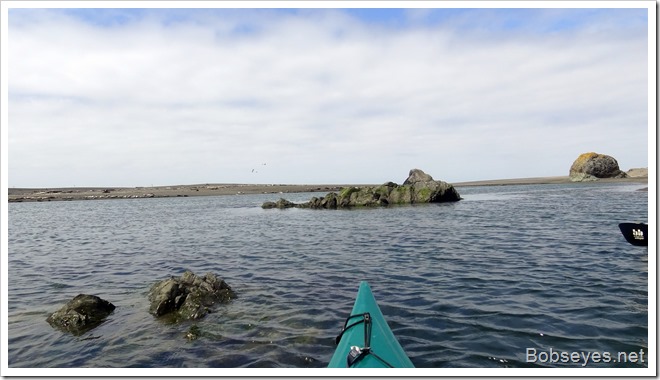 There were a bunch of harbor seals across the river on the beach from us. Here's just a few of them. They appeared to be still pupping as I saw some young pups too.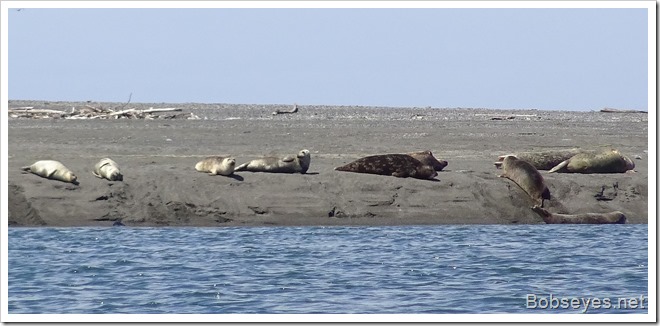 Eventually we started back up the river, mostly drifting up stream in the light wind.
Just above Penny island I spotted these mallard ducks. The female is sneaking away on the left with her young ducky's to protect them from us as we pasted.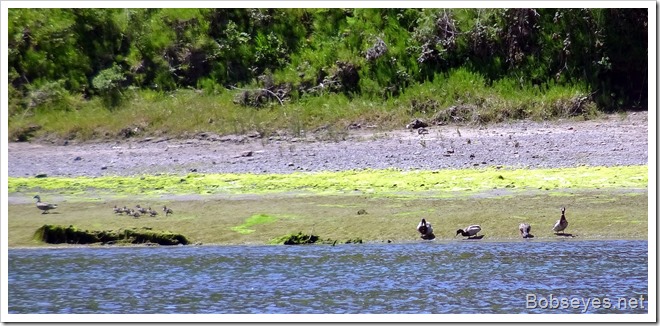 Redwood Log Graveyard area
We stopped and sat here by these big old redwood logs for a spell just watching things and enjoying the day.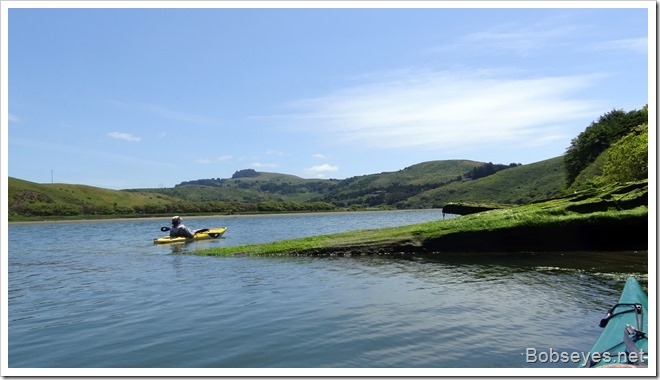 Walk to Lookout Point
We decided to go for a little walk up to Lookout Point, so we landed here at Eagle's Landing and went ashore.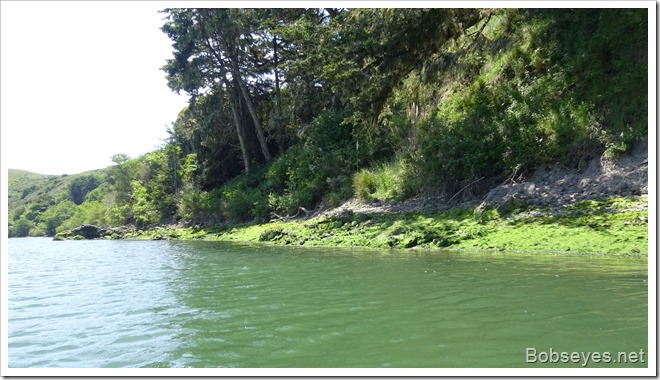 One has to know where the trails are down here to get anywhere as they are not well defined. Here's Ray pushing his way through the brush were the trail goes. I should mention the area is thick with poison oak which Ray and I don't catch.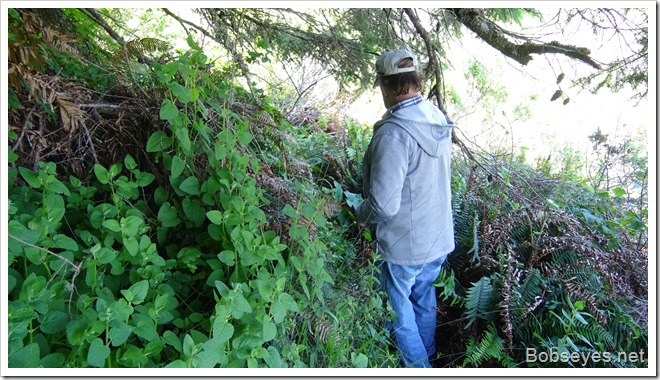 Nice view from here
We made it up to Lookout Point here, looking back down river to the town of Jenner and Penny Island.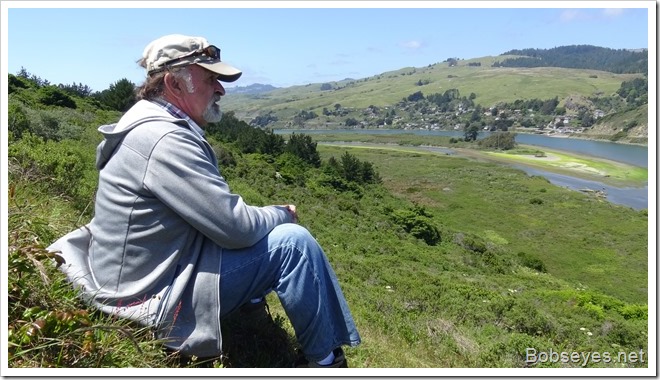 We sat up there for a good spell shooting the bull and enjoying the day, eventually returning on the trail we came up on. Here's Ray, almost back down to the river where our boats were tied up.
Birds fishing
We headed back down the river and could see a lot of birds feeding on some fish on the back channel of the island so we paddled over to investigate.
This egret was getting in on some of the fish.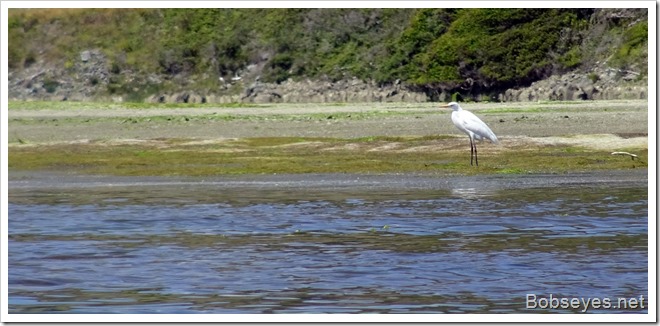 And this great blue heron was getting it's share.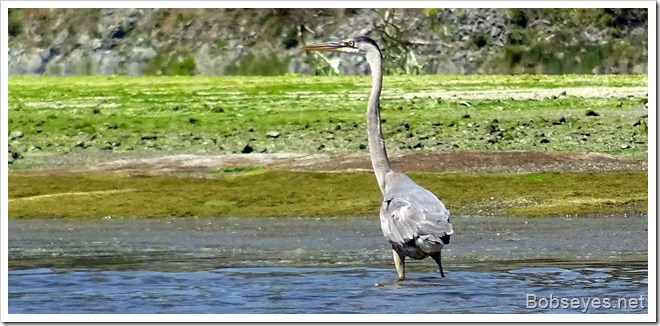 And there were a bunch of terns flying and diving on the fish too, which means there were real small fish about three or four inches long as terns only can eat very small fish.
Here's a few of the terns that landed for a break.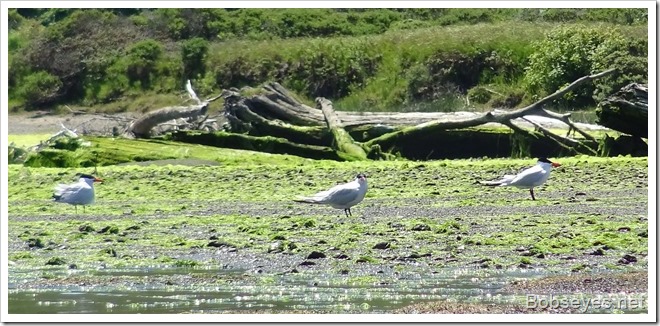 From there we headed on in and took our boats out of the water and went on home for the day.
I'd planned to do some work in the yard, but I just couldn't get it going so I mostly took it easy doing some napping for the rest of the day.
That was my day for nice one.
(Visited 174 times, 1 visits today)