Friday June 17, 2016 Jenner CA.
Raining at home
It was raining lightly as I got it going this morning. And it was raining lightly all the way to Jenner as I drove along, but at Jenner, no rain, just overcast.
I put my boat in the water and headed across the river to the little channel on the upper end of Penny island and sat here for some time thinking about what to do today.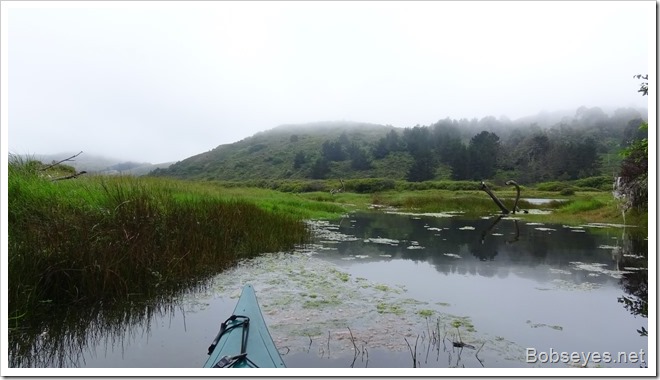 I was thinking a little hike up to lookout point would be a good idea, but first I'd paddle up the river to the muskrat area and do the hike on the way back.
I paddled on up to here which I call Otter's log and sat for a bit.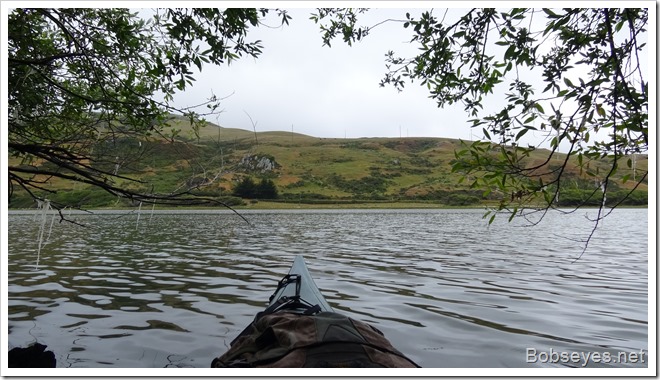 Hiking up to that ridge top
Eventually I continued on to the muskrat area and sat there for awhile. Then I paddled across the river to this spot. That's Paddy's rock in the water there. And I'm thinking of hiking up to Lookout point on the ridge top just above Paddy's rock.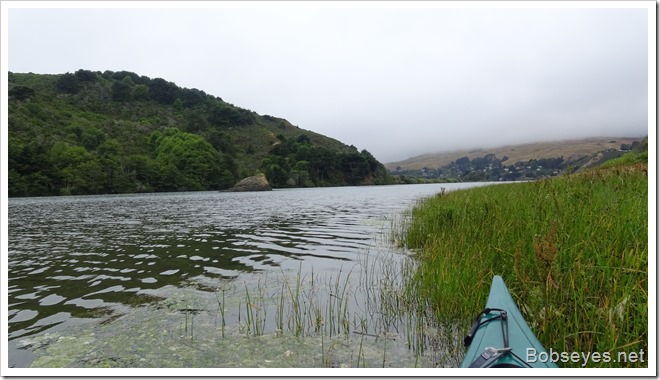 So I paddled back across the river to this spot I call Eagle's landing and put ashore for my hike.
The hike starts out through these big trees with all the nice green ferns.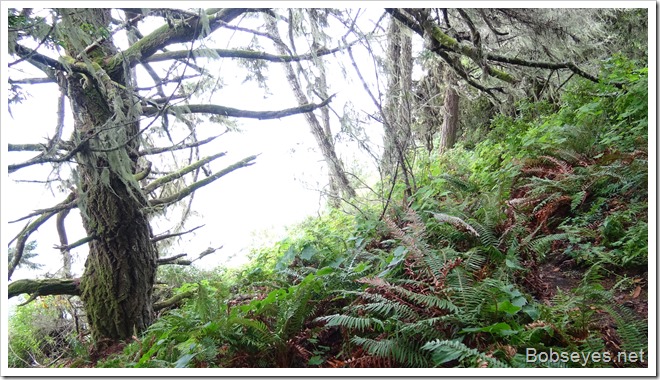 Lower Lookout Point
I made it to this point which I call Lower Lookout point. This was my view up the river from this spot where I stopped to rest for a bit before continuing on.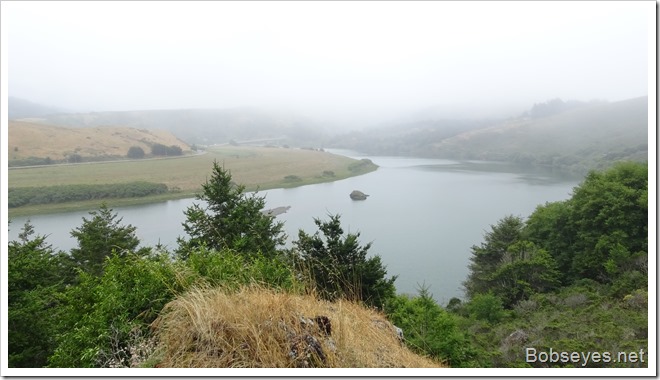 Lots of poison oak
The trails I follow are game trails and they go through a lot of brush, including a lot of poison oak. The trail goes right through this poison oak. Fortunately I don't get the stuff.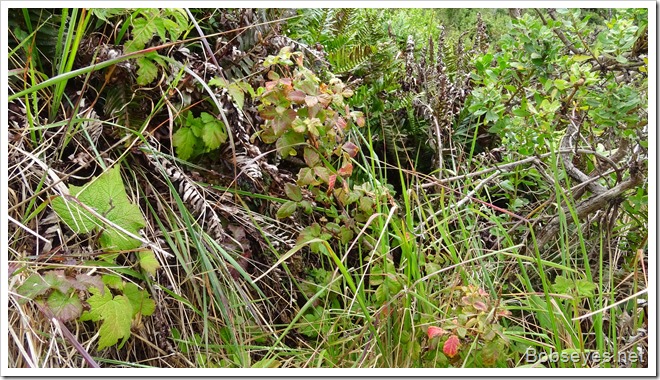 Lookout Point
I made it up to this spot which I call Lookout Point and yes there is an Upper Lookout Point above this spot. This is looking down river to Penny Island and the town of Jenner.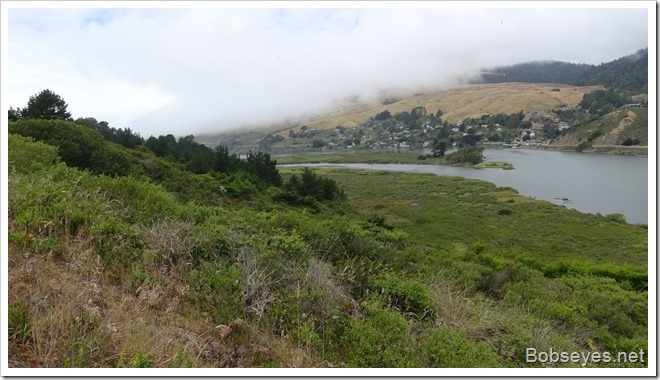 And this was my view looking up river from the Lookout Point. That's Paddy's rock down in the river.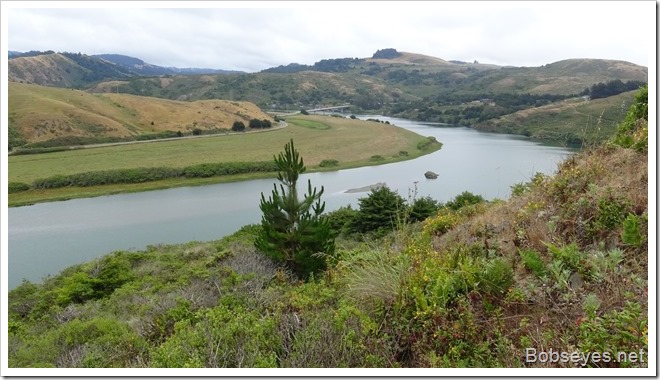 I spent some time poking around in the brush up there looking for old trails or old roads. I found some possibilities, but the brush is thick so I didn't get too far.
Old Man of the Woods seed pod
On the way down I was going through the brush when I noticed this open seed pod on the ground, so I checked it out. I looked for the seeds on the ground but couldn't find any.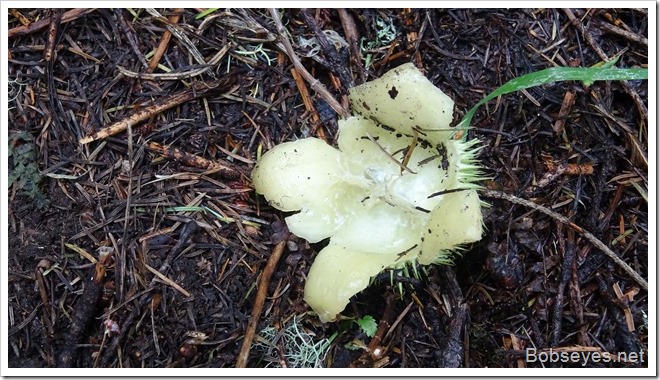 Looking up, I found some more seed pods on an Old Man of the Woods plant and cut one open to check out the seeds. Turns out there are four big seeds in each pod that turn black as they age a bit exposed to the air. They look real succulent inside too, but I didn't sample any of the flesh. or the seeds, maybe next time.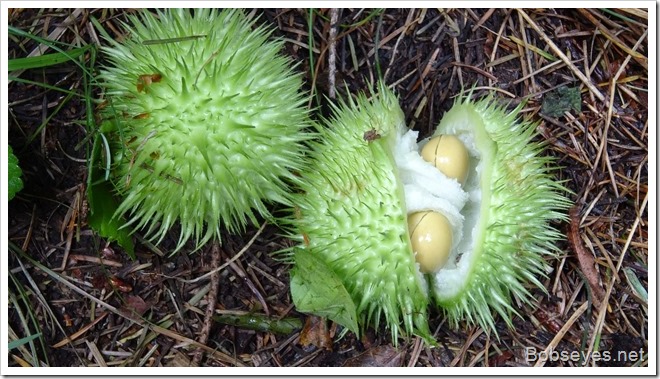 I followed this trail down through the trees back to my boat.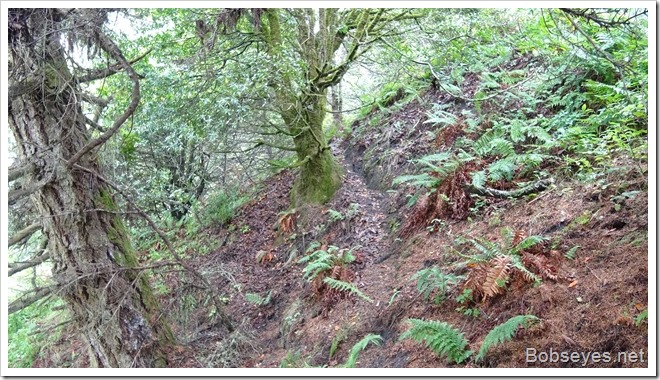 I put my boat back in the water and headed on down the river. Some light fog was coming in as I paddled along.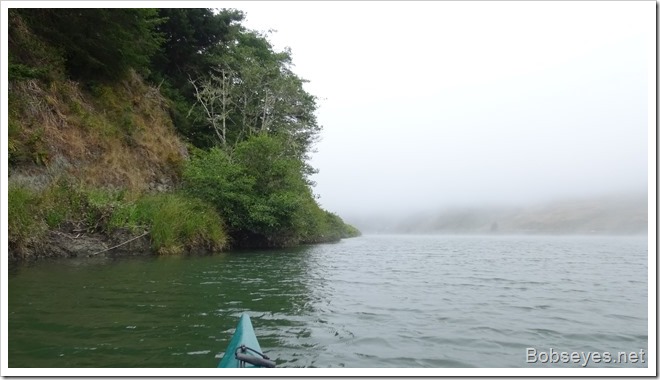 I went by this harbor seal resting on this redwood log just above Penny Island.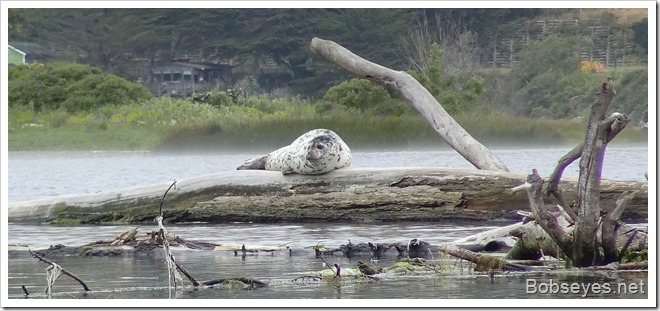 And I crossed over through this little channel on the island's upper end to get to the other side and on to the boat ramp.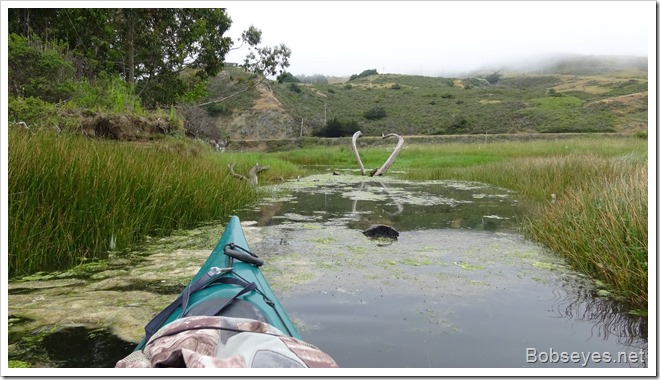 Needed a fire t warm up the house
I went on home for the day and didn't do much of anything. With the light rain, it was a bit cold in my house, so I got some wood together and made a small fire in the wood stove just enough to take the chill off the house and that was my day for a nice one.
(Visited 104 times, 1 visits today)