Friday July 3, 2015 Guerneville CA.
I'm still feeling on the lazy worn out side today, so I'm staying home and puttering around in the yard.
Prunes
First thing this morning, I went out and noticed my prunes on the prune tree were getting ripe enough for me to start eating them, so I ate a few. Most people never see the prune in this stage, as they are mostly dried when bought at stores. They are very tasty like this and I'll be able to snack on them for a week or two as they ripen up more.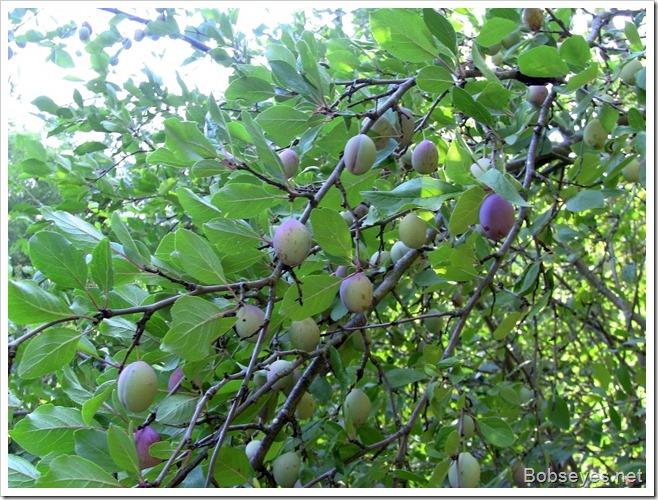 Apricots
I checked my apricot tree as they were starting to ripen when I left on my trip a couple weeks ago and I figured they'd be all gone, but I was surprised to find a bunch of them just getting ripe and ate some of those too.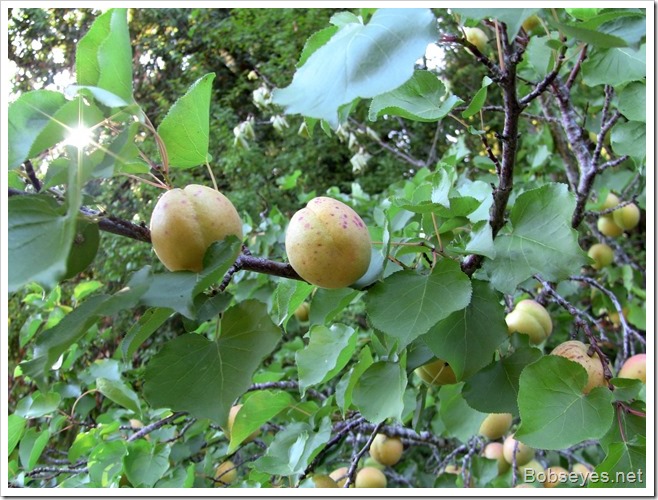 Barry shows up
Then I went back in the house for a nap until I heard a truck pull in outside. It was my brother Barry. We walked over to check his small wine grape plot and then walked through some of my other brothers garden and ate some of his strawberries too. Yum.
After Barry left, it was back on the coach for some more rest until late afternoon when I walked around the yard some more to check on what's getting ripe.
Apples
I noticed this yellow delicious apple tree has way too many apples on it. Not ripe yet. I should thin them out if I get time.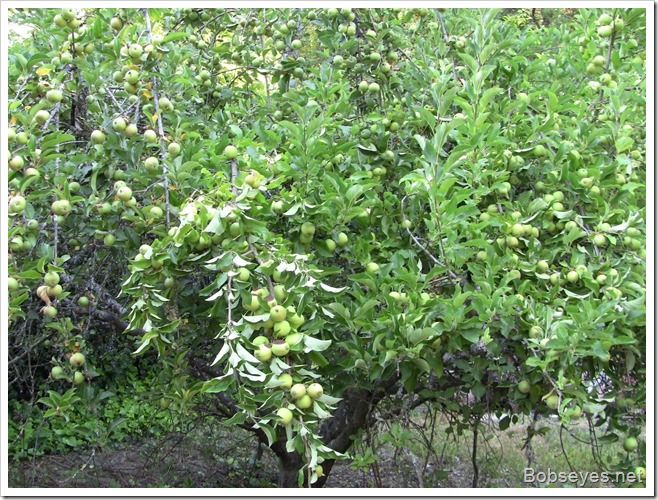 Plums
And this plum tree has too many plums on it too, but they sure taste good.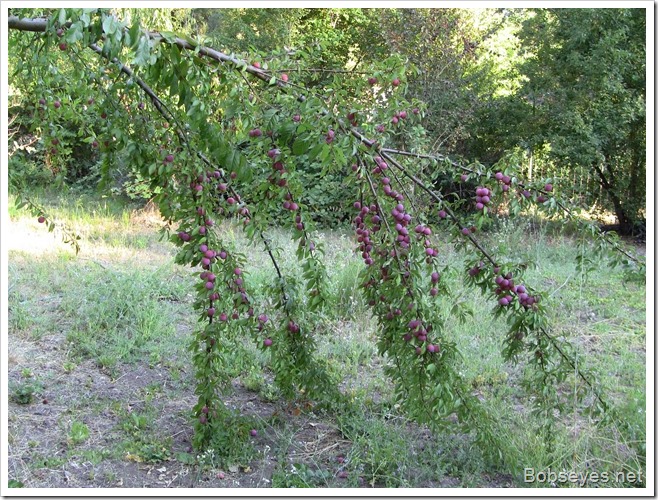 The plums are on this one like grapes. Another good one.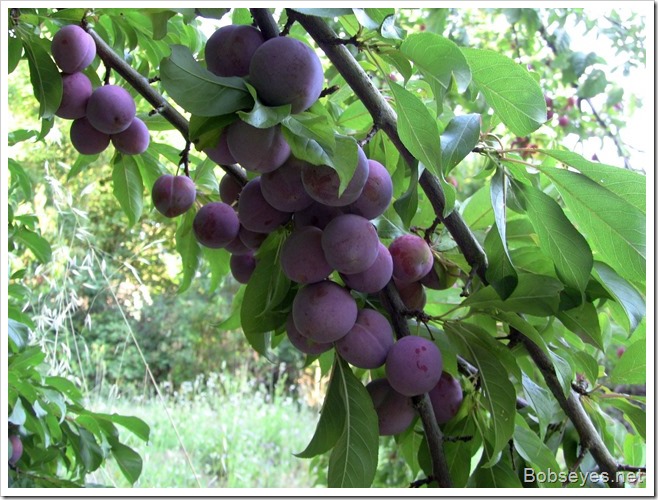 Blackberries
I ate some of these blackberries that are taking over my yard. They are just starting to ripen. Yum on those too.
I need some potatoes
A little later in the evening I was thinking I should dig up some potatoes from my patch. The plants are growing so well they've fallen over. Almost forgot to tell you, Barry and I ate a bunch of blueberries under the white clothe there and they sure were good.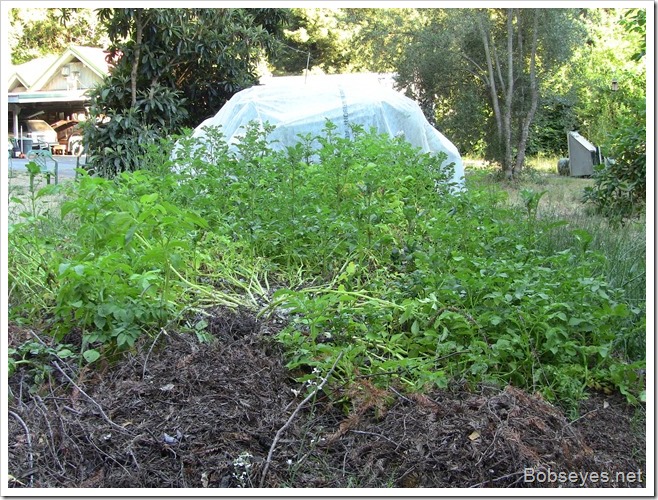 I picked this spot to dig up some taters. I just go in there and push my hands in the mulch and hunt around for the potatoes.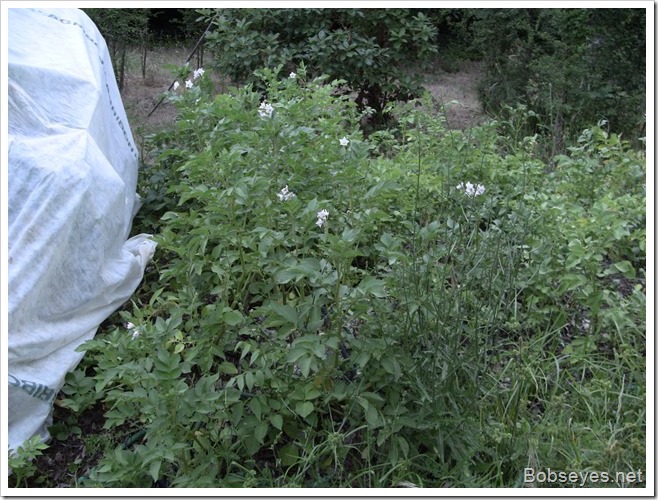 These are the potatoes I picked. They are yum too.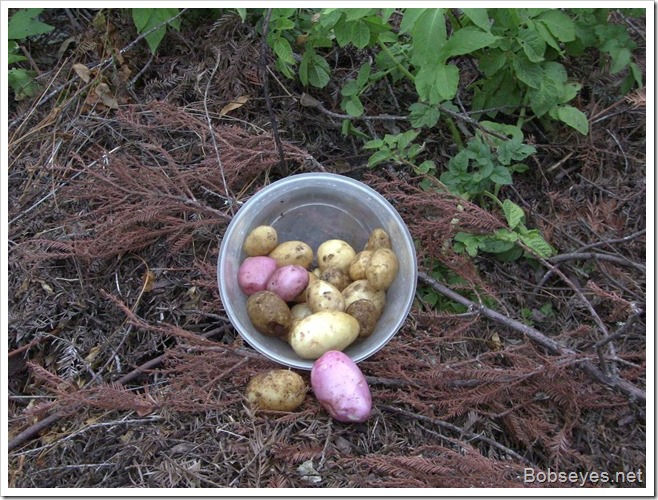 That was pretty much my day and a good one even though I could use a bit more energy. :O)
(Visited 117 times, 1 visits today)