Friday February 19, 2016 Jenner CA.
Rainy day
It was raining as I got it going this morning so I sat around looking at the weather reports and waited for the rain to let up, but it didn't let up.
It did slow a bit to a light rain so I got my stuff together and headed down to Monte Rio. It was raining lightly in Monte Rio, so I continued on to Jenner where it was also raining lightly.
I drove on down to the overlook just past the town of Jenner and pulled in here to have a look, looking down at the end of the river.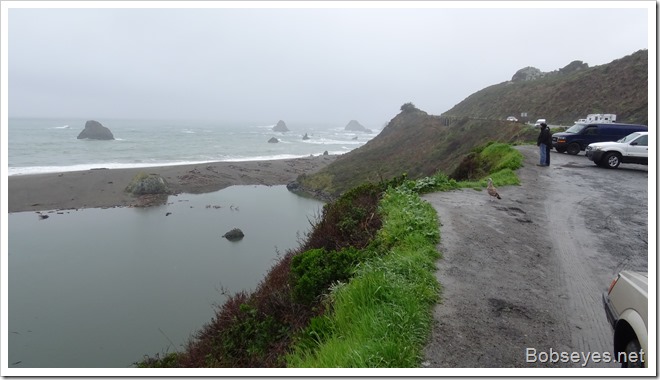 The River's mouth is special
I was thinking about this overlook and the river's mouth, partly because my old friend Anne Henderson commented about it in an email not too long ago. She now lives in Boulder Colorado and says she uses my blog to relate back to her early days here with her Dad who was always talking about the river's mouth and going there too. Among other things, this overlook provides a place for locals to come and sorta extend themselves out and then focus back in and that's part of what makes you a local around here. It gives one a chance to see what the river is doing.
And magical
There's something else special about the river's mouth too that I can't put my finger on. It's magical. It's magical when you look and see all the wild life that has converged in this spot. This spot, why this spot. Some of the reason is the food sources here, but there's more to it then that. I can't explain it, but I'll just keep watching and maybe someday, I'll understand. :O)
The overlook is also an important part of a river community, having a place where the locals can view the river and make it part of their lives.
The view
This was my view of Goat rock and the open river's mouth, looking south.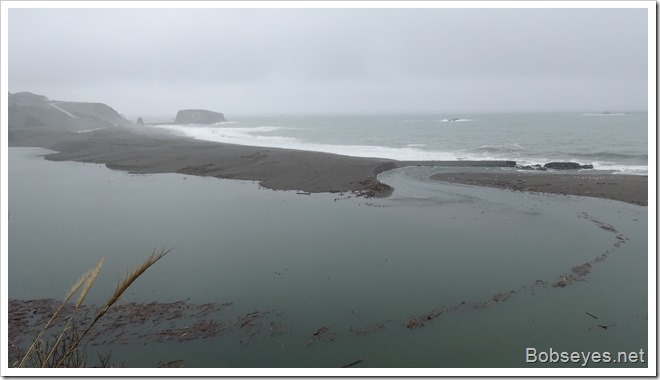 I could see some harbor seals down there resting on the beach.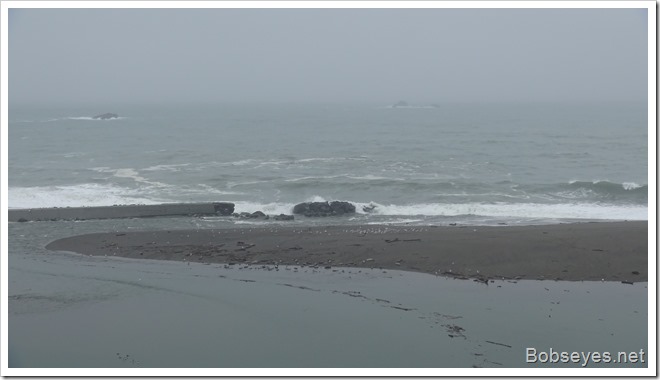 To the left of the open mouth, some cormorants were resting along with some more seals in the water on the right. The seals on the right are resting on some sand in the shallows.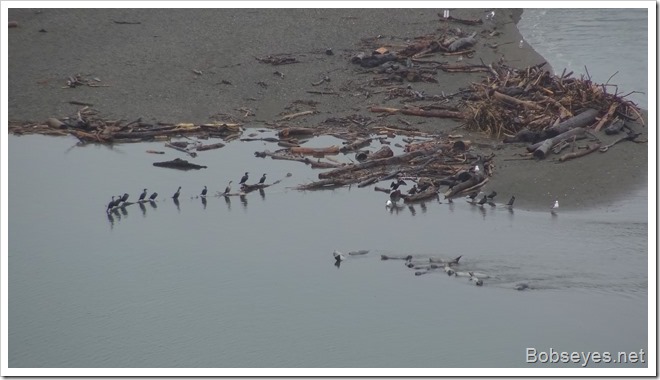 Off to my right, I could see these cormorants and ducks just sitting there on the water resting not hardly moving around at all.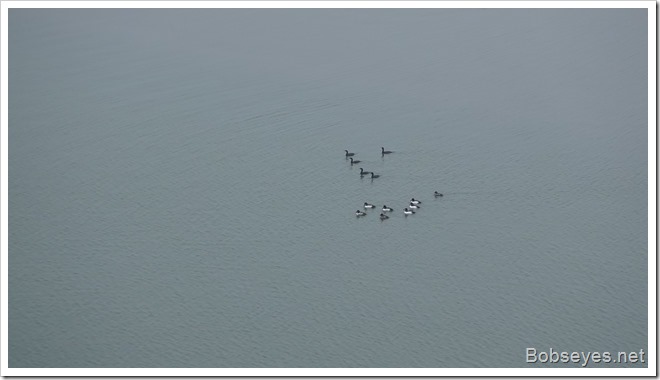 Down there is where I kayak a lot
This was my view looking back up the river with Goat rock off to the right by the ocean. That finger in the river on the left is the lower end of Penny Island.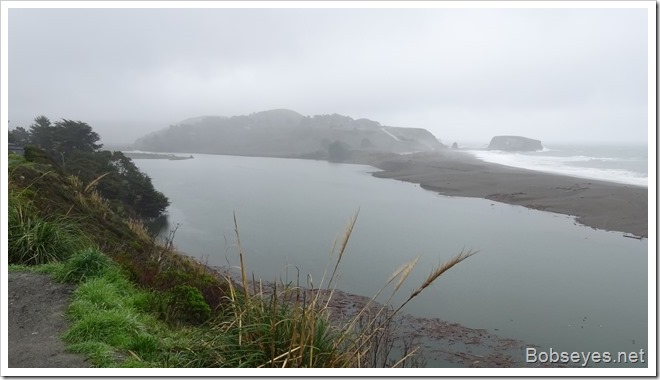 Big fish are running
There was a commotion down below me. I looked and saw this sea lion swallowing a big fish, but by the time I got my camera on it, the fish was already down the hatch. The seagulls tried to get a share.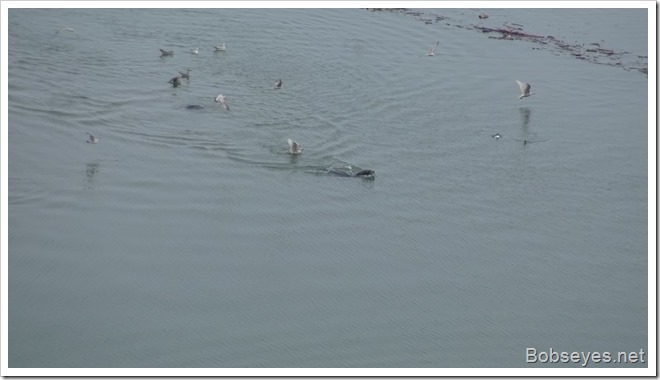 When I first arrived there weren't many harbor seals resting on the beach, but as I watched their numbers increased.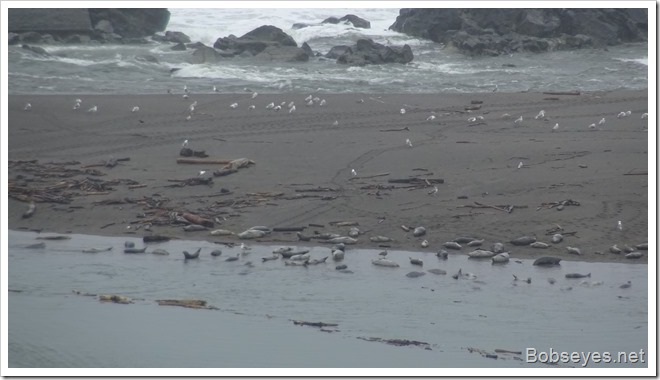 A harbor seal was making that big splash on the right, maybe chasing a big fish?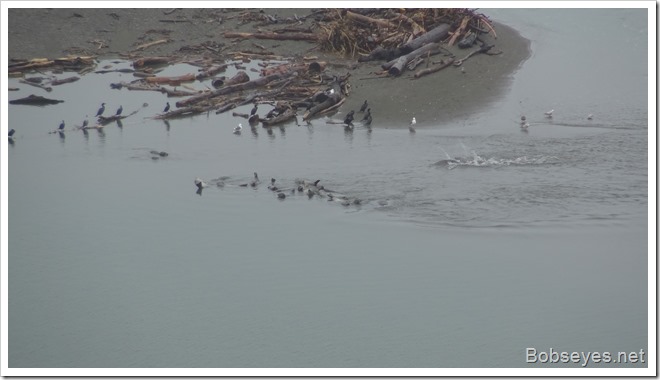 Jenner boat ramp
It was still raining lightly with an occasional harder shower. I drove on back to the Jenner boat ramp to make up my mind weather to go kayaking here today or not.
This is looking out over the boat ramp towards Penny Island. It's raining lightly.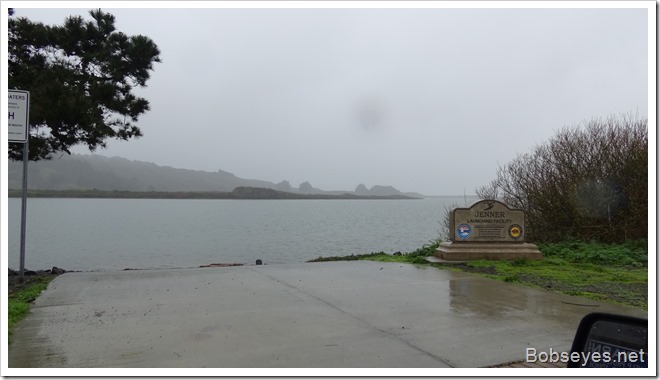 I decided not to kayak here, but would check Monte Rio on the way back.
It was raining in Monte Rio, so I went on home for the day. It was raining lightly when I got home, but it soon almost stopped, but not quite. It was spitting a bit, but lightly.
Chuck roast
I was thinking of making a chuck roast in my new pressure cooker. I went over to my brother Tom's to raid his storage unit. I needed some onions and potatoes. Tom gave me some of both and some garlic and broccoli and some move oranges from another brother, Mike who lives in Healdsburg and grows some good citrus.
I took my loot home and put it away and was resting up when I heard someone at the door. It was Charlie from Monte Rio who I'd been advising on some electrical problems he was having in his house.
He had a big box of sweet potatoes and two big heads of cabbage for me. We shot the bull for awhile and he took off.
With all this food around, I was getting hungry so I started my chuck roast in my pressure cooker. I browned the meat first in the pressure cooker, then added potatoes, onions and garlic with some water and salt and pepper.
I closed that cooker up and cooked it for 35 minutes and let it rest to cool down and depressurize which takes about another half hour or so.
It turned out good and yummy.
That was my day.
(Visited 144 times, 1 visits today)