Sunday January 4, 2015 Jenner CA.
There was a little wind today as I put in my boat at Jenner, but not too bad. I expected it to let up soon and it did.
I paddled across the river and on up the south side at my usual leisurely pace checking things out on the way. I made it up almost to the bridge on highway one. I crossed over the river to see what these birds were with the bovinosarous.
Some geese were feeding with the bovines and there were some little black birds on the grass too. Click the pic to get a higher quality view.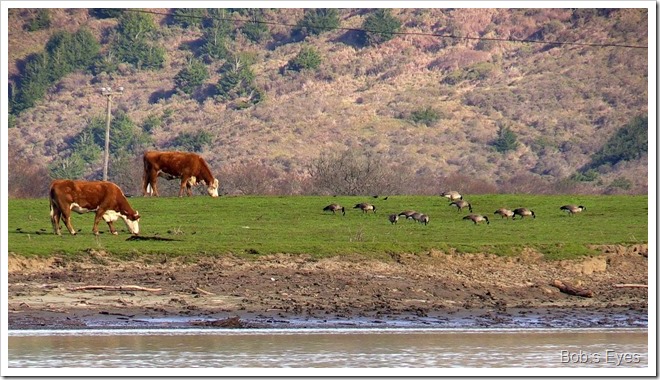 I continued on back down the river on that side and went by these merganser ducks on the shoreline, , just below Paddy's rock. A male and two females.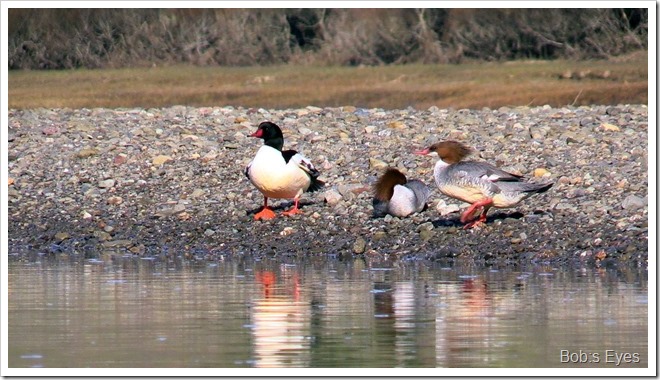 I passed by about a half dozen of these grebe fishing away.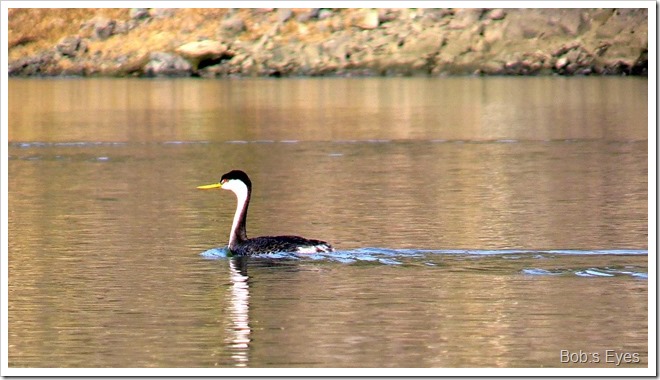 I was headed to the river's mouth and paddling along the north side of Penny Island when I ran into this great egret fishing.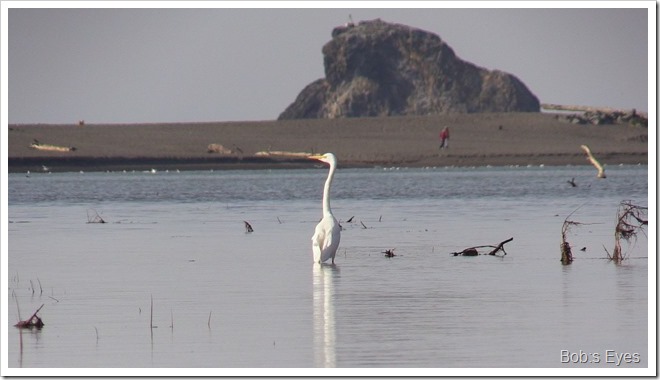 Two ravens flew over my head and landed on the gravel at the end of the island. The one on the left found something to feed on, but I couldn't see what it was.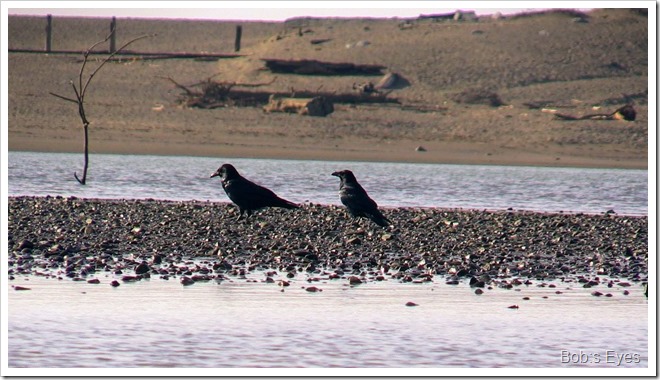 I continued on down towards the river's mouth passing these seagulls and a pelican.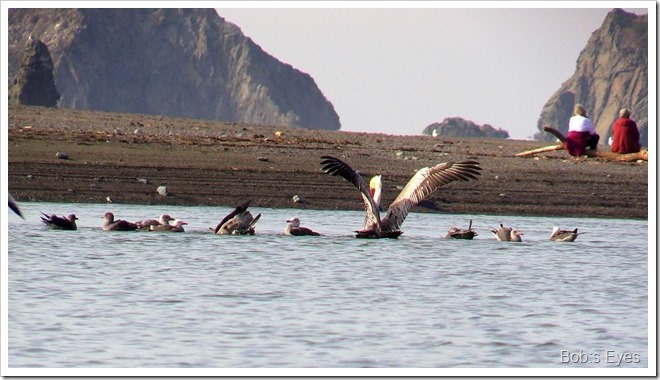 Getting closer to the mouth, I passed by these three brown pelicans preening on this big rock. The brown pelicans come into the river to bathe and preen.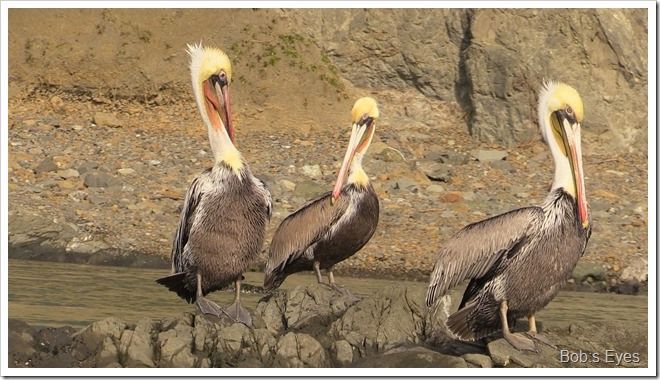 Open river's mouth
I was headed to this area right in front of the open river's mouth, looking out into the Pacific ocean. Nice day.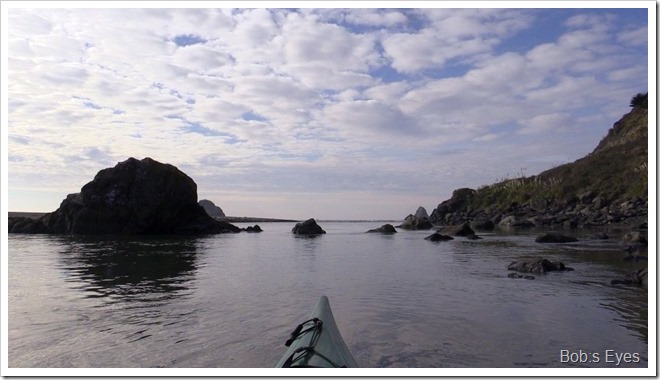 While heading for my place to take it easy and watch, I passed by this snowy egret, a bit smaller than a great egret. It was fishing along the shoreline.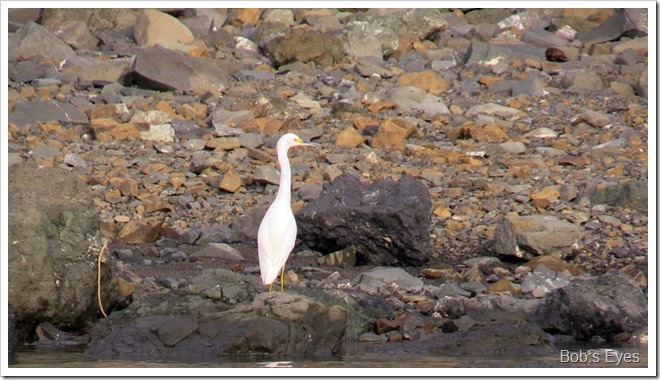 My viewing spot
I sat here and watched what was going on by the river's mouth. The harbor seals were resting on the sand.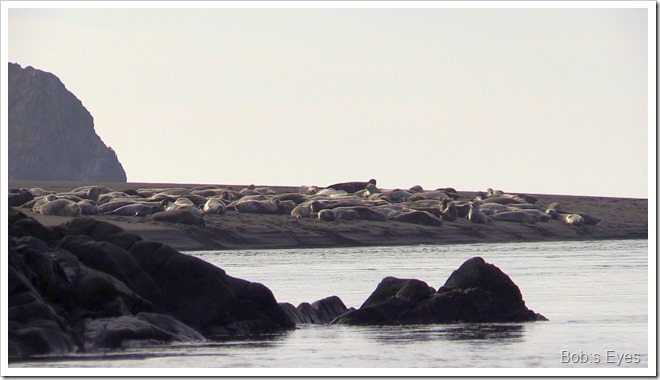 I was watching the ocean just outside the open mouth. Some harbor seals were swimming around out there, likely hunting big fish and that pelican got hit by a wave.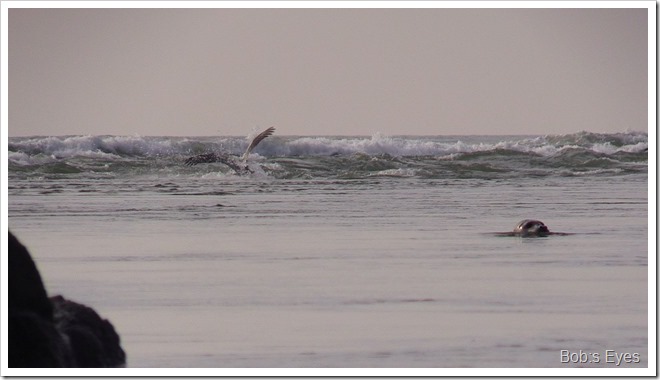 I was also watching the sea lions hunting for big fish just outside the open mouth. Here are two of them. They really race around. I'm glad I'm not a fish.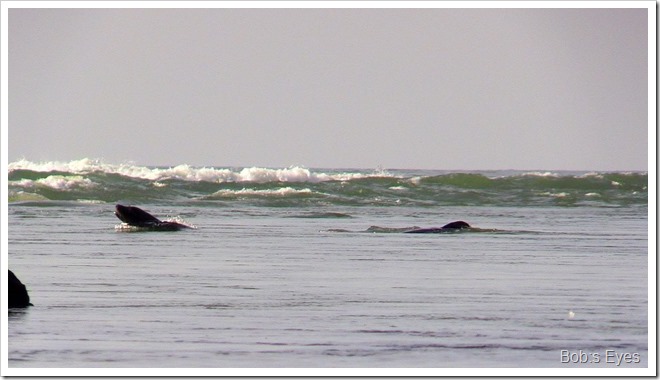 I was hoping to see one of the seals or sea lions catch a big fish, but got tired of waiting so I started back.
Just after I started back, two big sea lions raced by me with a big fish and the water was red with blood. Closer to me than I liked.
I finally got my camera up and tried to get some shots of them and this was the best I could do, before they devoured the fish. Click the pic to get a bigger and better quality picture. These are only thumbnails and are low quality.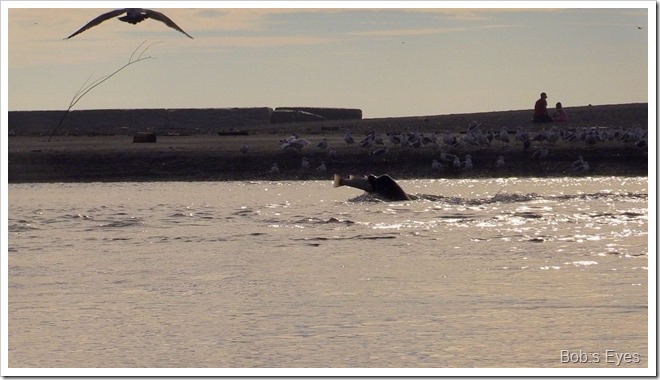 I continued on back and this sea lion came over to check me out, but didn't attack. :O)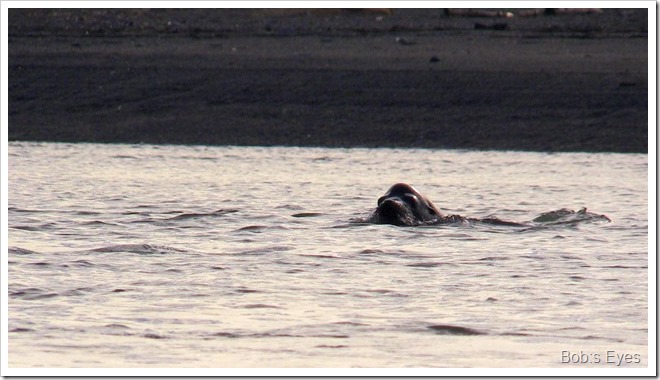 This was my view as I headed on in for the day.
These cormorants were the last birds I passed on the way in for the day.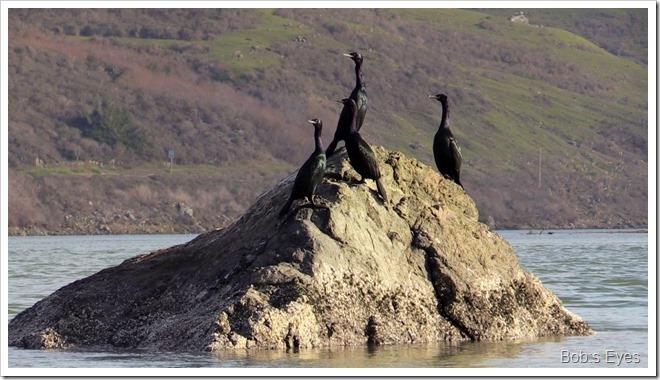 Avoiding boat ramp rage
When I got back to the boat ramp, there was a big sail boat parked on the boat ramp with no one around, which made it hard to get my boat out. I went to get my car and backed over to the ramp when a white car pulled in front of the ramp blocking it. I beeped lightly a couple times and I heard the guy in the car say something like you could of got out and talked to me instead of honking, but he did back up his car. I backed on down the ramp and started loading my boat when I saw him pull back across the ramp blocking any exit.
Oh, oh
Oh, oh. I finished loading my boat and then decided it was a good time to go up with a big smile on my face and apologize, which I did.
We started talking and it turned out this was Jamie from Bridge Heaven at the highway one bridge that I kayak up to a lot and I had met him on the water a few years ago and had a good talk at the time. Turns out Jamie is a bit of a joker and likes to mess with people a bit, so we had a good laugh. It also turned out that the sailboat was his kids that had sailed down river to this spot in the morning, but the wind had died on them and they couldn't sail back home. I didn't mention that it would have been better manners to park the boat off the ramp so others could use it,…………………. as things where going good. :O)
He took off to get a motor for the boat and I took off for home to find my couch for a nap.
(Visited 132 times, 1 visits today)