Tuesday February 17, 2015 Sixes River Port Orford Oregon
I decided to explore the lower part of the Sixes River again today, doing about the same thing I did yesterday, only the high tide was an hour later which was good.
I was down at the Hughes House boat launch area about 9AM and put my boat in the water. It was cloudy and the wind was blowing about ten or fifteen miles an  hour on the cold side. I think it was about fifty degrees F., but the wind made it seem much colder.
I headed on up the river on the high tide, against the wind.
Bigger than a carrot
I went by this big root which I saw yesterday. The part you can see is about two feet long so it's a big root of some kind?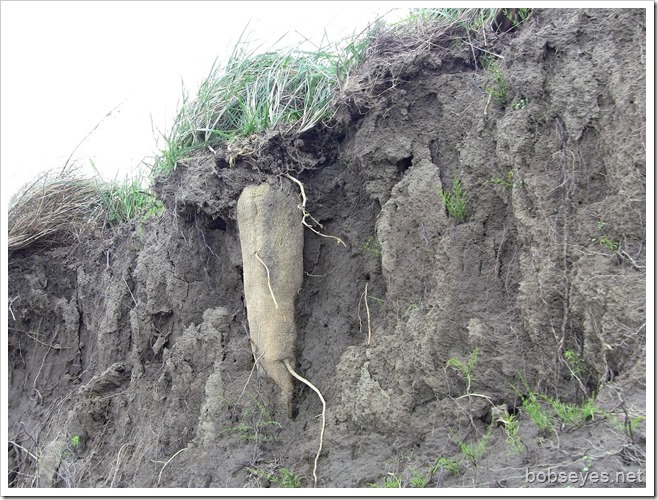 I kept moving up the river so as not to lose out on the high tide. This mama and her calf were walking down a trail as I passed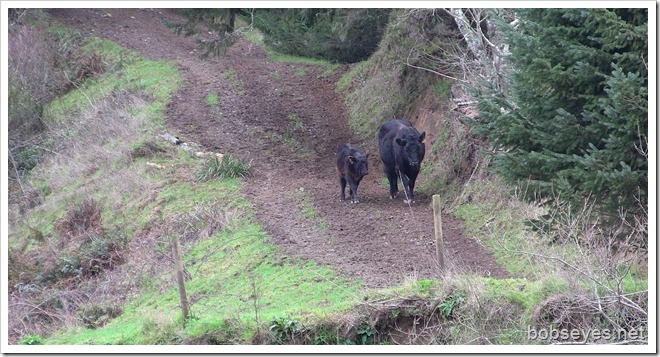 I saw these bufflehead ducks sneaking away on the other side of the river.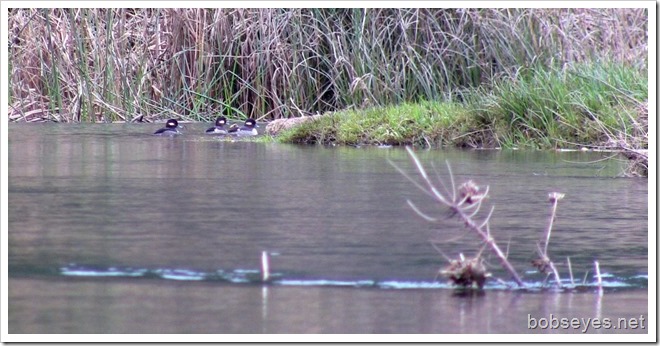 Something bright caught my eye so I went over to check it out. A brand new piece of fishing gear, which I collected and gave to Steve as a reward for the Steelhead dinner I had last night.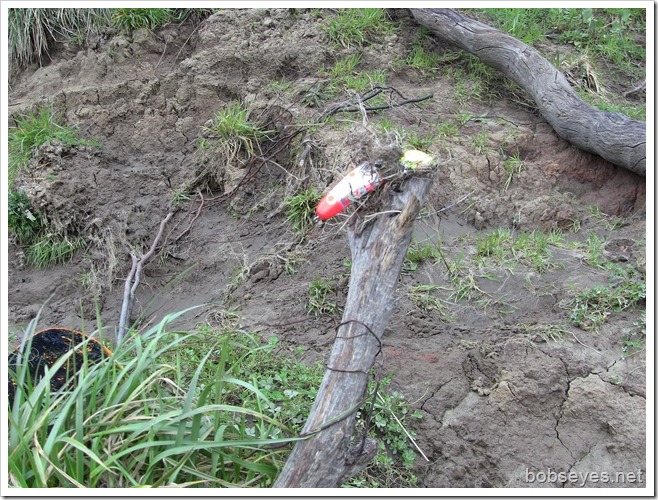 I passed by these white bovines grazing along the river's edge.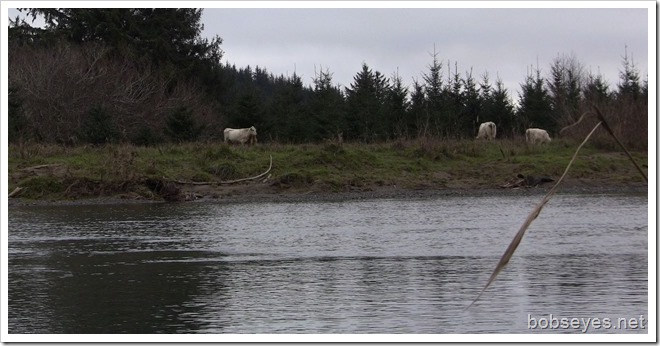 About two and a half miles up the river
I made it up to the same spot I made it up to yesterday, about two and a half miles up the river from were I started. I decided to try to go further and made it up another couple hundred yards, before I turned back because the current was too strong.
I rested in this spot just after turning back down the river.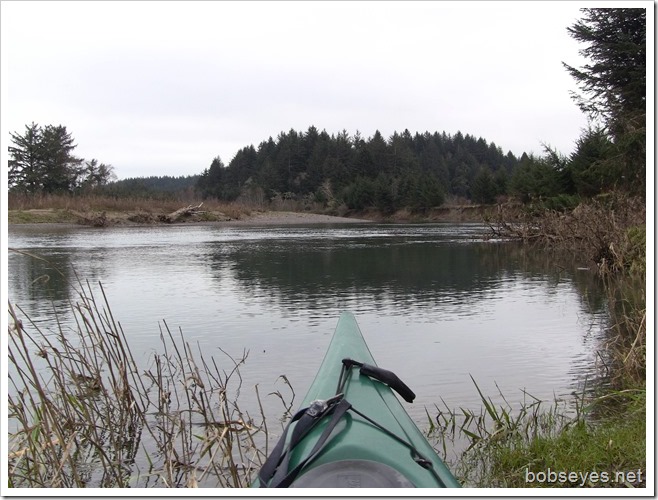 Checking out the side channel
The wind wasn't bad this far up the river. I wanted to check out a little side channel just down from here to the right of that log down there.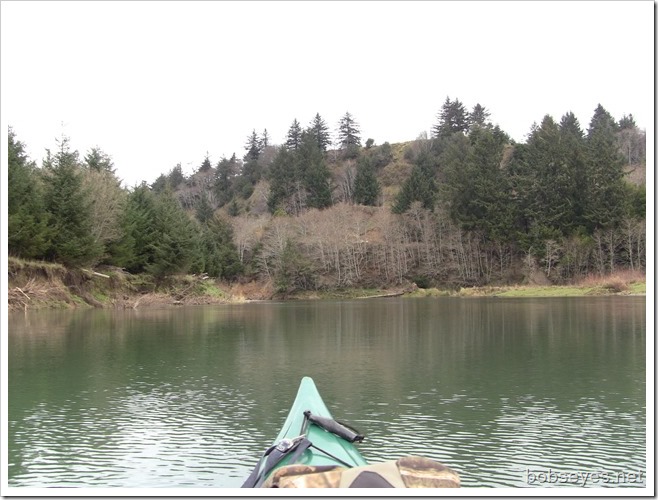 I paddled into this side channel to check it out and take a break. It went only as far as you can see.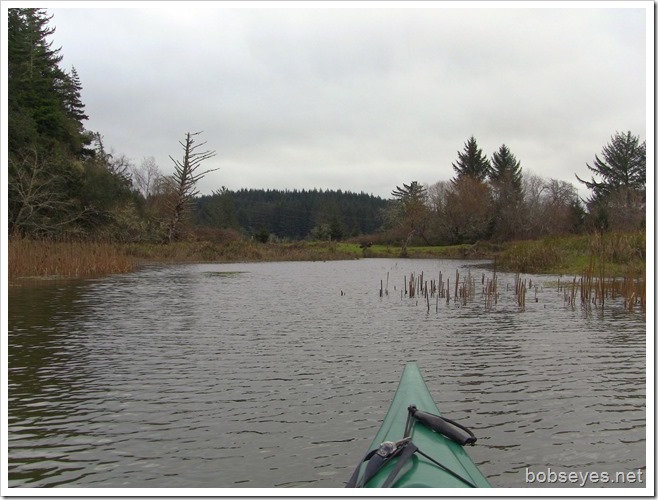 I settled in this spot with the cow laying close by which was taking a break.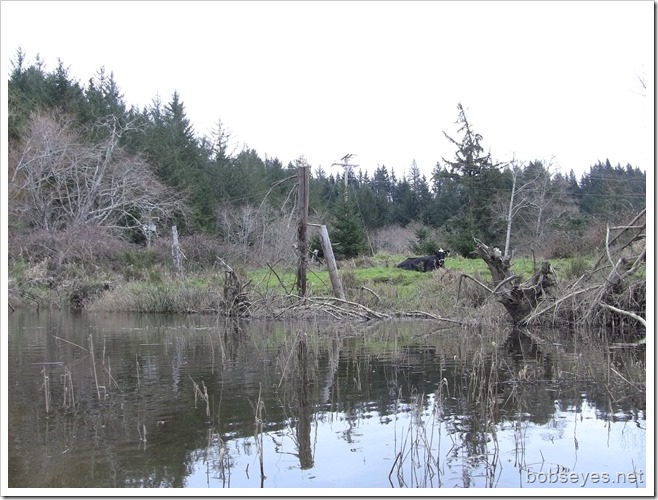 The cow didn't seem to mind my presence.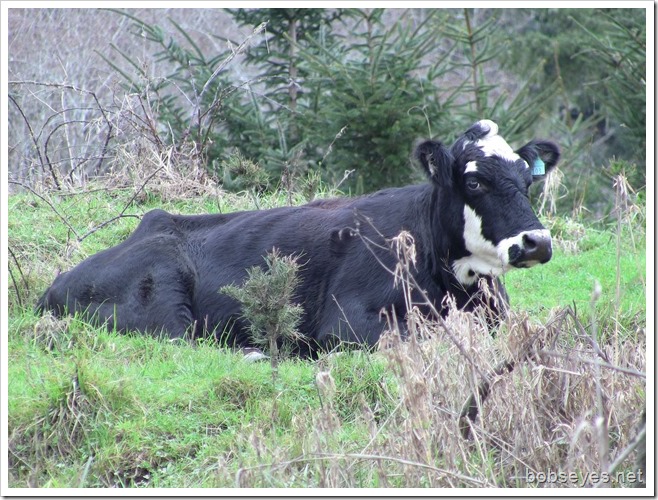 There were a couple bufflehead ducks sneaking around me as I watched.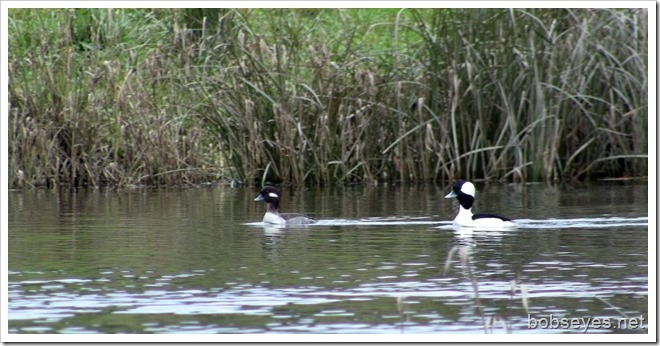 Heard a shriek
I heard this shriek, a sound like something might of just died over by the big dead tree in front of me, but I couldn't see anything or hear anything else. I paddled over by the dead tree to investigate, but didn't see anything except some rather large holes in the side of the bank, maybe dens of something?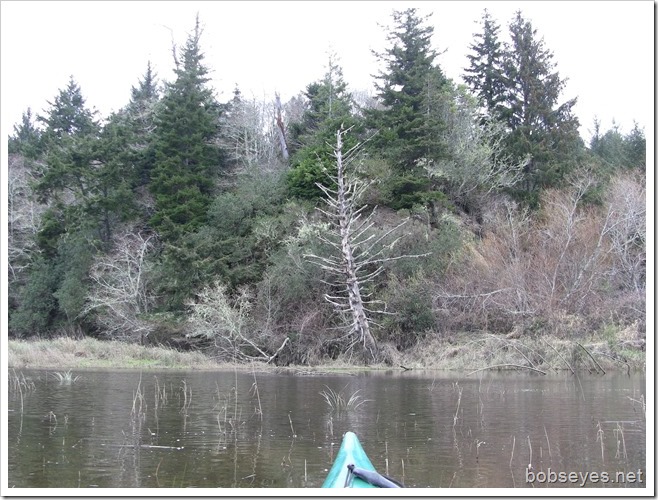 As I was paddling out from checking out the dead tree area, I ran into some kind od critter in the water. I got about twenty feet to it, when it saw me and I saw it and it dove.
I'm not sure what it was. It was rather big, bigger than most beaver I've seen and I didn't see it's tail when it dove. I'm thinking it might of  been what they call a nutria? I looked around for it to surface, but I didn't see it again.
Steelhead jump out of the water
I continued on down the river and was just floating along when I heard a big fish jump out of the water behind me, so I stopped and turned my boat in the direction of the sound.
I really didn't expect to see anything, but a big steelhead jumped out of the water about three feet into the air like a rocket, then another one in the same spot and another and maybe another, I lost count. The fish jumped exactly in the same spot and too soon for it only to be one fish. Things like that happen fast and then they are gone.
Wind picked up again
I continued on down the river and the wind was picking up as I got nearer the ocean. I was thinking about going on down to the river's mouth at the ocean, but the wind was blowing colder as I got to the boat ramp area, so I decided not to go down to the mouth area today.
I'm almost to the boat ramp area and the wind is blowing good in this picture and it is cold.
I was off the water at about 12:30 and was wondering what to do with the rest of the day.
Internet at the library
I decided to go over to the library and do some internet stuff which I did. Then I drove down to the Port Orford port to see what was going on. It was windy there and not much was going on, so I took a nap in my van.
After awhile I headed on down the road to the Arizona Lodge where Steve was staying to check in with him and tell him I was leaving for home tomorrow. We shot the bull for awhile, then I went to my camp by the ocean.
That was it for another day in Oregon.