Thursday April 21, 2016 Jenner CA.
What's a little drizzle
The weather guy said it might drizzle some later today, so I headed down to Jenner to kayak for the day. It was overcast and the wind was down when I arrived at Jenner to put my boat in the water.
I put the boat in and paddled across to Penny Island thinking I'd go down by the river's mouth to see what was going on as it was coming up on high tide.
Here, I just paddled to the Penny Island shoreline and am just starting to head down river along the shoreline.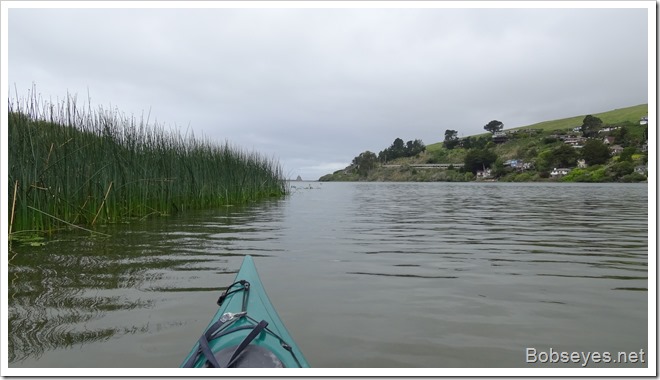 The day looked pretty much like this as I paddled along, looking for critters.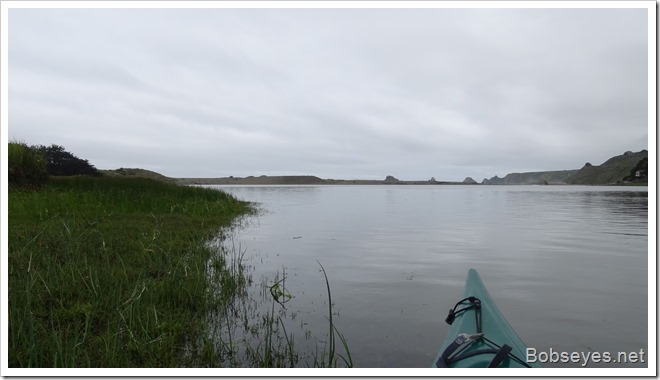 I eventually came to the end of the island and headed on across the river towards the open river's mouth. I see some ducks up ahead on the left.
Some golden eyes and a seagull as I paddled on by.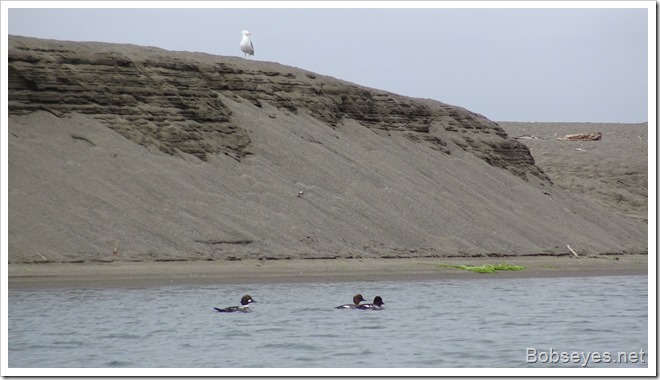 Pups are growing fast
Just past the ducks, I came upon some harbor seals. There's a couple pups in the bunch. They are growing fast.a The are weaned about 30 days after they are born, so they need to grow fast.
I kept on paddling headed for the open mouth which looked like this as I approached. Harbor seals and birds where resting on the beach.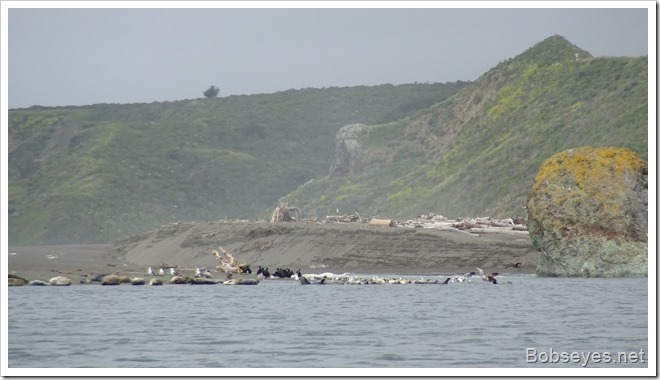 I was getting some pics of the cormorants when this sea lion butted in for a moment and was gone.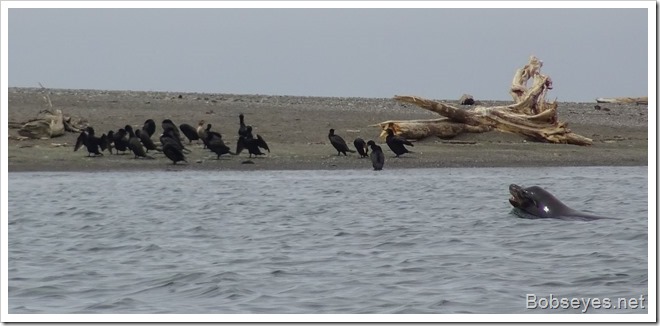 Mouths open
Since it was high tide there was no out going current so I was able go get close to the ocean without being concerned about getting sucked out into the ocean.
This was my view as I sat and looked out into the ocean.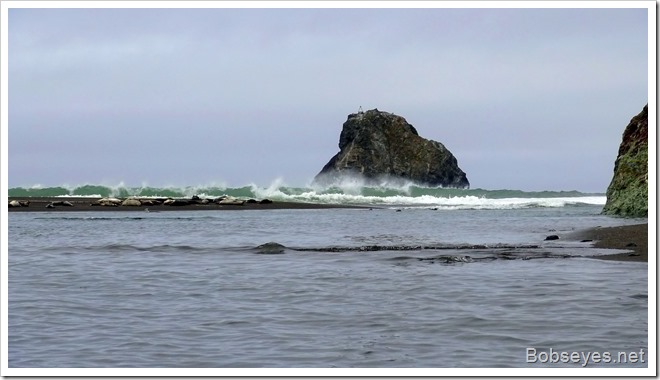 Here's a little closer look at the harbor seals resting on the beach there.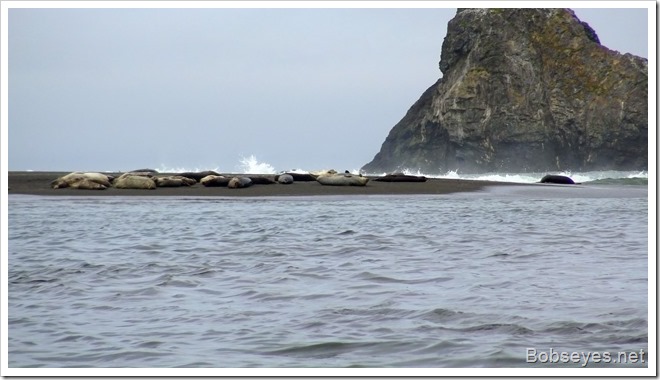 I sat around down there for just a bit over an hour then moved on back up the river along the north shoreline.
I went past this male mallard duck sleeping peacefully.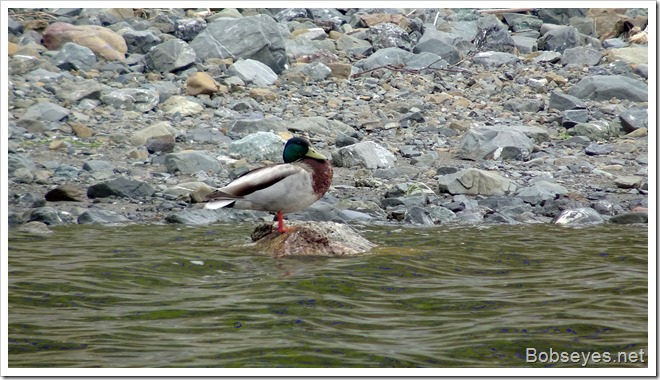 I see the drizzle coming
And just past the duck, I saw this goose and I also saw the sky turning to drizzle up on the ridge tops and fast approaching me.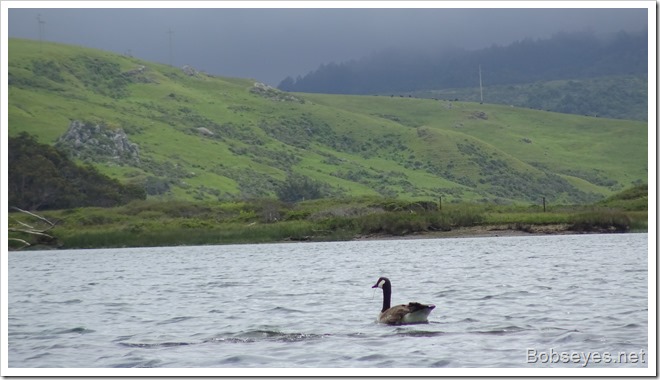 I'd meant to put my rain pants on, but they weren't in the car this morning when I looked for them at the ramp when I left.
I stopped and spent some time in these grasses on the island as I needed to make a decision on what to do, as it seemed like it might continue to drizzle and the take out ramp was just up ahead a bit.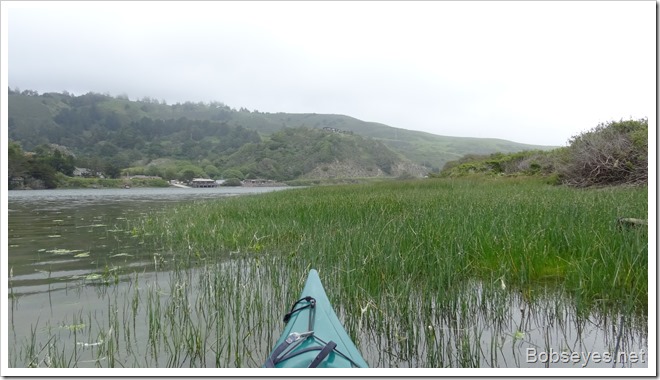 I paddled across the river and found a place under this tree to make up my mind. It was still drizzling lightly.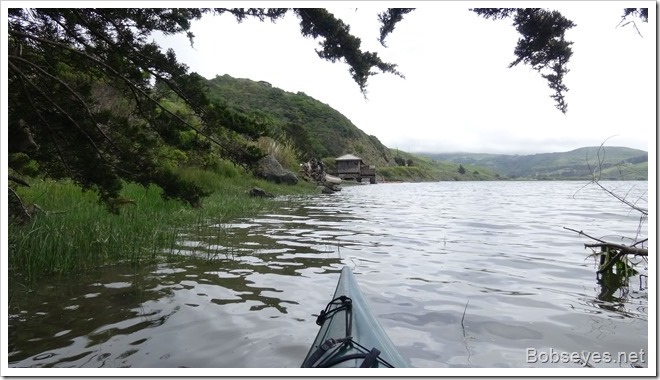 Since I didn't have my rain pants on and I wasn't sure what the drizzle was going to do, knowing we were expecting some rain, I decided to head for the boat ramp and pull my boat out for the day which I did.
When I arrived home, it wasn't drizzling, but it was cool and looking a bit gloomy, so I hung around inside the house napping for some time, until I could get it going to work on Tom's 12 volt tractor conversion which I did later in the day.
Ford 12 volt tractor conversion work
Today I had to take the points and condenser out of the distributor and replace them with a magnetic pickup coil, so no more points to mess with.
I got that installed and hooked up the new 12 volt battery and tuned the key on and the starter was turning which it shouldn't as I hadn't' pressed the starter button yet, so I turned the key off. OK so I unhooked the orange wire that they'd said to cut off the harness for later model tractors, so that's what that was about. I tried the key again and pushed the starter button and it turned over which is a good sign.
I wasn't trying to start it yet as I still needed to secure the new battery with some kind of hold downs.
Campfire time
We are supposed to get some rain soon so I covered up the tractor and started my little camp fire and sat around it until almost dark when I went in for the night.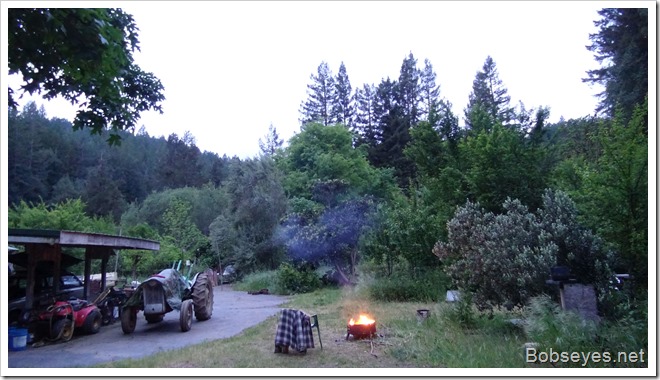 That was my day.
(Visited 202 times, 1 visits today)