Saturday March 28, 2015 Jenner CA.
Lot's of critters and birds fishing today
Being Saturday, there were a lot of kayakers in the water as I put my boat in.
From the estuary water level, I'd say the river's mouth is still closed and the water level is rising.
The sea lions, harbor seals, cormorants, seagulls and brown pelicans were putting on a good show right out in front of the visitor center. They were all hunting for fish, doing a lot of splashing.
Brown Pelicans
Here's one of them just after a dive from the sky, just as I put my boat in the water.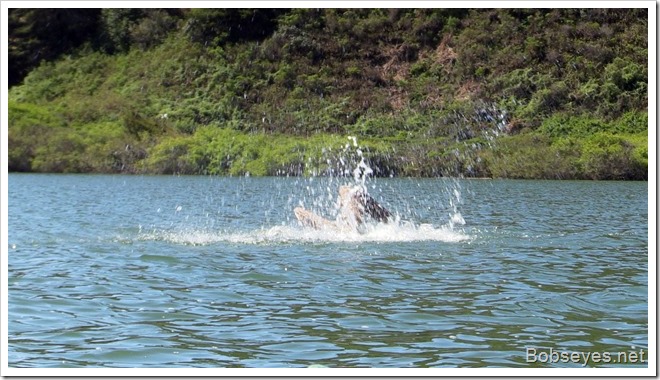 The brown pelicans were flying around looking for fish to dive on. When they spotted a fish, they would dive down, sometimes right beside you. Sometimes successful and sometimes not.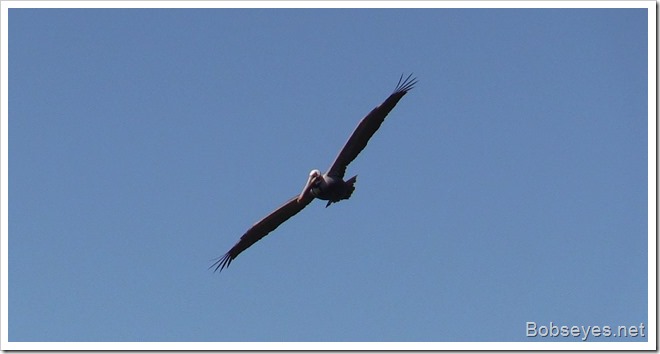 Today's plan
Way too many people watching all the action, so I did what I planned to do today and started paddling on up the river. The plan was to paddle on up to the great blue heron rookery about three and a half miles up the river, so off I went.
I paddled along the river's north shoreline, listening for wild turkeys and watching for wild pigs, but I didn't hear or see any of those critter's this day.
I did see lot's of cormorants and seagulls and sea lions and seals hunting fish along the way. Most of this action was below the highway one bridge.
Turkey vultures
As I was passing under the highway one bridge at Bridge Haven, I spied some turkey vultures on the shoreline eating something that I couldn't see. Here's a couple of the vultures I passed by.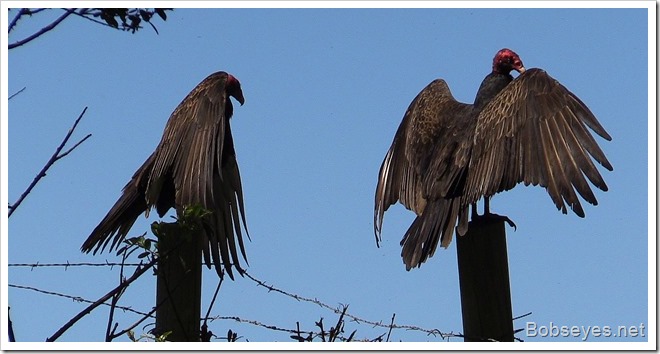 New calf
Paddling along, I went by these bovines and noticed the calf was a new one, not more than a day old.
The day was looking pretty nice as I approached the Seal Haven area, just up ahead.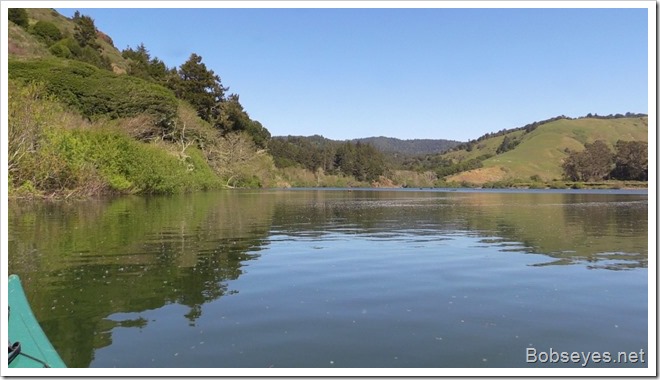 Resting harbor seals
There were two harbor seals resting at Seal Haven on a submerged redwood log. There were also a bunch of cormorants resting in the water.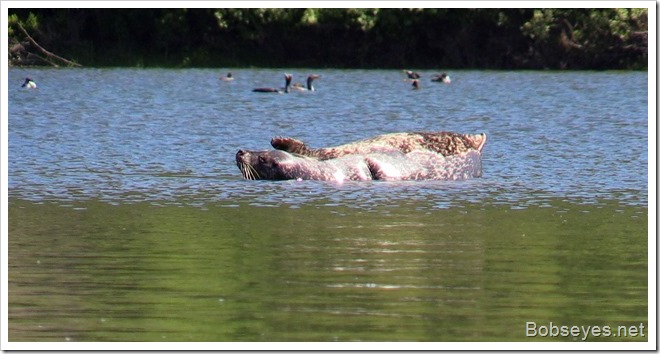 Checked out this tunnel at Markham hole
I continued on up the river to Markham hole where I stopped for a break. As I was headed out from this spot, I thought, the water is high enough for me to check out the tunnel that goes under the highway, so I entered Sheep Head creek and checked the tunnel out.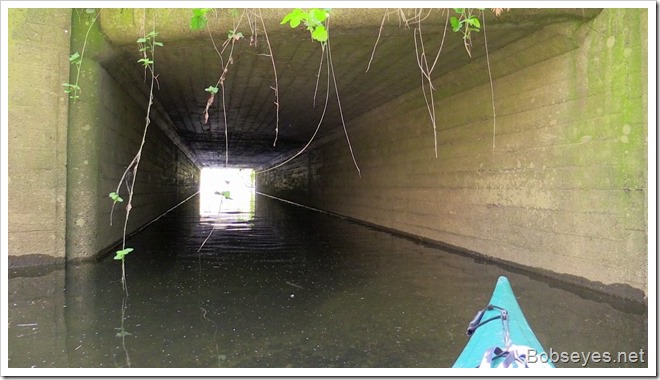 The water level in the tunnel was just right to paddle through it and make some noise to check out the resonating sounds as I passed through it.
I returned to the river and continued on up it paddling by this spot. I'm headed on up the river just about as far as you can see. That's where the great blue heron rookery is.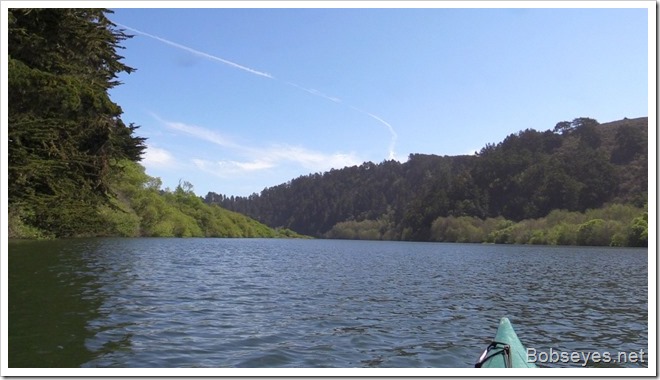 Along the way, I witnessed quite a bit of splashing made from harbor seals and sea lions hunting fish along the banks and shorelines. This is what the splashes they make look like. Some times I see the critter and some times I only see and hear the splash.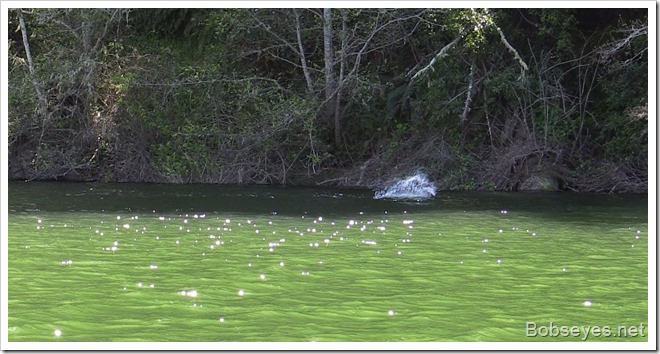 The banks I paddled by in this area are fairly lush right now with ferns and wild flowers.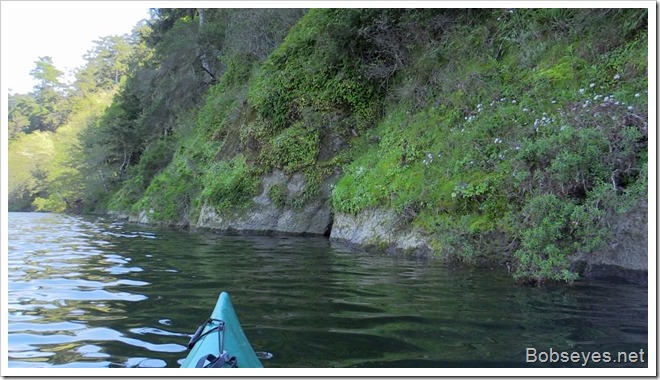 Great blue heron rookery
I made it up to the great blue heron rookery which is in the trees in front of me. There are great blue heron nests and osprey nests and also a lot of cormorants roosting in the trees right now.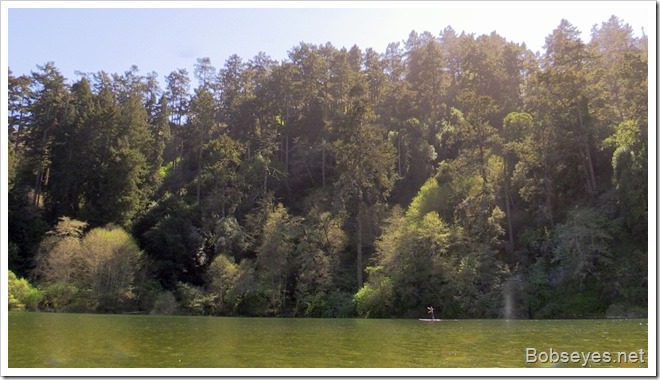 Roosting cormorants
Here's just a few of the roosting cormorants I saw up in the big trees. They didn't seem to be doing any nesting, only roosting. In the past, the cormorants seem to leave the estuary sometime in April to go someplace to nest. So far, I haven't seen them doing any nesting on the Russian River.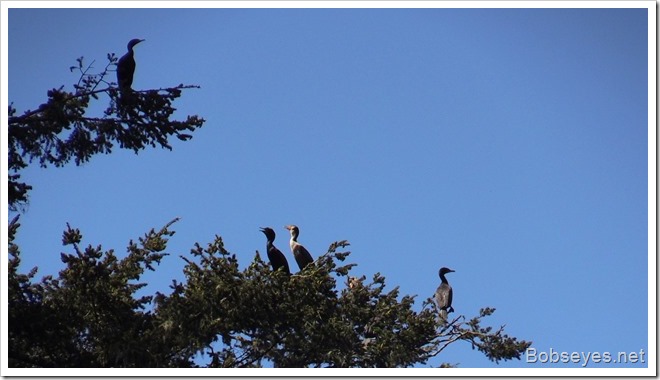 Can you see the heron nest?
This one big fir tree has somewhere between ten and twenty great blue heron nests in it. Here's a great blue heron, actually two of them. Can you see the one on the nest in front of that one?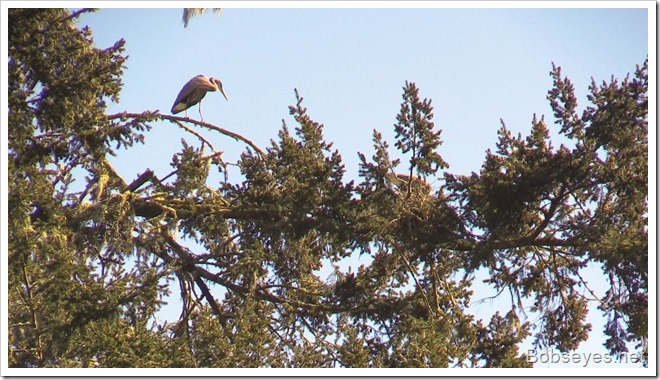 I sat around in my boat in the water below the nests and watched for an hour or so. I had to wait for the sun to move from behind the tree so I could get some pictures.
This great blue heron flew in with this big stick and landed, but there was a lot of squawking up there and it took off again and returned to another spot.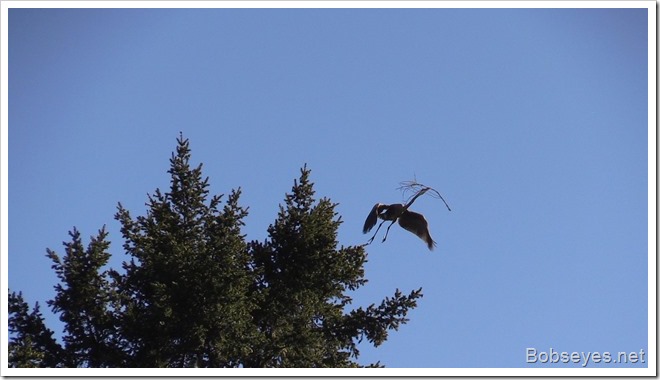 While I was sitting there watching all this, the wind was picking up and the waves were getting bigger making it hard to get good photos.
Headed on back
I started back down the river around three PM. I noticed this raven flying around up in one of the trees just below the heron rookery.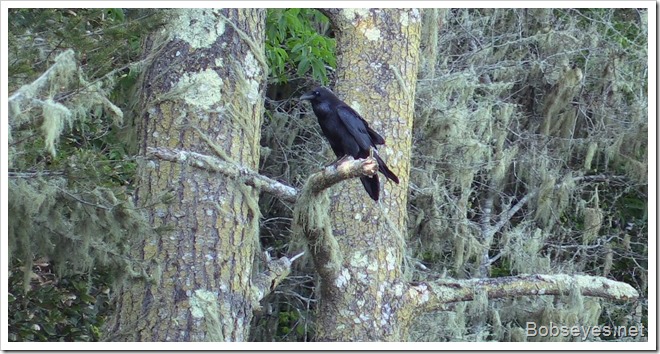 The wind was really blowing now
Like I said the wind had picked up and was blowing up river, so now I had to paddle down river against a strong wind, so I kept to the river's edges and still had to paddle pretty hard. The wind was the strongest as I went back under the highway one bridge at Bridge Haven. I really had to bear down to cross over to the south side, making sure my hat didn't fly off.
As I approached eagle's landing, the wind started to diminish just a little which made it a bit easier going.
This loon swam out from under some trees as I approached them and scooted off, keeping it's distance.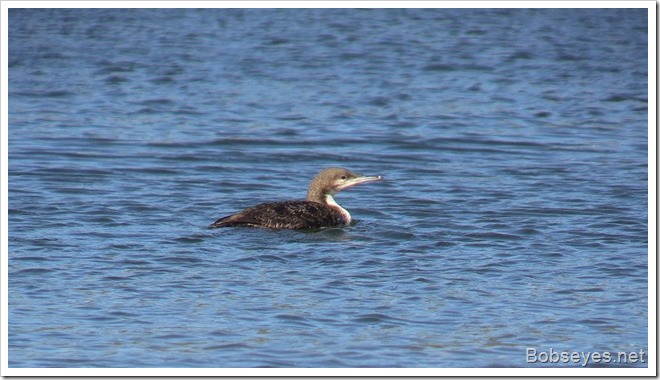 It was just after five PM as I headed for the boat ramp. Another nice day.
(Visited 141 times, 1 visits today)