Saturday January 17, 2015 Monte Rio CA.
Monte Rio down to Casini Ranch and back
Today seemed like a good day to go down from Monte Rio to check out what's happening on the river in that area, so off I went bright and early at about ten thirty this morning.
It was overcast, but the sun was trying to break through, but was only partly successful. The wind was down though, so it was nice.
Right away, some of the resident Monte Rio ducks came by just as I got into my boat and was moving off the boat ramp.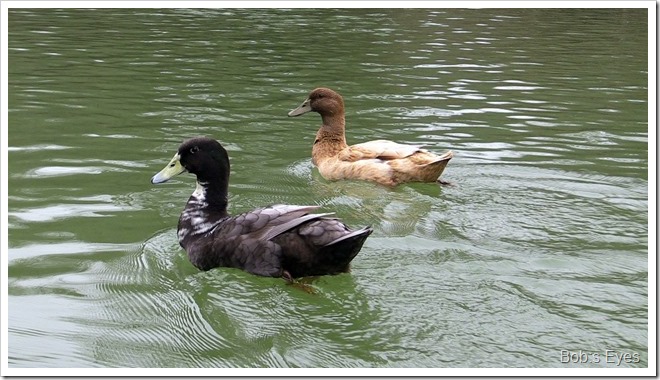 I decided to head on down the river. There were some guys fishing for steelhead in the slot. They reported fishing has slowed down a bit, such as steelhead fishing is.
I left them to it and headed on down the river at my usual leisurely pace, stopping here and there to watch and enjoy the river.
Lots of river otters
I had just cleared the Villa Grande area when this otter caught my eye heading back up the river.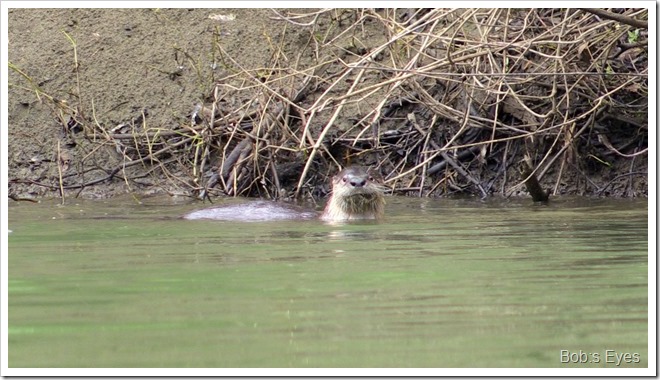 I turned and followed them, keeping my distance so as not to scare them off. There were about a dozen of them, too many to really count as they are in motion most of the time.
I did catch them close one time as my boat was on a glide. That's when I have the camera in my hands and the boat is gliding in the direction when I last had the paddle in my hands and if I moved I would likely scare them off. I got this close, then paddled backwards which is always good because going away from them relieves the pressure on them so they can relax and do their thing. When they are in this large of a pack, they are usually bolder.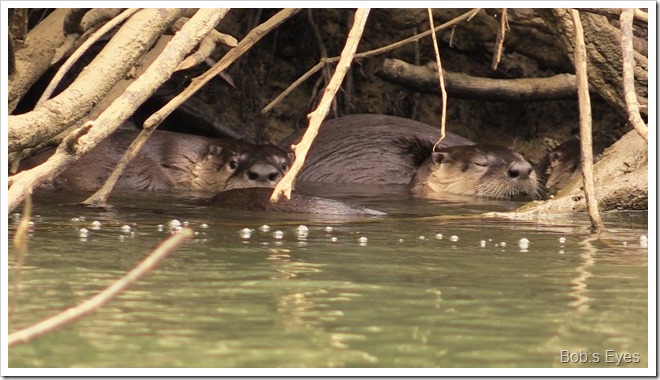 I followed them back up to the Villa Grande hole. Here's some of them as they turned the rocky corner.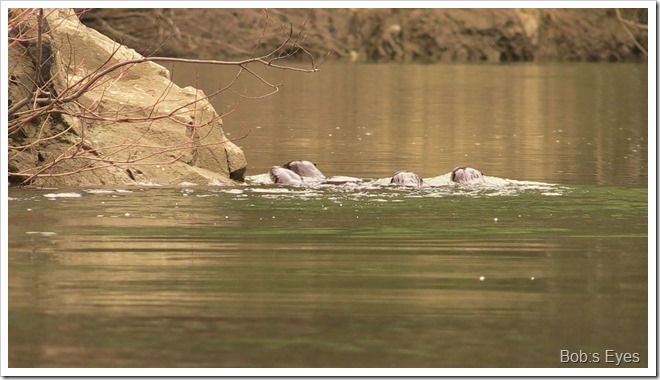 Here's a few more as they check out a a place a great blue heron was sitting just above them. The heron was being cautious and moved back a bit. The otters left it alone. They seem to get along together as I've seen the great blue herons fishing by the otters to get any small fish they might stir up.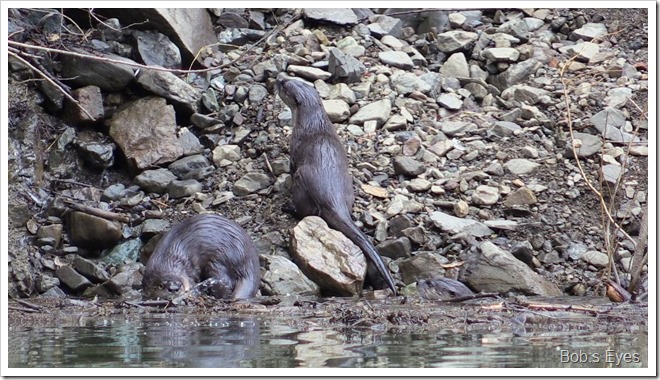 The otter's continued on up the river as I turned back down the river and paddled along.
When I got to the Moscow hole, I spied this great egret along the shoreline.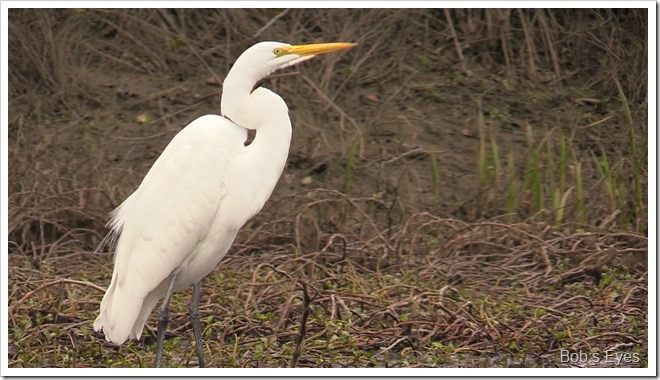 And just past that, I spotted this turkey vulture getting some sun on the Rein's beach sand.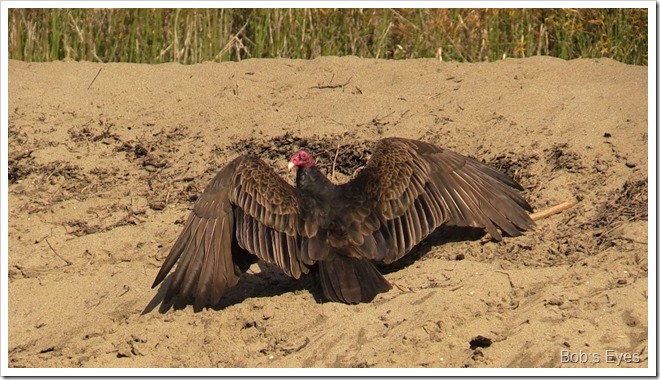 I continued on down the river to the Casini Ranch were I ran into some more steelhead fisher people. They reported the fishing was slow down this way too today.
This little girl does know how to fish
At Brown's hole by the Casini ranch, I spotted this little girl fishing with her dad. She seemed to know what she was doing as she handled the rod well without her dad's help. I think he taught her well and they seemed to be enjoying themselves.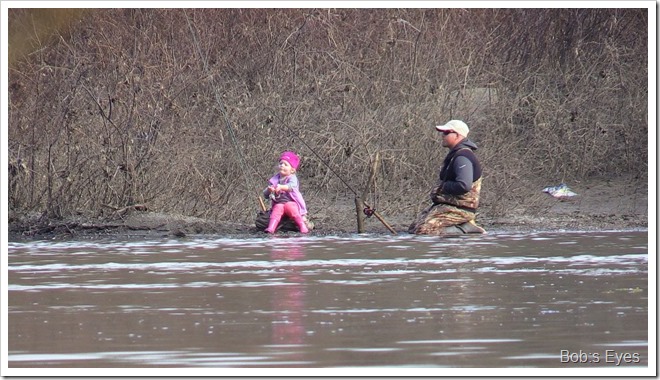 There were a couple of my harbor seal buddies in brown's hole, mostly just taking it easy. If there had been some fish in the hole, they would have been after them.
I was going to go down the river to the Duncan's Mills bridge, but there were a lot of fishermen fishing on the bank below Brown's hole, so I decided not to as I would have to paddle by all of them, then I would turn around just below them and head back up the river, so I thought it would be easier not to do that.
Paddling back up the river, I was just rounding Moscow hole when I ran into this great blue heron, which took off as I approached.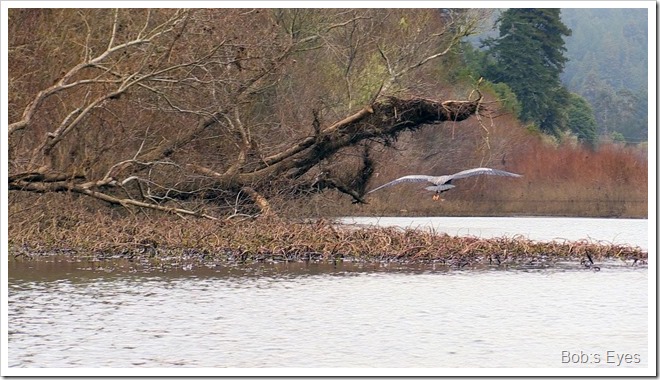 The blue heron landed by this great egret which was too close as far as the egret was concerned. A great deal of squawking occurred, before they both flew off.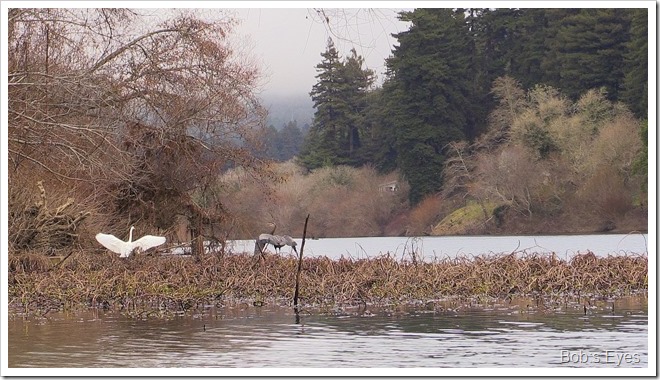 Merganser ducks fight over a fish
As I entered the Villa Grande hole, I saw a couple of male merganser ducks fighting along the shoreline. A mating fight maybe? No, one of them had a fish that was big enough, it couldn't get it down quickly and the other one was trying to steel it.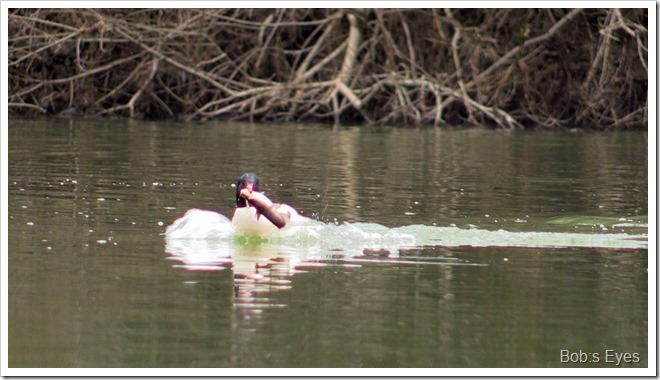 They had a bit of a fight, but the one with the fish kept it's prize and finally was able to get the fish down.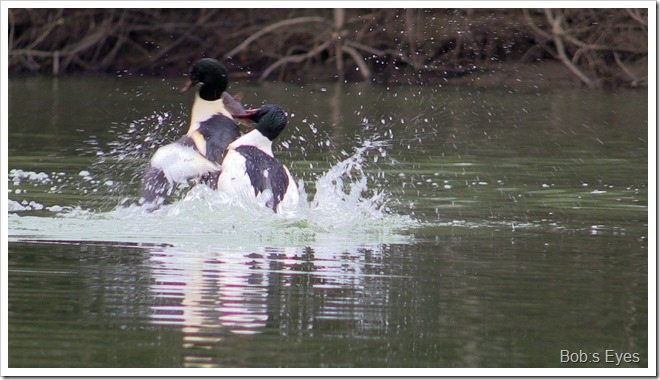 Those otters again
I continued on up the river and spotted something moving along the river bank. Turned out to be the same otters I saw earlier heading back down the river.
Here's some of the otters as they were moving by me.
I tried to get some more photos of the otters, but they moved into some dense brush, so I left them and continued on up the river where I ran into these fishermen fishing the slot.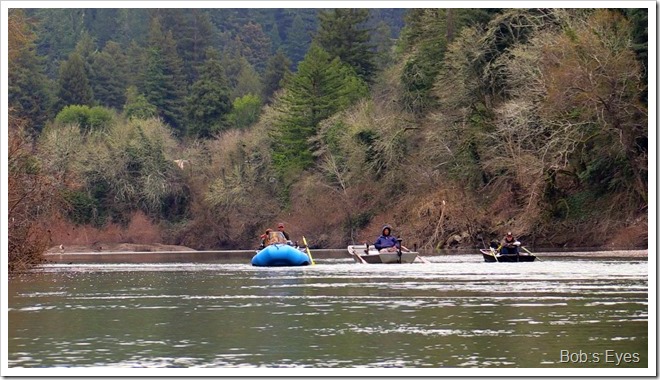 I talked with them for a bit giving them my down river report. They had a couple hits today, but they were natives and had to be released as natives cannot be kept on this river, only the hatchery fish can be kept. How do you tell a hatchery fish from a native fish? Hatchery fish have the little fin just in front and on top of their tail clipped off before releasing them into the wild.
Just above the fishermen is the Monte Rio boat ramp and bridge which looked like this as I approached to take my boat out of the water for the day.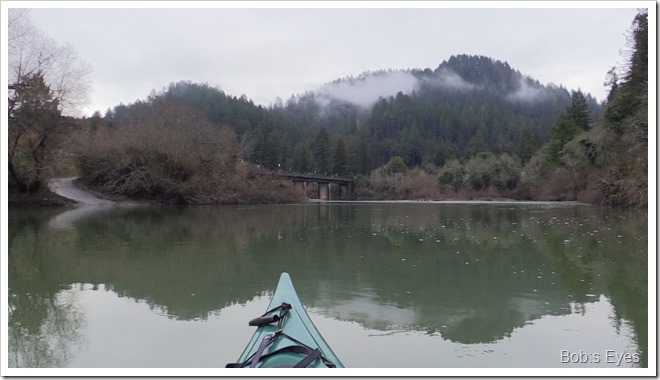 The boat ramp was a little muddy which meant I had to carry my kayak a bit to keep the mud off my car, which meant it was going to be hard on my back that had been hurting a bit today. I barely got my boat on my car, but I did. Older age sucks in some ways. :O)
I had another nice day paddling around on the Russian River and went on home for a nap.
(Visited 237 times, 1 visits today)