Tuesday July 7, 2015 Jenner CA.
Steve was in the parking lot at Jenner this morning so I joined him and we headed down towards the river's open mouth.
We paddled across to Penny Island and were paddling down the side when several great blue herons flew on by and landed.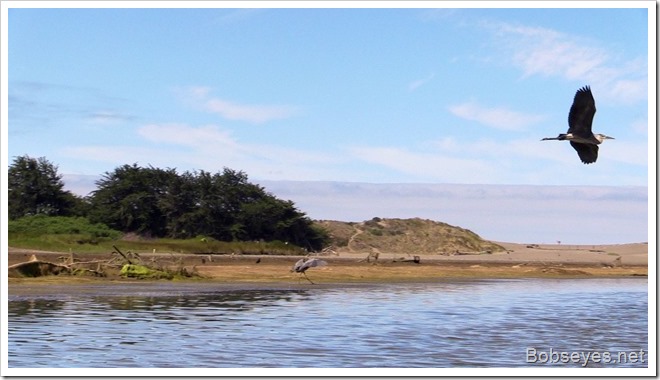 River's mouth is open
We continued on down to the river's mouth. It was open and there were the usual harbor seals resting on the sand on both sides of the mouth. There was also a big bank of fog hanging out in the ocean which stayed out there and didn't come in on us.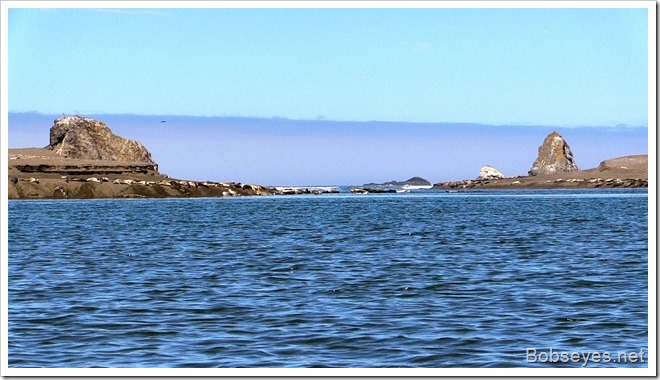 Some of the harbor seals resting on the sandy beach.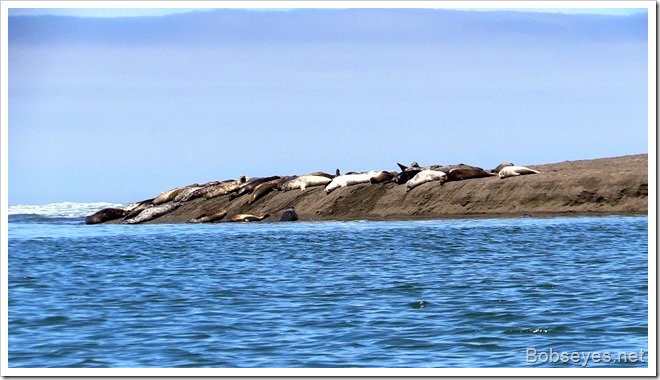 We hung around the mouth area enjoying the day then headed back up the river and up the back channel of Penny Island passing by these sleeping geese.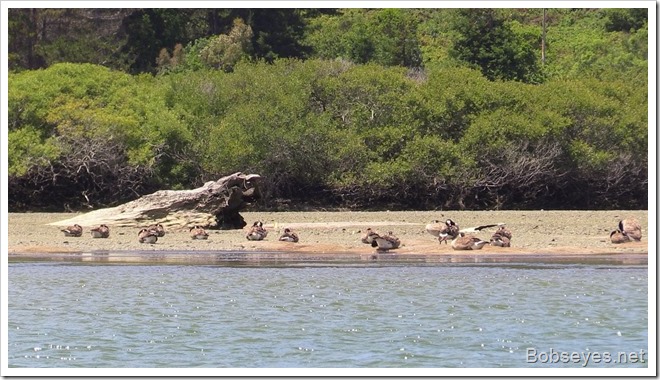 There's a raccoon in the log says Steve
We keep paddling on up to the redwood log graveyard were we stopped for a break. While we were sitting there, Steve in the blue kayak says there's a little raccoon inside the log.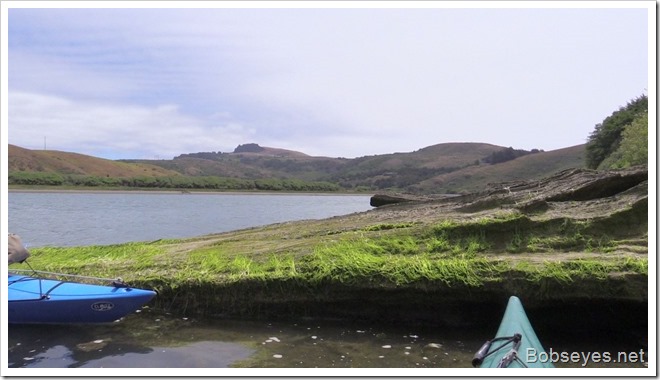 Steve backs up to get a better look. I can't see it from my angle so I move out and get hung up on the end of the log, but finally make it around to the other side of the log where Steve now is.
I looked and it finally showed itself.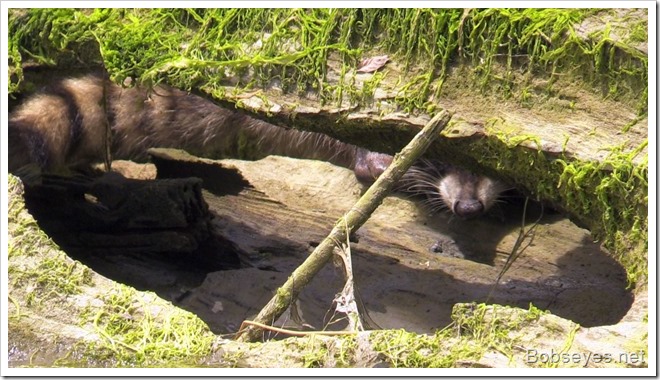 It looked at us for a bit, not quite sure what to do.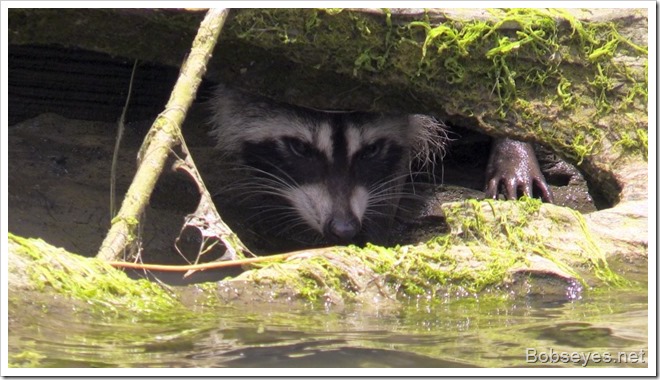 Then it came out right in front of me, not more than six feet away.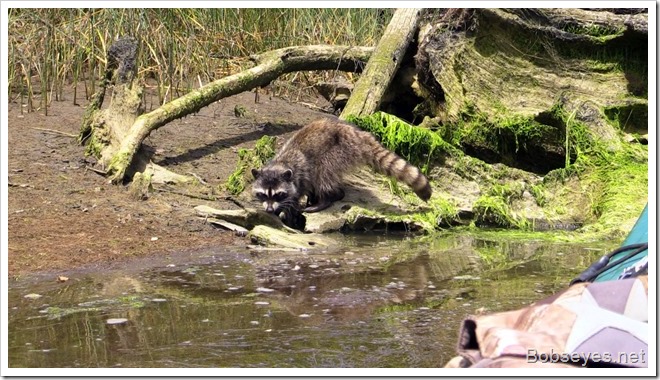 It seems it had a purpose. It was digging in this spot and sinking it's paw as far into the mud as it could reach. I think we interrupted it from this task when we pulled in by the log. Whatever it was, it wasn't going to leave it because of us.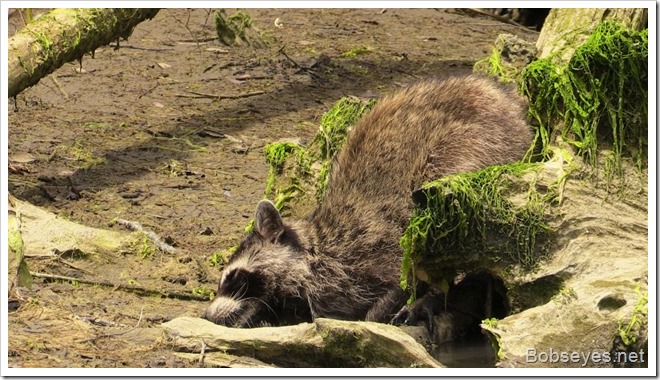 It finally got what it was digging for. I didn't see what it was, but it's chewing it up here.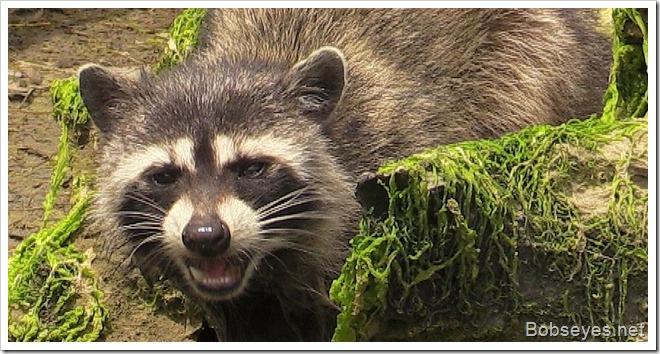 After it ate what it was after it slowly worked it's way off down the shoreline and we left it and headed on up the river.
We paddled on up to the muskrat beach area and sat for a spell, then went over to Paddy's rock and looked around a bit. I passed by this loon preening in the water.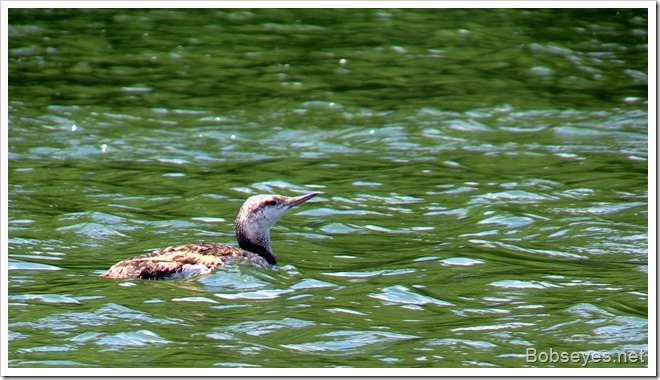 Checking on some berries
I wanted to check on some berries,but Steve only had shorts and catches poison oak so we were limited where we could go. I stopped here at Swamp rock trailhead and looked for some berries. I ate a few, but most of them burned up in last weeks heat.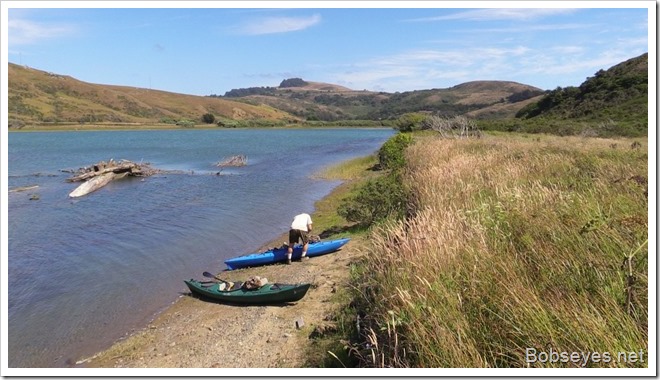 From there we headed on in going by these white pelicans on the upper end of Penny Island.
We pulled into the little channel on the upper end of Penny Island and sat some before crossing the river to the boat ramp and taking our boats out for the day.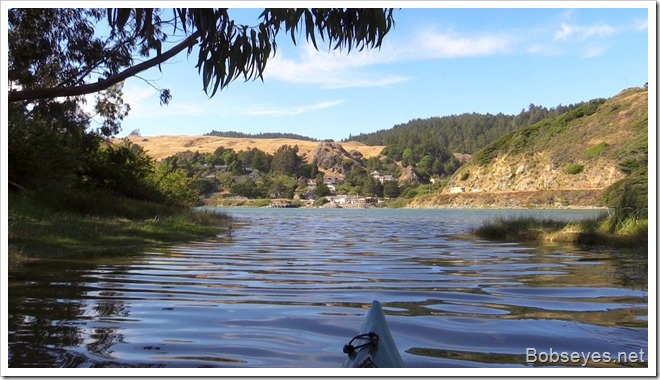 Need to remove the old radiator
We went on home. I wanted to finish taking the radiator out of my van, but couldn't get it going, so I napped a bit. About an hour before dark, I finally went out and turned some wrenches and got the old radiator out of the van and then sat around watching it get dark.
That was it for another nice day.