Tuesday September 1, 2015 Jenner CA.
I felt a little peppier when I got up this morning. I headed out to Jenner where the sun was out and it was just breezy, not windy.
Only two ways to go, up or down
I crossed over the river to Penny Island and sat for a bit trying to figure out which way to go today. I didn't really want to go down to the mouth area as I've done that the last couple days, which seems to tire me out a bit for some reason. However, I seemed to of drifted down towards the lower end of Penny Island where I saw this great blue heron which walked away a bit as I went by.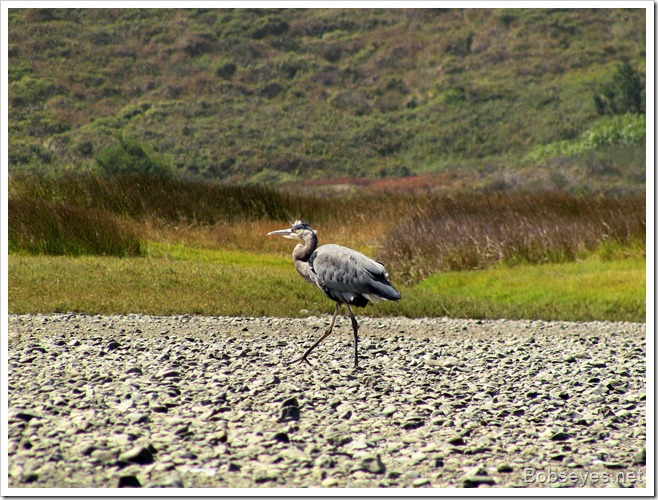 I saw a bunch of harbor seals in the water and before I knew it, I was sitting among them. Not sure what they were up to?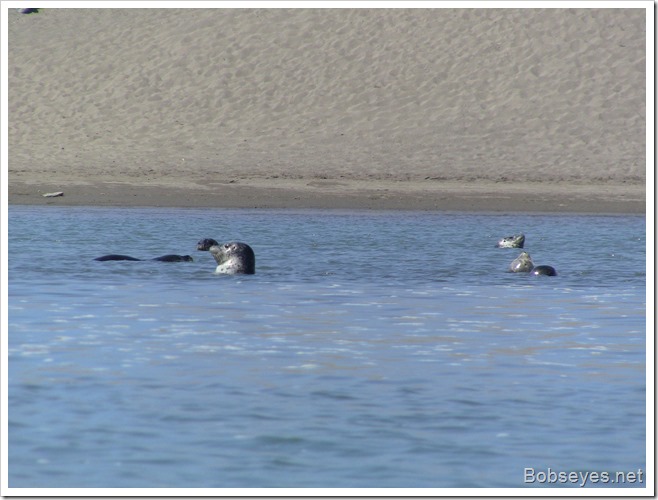 Headed to the mouth
But now that put me close to the river's mouth, so I paddled on over there to have a look. Nice day, eh.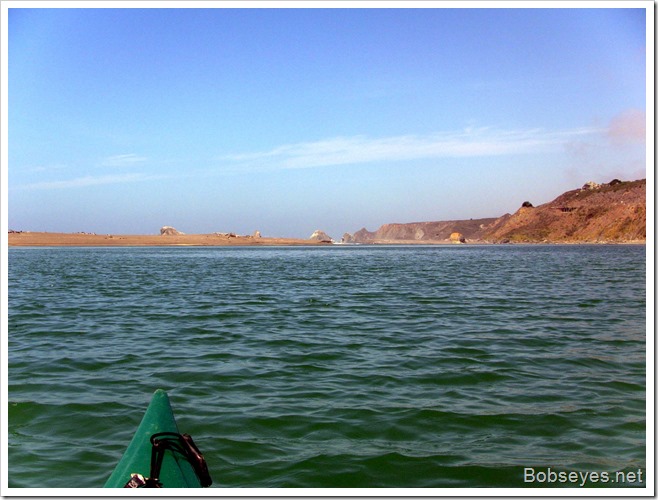 There were harbor seals and lots of birds resting on the sandy beach as I went by to the end of the river. Here's some of the birds, brown pelicans, cormorants, mergansers and seagulls.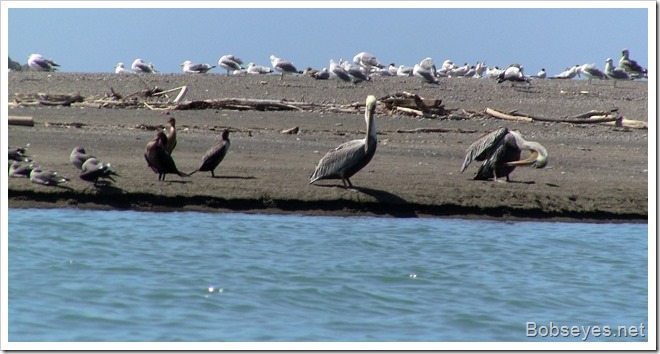 To much motion for me
I paddled back to the open mouth and was sitting around in this turmoil taking pictures when I realized this is likely what is making me real tired out the last couple days. I get motion sickness easy and bobbing around in this water that is coming in off the ocean was messing me up, especially looking through the camera's eye piece. The harbor seals can handle the choppy water better than I.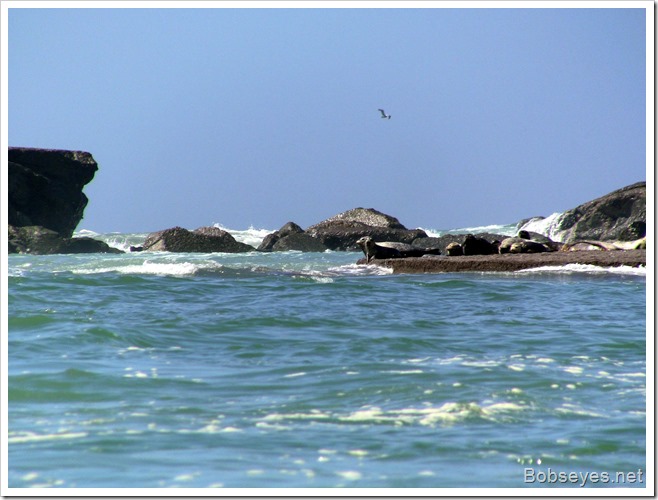 Once I realized that, I hurried to leave the area and headed up the Penny Island back channel which looked like this, much smoother.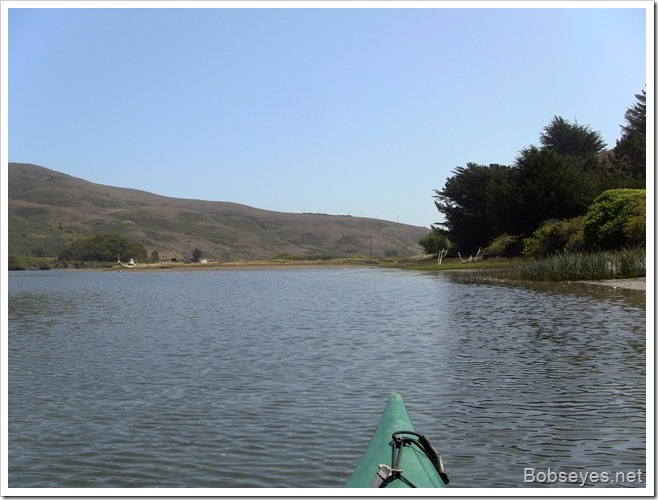 I paddled by this great blue heron on otter's log.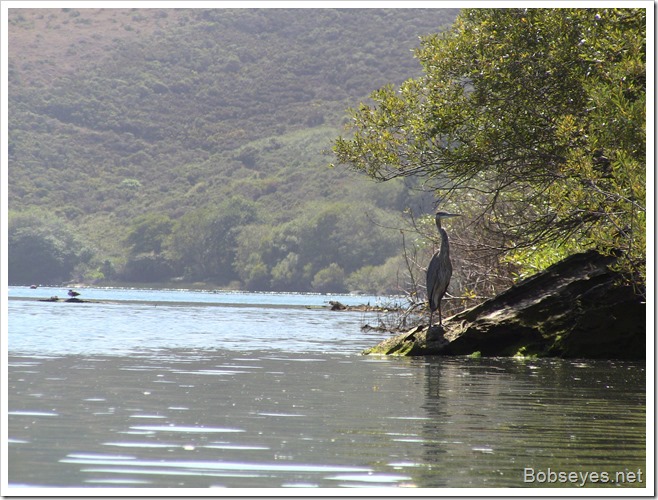 And made it up to Muskrat Nest Beach here where I sat for a good long while.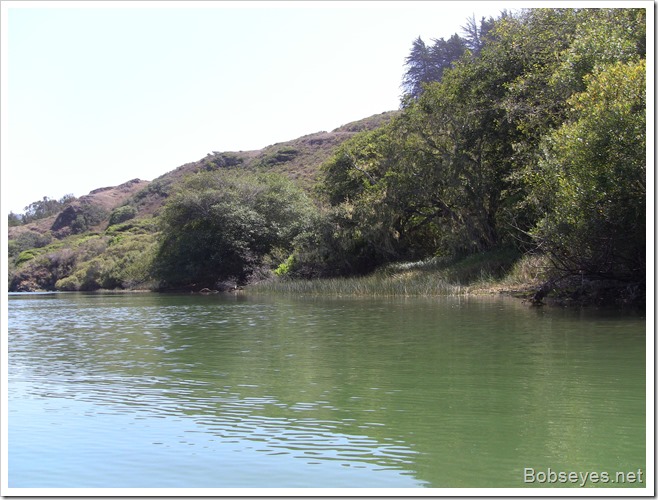 But first, I had to dislodge this green heron from my spot as it was sitting there first. Birds find the good resting spots, usually out of the wind with some sun, so we have to share a bit. I usually win the spot when I arrive.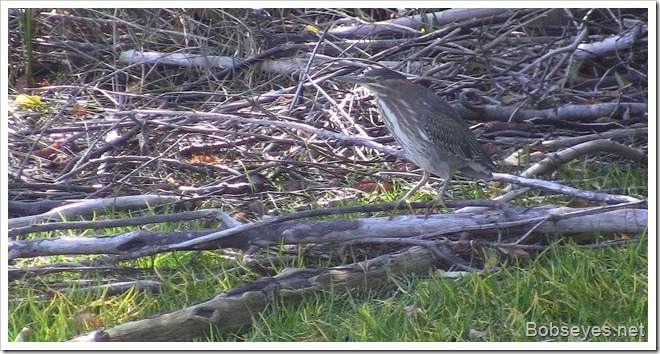 After a good bit, I started on back down the river stopping here, looking on down to the town of Jenner.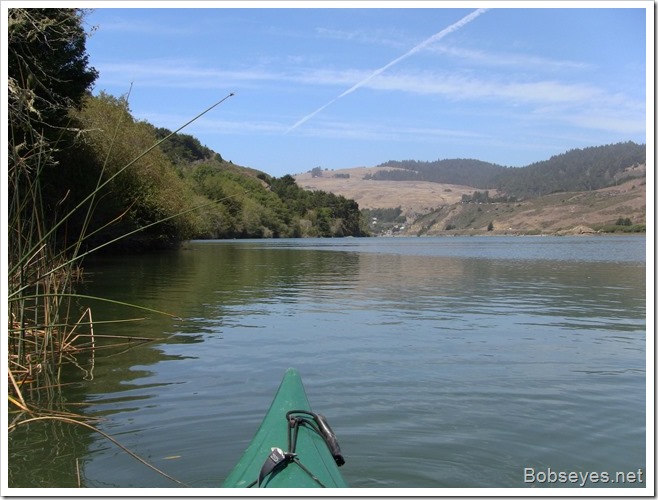 The loon that has been hanging around for some time now came over my way. It seems to be getting braver or at least trusting me more and hangs around where I sit in my boat.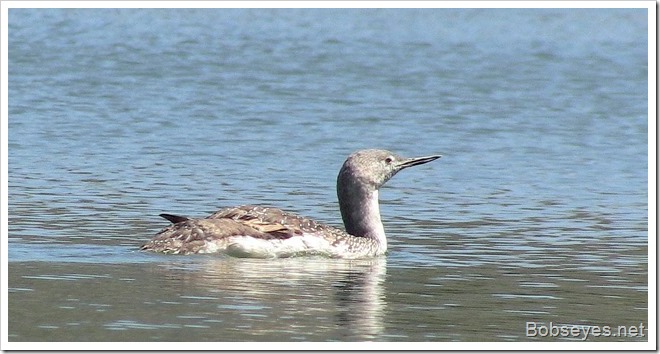 Here's another place the birds sit to get out of the wind and get some sun. The big redwood log stump blocks a lot of the wind so makes a good place to stop for a break. Even better than that, the sticks provide an anchor to keep from blowing or drifting away. The wind was low today, just a breeze, but sometimes this spot really is a good one to get out of the wind.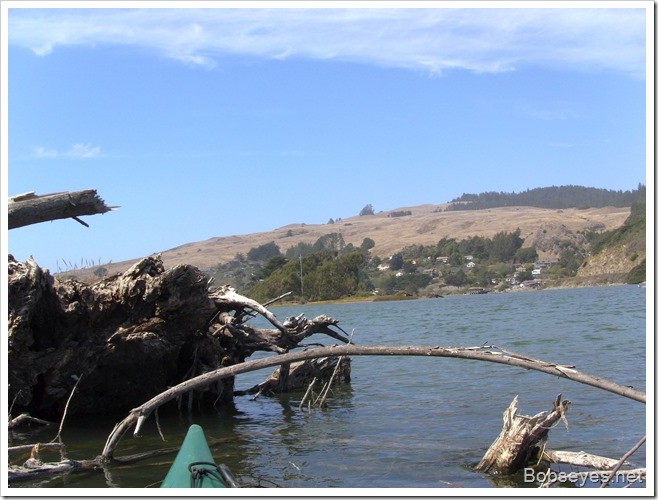 Big tree limb on the roof
I paddled on by this old milk barn on Penny Island. Notice the big tree limb on the roof.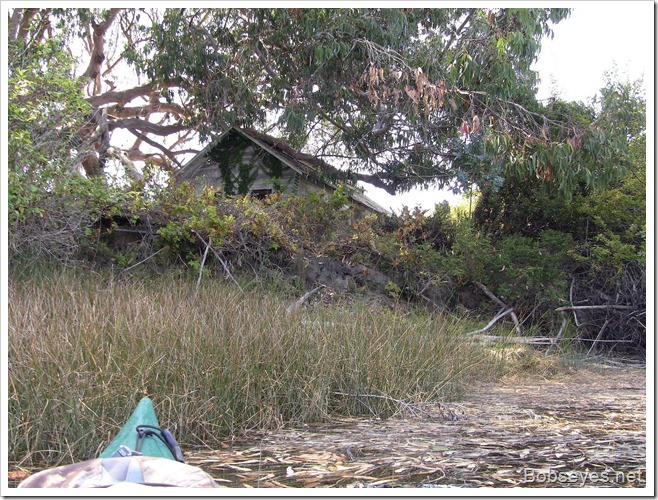 I sure wish someone would tell the state park to get this limb off the roof before it tears the roof up.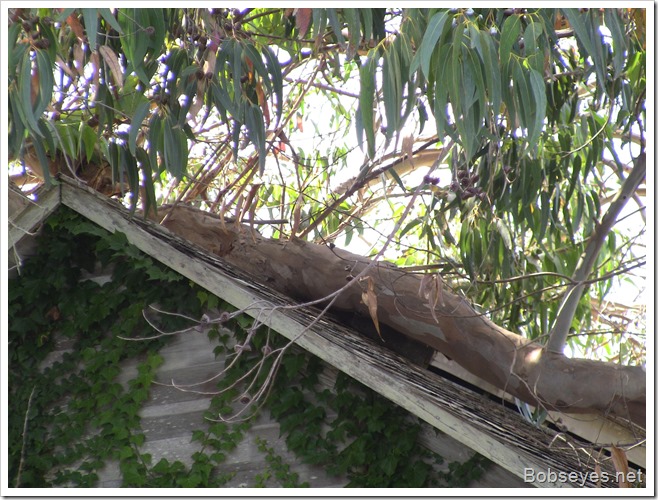 And this was my view on the way to the boat ramp today.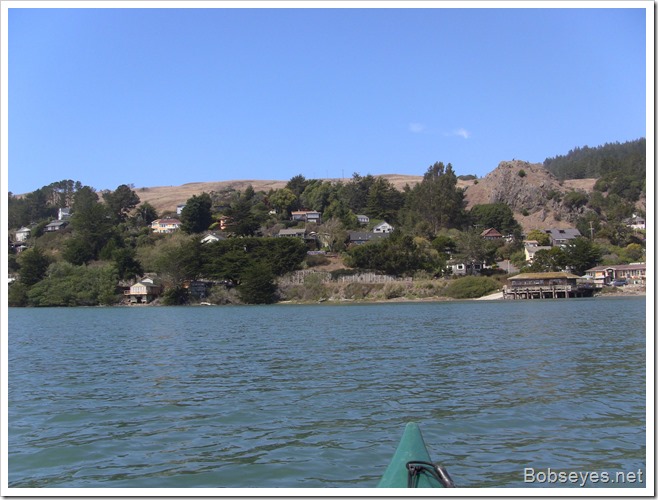 Talking about donating my river pictures
The building by the boat ramp is a visitor center run by the Stewards of the Coast and the Redwoods. I saw Joan on the boat ramp this morning and offered to donate all my river pictures to them if they want them. I was thinking they could make some bucks making some posters out of some of my pics or something like that? We'll see if and what develops on that.
I went on home and did a raid on my brother's garden. I found a watermelon and ate some strawberries and found several types of ripe peppers so I did ok.
Other than that, I just sat around in the yard until it got dark.
Nice day.
(Visited 151 times, 1 visits today)