Wednesday June 1, 2016 Jenner CA.
Paddling Jenner
It was a bit overcast as I drove into Jenner today, but the wind was down and looking good.
I put the boat in and paddled across to Penny Island and headed down towards the river's mouth area.
I'm paddling down along the island here.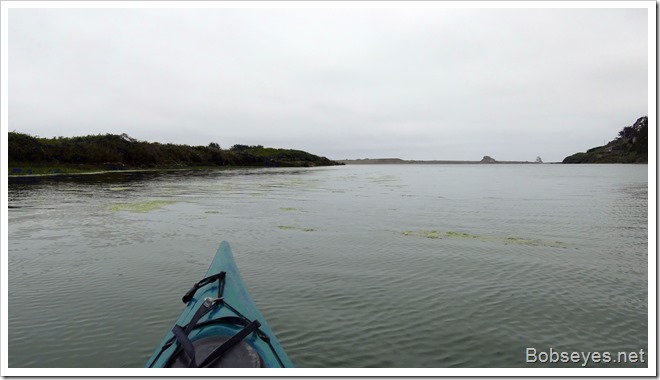 Lots of feeding geese
I went past these geese feeding along the shoreline. There seems to be quite a few geese on the estuary right now.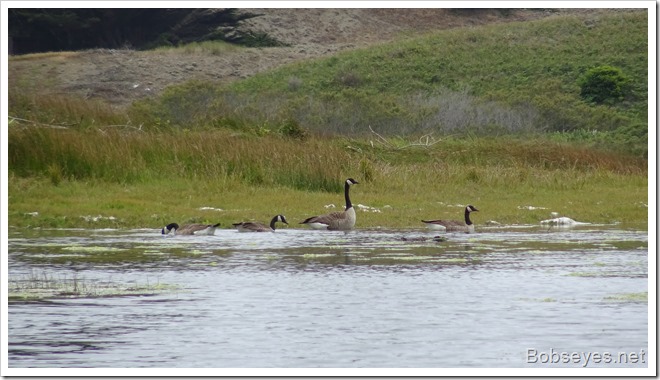 Headed to the mouth area
I'm headed towards the river's mouth area, just taking my time.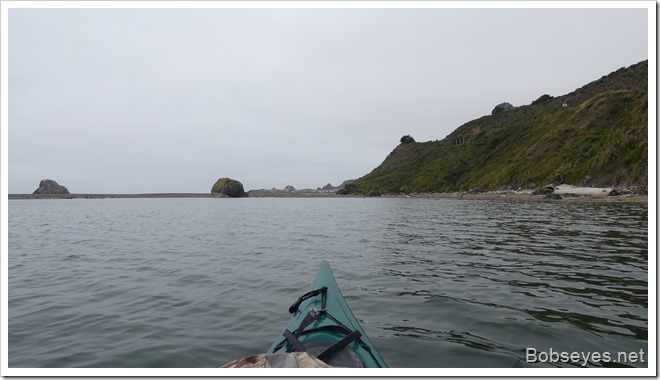 I went past this raven as it hopped along looking for stuff to eat along the shoreline.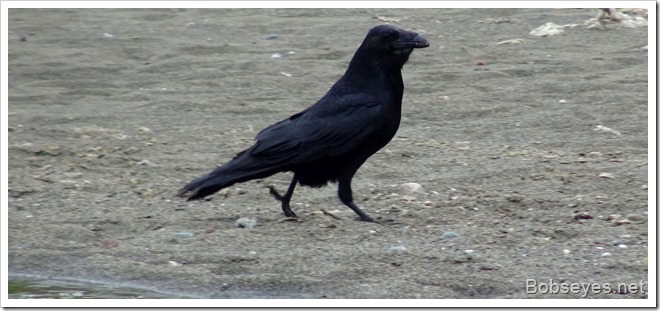 Open mouth area
I pulled over in front of the river's open mouth and sat for a bit. I couldn't get too close as there were a bunch of harbor seals resting in the mouth.
Here's some of the seals with some cormorants too sitting around the mouth.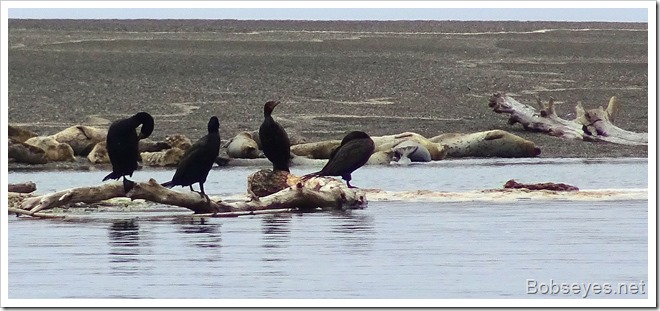 There wasn't much happening around the mouth area which is unusual.
Headed up the river
So I didn't stay long and headed back up the river along it's south shoreline, headed for the island back channel which is just up ahead.
As I entered the island back channel, I went past these birds, some cormorants and some merganser ducks just resting on the shore.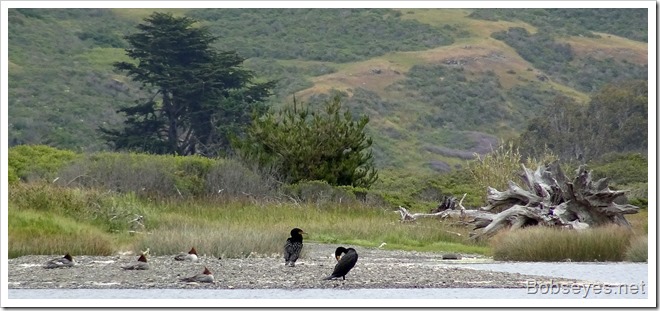 I went by these geese feeding too as I headed for the upper end of the island where I planned to go ashore to look for some berries to eat. You can see the old milk barn on the island in the background.
Penny Island for a walk to look for berries
I pulled into this nice little spot on the upper end of Penny Island and went for a little walk looking for berries.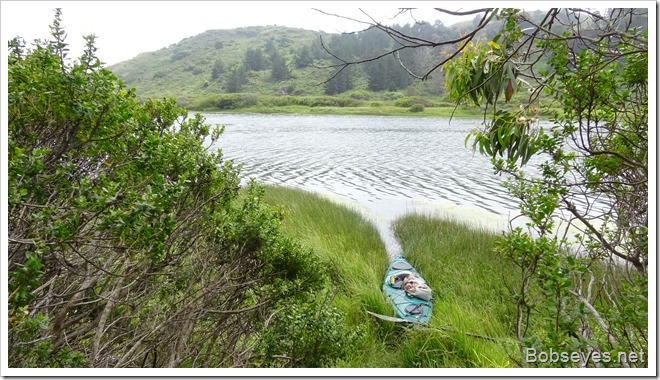 I walked down this trail that goes past this old plum tree. It had some plums, but they were too ripe for me. I like my plums firm.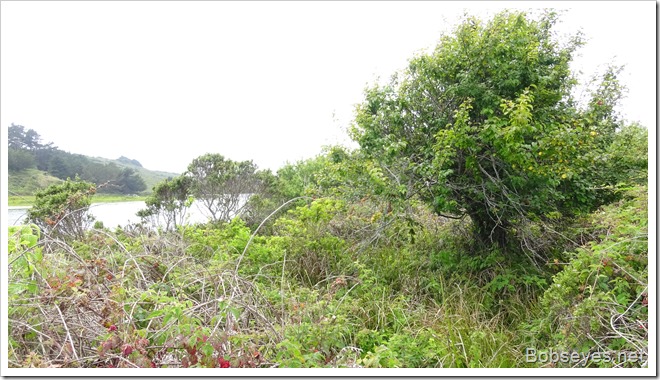 I walked on the trail looking for berries to eat along the way, finding some here and there.
Here's some of the little blackberries that I was finding and eating. Yum.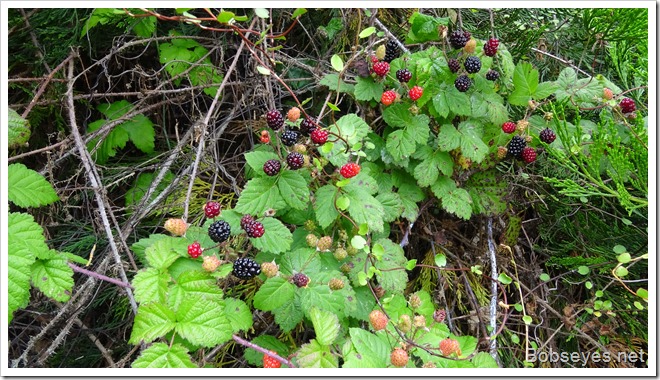 I left that side of the island and headed over to the other side where the mattress vines are where I found this old plum tree. I ate some of them.
Eventually I had enough berries and plums so headed back to my boat going by this old milk and processing barn, which is on the upper end of the island.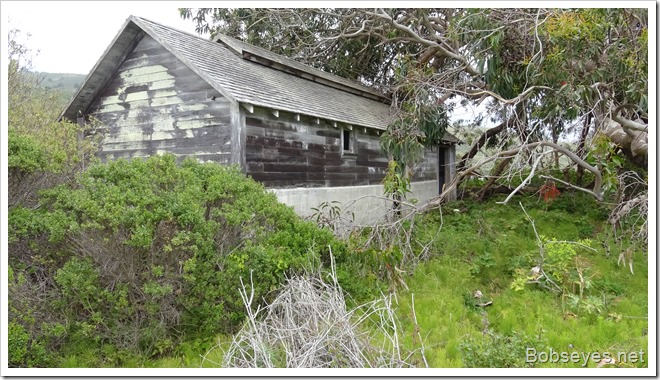 When I got back to where my boat was pulled up, I decided a little rest was in order, so I sat down in this spot until I felt rested. This is looking up the river from the upper end of Penny Island.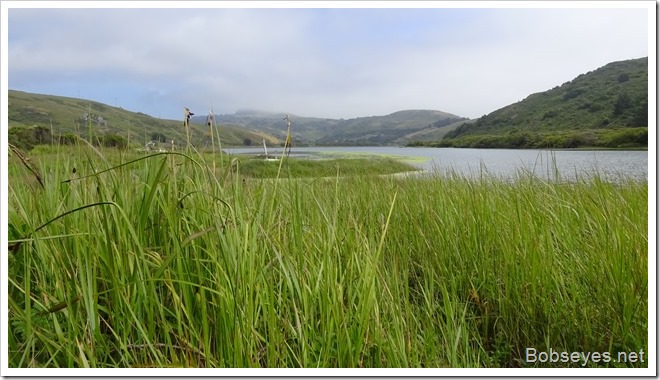 Eventually, I got back in my boat and entered the little channel on the upper end of the island to cross over which looked like this.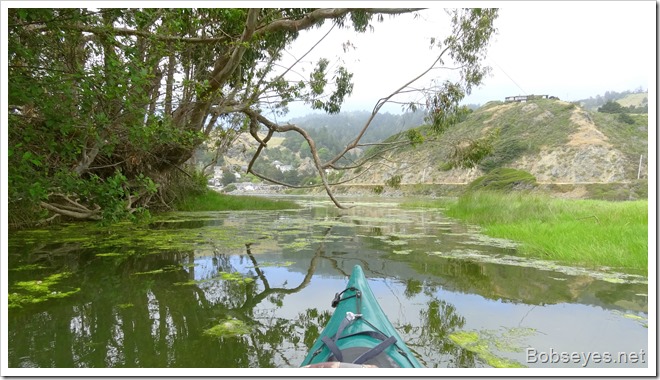 From there I took my time slowly headed for the boat ramp, just enjoying the day on the water.
Went on home
I took my boat out and went on home for the day where I had some projects to do.
Working on the old tractor
After a short break, I finished draining all the gas out of the old tractor and installed this new fuel filter and shut off valve into the bottom of the fuel tank.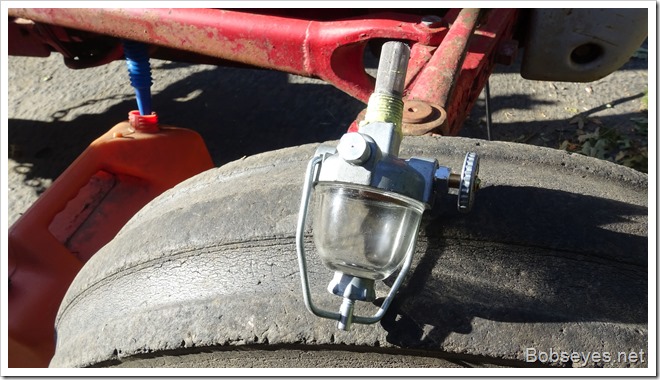 The old one was getting plugged up because it didn't have that screen on the top of it like this new one does.
After that I removed the fan belt so I can get a new one that fits better. This one is too long and a sloppy fit and is mostly warn out too.
And then I decided I might as well clean out the old carb and see if I can adjust the float level down a little as gas has been leaking out of the carb when it sits.
Here's the old carb I had to take off and take apart.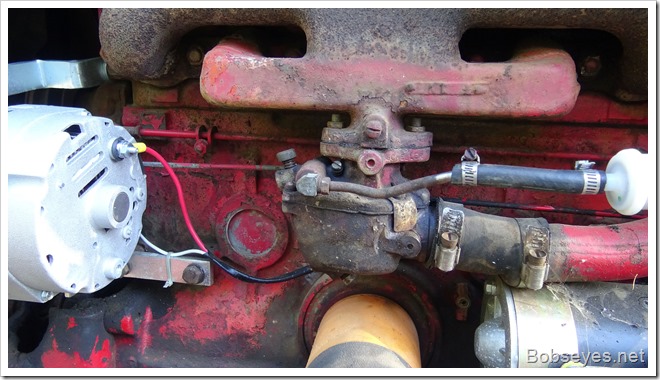 I haven't tested it out yet as I haven't put any gas in the tank yet as I'm waiting for some gasket sealer to set on the carb.
John's cycle needs more work
In the meantime I got an email from John saying when he tried to ride his Honda trail 90 to work this morning, it would only run a short distance and stop, which means I got his float level sit too low yesterday, so he'll be bringing that back I'm pretty sure so we can try again. The trouble with working on all this stuff is we don't have any service manuals so I have to guess at the settings for things. Trial and error.
I spent what little was left of the day just sitting around the yard taking it easy.
Nice day.
(Visited 172 times, 1 visits today)