Monday May 30, 2016 Jenner CA.
A little walk
I was walking over to my brother Tom's garden this morning when I ran into him and another brother Barry. They were installing a new sliding glass door in our rental unit.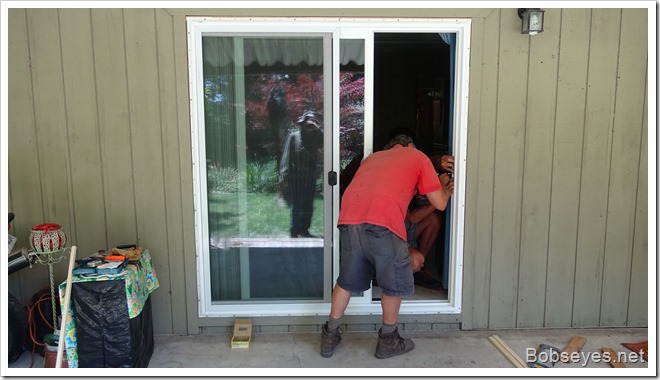 And a little work
I stopped to see how they were doing. Seems they were having trouble getting the latch to work properly, so I had a look at it and made some adjustments and read the directions. I got it to work and left them to complete the job. I continued on my little walk and eventually ended up back at my house.
Around three PM I decided to go down to Jenner for an evening yak. Most of the weekenders should be going home by now, so I'd have the place mostly to myself.
A visit with Ray and off to Jenner
I stopped by Ray's house to shoot the bull with him for about an hour, then continued on down to Jenner.
Sure enough, most of the people had already gone home for the day and I could see the fog moving in as I put my boat in the water.
I paddled across to Penny Island and headed on up along the side of the island looking like this.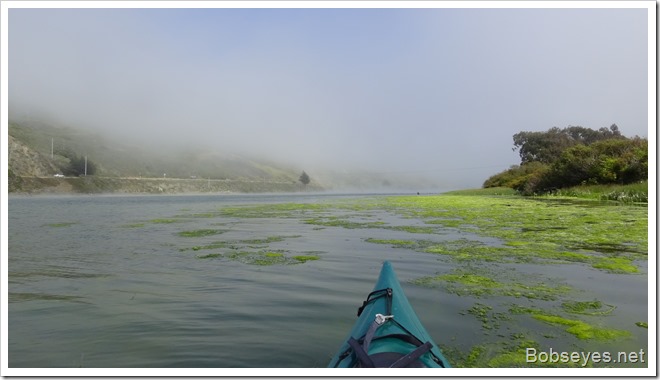 Just up ahead I noticed a bunch of birds near he upper end of Penny Island.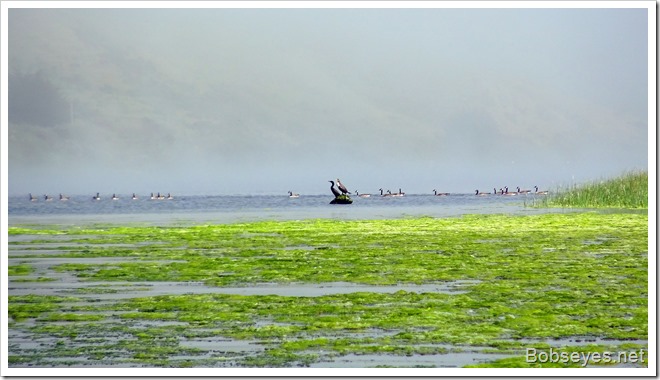 I approached slowly and was surprised when the geese let me get so close to them. They were feeding as I passed on by.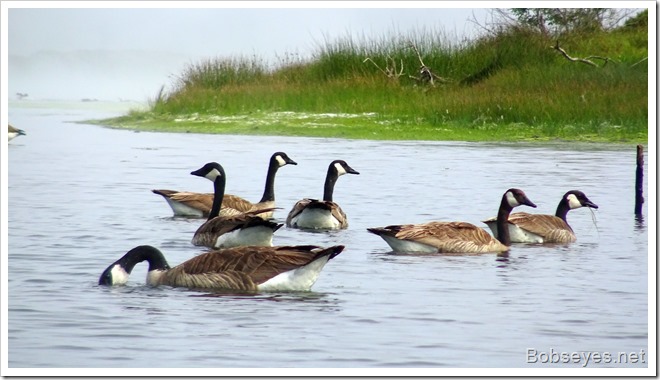 Just past them, I could see more birds on the upper end of the island looking like this.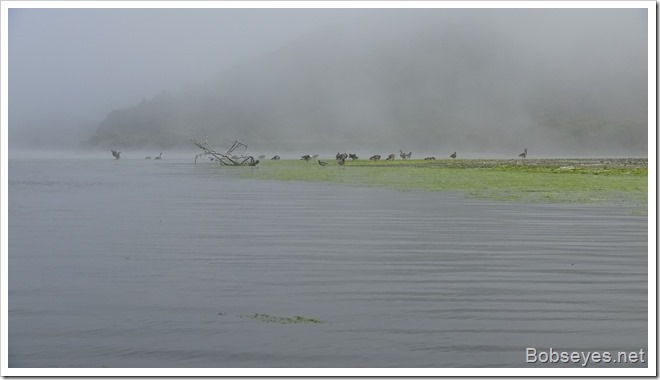 They were mostly more geese and a few ducks too, just resting.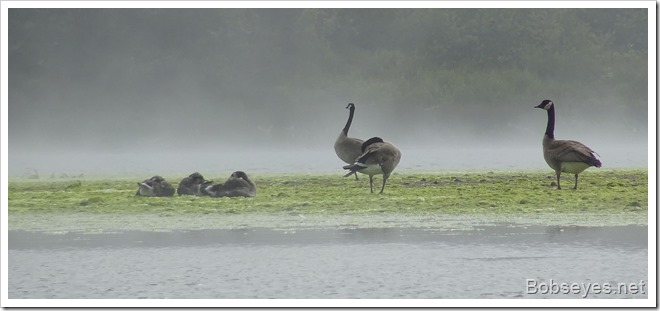 Going to shore for berries
I decided to paddle over by that big redwood log and go ashore and look for some berries to eat so I paddled over that way.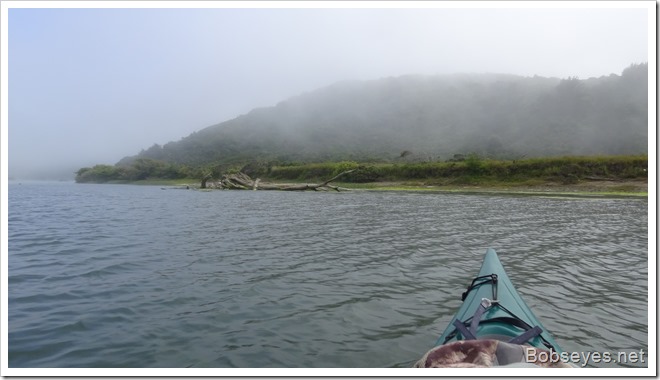 I could see this loon on the beach resting. I saw it in the same spot the other day.
I went to shore and found and ate a bunch of these little blackberries.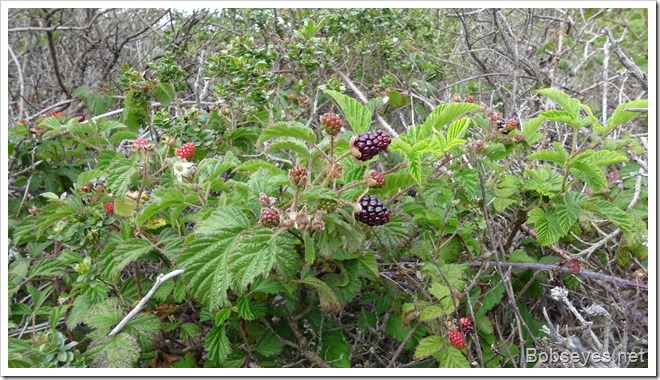 After I had my fill of berries, I returned to my boat here and found a place to sit on the shore right by my boat were I sat down and rested awhile.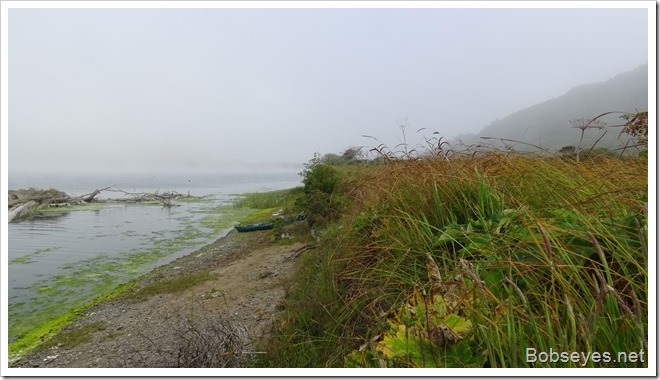 Resting spot
I sat here by my boat and rested and just enjoyed the day. That's looking across to the town of Jenner, but as you can see, it's fogged in.
Headed to the river's mouth area
Eventually, I put my boat back in the water and headed down the island back channel towards the river's open mouth.
Going down the back channel here in the fog.
I found these cormorants resting on this submerged rock by the mouth.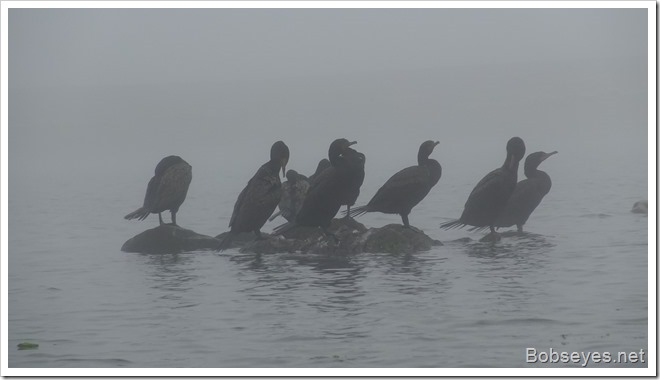 There were quite a few harbor seals in the water at this spot too.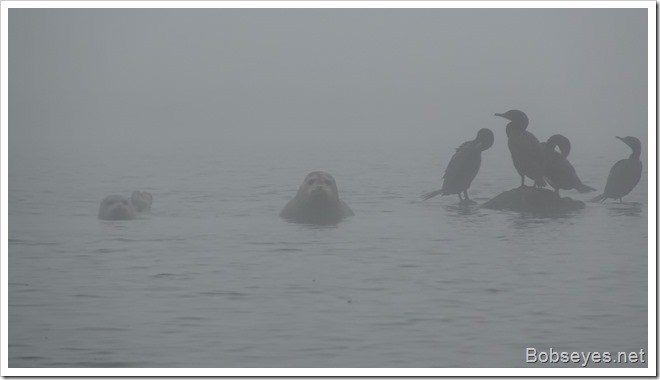 It was too foggy to see much in the mouth area, so I headed back up the river towards the boat ramp.
Here I'm approaching the boar ramp in the fog.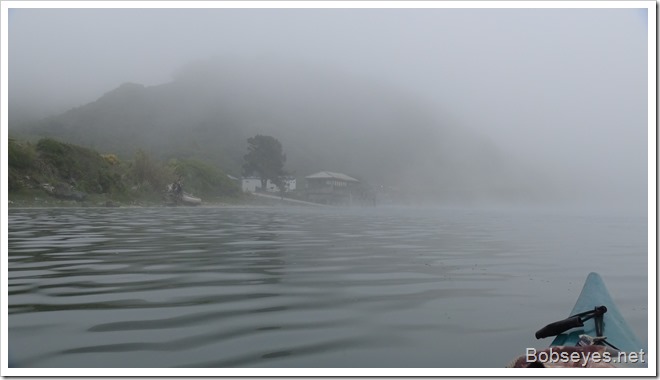 I took my boat out of the water and the fog cleared out just as I got my boat on the car.]
I went on home and that was my day.
(Visited 138 times, 1 visits today)