Friday January 8, 2016 Jenner CA.
No rain today
Today was supposed to be a no rain day and it was, but it was also a no sun day and a bit chilly too.
It was overcast when I pulled into Jenner this morning. As I was putting my boat in the water I was chilly and thinking maybe I should head back to Monte Rio, but then again it was still early and maybe it would warm up a little as the day progressed. It did, but not much.
My new Sony AX33 video camera
I paddled across the river to the little channel on the upper end of Penny Island and got my new camera out and started getting familiar with it. At first I kept shooting videos instead of stills and finally realized when I turn the camera on, it reverts to video's, after all, it's really a video camera first.
My buddy the great blue heron was close by, so I tried a shot on it.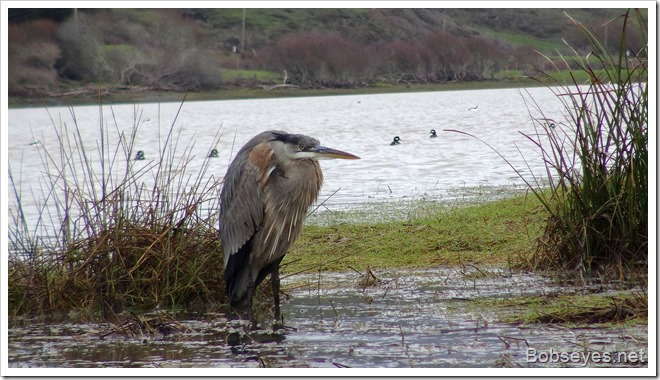 I like how the new camera turns on quickly, all I have to do is open one of the viewers and it's on as there's no on and off button. Another fine feature is it has an automatic lens cover that is great for keeping my lens clean.
I set the camera's resolution to about medium for now just to check it out and see how it would do and I didn't want each picture's file size to be too large, so I thought I'd experiment a bit.
Once I sorta had the camera figured out, I continued up river along the south shoreline and stopped here at Otter's log just to sit and enjoy the day.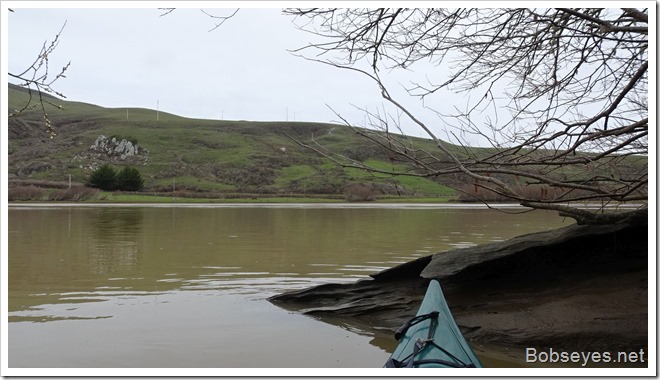 I continued on up to this area and kept paddling along headed up to the muskrat area.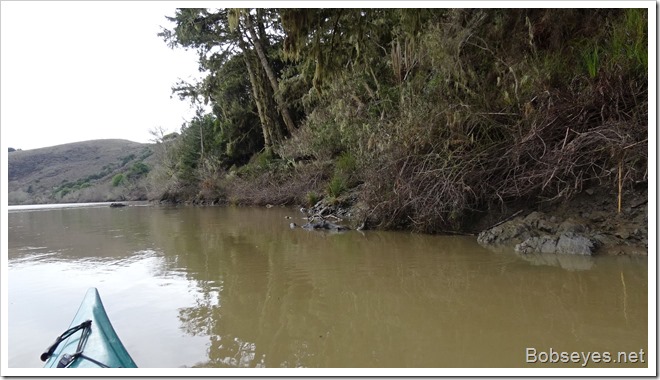 I passed by these bufflehead ducks which float around and dive for food.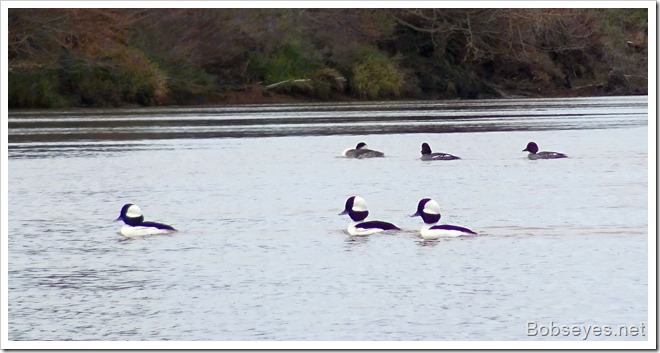 This is the muskrat area where I pulled in and sat in my boat for a break.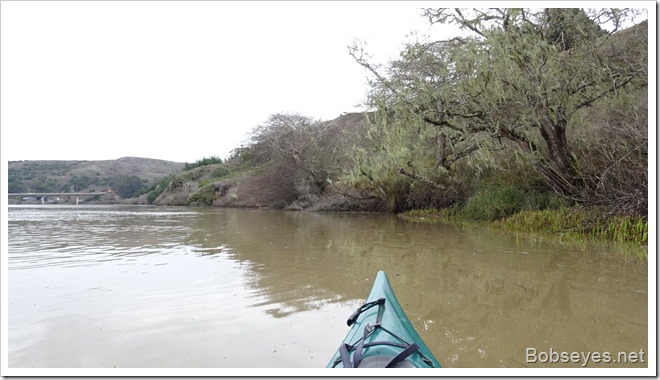 Eventually, I crossed over the river to the north shoreline to look for birds.
I ran into this snowy egret fishing along the shoreline and not paying much attention to me.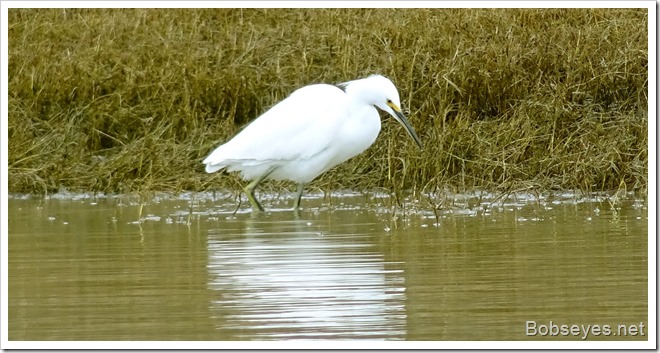 Further down I paddled past these birds, some mallards, a great blue heron and a great white egret.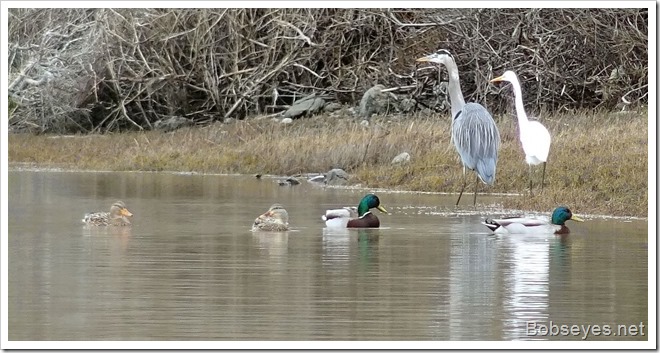 Headed to the open river's mouth
I continued on down river headed for the mouth area. The wind was down nicely, a good thing as it was cool out.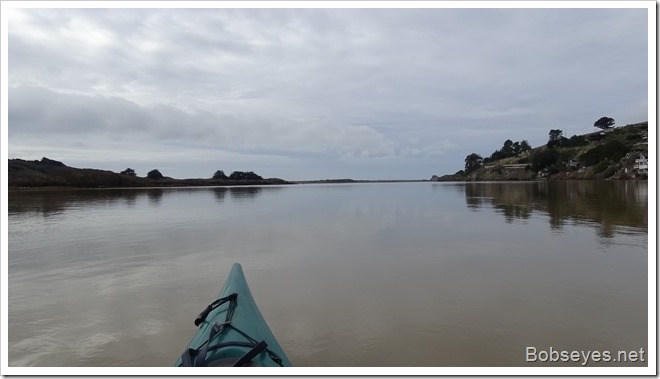 The ocean was real rough again today with lots of waves breaking over the rocks. There were seagulls and brown pelicans in the water and on the shoreline just preening and resting up.
Looking out the open river's mouth into the Pacific ocean.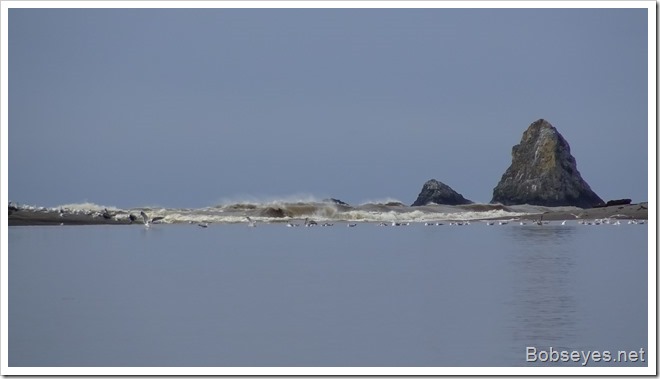 There were some harbor seals swimming around in the water. This one had it's eyes on me.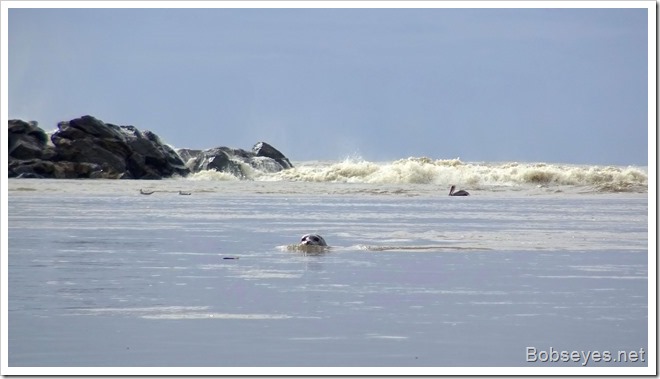 I paddled down to the end of the river and sat in this spot for a bit, just watching.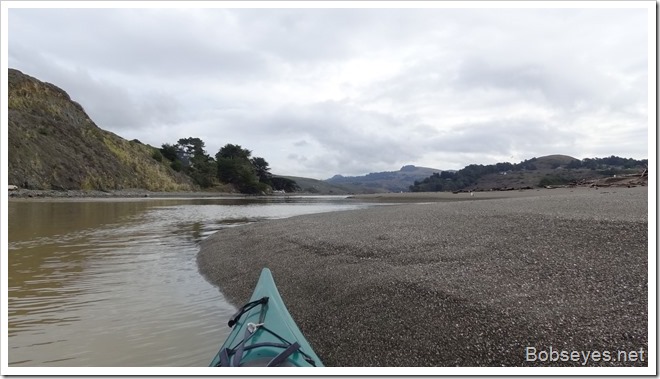 Some ravens landed next to me on the driftwood and were making a lot of cawing noises.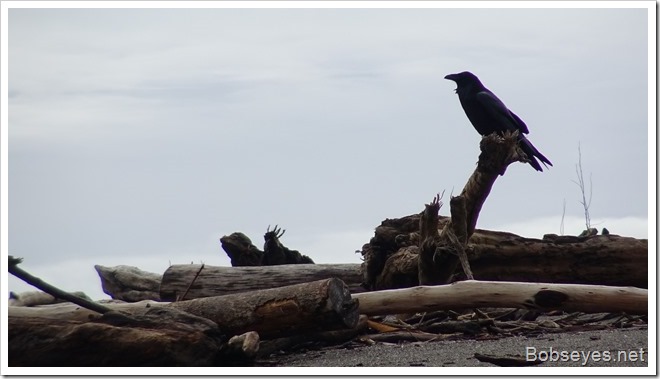 I left there and headed back up the river to the boat ramp and took my boat out and went on home.
Making spring tapping parts
After a break at home, I went out to the garage and hunted up a piece of stainless steel screen. I needed a piece to make a screen for the spring John and I are going to repair this Sunday. I needed to make a box out of that screen, so I marked it out and cut it out. I then used hot glue to make the box and also put a bead of the stuff on all the sharp edges.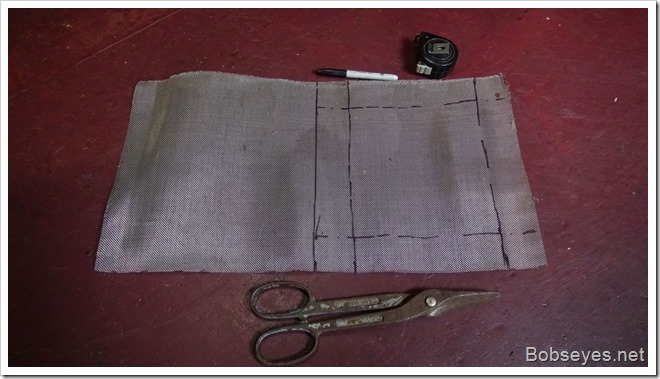 I put the pipe pieces together for the rest of the spring tap and here's what it looked like. The stainless steel box I made goes over the green inlet which will all be set in a little clay bowl we make when we install it. That's two inch PVP pipe, big enough so the silt from the spring won't plug it up.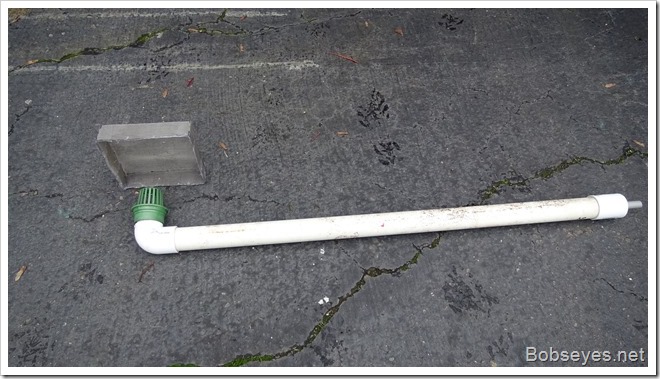 I'll try and get some pictures of how we install it when we put it in Sunday. I'll be supervising John as he does all the work, so I should have time to get some good pictures of what we do to tap a water spring.
All in all, the new Sony ax33 camera worked quite well. It's an improved version of the Canon one I dunked in the river, even though this one is made by Sony. I had to switch from Canon as they no longer made one like the one I had, but Sony did. Like anything new, it'll take some getting use to and that's another thing I like about digital as compared to film, shoot and delete, minimal waste. :O)
That was my day.
(Visited 120 times, 1 visits today)