Monday February 23, 2015 San Francisco CA.
I was headed to the VA in San Francisco at Fort Miley today for a follow up appointment for when they scoped out my throat a few weeks ago.
I had to be down at a place to catch a bus at the ungodly hour of eight AM this morning. That's not easy for me, but I made it.
This was my view out the bus window as we went through San Francisco.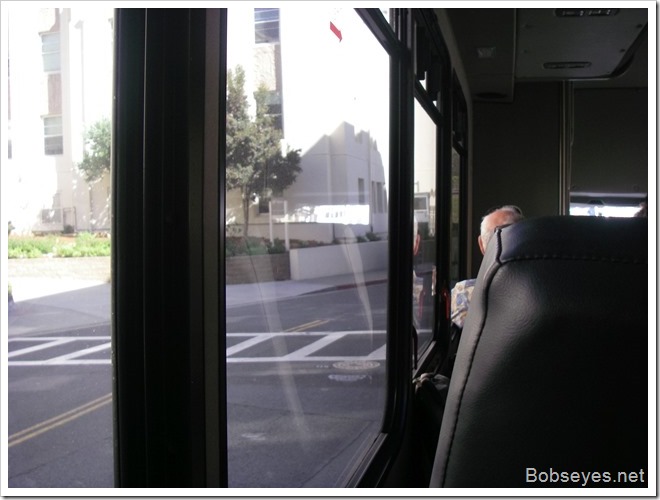 Motion sickness
Unfortunately for me, the bus does a lot of stop and go in the commute traffic which isn't good for a guy like me that gets motion sickness real easy. The bus drivers seem a bit heavy on the brakes and then hit the gas hard to get it going again and brake in the traffic a lot. I wasn't feeling good and would of barfed, but I hadn't eating anything. I was glad to arrive and get off the bus.
A walk in the Golden Gate Park
I had some time to kill before my eleven o'clock appointment so I was planning to go for a walk down by the ocean, but it was cold out and the wind was blowing. I headed in the other direction towards the golf course instead.
I passed by these yellow flowers in bloom, which are the same type as are blooming by the parking lot at Jenner right now, some type of clover.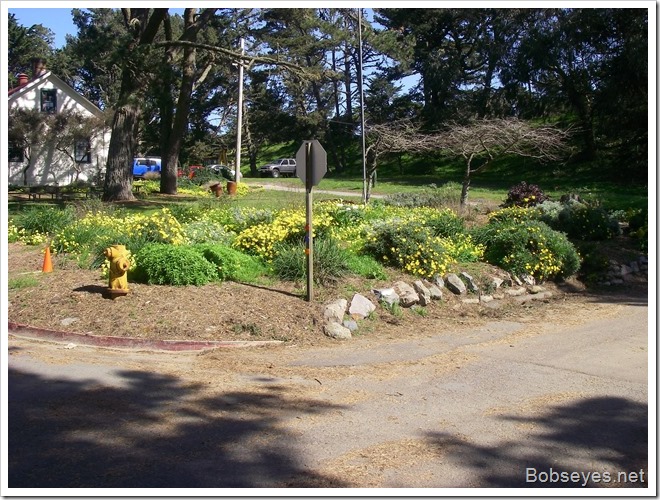 I walked up this road to get to the trail.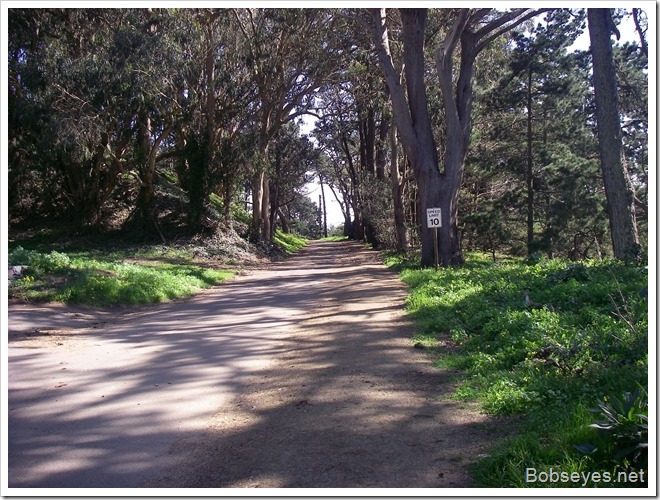 The trail went by a museum where I ran into this circle of lilacs in bloom.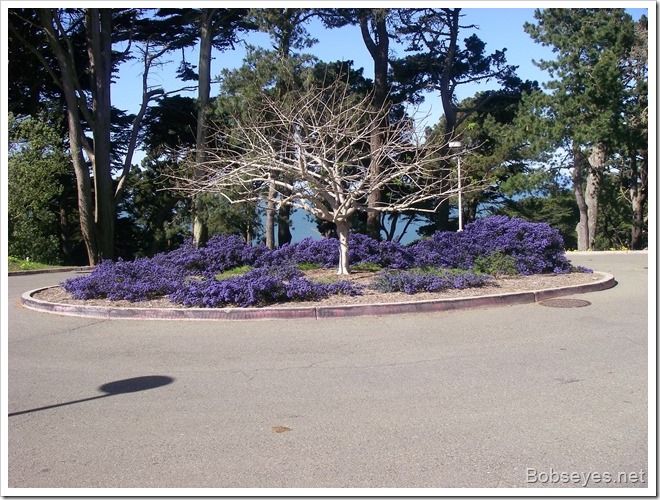 I could see the ocean from several spots on the trail. The wind was really blowing out there.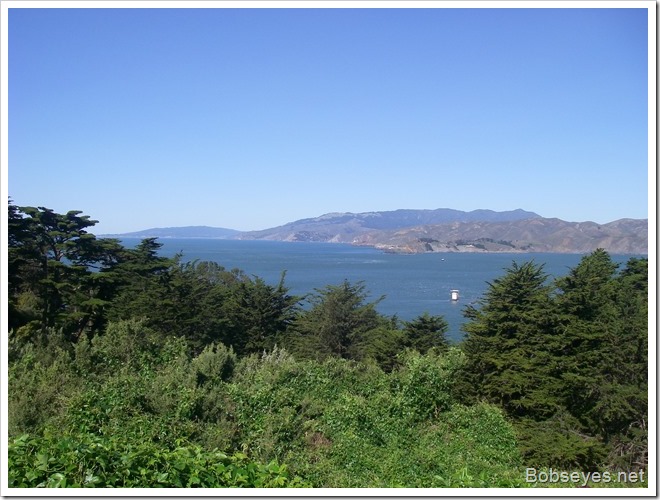 It was still early, so I went back into the hospital to sit and wait for my appointment where it was warmer.
My appointment
My GI Doc was a new one for me. He seemed like he knew what he was doing. He said he was from back east and this was his first year out west and said the weather was real nice here, especially compared to the weather back east right now. I whole heartily agreed with him on that one.
He said to continue taking the heartburn meds and give it another mouth and come back if things don't get better and he'd order some more torture stuff for me if it didn't, such as an acid measuring test where they run this thing up your nose and down into your throat to test for acid in the throat. I had this test down once before which isn't too bad once they get the test wire in your nose. Of course to get the wire into your nose, they have to put a big swab with pain killer on it all the way up your nose and into your sinuses which is a bit painful in itself. I plan to get better so I won't need that. :O)
I had some more time to kill after that before the bus would return me home. I explored around the inside of the hospital and found a quiet place for a nap.
More motion sickness
Now, the guy driving the bus home was just as bad as the first guy with the brakes and the stop and go stuff, so I wasn't feeling real good when I got back. I'm not sure I'll take the bus next time, but the alterative is me driving down there in all that traffic.
When I got back I went to an auto parts store to find some dash lights for the burned out ones in my van dash. Even though the bulbs are old type ones, I did find a couple of them.
Ordered the speedometer for the van
Before I left this morning, I made a phone call and ordered a new speedometer for my van which I hope is the right one. It's back ordered so it will be some time before I get it, about three weeks.
With me getting up real early this morning, I'm beat and ready for bed, but it's too early to hit the hay, maybe a little nap.
(Visited 142 times, 1 visits today)