Thursday February 12, 2015 Port Orford Oregon
The sun was out nicely
I was taking it easy this morning with the sun shining down on my van and warming it up nicely. I opened all the doors to let the accumulated moisture out of it as I sat and enjoyed the morning.
I was planning to go for that hike down the road that I didn't get to do yesterday because of the stop lady. Just as I was getting ready to go, Steve drives up. I talk him into a hike and a paddle on Lake Garrison in the afternoon, so we head on down the road to the Pigeon Point area and park.
We're walking down to the ocean so Steve packs his fishing gear. Here we are almost down to the ocean. The big hole in the hillside needed to be explored so Steve went down to fish and I went over to check it out. It was a big blow hole and made a bunch of noise with the ocean going in and out of it.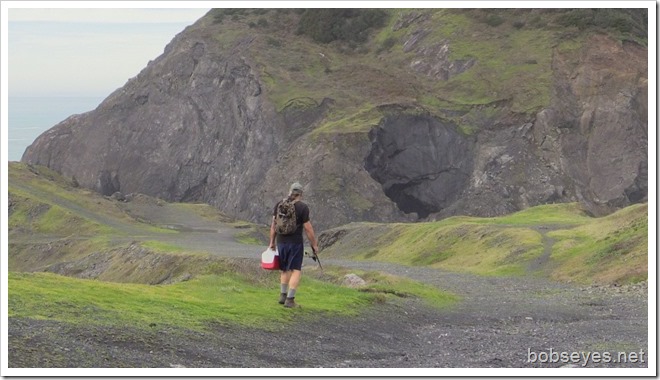 Steve fished in the surf here for a bit, knowing the tide wasn't right for fishing. After awhile he gave it up and we headed back up the hill.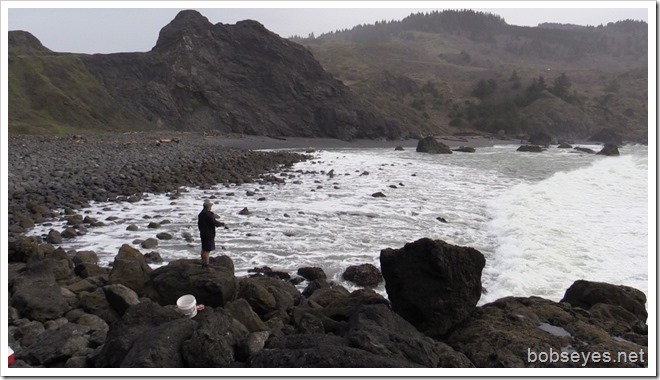 Steve thought it'd be a good idea to put his crab trap in at the harbor this evening so we stopped at his place and picked up the crab pot and headed to Garrison Lake which is in the middle of Port Orford.
Paddling Garrison Lake
We launched our boats and  started paddling around while Steve fished. It wasn't long before Steve hooked one. Cut Throat Trout.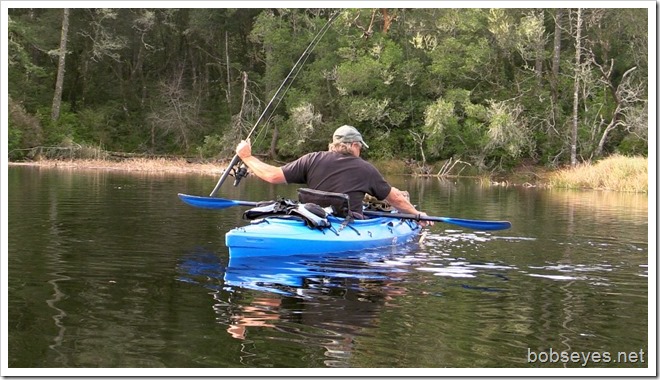 He hooked three and let them all go to day as we were having crab tonight, maybe. :O)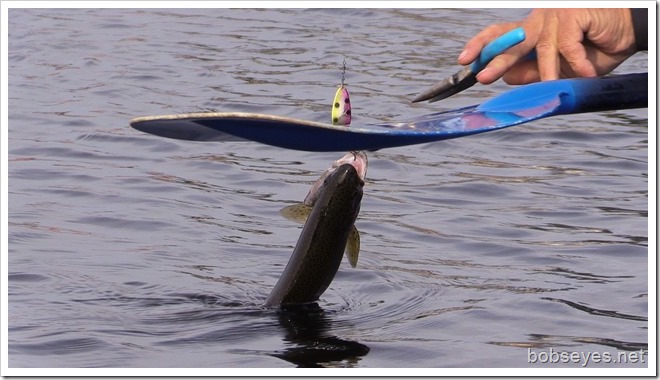 I saw this hawk fly into the tree above me and was wondering what it was as I didn't recognize the head. It turned out to be a red tailed hawk as it flew away.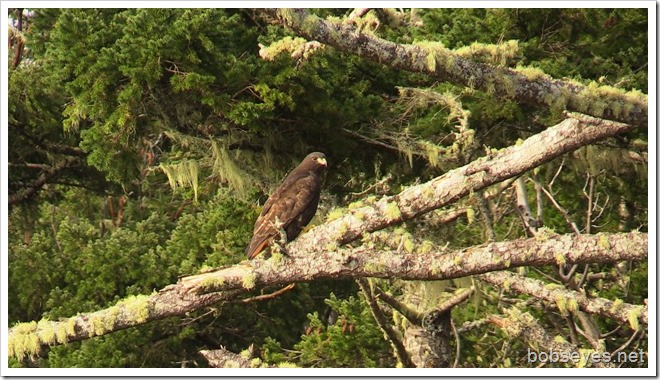 I was checking out these mallard ducks. Nice looking decoys, eh. :O)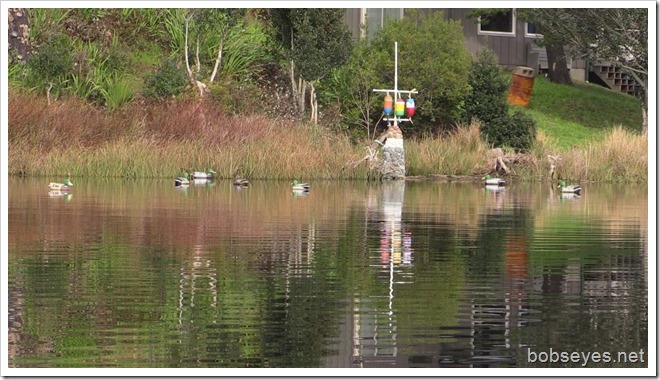 Crabbing and Port Orford Port
We left the lake around 4:30 so Steve could make the high tide to do some crabbing. Now that the storms have passed the port was much buzzier than I'd seen it up to now. Fishing boats were arriving and pulling in to unload their catch.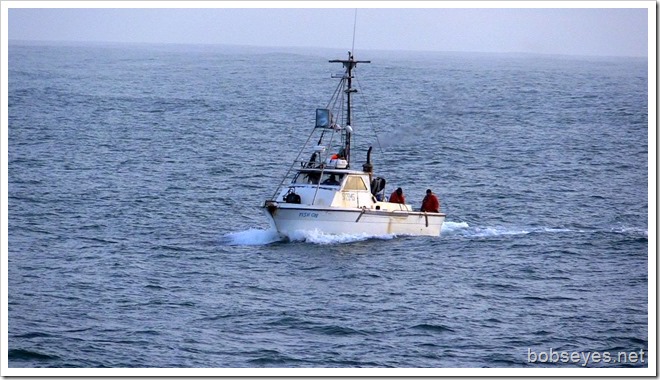 'The first thing I saw was these guys unloading sea urchins, which will likely go to Japan.There's some orange roe in them and that's about all. Yuck. I once knew an old Russian guy that liked to crack them open and suck it down. He offered me some. Yuck again. :O)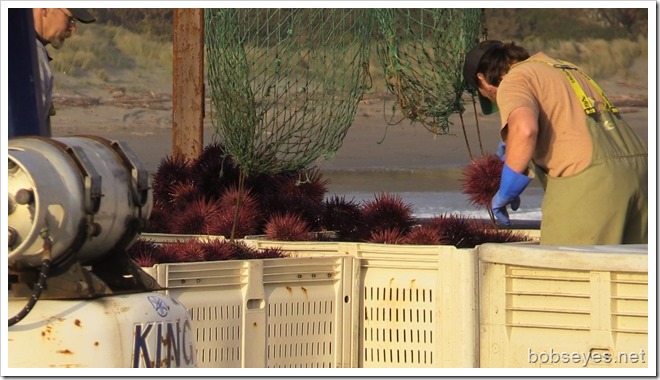 The pipe thingy
I'd noticed this big black pipe laying across the deck the other day and couldn't figure out what it was for? After the storms passed some guys came back and hooked up this big pump, which they lower down into the ocean to dredge where the boats come in to the dock for unloading and pull out. The sand is pumped back out into the ocean.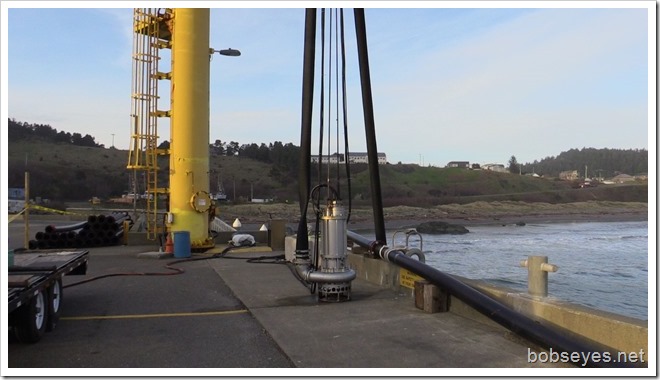 All boats are pulled out
Speaking of pull out. Port Orford doesn't really have a harbor. There are no boats left in the water here as it's too rough. The boats are pulled up onto the dock with this crane and set on a trailer up on the dock. As each boat came back, it unloaded it's catch and then was pulled out and trailered.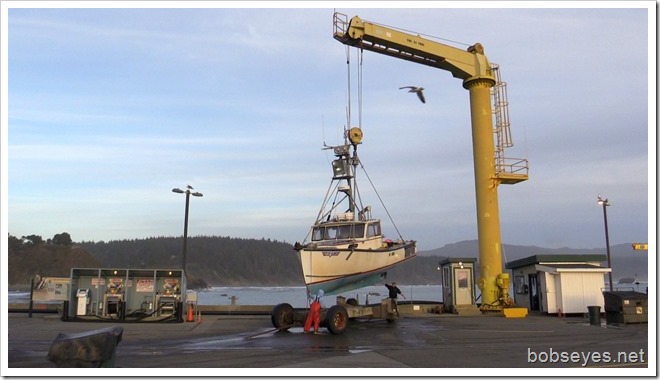 Next, came this boat full of fish. A lot of cod and it looks like maybe red snapper.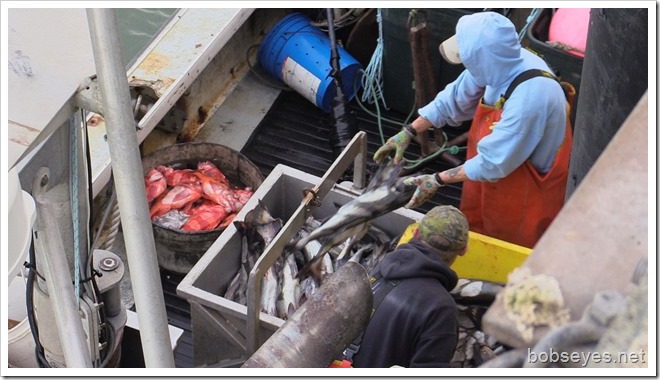 The crabbers
After those guys, the crab boats started coming in. Here they are hoisting a box of crab up to the buyers.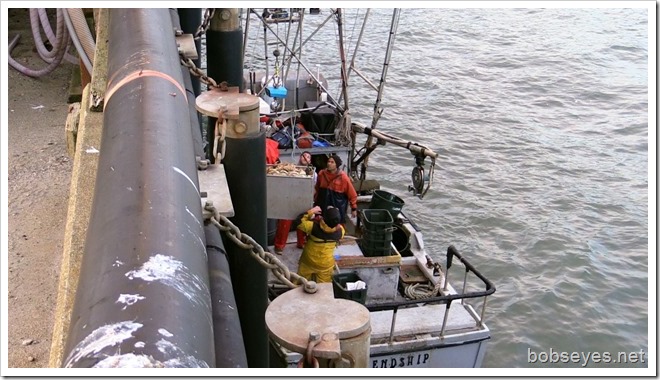 They put the crab in these pallets of water.. Water is pumped into them from the ocean continuously to keep them alive.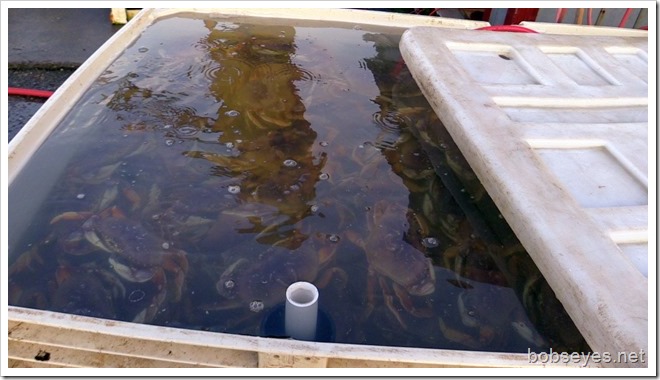 This carb in the pallet is going to market somewhere?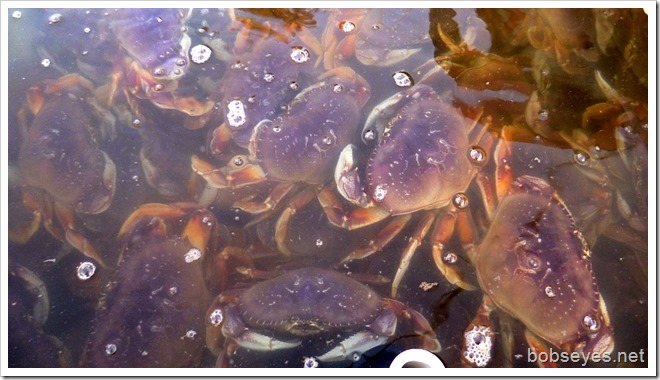 The sun was going down as we watched and Steve crabbed.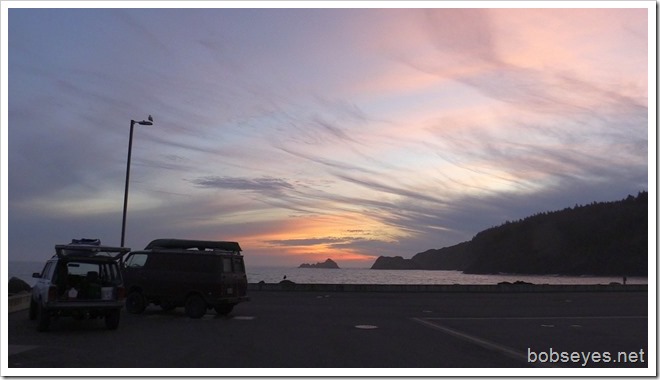 Steve had to work at it and he threw a lot of female crab back as one can only take males of the proper size. These are the prized Dungeness crab.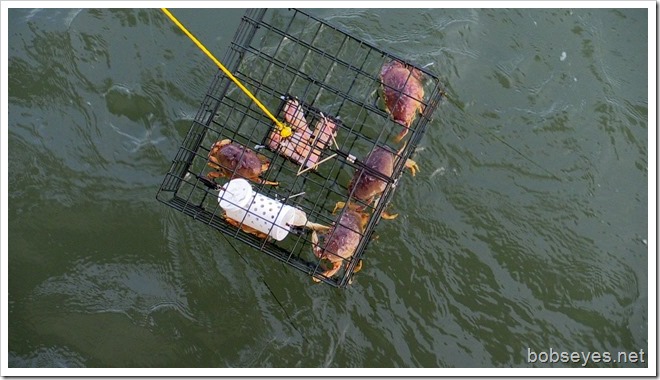 I was shooting the bull with a couple guys down there when I noticed Steve had left for home. Crab boats where still coming in as I left to catch up with Steve. I'm not sure how late these guys work to unload crab boats, but they were still at it when I left.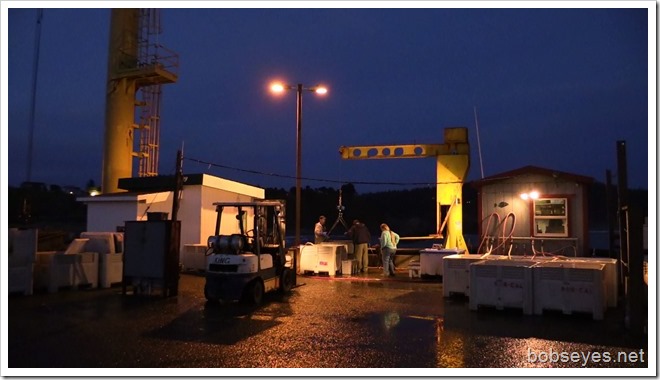 Crab and buns for dinner
By the time I caught up with Steve he had all the crab cleaned and I had put the rest of some bread dough in a pan at his place this morning so I cooked up some pull apart buns and we ate plenty of crab. Yummmmmmmmmmmmm. Beats urchins. :O)
Another day playing around in the Port Orford area.
(Visited 251 times, 1 visits today)