Sunday September 13, 2015 Jenner CA.
The skies were clear when I arrived at Jenner this morning and the wind was down. I put my boat in the water and headed on over to Penny Island and stopped here to decide which way to go today, up or down river.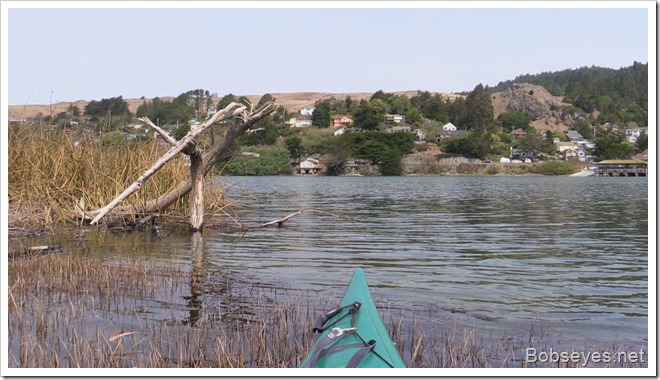 Paddled along Penny Island
Down river won so I headed on down the side of the island along here headed to the river's mouth.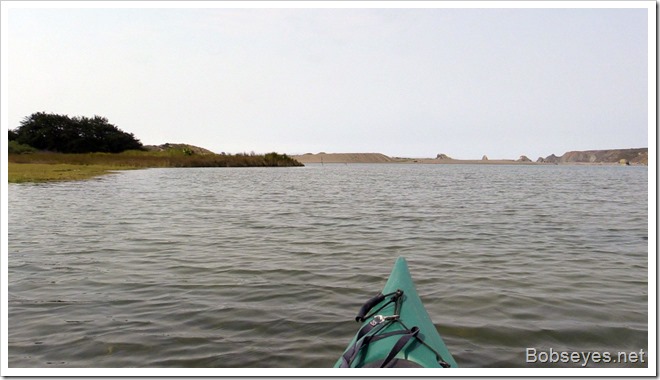 I saw John, the guy who picks up a lot of the trash around Jenner and lives in this spot, so I went over to chat a a bit. John used to work for the California division of Forestry fighting fires in the west of California so he related tales for a good while as I listened.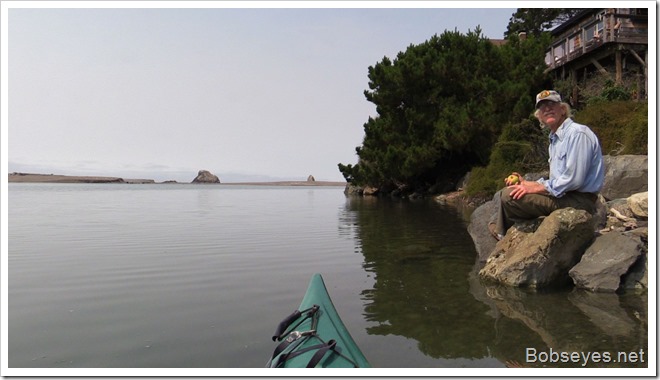 Fog rolls in
As I was chatting with John, I watched the fog come in and waffle around. This was my view from John's place looking across to the closed river's mouth.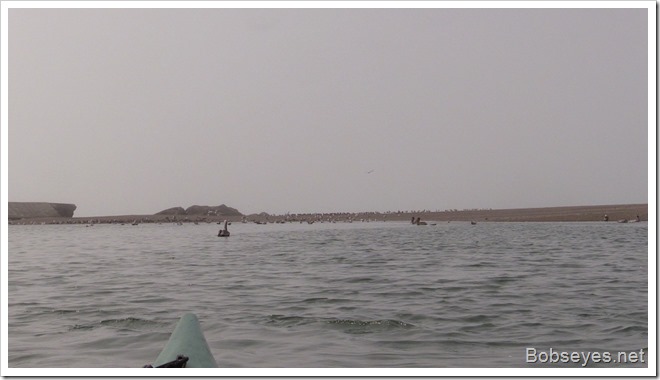 I could also see a lot of birds over that way, brown pelicans and seagulls mostly.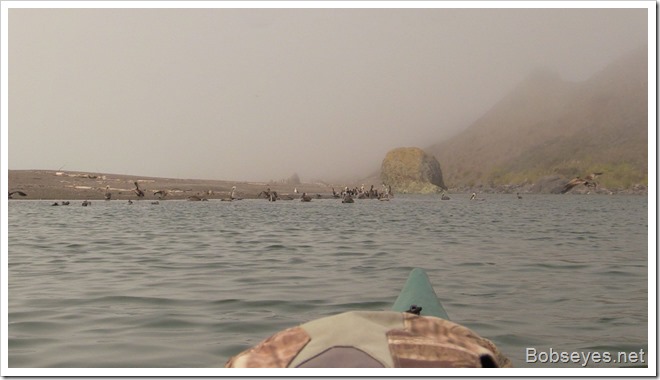 Eventually, I'd heard enough of John's stories and headed on over to the mouth area which looked like this as I paddled along.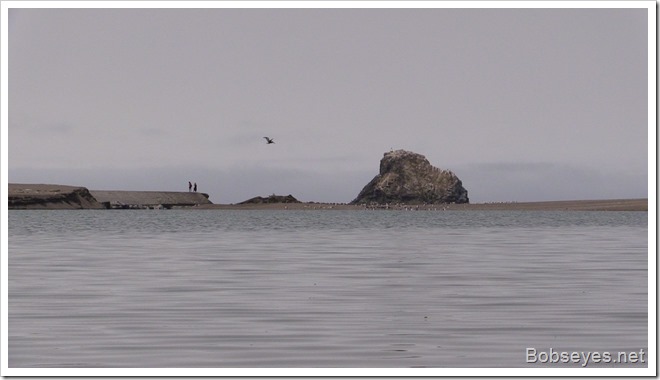 River's mouth is closed
I headed into my spot by the sand there and sat and watched. You can see the sand by the jetty is closing the river's mouth and it's foggy.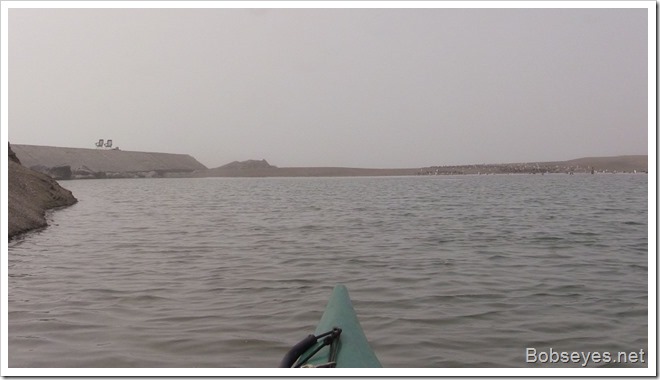 Lots of brown pelicans
I was watching the birds, especially the brown pelicans just across from where I was sitting in my boat.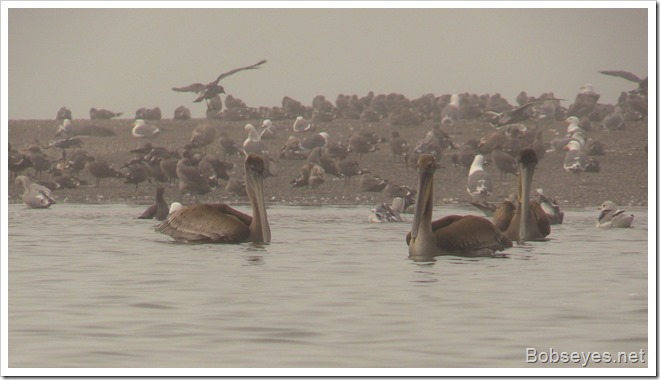 I noticed this harbor seal swim very close to this pelican. The pelican eyed it closely as it swam on by.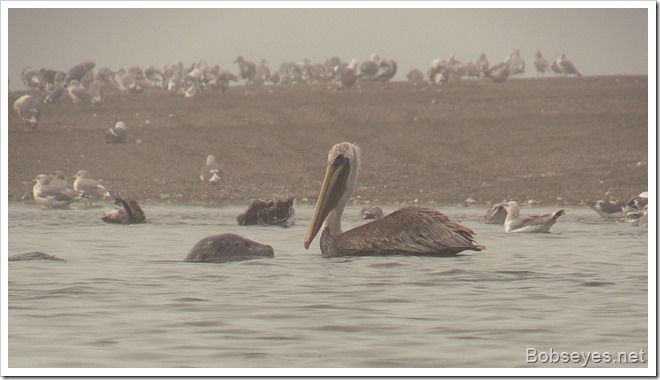 I was watching some pelicans come in for a landing by the other already landed pelicans.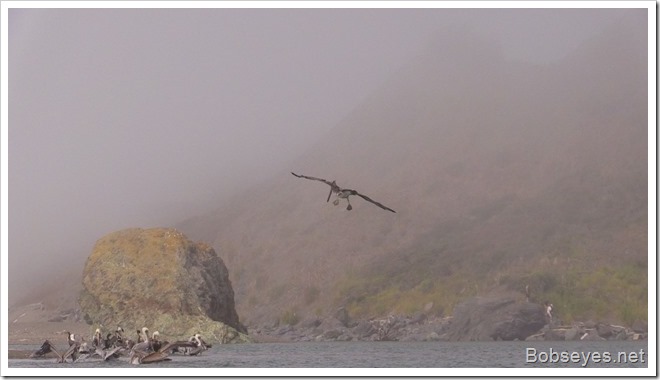 Watch it guys, here I come, watch out.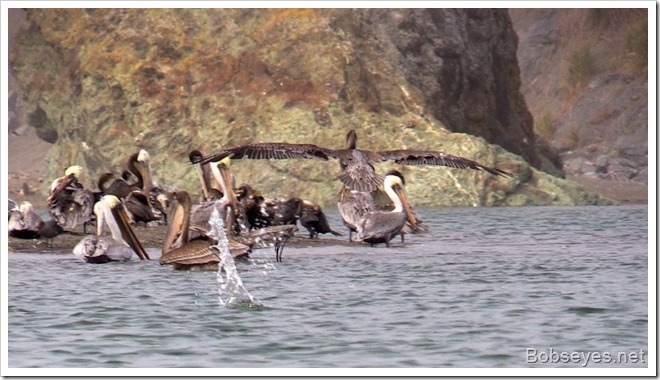 Hey, I warned you guys I was coming in. It landed and after a little resettling things settled down. These big birds fly surprisingly well despite there size.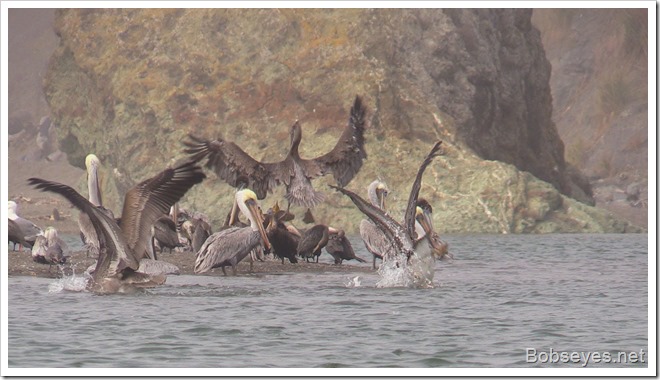 The fog had moved in now. It was foggy all the way back to the boat ramp. I passed by these two pelicans sitting in the fog on the way back.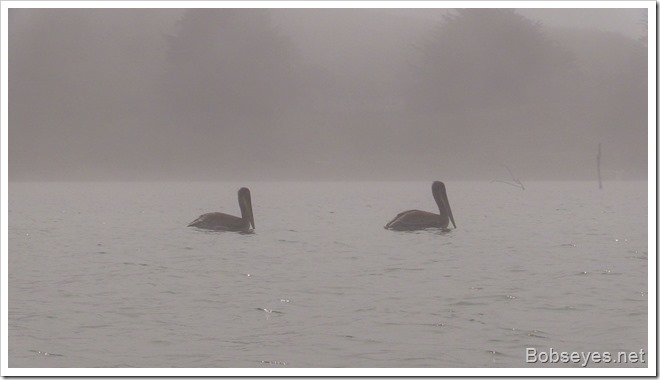 Missing the jazz festival
I decided to pull out early today as there was a big jazz festival in Guerneville and I didn't want to get caught up in their exit as they tend to jam up the town when they let out and it's hard to get home.
Working on the van's backup lights
At home, I looked at why my new van backup lights weren't working. I checked all the wiring and a fuse but couldn't find out why they weren't working. During the process, they started to work again. Good enough for now.
Another day gone by.
(Visited 125 times, 1 visits today)