Friday September 18, 2015 Highway 80 Nevada, east of Reno
Here is Marty's blog address which is also available in my side bar  in blogroll. He'll give you a different perspective of our trip.
http://thenewadventuresofpattiandmarty.blogspot.com/
I met Marty at his house in Santa Rosa this morning and we headed off on our trip. We were headed by the spot were the big fire just burned through, Middletown. We got turned back before we got there as they have the road closed over the hill, so we had to scramble and figure out another way to get to Highway 20 which was the way we wanted to go today. We did finally get onto Highway 20 near Colusa and followed that road to Interstate 80 and on eastwards to this camp where Highway 95 goes south. The campsite is just north of that intersection on a power line maintenance road. Nice and peaceful here. We can just barely hear the highway noise.
It's just a place to spend the night a bit away from the highway. Marty has his cell phone hook up for the internet with him, so I may be able to publish when we get a cell connection which he says we have here at this spot.
Here's our camp spot for the night. Yes, we have two of these old vans. We built his van first and later I built my van using his as a prototype. His van is a 1668 and my van, on the left is a 1967.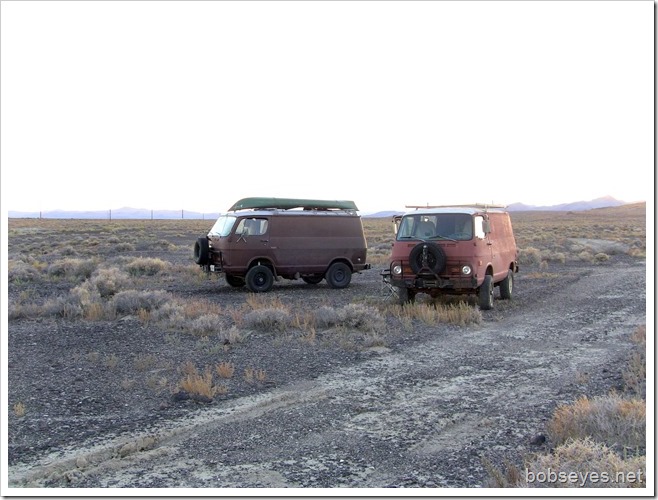 Tomorrow we will drive to Winnemucca and get some last minute supplies, gas up and then head out to the boonies at Golconda which is the first exit past Winnemucca east. We plan to camp at Willow Creek Reservoir for a couple of days and work our way up to the Duck Valley Indian Reservation camping along the way.
I'm always glad to have this part of the trip over where most of the heavy traffic is done with and now we can relax a bit.
(Visited 114 times, 1 visits today)