Sunday October 23, 2016 Guerneville CA.
Frustrating, but also challenging
Today, I planned to stay home and do some more work on my van's rough idling problem. I wanted to test out the MAP sensor with my volt meter and a little hand held vacuum pump to make sure it was working as it should. Map stands for manifold absolute pressure, which basically tells the computer how much gas to inject into the engine, so it's very important.
YouTube helps out
To do this, I watched a couple of videos on YouTube to see how it was done and what values I was expecting to read during the test.
Where the heck is my vacuum pump
I have lots of tools and stuff scattered just about everywhere around here, so my next task was finding what I did last with the little hand held vacuum pump. That took some time looking for that and of course that's always an excuse for another break. I finally found it right were I left it.
Map test good
I hooked things up and did the testing and the map sensor looked like it was working like it should.
Next I hooked it up to the engine and hooked my volt meter up and ran the engine to see if it was reading the right voltages and it was so things looked good.
Moved the map back to it's original port
I did move the map back to the back of the TBI unit were it was originally and it seemed to work better on that port than the front port I had moved it to yesterday.
I think the hose was leaking
During that process I replaced the too big gas line I had used originally and hooked this up with the proper size vacuum line and I think that may have helped a bit.
I set the rpm with the meter
Next I thought I better get a reading on what the idle was actually that I had set by ear, so I hooked up a timing light that had an rpm meter on it and played around some more.
I used a special process they recommended to set the idle and think there may be some improvement. The idle is set to near 700 rpms.
Here's where I spent a good deal of the day, working in here on the V8 engine.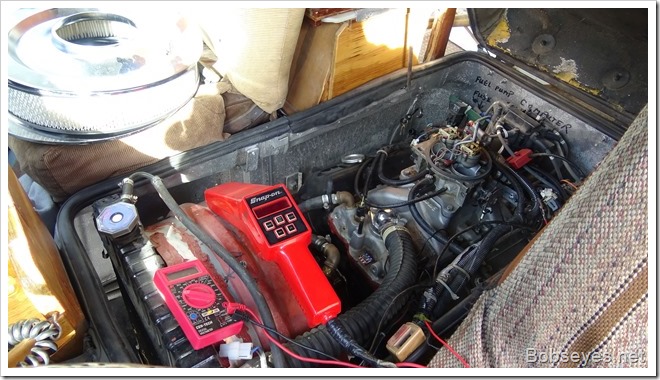 My brother Barry and his wife came by late in the day so I spent a good deal of the day shooting the bull with them.
Just didn't get to the timing
I had planned to check the timing, but ran out of daylight so I'll have to do that later.
I mostly just puttered around today taking it easy and enjoying the day and hopefully making little progress on this idle problem.
Map sensors might not be of interest to most, but just the same that's what I did today. :O)
(Visited 124 times, 1 visits today)